Acquired by investment management firm TowerBrook, in May 2015, J. Jill (NYSE:JILL) is being spun off in an IPO with a $100 million placeholder. The women's apparel brand, which has built a loyal customer base of affluent women between ages 40-65, competes with local and national retailers, department stores, catalogs, and internet businesses. Some of these competitors include Ascena Retail Group (NASDAQ:ASNA), Talbots, Macys (NYSE:M), Gap (NYSE:GPS), etc. The company has been thriving recently, but the IPO still carries some risk in a highly competitive industry.
The Market
While total apparel sales are growing, they aren't booming and they are only growing via e-commerce. According to the prospectus, apparel sales have grown in the United States from $301 billion in 2010 to $343 billion in 2015, which represents a 3% CAGR. However, of these sales, e-commerce sales grew at a CAGR of 15% while brick-and-mortar sales remained flat. J. Jill plans to take advantage of this trend and believes they can grow their direct sales from 42% to 50% of their sales by capitalizing on online and mobile shopping. One area they have their sights set on to boost sales is sportswear for women over the age of 40, as their active customer base is women between 40-65 with a household income greater than $150,000.
There Is Some Debt
J. Jill used to be a public company until 2006 when Talbots bought them for $517 million. Then in 2009 Golden Gate Capital acquired them for $75 million. And finally, TowerBrook acquired them in 2015 for approximately $400 million. Considering these acquisitions I thought the company would have been incredibly leveraged - but not so much. They have over $274 million in long-term debt, which isn't nothing, however it's not as bad as I was anticipating. They have a stockholders' equity of nearly $119 million. Nevertheless, the long-term debt cannot be ignored. The interest expense is having a significant impact on reducing bottom line profits. Another weakness on J. Jill's balance sheet is their liquidity, which isn't particularly strong with a cash ratio of 0.05.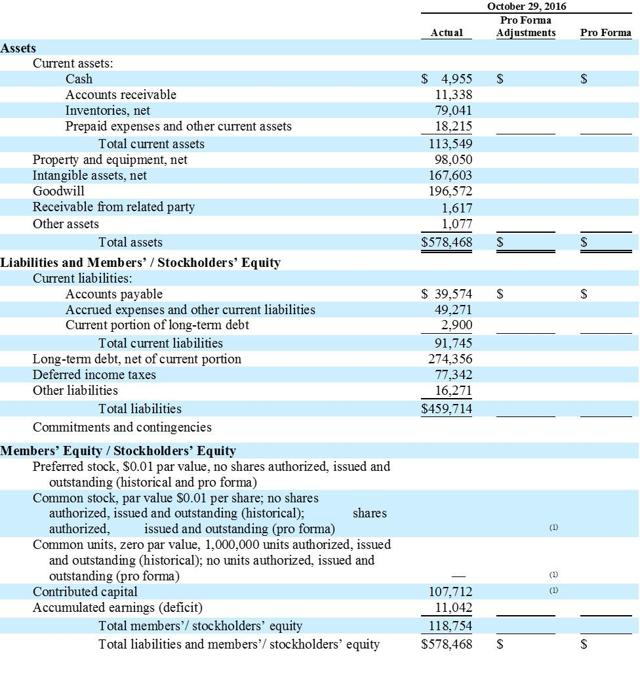 Source: J. Jill's S-1
Growth Is Strong
For the fiscal year ending January 30, 2016, net sales were $562 million; an increase of more than 16% for the year prior. For fiscal year 2017, I am projecting sales to have jumped approximately another 13% to $636 million. This represents a 3-year CAGR of nearly 12%. This is an impressive number compared to the slowing growing industry average of 1%. Then consider that for the trailing twelve months J. Jill's operating margin was 8.9%, which is very much in line with the apparel stores industry average and you can see why some investors may be intrigued by this company.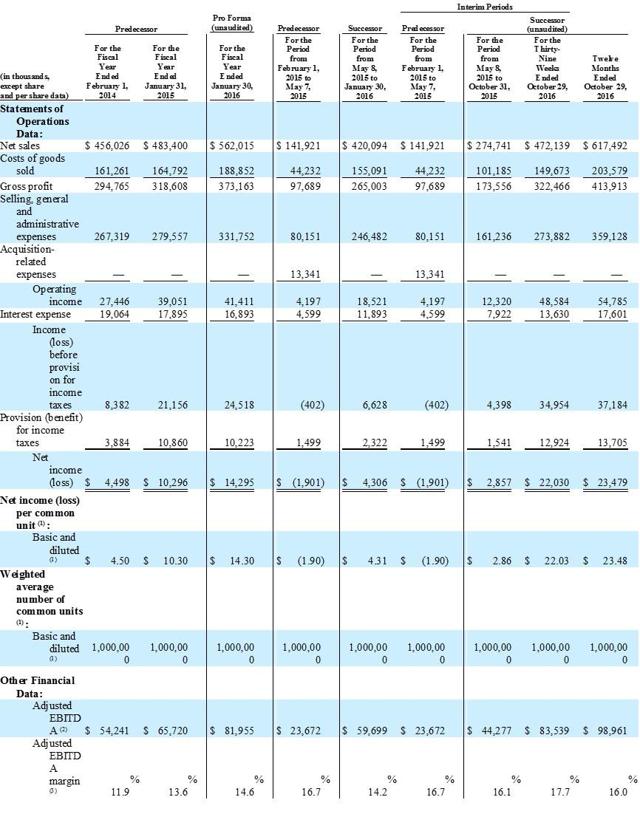 Source: J. Jill's S-1
Conclusion
If it wasn't for the debt, I would be much more excited about this IPO. I think J. Jill is running hot right now, but in this competitive industry things can turn quickly. There is a reason they are unloading this company via the public markets rather than just selling it outright. Clearly their bankers must have told them they can get their equity at 1.2-1.3X sales, which is a generous price in my opinion. Otherwise, I don't think this company would see an IPO. To be honest, I am not still sold that this will see the public markets. We are seeing more and more full sales rather than IPOs and a full sale may end up being the better way for TowerBrook to cash out on this investment. I would recommend that TowerBrook holds off on the IPO as I think someone would pay a higher premium to keep this one off the markets.
Disclosure: I/we have no positions in any stocks mentioned, and no plans to initiate any positions within the next 72 hours.
I wrote this article myself, and it expresses my own opinions. I am not receiving compensation for it (other than from Seeking Alpha). I have no business relationship with any company whose stock is mentioned in this article.