Here is what Charlie Munger said about quality companies: "We've really made the money out of high-quality businesses. In some cases, we bought the whole business. And in some cases, we just bought a big block of stock. But when you analyze what happened, the big money's been made in the high-quality businesses. And most of the other people who've made a lot of money have done so in high-quality businesses."
You might not have heard of Reckitt Benckiser but I bet you have bought at least one of its many products. Reckitt Benckiser Group is a British multinational consumer goods company. It was formed in 1999 by the merger of the UK-based Reckitt & Colman plc and the Netherlands-based Benckiser NV. RB organizes the majority of its products into three main categories - health, hygiene and home. RB's strategy is to have a highly focused portfolio concentrating on its 19 most profitable brands, which are responsible for 80% of revenues.
The main source of the moat in the consumer product space is a brand strength. The name of the game is a company's ability to retain shelf space. RB has a broad portfolio of recognizable brands across multiple categories which provides the Company with a good position in the supply chain of most large retailers and a sustainable cash flow stream from which it can invest to enhance the core brands and acquire new customers.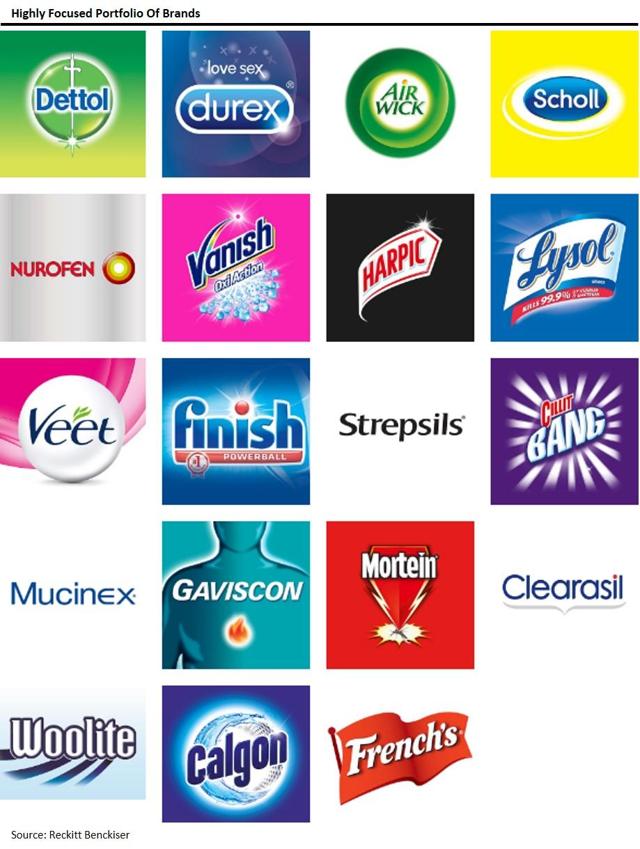 Marketing, or investment in building brands (Brand Equity Investment - BEI) is crucial to RB. While pharmaceutical companies spend a lot of money on R&D, RB spends over GBP 1.1bn on annual investments in its power brands, equivalent to just under 13% of annual sales in 2015.
A central part of RB's culture is the company's remuneration structure. All RB's operational management teams have revenue, profit and net working capital objectives built into their annual bonus targets. In this way, management not only focuses on top line growth, but also on profitable growth. Under maximum scenario, nearly 95% of the CEO's total remuneration could be provided through performance linked variable pay.
RB's performance driven remuneration philosophy is underpinned by an ownership culture throughout the Company, which is reinforced by a significant shareholding requirements. The CEO is required to hold 600,000 shares and the CFO 200,000 shares within eight years of appointment, which represents more than 40x salary and 20x salary respectively. With so much personal wealth invested in the company, good conditions are in place for ensuring shareholders' long-term interests.
Mead Johnson Acquisition
Mead Johnson is a global leader in infant and children's nutrition. The company's Enfa family of brands, including Enfamil infant formula, is the world's leading franchise in infant and children's nutrition. Food for newborns and babies is a stable business. Parents often say that nothing is too good for their children and that they must have the best.
In 2016 Mead Johnson posted sales of USD 3,743m, of which 50% were generated in Asia, 17% in Latin America and 33% in North America / Europe. On a non-US GAAP basis, EBIT in amounts to USD 927m, and EBITDA of USD 1,026m.
At the beginning of February RB has signed a merger agreement with Mead Johnson Nutrition Company under which Mead Johnson shareholders will receive USD 90 in cash for each share of common stock, valuing the total equity at USD 16.6bn. Including Mead Johnson's net debt of USD 1.2bn as at 31 December 2016, the total EV of the transaction is USD 17.9bn, representing a multiple of 17.4x 2016 non‐US GAAP EBITDA of USD 1.0bn and 14.0x 2016 non‐US GAAP EBITDA including expected run‐rate cost savings of GBP 200mn.
Does acquisition of Mead Johnson make sense? This is extension to RB's consumer health portfolio of Powerbrands. Mead Johnson's geographic footprint significantly strengthens RB's position in developing markets. Above else, Mead Johnson possesses some unique characteristics. It has strong brands in the difficult-to-penetrate infant formula category. Furthermore, Mead Johnson's market position prevent competitive entry due to the significant expenditures required for marketing and R&D. Overall, this acquisition makes sense, but the price tag is hefty.
Valuation & Risks
According to J.P.Morgan estimates, EV/EBITDA (RB+MJN) will be around 14.6x in 2018. For me, as a value investor it is not enough to provide me with an adequate margin of safety, thus I would wait for a better entry point.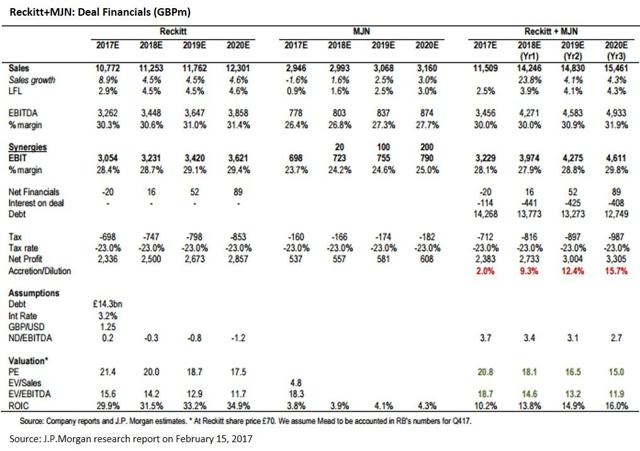 As an investor, the way I perceive investment risk is not the volatility or beta of the stock, but rather the probability of permanent loss of capital. Although there are many operational and financial risks I will mention a key risks to RB business model: integration of Mead Johnson, the fluctuating performances of the GBP against the US dollar, the EUR and many EM currencies pose both upside and downside risk, raw material and packaging costs volatility, and fragile consumer spending in developed markets.
Putting It All Together
In short, RB has delivered total shareholder return of over 150% over the past 5 years (from January 1st, 2012 to December 31st, 2016). It would be silly to expect the same pattern over the next 5 years, but I believe that RB is a quality company with a portfolio of good brands. In recent years RB has developed platform for further organic and M&A growth, thus I think the long-term potential is relatively favourable for the company.
Disclosure: I/we have no positions in any stocks mentioned, and no plans to initiate any positions within the next 72 hours.
I wrote this article myself, and it expresses my own opinions. I am not receiving compensation for it (other than from Seeking Alpha). I have no business relationship with any company whose stock is mentioned in this article.
Editor's Note: This article discusses one or more securities that do not trade on a major U.S. exchange. Please be aware of the risks associated with these stocks.