General argument: I believe markets will likely be in wait-and-see mode until concrete fiscal action is taken toward expansionary fiscal policy measures. I also think the Fed is likely to hold on rates until June, which has changed my short-term outlook on the US dollar and precious metals.
Overview
The S&P 500 (NYSEARCA:SPY) is up 7.5% in the past three months and 5.9% year-to-date. The growth has been largely based on continuing expectations of deregulatory initiatives and corporate tax cuts down to a level on par with foreign developed market corporations pay (15%-25% nominal). The Fed also held in February as expected and continued to praised the strength of the US economy, which is naturally a positive thing for stocks.
Yet for all the talk of regulatory rollbacks and tax cuts, we have yet to see much in the way of concrete action. It's at the point where we aren't certain whether these things will get done by the end of the year. Reagan's 1981 tax plan and Obama's 2009 fiscal stimulus were each announced in the middle part of February.
Tax reform is likely an easier policy goal to accomplish given a repeal and replacement of the Affordable Care Act requires a level of support from Democrats in Congress. At the same time, the US already has a budget deficit north of 3% of GDP and pairing tax cuts and a $1 trillion infrastructure plan - an additional item that investors like - isn't a sound combination for avoiding a blowup in the budget.
Yet the longer the wait for a substantive announcement on tax reform, the longer the actual implementation. Assuming a standard six-month lag from roll out to enactment, this would place the timeline toward September 2017 at the earliest.
The longer this goes, the less likely market participants are going to feel comfortable pricing stocks at their current level, a large portion of which is driven by the tax cuts expectation. In a previous article, I calculated that a 15%-20% drop in the nominal rate would expect to cause the market to appreciate by 11 to 15 percent.
The value of the market is a reflection of the cash you can extract from the companies comprising the index over their life, discounted back to the present. Cash generation in the short-term has a more material effect on this calculation than cash generation in the long-term. The further tax cuts are delayed, the longer it'll take for companies to receive the earnings (and hence cash) boost and will therefore decrease the present value calculation. Accordingly, it's likely that the market is going to be moved more by action rather than the intentions that are already pretty well integrated.
The Fed Won't Hike In March
I stated in an article from early February that the Fed is likely to put off raising rates until June at the earliest. Chairwoman Janet Yellen stated at her congressional testimony (February 14) that the Fed is considering raising interest rates soon. Her words that received a lot of attention:
As I noted on previous occasions, waiting too long to remove accommodation would be unwise, potentially requiring the FOMC to eventually raise rates rapidly, which could risk disrupting financial markets and pushing the economy into recession.
However, I don't think it's likely to happen at either the March or May meetings. After that statement, the fed funds futures market rapidly saw an increase in short contracts (anticipating a March increase).
But growth remains south of 2%, real wage growth is still poor, and the FOMC committee is still largely a very dovish bunch in terms of their ideological approach to monetary policy. Core inflation is at 2.3% (a positive), but I don't get the impression that the Fed would increase rates solely on the basis of inflation meeting their target or exceeding it by a little bit according to 1-2 months' readings.
A boost in inflation also makes the national debt ($20 trillion) cheaper by eroding its value in real terms. The US would be in relatively secure position to benefit from higher inflation in terms of cheapening its debt given a low average maturity (69 months or 5-6 years) and only a small portion of it is inflation-linked - 8.9% of marketable debt and just 6.2% of all total public debt outstanding.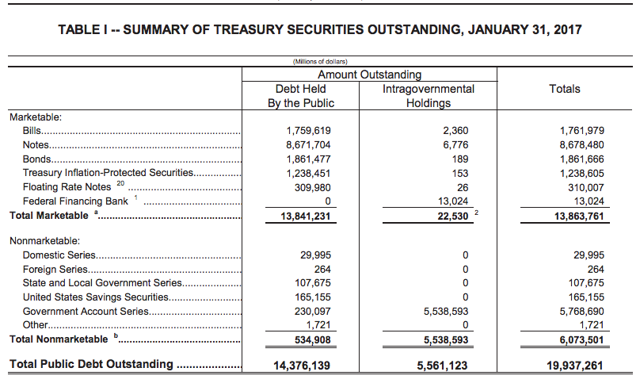 (Source: Treasurydirect.gov)
Over the past week, odds of a March rate increase have come down from the low-40%'s to 27%.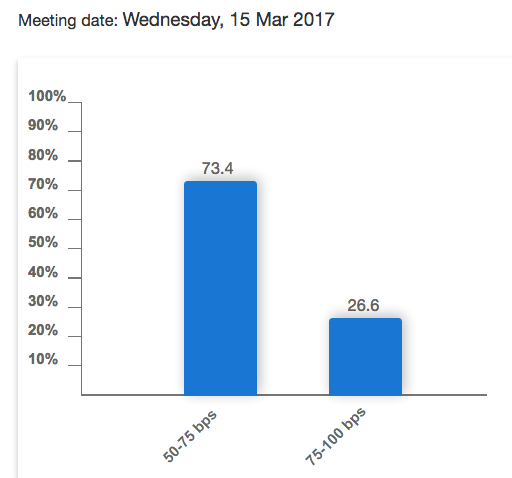 (Source: CME Group)
The odds of at least one increase by May, however, are set at 51.7%: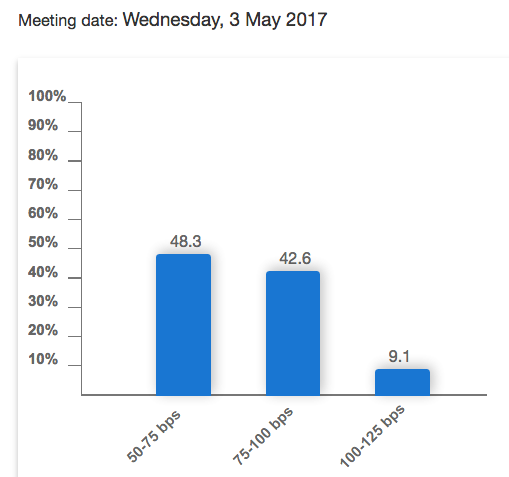 (Source: CME Group)
Odds of at least one increase run up to 69.5% by June. Even despite the low percentage, I still find it outrageous that 3.4% of the market is betting on a hike in each of the next three meetings: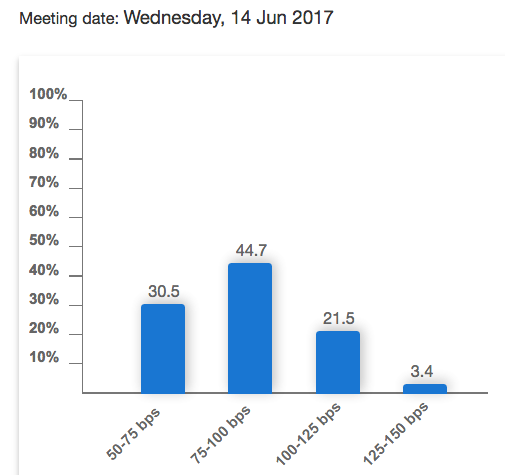 (Source: CME Group)
How to Position for This
I currently believe that the Fed won't raise rates until June, like about half the market. When rates remain low, this is the general scenario:
1. Bad for the US dollar
2. Good for gold/silver
3. Good for bonds
4. Neutral to positive for stocks
5. Good for emerging markets (USD-denominated debt is cheaper)
6. Supports low volatility
I had a USD/JPY position on until last week. I think being long the dollar (NYSEARCA:UUP)(NYSEARCA:UDN) generally makes sense in terms of the strength of the US relative to other developed market economies. However, the market is already pricing in the anticipation of a tightening cycle over the coming 1-3 years. The more the Fed balks at this, the worse it is for the dollar. Currently, the market is pricing in just over two rate hikes (of 25 basis points) by January 31, 2018.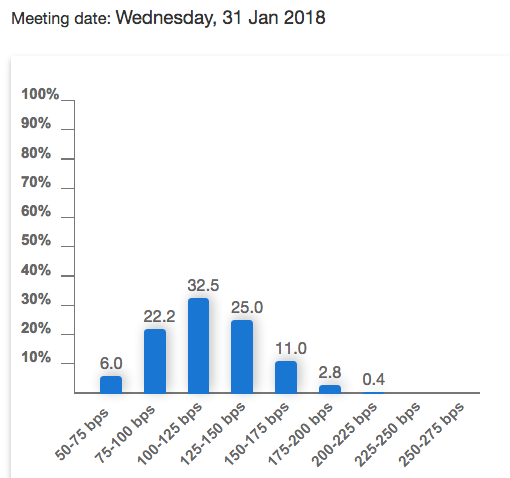 (Source: CME Group)
The expected value here is an overnight rate of 118.1 bps by this date, equivalent to 2.22 rate increases relative to the 50-75 bp range we're currently at. While other factors influence the price of the dollar, it's an important one to keep track of.
Precious metals such as gold (NYSEARCA:GLD) and silver (NYSEARCA:SLV) are also likely to continue to increase in the short-term assuming this perspective is correct.
What is less clear, however, is how risk assets such as stocks and high-yield bonds will be affected. Normally low rates are positive for stocks and high-yield bonds as it holds down costs of capital that work into valuing these instruments. Even so, rate hikes can work to legitimize the Fed's statements extolling the general strength of the economy, boosting risk assets along the way. Higher rates also benefit certain business models, such as lending and insurers.
Nonetheless, with the S&P 500 approaching a lofty 2400 largely on expectations of policy announcements that have yet to occur, March may turn out to be more of a wait-and-see type of month, as it's uncertain what type of catalyst could lead the market higher until something concrete is announced on tax reform or with respect to other expansionary measures.
The VIX index (NYSEARCA:VXX)(NYSEARCA:VIXY) is currently trading at around $12 and could conceivably go lower. Although issues such as trade and elections in France, Germany, and potentially Italy could add volatility to the market, event-based volatility looks to be low in the short-term.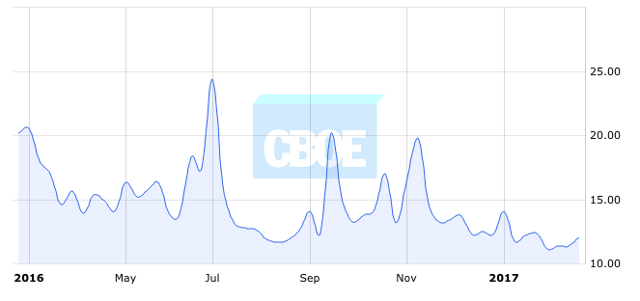 (Source: CBOE)
Conclusion
In the short-term - as in up until the signal for a potential June hike start becoming clearer - I believe the best to way to be positioned includes staying out of the US dollar (unless it's perhaps being used as a hedging mechanism with respect to other trades, such as emerging market debt) and being long gold and/or silver.
I recently added a smaller-sized silver position. I believe Fed dovishness and a cool-off in the stock market will support further gains in the coming few months. I don't necessarily intend to hold it past late-May/early-June but that's always subject to change.
Additional considerations could be made to going long bonds or shorting volatility, although I'm personally only long higher-yielding bonds and always prefer to stay long volatility in a portfolio to minimize downside.
Disclosure: I/we have no positions in any stocks mentioned, and no plans to initiate any positions within the next 72 hours.
I wrote this article myself, and it expresses my own opinions. I am not receiving compensation for it (other than from Seeking Alpha). I have no business relationship with any company whose stock is mentioned in this article.
Additional disclosure: Long silver futures. Also net-long the US dollar as part of hedging foreign debt transactions.