Suncor's (NYSE:SU) resource potential is enormous, it has over 30 billion barrels of recoverable oil sands resources, roughly double the amount of its nearest Canadian competitor. This significant resource potential drives their very long-term production philosophy. Suncor prefers not to rush projects; they have a 25- to 30-year view on production, unlike conventional exploration and production - E&P where the view is two-to-three years.
I first started covering Suncor back in the late 1990s and over the years have revisited their operations up in Fort McMurray, Canada. During my first visit, I was struck by the realization that Suncor is not your typical oil and gas explorer and producer. It did not explore for oil; the oil or bitumen was there sticking to your feet. Oil sands or raw bitumen is roughly a base mixture of oil, sand, and dirt that is washed and refined into various grades of synthetic crude oil: sour oil with sulfur, sweet oil without sulfur. However, their profits are driven by "economies of scale." It is a simple business model built on breakeven analysis, the more oil produced is spread over fixed cost lowering your overall operating cost per barrel of oil produced. The net effect is wider margins. There is essentially no exploration cost or risk that E&P companies must bear.
A further key to understanding Suncor is its long-term focus on "flexibility and integration" or greater "optionality." This achieves an integrated balance between upstream - E&P and downstream - refining earnings, as well as between producing raw bitumen and upgraded synthetic crude oil. Suncor integrates processes and business segments on a flexible level, while not over-integrating the process, or being overly dependent on any one single production process or business segment. The company captures margins at various levels along the value chain, whether raw bitumen, upgraded synthetic crude oil, or processed further refined product -- i.e., gasoline and diesel.
The company is also balanced in the upstream between mining and in situ oil sands production, currently a 50/50 production mix. In situ or "in place" bitumen oil sands are too deep to be mined and Steam Assisted Gravity Drainage is the method employed to recover the bitumen. Two horizontal wells are drilled into the bitumen deposits, steam is injected into one well that heats the deposits allowing the now liquid bitumen to flow to the surface. Roughly 80% of the oil sands deposits are in situ in Alberta, Canada. This strategy is not often given much credit by Wall Street as it's not sexy, but the strategy works. Suncor is highly free cash flow positive, has been engaged in a share buyback program and has a reasonable dividend yield.
Production and shares levered to higher oil prices
As discussed in my article from Feb. 2, 2017, titled "Oil Price Recovery Is A Prime Investment Catalyst For Oil Equities," I see an oil price recovery emerging, and that in turn fuels higher oil equity valuations. It stands to reason that an oil company that has a portfolio with a higher weighting to oil production will benefit from higher oil prices.
I have been looking at oil and gas companies that have a higher oil production mix in their portfolio. Chevron (NYSE:CVX) is one such oil equity as discussed in my article from Feb. 20, 2017, titled "For Big Oil, Chevron is Best Levered to Oil Price Recovery." Suncor is another, a dominant Canadian oil sands producer heavily weighted to oil production. Under prior CEO Rick George, production growth was Suncor's mantra through its golden years since its IPO in 1992 to 2008. However, after Rick's retirement, Suncor has gotten religion, financial discipline under his replacement CEO Steve Williams. No, growth has not been abandoned, but profitable growth barrels are the new mantra.
Suncor's production is heavily weighted to oil prices
Suncor's global portfolio has an oil portfolio weighting of 99%. Within its upstream production portfolio 84% is oil sands production, 15% is conventional E&P oil production, primarily offshore: Eastern Canada and the North Sea, and 1% natural gas. Suncor's oil sands are 81% based on WTI oil prices.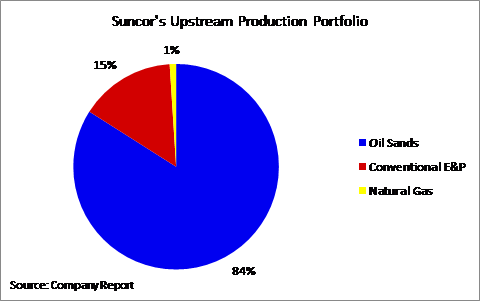 Suncor's equity shares are highly correlated to oil prices
We looked at the relationship between oil prices and Suncor's daily equity prices from January 2000 to February 2017, the correlation was a positive 81%, from January 2016 to February 2017 the correlation strengthened to 84%. Suncor's equity shares clearly moves with oil prices.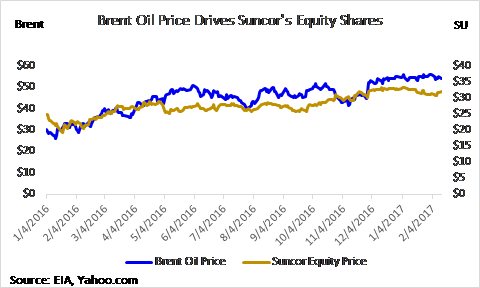 Strong financial discipline generates strong net operating cash flow (NOCF)
Suncor has maintained a relatively modest stable level of debt leverage -- debt to debt plus equity under 30% since 2011.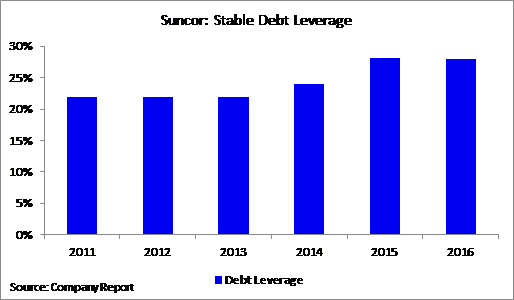 Financial discipline over the years despite a sever oil price downturn in 2015 and 2016 has kept Suncor's balance sheet strong, and enabled recurring positive net operating cash flow. NOCF was a surplus from 2011 to 2015, turning into a deficit in 2016. Capital spending -- capex for 2017 is targeted in the range from C$4.8 to C$5.2 billion -- is expected to be roughly 24% lower from 2016 levels. Lower capex amid rising oil prices will generate excess NOCF over the emerging oil price recovery, and preserve a healthy dividend yield currently at ~2.6%.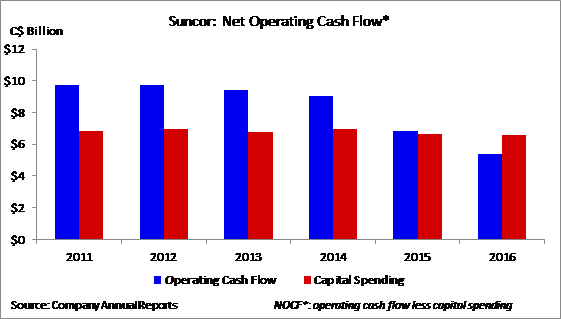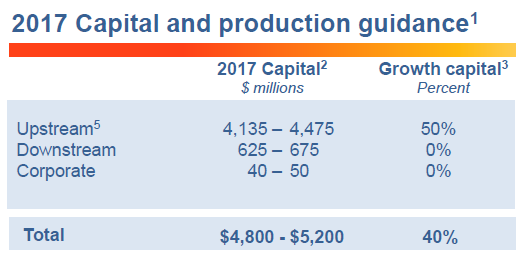 Strong production growth coupled with rising prices will support growing NOCF.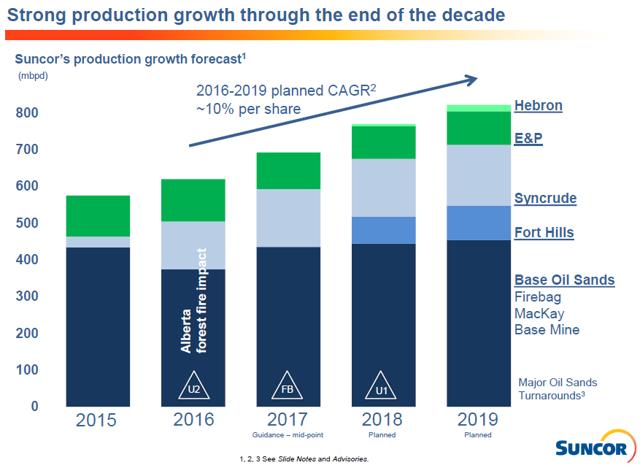 Oil Sands Environmental Concerns
A few facts and often misconceptions regarding oil sands and environmental pollution:
Nearly 100% of water used in its in-situ operations is recycled.
Oil sands CO2 emissions is only one-tenth of global CO2 emissions.
California heavy oil production produces more CO2 emissions than Canada's oil sands.
Roughly 80% of CO2 emissions occur at the consumption end -- automobile tailpipe -- not at the oil sands production site.
I have been to Suncor's oil sands operation, both mining and in situ. The land reclamation and water remediation of tailings ponds residue from mining, as they are called, is highly evident. I toured the entire site, and the environmental impact from oil sands, particularly mining operations, did not appear as bad as the media portrays it. Indeed, traveling through land reclamation areas, we encountered a fox, several black bear families and several deer scampering across the reclaimed forests, not to mention other wildlife feeding off the land. Granted, the environmental footprint is much greater for the mining operations than the MacKay in situ operations.
While the in situ footprint is limited to a clearing through the forest for a network of pipes running from the field drilling operation to a plant processing bitumen. There is an environmental impact, but it's not as stark as the media and environmental lobbies portray. If you are a long-term investor and view the oil sands as having great upside potential against a backdrop of higher crude oil prices; then Suncor's oil sands operations will give you a deep appreciation of the effort to extract a valuable energy product.
To its credit, Suncor over the last decade has striven to be a responsible environmental custodian, reducing Greenhouse Gas emissions from its oil sands production process, and reducing its oil sands mining footprint. However, it is an ongoing process that does require diligence and commitment. But, it is a political/policy risk exposure that the Company bears, and could weigh on the company equity shares as climate change concerns intensifies. What the ultimate affect upon Suncor may be is uncertain.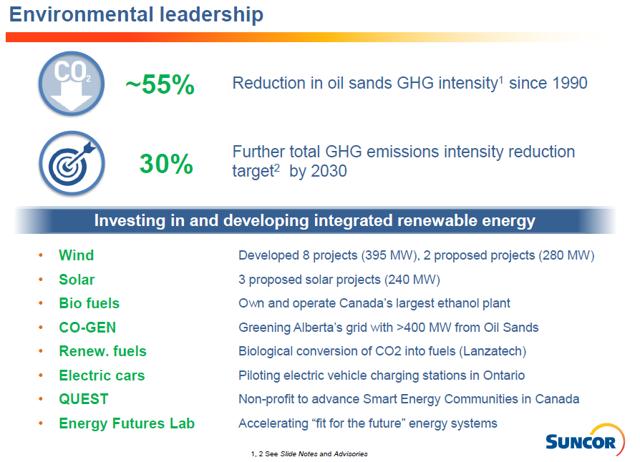 Border tax and Keystone-XL concerns
As to the U.S. imposing a "border tax" on goods flowing into the U.S., it would be a negative on Suncor's U.S. oil exports that would weigh upon its equity shares. However, whether it is enacted remains highly uncertain and speculative. U.S. approval of TransCanada's Keystone-XL pipeline is a positive for Suncor. It would alleviate production bottlenecks north of the border by allowing Canadian oil sands producers to transport production to U.S. markets; particularly to refiners on the U.S. Gulf Coast that utilize heavy/sour Canadian crude oil blends.
Extent of its global operations: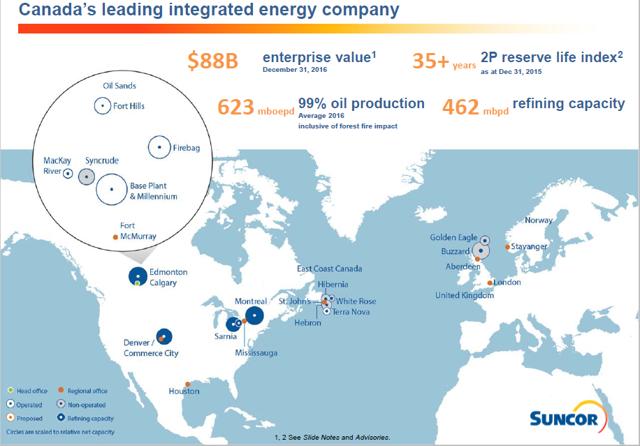 Conclusion
Valuation is not a catalyst, and current valuation metrics are not helpful emerging from a down market. As all commodities, oil price is driven by supply and demand fundamentals and that in turn will drive oil company equity shares. For oil-based stocks, over the near term the fundamentals are in their favor; higher prices will drive Suncor shares that are highly levered to oil prices. A reasonable investing strategy may be to gradually increase Suncor shares in your portfolio -- buy on dips below Suncor's 50-day moving average. Use stops if Brent prices pierces below $50/bbl, and take profits.
Currently, Suncor's shares are above their 50-day moving average, I prefer to buy when shares are below its 50-day moving average. Suncor's moving average momentum -- MACD and its relative strength -- RSI indicator has moved higher. I prefer to buy when these two indicators are moving lower as they provide more attractive, lower entry price points. Reduce exposure significantly if Brent goes to $45/bbl.
Beware of short-term oil price volatility due to geopolitical events -- i.e., Iran, North Korea news. Invest with an eye for the long term. Depending on your own risk/reward tolerance, it is always a good idea to take some profits and look for lower reentry points. Taking profits is always a good way to minimize your downside risk, how much depends on your own individual risk/reward tolerance and preferences.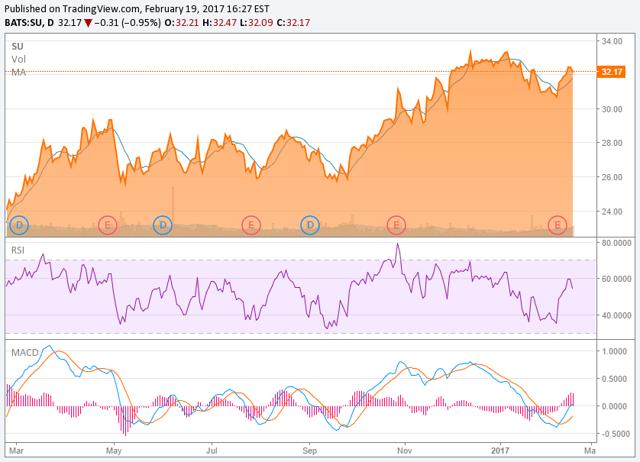 Source: Seeking Alpha
Disclaimer: Please do your own research and contact a qualified investment advisor. I am not responsible for investment decisions you make.
Disclosure: I am/we are long SU.
I wrote this article myself, and it expresses my own opinions. I am not receiving compensation for it (other than from Seeking Alpha). I have no business relationship with any company whose stock is mentioned in this article.