On Feb. 21, 2017, Pengrowth Energy (NYSE:PGH) announced that the company would pay off the C$127 million of convertible debentures maturing in March. In addition, the company would prepay $300 million of the $400 million United States based debt that would normally mature this summer. That would leave a balance due this summer of $100 million. Since the company announced a cash balance on hand of C$530 million, the cash is available for this debt payment and prepayment.
The remaining long term debt balance after these payments is expected to be C$1.1 billion. So the reduction in debt is substantial. But the company is still negotiating with both the lenders and note holders to obtain covenant relief. This implies that the bank line may not be available to pay the outstanding debt due this summer. Typically, banks will not loan money when that loan leads to a covenant breach. So liquidity may be a lot tighter than it appears to be. Clearly someone in the lending group is jittery even with the substantial debt payments. Readers of my previous articles know that this is usually caused by insufficient cash flow. That appears to be the case with Pengrowth. Anytime the cash flow becomes less than one-third of the long term debt amount the lenders can become nervous enough to break off any and all business relations. Asset backed lending appears to be a thing of the past temporarily.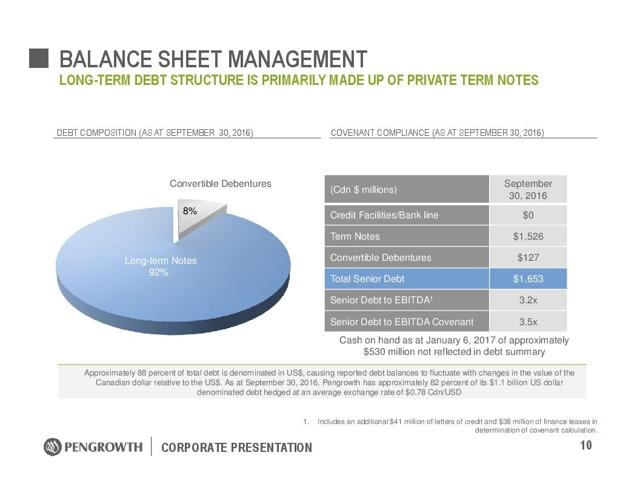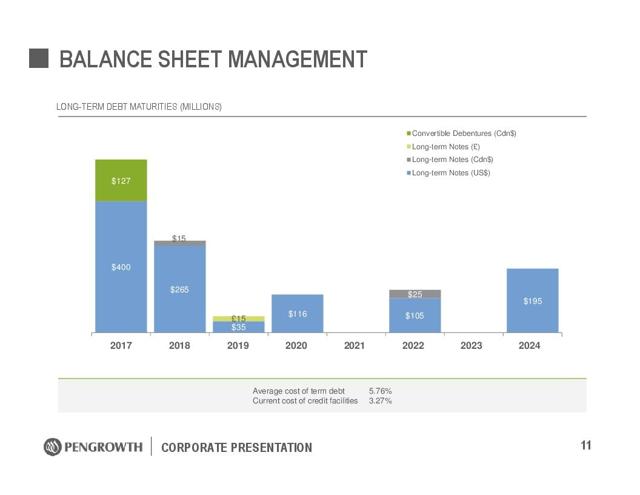 Source: Pengrowth Energy January 2017 Corporate Presentation
The company has nearly enough money to pay all of the debt that is coming due in 2017. The announcement summarized above verifies that. Of the 2017 amount maturing, only C$100 million will remain after all the payments are executed. For many companies, that would be enough to cure any worries about covenant violations. But for some reason management is still negotiating with the lenders and note holders despite the sizable debt reduction. This implies that EBITDA, probably cash flow, and of course profits have a fair chance of decreasing in the second half of the year. That is especially true if commodity prices do not cooperate.
Earlier in the year, a spartan capital budget was released. But there is still more debt due in 2018. So there is a very good chance that cash flow alone is not going to solve this problem. Management may not be able to pay the debt due and properly fund the capital budget from cash flow. For some time management has stated that property sales are on the table. But management has nothing to show for any property sales attempts. The market does not like this financial uncertainty so the stock has drifted lower.
Probably the way to increase EBITDA, cash flow, and profits cheaply and quickly would be a joint venture. Sanchez Energy (NYSE:SN), for example, has one with Apollo (NYSE:APO) that should dramatically increase cash flow. In another instance, tiny East West Petroleum (OTCPK:EWPMF) retains a very small interest so that its partner NIS carries the company completely through about 50 wells if everything goes completely right. There are some completion financing requirements, but by and large East West does not have pay anything during the more expensive parts of the process. Joint venture arrangements can be made to suit the financing of the partners. In this case Pengrowth has lots of leases that have no active drilling. These leases would be suitable for a partner to drill. Then Pengrowth would retain a suitable interest based upon whatever financing management figured the company could afford. EBITDA growth could occur at no cost or low cost to the company.
The company could also sell the leases and retain an overriding royalty. Since an amount would have to be on gross production that is free and clear of production costs. The sale of the property would generate initial cash and the overriding royalty interest would provide income for years to come. The final amounts received as well as the timing would depend upon the success of the operator as well as the speed of the lease development.
A third idea would be for the company to assign some debt to certain leases and then create a subsidiary to IPO. Such an IPO could raise some cash for Pengrowth, eliminate some debt off the books, but the company would retain an interest in the new company for as long as management deems such a course prudent. That separate company would then be free to raise cash or leverage up as market conditions permit and as management decides.
The point is that there are several ways for Pengrowth to solve this problem besides negotiating with lenders and bond holders. The lending market right now is not very favorable to the oil and gas industry. So these negotiations may not go well for management. In fact, the lending groups may not bend at all. So management needs to be a little more flexible in how to get past this last hurdle. If there are as many valuable assets as management states there are, then there should be alternative pathways to meet the EBITDA requirement and any other close covenants. The massive debt payoff is a start and frankly it should have been the end of the problem. The fact that there still is a problem points to a lack of management initiative on an issue that should have been resolved a long time ago.
This company has a very bright future once the debt issues are resolved. But after the latest payments, there is still too much debt due too fast to allow for capital expenditures. Management has a relatively small gap to close. But that gap needs to close. Then management needs to restore the market confidence in its leadership. Until that happens the common stock is going nowhere. Once the current financial issues are resolved, this stock could appreciate remarkably. The asset base could justify a $5 share price easily. Especially if management demonstrates a way to a sustained cash flow increase. Mr. Market, however, is not looking ahead. Instead, all Mr. Market is worrying about are the covenant issues. So for investors the next six months could be both very rocky and very rewarding.
Disclaimer: I am not an investment advisor and this is not a recommendation to buy or sell a security. Investors are recommended to read all of the company's filings and press releases as well as do their own research to determine if the company fits their own investment objectives and risk portfolios.
Disclosure: I am/we are long SN, EWPMF.
I wrote this article myself, and it expresses my own opinions. I am not receiving compensation for it (other than from Seeking Alpha). I have no business relationship with any company whose stock is mentioned in this article.
Additional disclosure: I might expand my positions shown above without further notice. I might also decide at some point to open a position in Pengrowth without further notice.