Industry And the Spread
In the restaurant industry, it is clear that Chipotle (NYSE:CMG) does not have a competitive advantage at the moment. Chipotle is in an industry that has a very favorable return for investors, with a market weighted average spread between ROIC and WACC of 13.51%. Chipotle's ROIC is currently at 1.15%, with a WACC of 5.22%, showing fundamental flaws in the company are hampering investors' returns. Look at the ROIC over the past three years for relevant reference: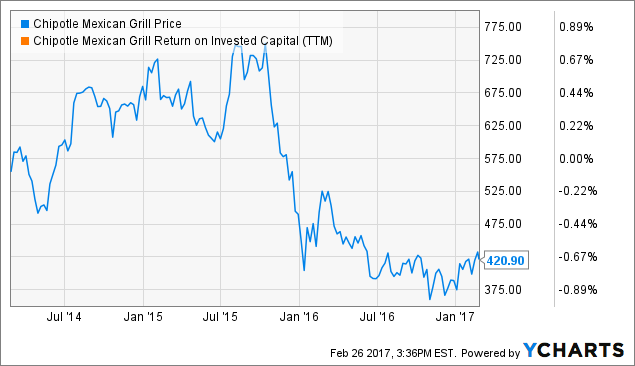 CMG data by YCharts
Economic Indicators
For 2017, US Real GDP is expected to rise 2.3% from 2016's figure, demonstrating overall economic strength domestically. The CPI is expected to rise 2.4%, which is more or less in line with GDP growth, so there is stability in consumer spending and pricing. No significant economic headwind is anticipated in the US for 2017. Analyzing economic surprises help identify root causes for certain market performances. Chipotle is in an industry that thrives when consumers have disposable income. People must cut back on their restaurant/fast food spending when the budget is tight, so lower unemployment rates and higher disposable income are key to chipotle's success. On February 3rd, a significant unemployment rate surprise of -2.49% took place, although the market managed to shrug it off (the SPY ETF, which replicates performance in the S&P 500, went up .127% in the first hour of trading following the surprise). Chipotle tanked over 6% over the first hour of trading, but this is also affected by poor earnings from market close the night before. On January 30th, figures on consumer spending were released, yielding no economic surprise. Chipotle actually traded higher in the hour after the report, despite the SPY dropping immediately after trading began. The Agricultural Price Index is anticipated to be on the downswing, which is an economic indicator that will help Chipotle maintain decent margins if the estimates are actualized. However it is important to note that in 2017, the prices of pork are expected to rise significantly, and this can put a small dent in profit margin. Equity investors may be hesitant to purchase stock, as a decrease in profit margin will lower Return on Equity (DuPont analysis).
The Beta That Cried Wolf
Chipotle currently sports a Raw Beta is at .11, far below the industry weighted average of .7. This demonstrates the lack of volatility Chipotle has in reference to the market. Generally low beta stocks are also low return, and Chipotle's ROIC figure of 1.15% is surely indicative of that. The Restaurant industry (fast food in particular) doesn't move very coordinately with the market because the prices at fast food stores are quite cheap, and unless a drastic event or surprise were to occur in the market or economy, fast food companies will be largely unaffected. Chipotle's low beta in particular shows that the company trades practically without any consideration for how the market is performing. This is not telling of the whole story, however. Chipotle had their whole E-coli scare over a year ago due to poor supplier meat sourcing, and suffered dramatically in sales and brad image as a result. This still changed Chipotle's Beta enough where it seems as if the company simply has a mind of its own relative to the market.
Financials and Outlook
Chipotle currently sports no debt, and has a significant amount of cash to fuel expansion efforts. In a restaurant industry that is saddled with debt to afford expansion, Chipotle has the luxury of being different. In addition, Chipotle has a strong customer base that buys into their mission statement of providing "food with integrity". If they improve internally with their advertising and supply chain, they can use their capital structure as a competitive advantage over the next few years (fueling unit expansion through cash rather than debt is ideal for a company undergoing significant changes).
In the restaurant industry, the threat of entry is high, as alternatives spring up very frequently. New players can simply lease property and equipment, making the initial capital requirements much smaller than other industries. The power of suppliers is quite high, as quality, organic food providers are more scarce than factory farms. Chipotle's decision to use quality, organic ingredients help attract consumers, while offering a stronger hand for suppliers. Power of buyers is quite high as well; consumers can elect to eat at any of the alternative restaurants around. There are an abundance of alternatives, so the buyer has numerous choices to make if they elect to buy away from Chipotle. Companies like Qdoba Mexican Grill demonstrate the intensity of the threat of substitutes and rivalry in Chipotle's industry. There are legitimate alternatives to Chipotle's products, and rival companies are springing up to take advantage of the large consumer base.
Over the next 5 years, analysts expect very strong earnings growth and revenue growth for Chipotle. Average revenue growth comes in at approximately 12% for the next five years, and earnings are expected to grow at a 126% average. Chipotle is expected to increase EPS by 532% for FY 2017, so excluding this tremendous expectation, analysts expect an average of about 25.5% for the years to follow. Clearly the company will be able to fend off competition over the next five years, and will be able to maintain its competitive advantage in the industry. The industry is anticipated to grow in relation with the employment rate over the next few years. With strong performance expected over the next few years, it will be difficult to imagine Chipotle needing to take out debt, while its competitors may be forced to. In 2017, Chipotle also aims to cut costs by $100 Million and to slow its unit growth by only opening up between 195-210 stores. Chipotle has actually reduced labor costs by making their production more efficient, and they have had a lower percentage of labor costs to total revenue in recent years. It also seems as if Chipotle will maintain a strong consumer following due to increased sales expectations over the next few years.
Over the next five years, the restaurant industry will still have low barriers to entry, with franchising a major reason. To compete in the future, companies like Chipotle are embracing the new targeted messaging maneuvers to improve sales, and will focus on advertising over the next FY to increase traffic rather than discounting food. The power of suppliers will likely be slightly lower, as more organic farms should sprout up due to the demand. Consumers are demanding healthier, organic, and more nutritious food, and companies like Chipotle are obliging. With such demand, it is difficult to see supply remain stagnant. The biggest challenge for the restaurant industry will be the power of buyers. There is already tremendous saturation in the market, and the power of buyers will force many companies to continue periods of discounting over the next few years. Rivalry will remain to be high as there is profit to be seized over the next five years in the restaurant industry, and in terms of threat of substitutes, companies like Chipotle can help themselves by establishing strong catering and delivery services that trounce competitors. It's worth noting that although the buying power of customers is extremely high, it is insignificant if the buyer succumbs to brand power (something Chipotle certainly possesses). In addition, they can continue to sell the meal experience, which is more prevalent than ever, by building on their ambiance and atmosphere before new players enter.
Disclosure: I/we have no positions in any stocks mentioned, and no plans to initiate any positions within the next 72 hours.
I wrote this article myself, and it expresses my own opinions. I am not receiving compensation for it (other than from Seeking Alpha). I have no business relationship with any company whose stock is mentioned in this article.