Exxon Mobil (NYSE:XOM) Shares have underperformed this year slipping from a 90 handle down to the low 80s. As the chart below shows it appears that the stock has found its bottom and is supported by dividend buyers as XOM makes its way up the dogs of the DOW list. Let's look at how XOM stacks up relative to the overall large cap market and energy sector.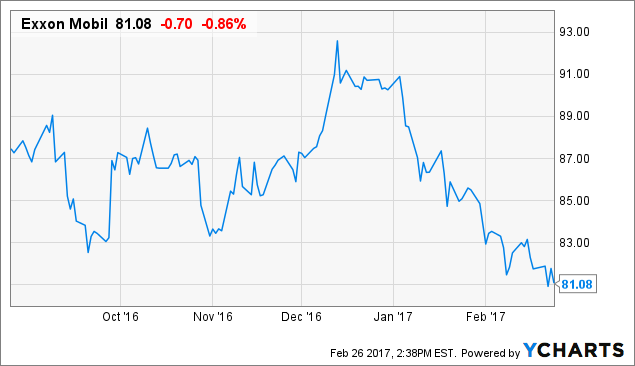 Valuation and Projected Growth
Analysts have very high expectations for XOM and the energy sector as hole. Many analysts predict a continued recovery in oil prices to accelerate earnings growth a torrid pace. XOM earnings are projected to grow by 17% largely in line with a near 21% growth rate in the energy sector. Both are substantially above the broader market growth rate of just under 12%.
XOM is trading at a modest discount to the overall market on a forward earnings basis, 16.8 times versus 18.1 for the S&P 500. XOM looks particularly attractive relative to its energy sector brethren at nearly a 50% discount to the 30 times forward earnings of energy companies.
From the PEG ratio perspective XOM is in the bargain bin at 1.0 times growth with the broader market and energy sector hovering at 1.5 times. Further augmenting XOM's compelling valuation is it's above average dividend yield at 3.7% a full 170 and 100 basis points above S&P 500 yield and energy sector respectively. For comparison we have created the GP ratio that adjusts PEG for dividend yields with XOM trading at 50% of the market and energy sector levels.
S&P 500

Energy

XOM

Projected EPS Growth

11.72

20.51

17.4

Forward P/E

18.08

29.57

16.68

PEG

1.5

1.4

1.0

Yield

2.06

2.61

3.7

GP Ratio

1.31

1.28

0.79

Source: S&P, YahooFinance
Risks to XOM Thesis
While XOM is compelling from a relative valuation and growth perspective there are risks that could cause XOM to underperform. First, XOM's payout ratio is well above historical norms and current earnings. This leaves quite a bit of earnings catch-up before the dividend growth matches earnings growth. Secondly, XOM is not buying back stock meaning oil prices and operating growth will have to shoulder the load for earnings growth to materialize.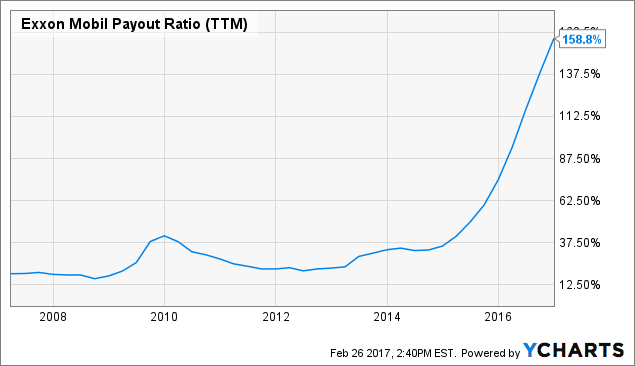 XOM Payout Ratio (NYSE:TTM) data by YCharts
Overall we recommend accumulating shares in XOM based on a highly compelling relative valuation and dividend yields.
Disclosure: I am/we are long XOM.
I wrote this article myself, and it expresses my own opinions. I am not receiving compensation for it (other than from Seeking Alpha). I have no business relationship with any company whose stock is mentioned in this article.