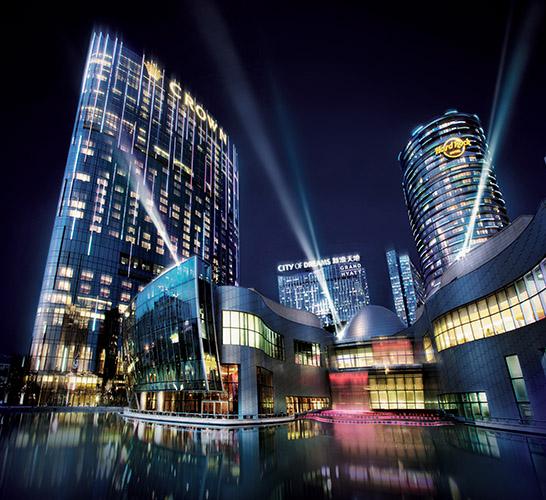 Source: Melco Crown Entertainment
As regular readers of our articles know, we have written extensively about Macau. Yet we have never issued a recommendation on Melco Crown Entertainment (MPEL), even when asked in comments to our articles. We have not done so for two reasons. First, while we are unabashed bulls on Macau in the long run, we believe that growth in the market may not be strong enough to fully offset the impact of the current wave of property openings. As a result, we have recommended investors be selective and only buy certain stocks with leverage to the Macau market, while avoiding others. Second, even though we are big believers in MPEL's City of Dreams Macau property, we are also concerned about some unique business issues relating to the company's Studio City and City of Dreams Manila properties.
Recently, however, we have seen a company-wide improvement in results that has exceeded our expectations. Moreover, there may be structural reasons behind the improvement. Specifically, the company made several key management changes, including the hiring of David Sisk, the former COO of Sands China, as president of its Cotai operations in September 2016. The company also finally opened a much-needed VIP area at Studio City, which we will discuss in more detail below. And the company removed a potential covenant overhang over Studio City late last year, when they refinanced the property's bank facility with senior notes. This removed not only an important investment risk, but also an important potential distraction for management.
While we think it is too early to call the recent improvement an inflection point, we believe the odds of continued operational headway have gone up. At the same time, sentiment in the gaming sector has deteriorated sharply, leading to a much cheaper potential entry point (at the time of this writing, MPEL stock last traded at $16.06). The specific events that have caused the recent sell-off include two consecutive monthly misses on Macau gaming revenues, lukewarm commentary on broader Macau trends on MPEL's own Q4 2016 earnings call, and the shocking earnings miss at MGM Resorts (NYSE:MGM) that might have eroded investor confidence in the broader gaming sector.
To be clear, all three negative data points are genuine reasons for concern, and as a result we would suggest that investors build positions cautiously. But we do believe that following the recent decline the stock more fairly reflects some of the risks, making it reasonable to initiate a small long position. We point out, however, that the stock will likely be volatile in the next week around the release of February gaming revenues in Macau. We probably don't have to tell you this, but to be clear, MPEL is not a stock for the faint of heart.
In the following sections we briefly discuss the main issues surrounding the company's three key properties, and close with a discussion of our views on the current risk/reward in the stock and our thoughts on the February Macau gaming revenue release.
City of Dreams Macau
City of Dreams Macau is the company's crown jewel, and main producer of EBITDA. The property may be in the best location in Cotai, flanked by Venetian, Sands Cotai Central, Wynn Palace, and in the future MGM Cotai. In fact, it might be the only property in Cotai that benefits to a meaningful degree from walk-in traffic from its neighbors (with their significant inventory of hotel rooms). City of Dreams is one of the most successful premium mass casinos in the Macau market, and based on our observations, consistently attracts some of the highest average bet sizes of any mass floor in Macau.
In Q4 2016, the property beat consensus EBITDA expectations on a hold-adjusted basis, one of only a few properties to have done so among the four operators that have reported earnings so far. While there is no way to be sure, we believe that City of Dreams may have benefited from the opening of Wynn Palace. The Grand Hyatt hotel tower at City of Dreams has many rooms with unobstructed views of Wynn's performance lake, and may have helped the company pick up business from competitors. It reminds us of the Bellagio opening in Las Vegas, when many people noted half-jokingly that the Bellagio Fountains may be the greatest attraction at many of the property's neighbors.
Next year the property is likely to get an additional boost from the opening of its new Morpheus hotel tower. While the project is significantly behind schedule and over budget, we are big believers that top-of-the-line hotel product is crucial to attracting premium customers. So while we are concerned that some existing operators may lose market share after the openings of MGM Cotai and Lisboa Palace, we believe that City of Dreams will hold its own, and may even gain share as Morpheus ramps up and traffic on the East side of the property (facing MGM Cotai and Wynn Palace) continues to build.
If every MPEL property was in as strong a position as City of Dreams, we suspect we would have been "pounding the table" on the stock long ago. Alas, the remainder of the story is more complicated.
Studio City
We believe MPEL has recently resolved two out of four key issues we previously saw with Studio City. First, the aforementioned refinancing of the property's debt removed the risk of a potential covenant breach, which was a major risk given the volatile operating environment in Macau. Second, the property finally opened a VIP area last November. Despite only having 30 tables, the VIP area significantly exceeded volume expectations last quarter. Based on our visits to the property, we are not surprised at this success. The entrance to the VIP area is located in the luxury mall wing of Studio City, steps away from ultra-luxury retail outlets such as Graff and van Cleef & Arpels.
Without a VIP area, this luxury mall was essentially orphaned. After all, how many mass market customers are likely to be in the market for Graff jewelry? With the VIP area, Studio City now offers a compelling high end gaming experience, conveniently connected to the pre-existing luxury mall and premium mass area. We believe that this opens up an entirely new clientele for Studio City, and should continue to drive growth in the future.
Unfortunately this brings us to the first of the remaining issues. Studio City is only 60% owned by MPEL, with the balance owned by private equity investors. This is problematic, because it can cause potential conflicts of interest that may hold back property performance. For example, it makes it tricky to run joint database marketing programs that could cause City of Dreams customers (on which MPEL earns 100% of the economics) to shift to Studio City (on which MPEL only earns 60% of the economics). More importantly, it might hold back expansion of the VIP area at Studio City.
The Macau government appears to no longer be permitting additional VIP tables, at least for the moment. This means that to increase the size of the VIP area at Studio City, MPEL would have to give up valuable VIP tables elsewhere. We believe that MPEL management is doing their best to deal with the situation, and signaled their willingness to shift further VIP tables to Studio City on the Q4 2016 earnings call. Still, the issue remains. Buying out the minority interest in Studio City might allow MPEL to drive greater efficiencies across its Cotai portfolio, but we have no reason to believe that such a deal is imminent.
Finally, we turn to the biggest, and most concerning issue. As we have pointed out in prior articles, Macau is not a place where people like to walk outside from property to property (unlike, for example, the Las Vegas Strip). As a result, the scale of interconnected offerings an operator can provide is crucial to attracting customers, particularly on the mass side. This is an important reason behind the success of the Cotai properties of other operators, most notably Las Vegas Sands and Galaxy.
Unfortunately, Studio City is essentially isolated from the other casinos in Cotai. While it is located across the street from Parisian, we believe that Sands has no incentive to make it easy for its customers to cross the street to sample the Studio City product. As a result, we have never seen any significant walk-in traffic to Studio City, which may be one reason why revenues and cash flows for the property have fallen short of expectations. Moreover, why would most mass customers choose to stay at Studio City when they have a far greater diversity of offerings available in the interconnected property clusters elsewhere?
This location and scale disadvantage versus competitors is likely to get worse, as interconnectedness and scale elsewhere in Cotai continues to grow. Las Vegas Sands is connecting Parisian to Sands Cotai Central via air conditioned bridge. Galaxy, already the largest and most profitable property in Macau, has a large land bank for further expansion. And Wynn Palace, MGM Cotai, and Lisboa Palace are likely to eventually become their own interconnected cluster, with a significant competitive advantage in driving VIP and premium mass traffic. As a result, even though we believe that Studio City will experience a short-term boost in growth from its new VIP area, we view the ultimate upside as more limited.
City of Dreams Manila
City of Dreams Manila is perhaps our least favorite major property in MPEL's portfolio. Since it also has the least impact on our ultimate valuation, however, we only briefly highlight our two main reasons for concern. The first concern is the Manila market itself. We have no doubt that it will continue to grow into a major gaming market, driven by the large local population. We are less certain, however, that it will ever become a major destination market. Infrastructure and traffic constraints are major issues in Manila. The government seems to be working hard at easing these constraints, with projects such as the new NAIA expressway, but based on our limited on-the-ground experience, they have a Herculean task ahead of them.
Moreover, we fear that the number of casinos opening in the market will make for quite a competitive environment. Indeed, the new $2.4 billion Okada Manila integrated resort had its soft opening late last December, and announced its grand opening is targeted for late March. Thus, Okada will likely start having an effect on existing operators, including City of Dreams Manila, at least from Q2 2017.
Second, MPEL does not own City of Dreams Manila, but only operates it through a joint venture with local partner Belle Corp. In fact, Belle owns the real estate of City of Dreams Manila, and receives both fixed rent payments and 50% of the gaming EBITDA of the property. As a result of these rather onerous terms (from MPEL's point of view), we believe that the potential free cash flow MPEL could generate out of this property is rather limited. Given the lack of real estate ownership and the broader issues discussed here, we also believe that the multiple investors should assign to City of Dreams Manila cash flows should be lower than its other properties.
Since the Philippine subsidiary of MPEL is publicly traded in Manila, we can get a market check on the valuation we assign in our sum-of-the-parts analysis. The entire market capitalization of Melco Crown Philippines is currently only $575 million, putting the value of MPEL's 72% stake at just under $420 million, or just over 5% of MPEL's market capitalization. This valuation actually strikes us as slightly on the rich side of fair (following the 150%+ rally in Melco Crown Philippines stock in the last year).
In short, we believe that this property is only a minor contributor of value to the overall MPEL enterprise, and that investors may currently be too optimistic about this value contribution. In fact, we believe our more sober view on City of Dreams Manila is a key reason that our overall MPEL price targets are lower than more optimistic analysts' targets.
Recent Gaming Industry Sell-Off Creates an Entry Point in MPEL
In summary, while we believe that City of Dreams is one of the marquee properties in Macau whose cash flows should be resilient to growing even in the face of increasing competition, we believe that the company will only be able to drive more limited growth and cash flows from its other projects. In our view, this puts MPEL somewhere in the middle of the pack of Macau operators -- we are not acutely worried about market share loss, but we are not that excited about potential growth either. We would be happy to be proven wrong by management. Results for Q4 2016 were certainly encouraging. But for the moment we consider the stock more of a trading vehicle than a core holding.
That said, the recent decline in the stock price makes for a reasonable entry point for an initial position. Our one year base case target price on the stock is currently $19.85, implying a 24% potential return from the $16.06 last trading price. Given its concentrated exposure to the Macau market, however, there is downside risk in the stock even at this reduced price. Should Macau gaming revenue growth slow from here, we believe that $14 is a plausible downside case scenario. In the event of some severe adverse scenario for Macau (economic or regulatory), the stock would likely trade even lower, and it is difficult to handicap the precise downside for these low probability events.
On a risk/reward basis, the stock therefore just barely meets our investment criteria. We believe that to take the fundamental risk and potential share price volatility inherent in a situation like this, one needs to ask for base case expected return at least in the mid-20% range. The reason that we still believe a small long position is appropriate is that we are cautiously optimistic on the ability of the new management team to continue to deliver upside surprises to the analyst consensus. While it is very early to make predictions about Q1 2017 results, our estimates do imply an upside surprise in the current quarter. We view continued success in VIP at Studio City as the biggest driver of this upside.
Thoughts on February Macau Revenues
In closing, we want to remind everyone one more time that short-term volatility in this name, and all Macau-related names for that matter, can be significant. The release of February gaming revenues for the Macau market will almost surely be a trigger for major short term volatility.
Following two months of disappointments, this number is highly anticipated by both investors and analysts. We reiterate our prior comment that the result will likely be better than January's +3%, but we worry that analysts may once again be getting overly optimistic about the likely outcome. Don't ask us why conservatism is not greater after two straight misses, but we have recently read about local analysts calling for double digit growth for the month. Our own point forecast is up in the high single digits, but you could drive a truck through the estimated 95% confidence interval, which according to our model is +1% to +16%.
We mention this only to highlight the degree of uncertainty, and the potential for stock price overreaction to this number. A third straight miss is a fairly plausible event on a statistical basis, as our estimated confidence interval suggests. Even if underlying business trends are OK, a run of bad luck at the end of the month could easily cause the number to come in low. Three straight misses, however, could well convince the market that something is wrong in Macau, and cause another leg down in the stocks. Conversely, a beat vs. expectations has the potential to reverse some of the sharp decline that the Macau stocks have experienced in recent weeks.
It is noteworthy that MPEL, on its own Q4 2016 earnings call, appeared to actively try to temper expectations for revenue growth. Specifically, CEO Lawrence Ho said the following:
I will classify Chinese New Year as it was as expected. It wasn't blow-out phenomenal. At the same time, I think Macau has become a much more mature market compared to previously. So you'll see less peaks and certainly less troughs. […] So I think we stick to our thinking, which is, for the full year, Macau would be from our standpoint a mid- to high-single-digit growth rate, which is extremely positive.
We believe that this below-consensus guidance from Lawrence Ho was an important contributor to the recent stock underperformance. Yet his comments sound reasonable to us, both based on our statistical work, and on our on-the-ground observations in Macau in the last year. We believe that mid to high single digit growth should be sufficient for investors to make money in Macau operators that outperform the broader market trends. But it may not be high enough to exceed market expectations, or lift the stocks of market share-losing operators. We continue to believe that it will pay to be selective in the Macau stocks this year.
We also reiterate a warning we have issued on Seeking Alpha previously. In gaming, if your trading strategy breaks every time a monthly gaming revenue figure is released, you need a new trading strategy. In our judgment a small long position in MPEL is appropriate now in spite of all this, but we urge readers to have contingency plans for all possible outcomes before the February revenue number is announced.
Disclosure: I am/we are long MPEL.
I wrote this article myself, and it expresses my own opinions. I am not receiving compensation for it (other than from Seeking Alpha). I have no business relationship with any company whose stock is mentioned in this article.