In December, 2016 I invested in Medtronic Plc (NYSE:MDT). I liked the fact that Medtronic was a dividend aristocrat and I was attracted to it because I thought it was oversold in the market. I did have some concerns about the company but, I thought it was a good time to make an investment. Medtronic released its 3rd quarter earnings report last week and as an investor I was interested in the report. In this article I want to compare the earnings report with some of the concerns I addressed in my initial article on Medtronic. Additionally, I want to determine if it is not too late to invest in Medtronic Plc.
Chart 1 below shows my purchase of Medtronic which was the day my article was published. Since my purchase Medtronic's stock price has risen over 12%. Additionally, I received the January, 2017 dividend of $0.43 per share.
Chart 1 - Medtronic Weekly Stock Price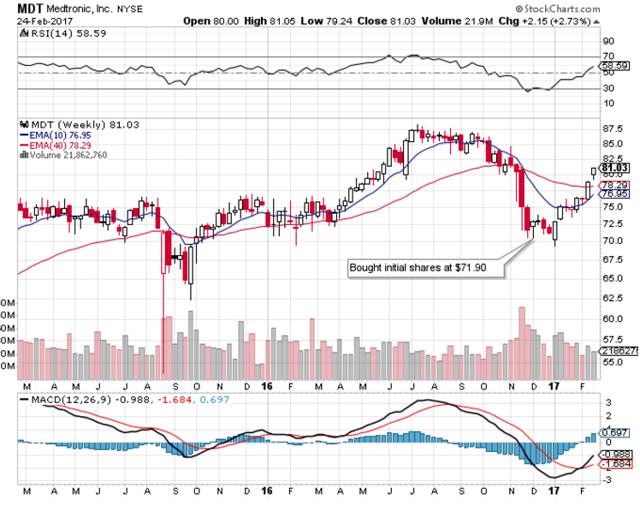 In part, Medtronic's price increase can be attributed to the fact that the whole Healthcare Sector (NYSEARCA:XLV) has outperformed the SP 500 index as can be seen in Chart 2 below. If that trend continues then investors in Medtronic and other healthcare stocks will have an investment tailwind.
Chart 2 - XLV:SP 500 Index Relative Strength Weekly Chart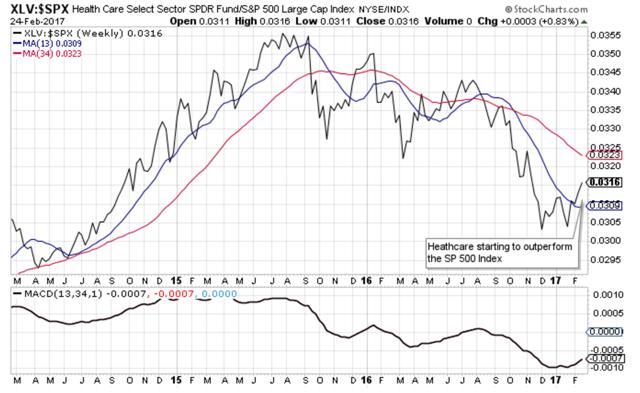 Medtronic's third quarter numbers were encouraging. Revenues grew both in the U.S. and in international markets. All four of their business groups saw year over year revenue gains. Medtronic's revenue for the quarter was $7.3B which represented 6% growth.
In my previous article return on assets was a concern of mine but I did see progress on this front. For the trailing twelve months return on assets has risen to 4.17% from 3.6% at the time of my initial article. Return on equity was just 7% at the time of my investment. Now it is 8.28%. Each of these metrics did progress, but both are still well below Medtronic's five year average of over 7% and 14% respectively. I will continue to monitor these metrics in upcoming earnings calls.
Long term debt has declined to about $26B. Last quarter Medtronic had $30B in long term debt. Medtronic's CFO Karen Parkhill stated that after the dividend, debt reduction remains "… a near term capital allocation priority…." Additionally, Medtronic targets an A credit profile.
Medtronic stated that they increased their share repurchase efforts in the quarter to take advantage of the lower stock price. In the 3rd quarter Medtronic allocated $566M in net share repurchases. At the end of the quarter diluted shares outstanding stood at 1.38B compared to 1.425B at the time of my article. I am expecting more progress on this front in the quarters to come as Medtronic is projected to have $5B - $6B in free cash flow in FY 17. Medtronic's stated goal is to return 50% of its free cash flow each year to its shareholders through dividends and share repurchases.
The synergies of the Covidien merger are expected to provide a minimum cost savings of $850M by FY 18. They are on track to deliver $225 - $250 in FY 17. This was a concern during the time of my initial investment and I stated that the synergies should lead to improved margins. Medtronic stated that operating margins did in fact improve by 130 basis points when comparing constant currencies.
The three long term growth strategies for Medtronic are therapy innovation, globalization, and economic value. The pipeline for new products looks strong. New products were growth drivers in all four of their business groups. Examples of therapy innovation include a new drug-eluting stent called Resolute Onyx which Medtronic believes will receive FDA approval at the end of this FY. It is expected to provide meaningful growth in FY 18. Medtronic has new product launches in Advanced Energy and Advanced Stapling. The Diabetes Group is expected to produce double digit growth next year as their new insulin pump system begins to ship this spring.
Globalization is doing well for Medtronic and its shareholders. Emerging markets grew over 11% in the 3rd quarter. Medtronic CEO Omar Ishrak believes that "… Emerging Markets represents the single largest opportunity in MedTech (medical technology) over the long term."
Economic value is represented by Medtronic's Hospital Solutions division and their chronic care management business models. These are developing business that Medtronic expects to continue to learn more about so they can provide value-based healthcare solutions to their customers.
In summary, I thought Medtronic had a good quarter and more importantly is making progress in all of the areas I had concerns about when I made my investment. The metrics are heading in the right direction. The synergies of the Covidien merger are taking place. Debt is being paid down and shares are being repurchased smartly. Innovation is continuing to provide growth and Medtronic is gaining market share. As a bonus, the Healthcare Sector is starting to outperform the overall market. It is not too late to initiate an investment in Medtronic in my opinion. Especially, with the Healthcare Sector starting to outperform the overall market. So far I am pleased with my investment in Medtronic and I look forward to the next earnings call.
Disclosure: I am/we are long MDT.
I wrote this article myself, and it expresses my own opinions. I am not receiving compensation for it (other than from Seeking Alpha). I have no business relationship with any company whose stock is mentioned in this article.