Canadian Solar (NASDAQ:CSIQ), the world's second largest solar cell manufacturer, is scheduled to report 4Q2016 and FY2016 earnings before the market opens on Wednesday Mar. 8, 2017. Per the 10-Q dated Nov. 21, 2016, the company expects total solar module shipments for the fourth quarter of 2016 to be in the range of approximately 1.4 GW to 1.5 GW, including approximately 30 MW of shipments to the Company's utility-scale solar power projects that may not be recognized as revenue in fourth quarter 2016. Total revenue for the fourth quarter of 2016 is expected to be in the range of $600 million to $750 million. Gross margin for the fourth quarter is expected to be between 11% and 16%.
The recent demand for the company's solar module products has been exceptionally strong. Shipment volume in the fourth quarter is constrained only by the availability of the company's solar module manufacturing capacities. Per management, the company is overbooked for the current quarter and fully booked for the first quarter of 2017.
As a result, the company resorted to use third party solar modules for some of its own projects in order to satisfy the demand from its solar module customers. Further, the gross margin in the quarter is expected to be impacted by the loss-of-service of the company's 1 GW solar cell factory in Jiangsu, China, which was damaged by a tornado in June and the delay in construction of the company's new 850 MW cell factory in Southeast Asia. The company expects to bring the Jiangsu, China cell factory fully back in service by June 2017. Meanwhile, the Company expects to start production on its new cell factory in Southeast Asia in the first quarter of 2017.
On Feb. 6, 2017, the company announced it had completed the sale of the outstanding shares of 3 utility-scale solar farms located in Sault Ste. Marie, Ontario, Canada to an affiliate of Fengate Real Asset Investments for approximately $196 million. As part of the deal, Fengate assumed the outstanding debt from Norddeutsche Landesbank Girozentrale and Canadian Solar will provide operations & maintenance and asset management services.
Canadian Solar is reasonably well capitalized with cash, cash equivalents, and restricted cash balances at the end of 3Q2016 totaling $986.0 million. The company's portfolio of operating solar power plants now totals 948 MWp, with an estimated total resale value of approximately $1.4 billion. Additionally, the company reported approximately $540 million in assets held for sale. Short-term borrowings at the end of the third quarter of 2016 were $1.51 billion with long-term debt of $615.8 million.
Canadian Solar has a market capitalization as of Feb. 26, 2017 of approximately $850 million. At an average analyst consensus compiled by Thomson Reuters of $0.32/share (approximately $18.3 million), shares of Canadian Solar trade at a price to earnings ratio of roughly 8.75 based off the estimated net income from the trailing 12 months ended 12/31/2016 of $96.9 million.
Canadian Solar is well positioned to take advantage of increasing demand for solar energy production globally with geographically diverse sources of revenue, including 41.1% from the Americas, 42.7% from Asia, and 16.2% from Europe and others.

The company currently has plants in operation totaling 483 MWp in the U.S., 218 MWp in China, and 120 MWp in Canada. Moreover, the company anticipates to complete an additional 715 MWp in the U.S in 4Q2016 worth a total resale value of approximately $710 million.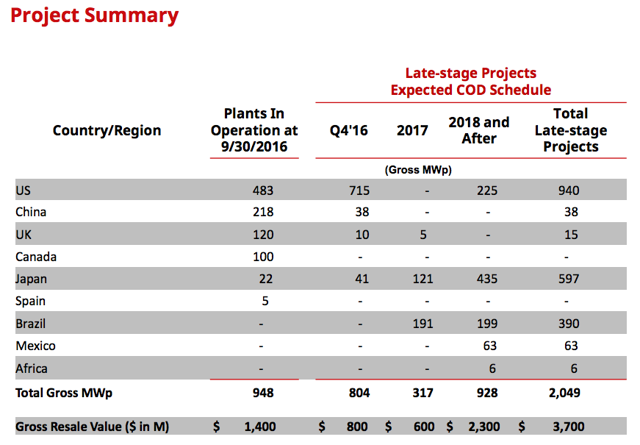 Per the company's Nov. 2016 presentation to investors, total solar cell module shipments have increased by a compounding annual growth rate of 80.1% over the past 10 years and have increased by more than 250% from 1,894 MW in 2013 to an estimated 5,100 in 2016.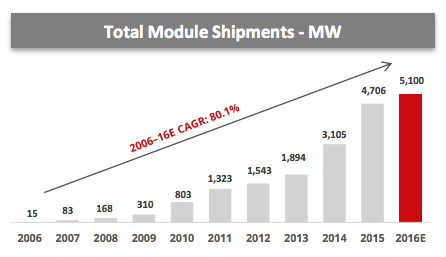 Global annual PV installation has increased by approximately 178% in that same timeframe.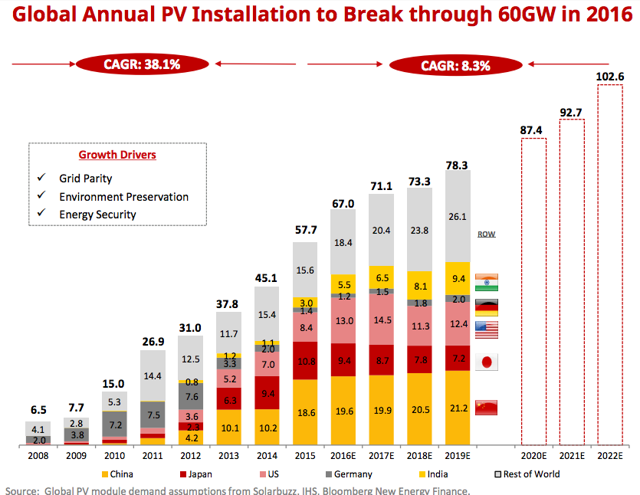 The company's current valuation is attractive given the increasing market share of solar energy production globally, the company's strong financial position, and increasing manufacturing capacity. Shares of Canadian Solar have increased 21.51% year-to-date as of Feb. 26, 2017.
Disclosure: I am/we are long CSIQ.
I wrote this article myself, and it expresses my own opinions. I am not receiving compensation for it (other than from Seeking Alpha). I have no business relationship with any company whose stock is mentioned in this article.