Over the last 7 to 8 years investors have experienced tremendous returns on their investments. It almost did not matter what you had invested in; be it equities or fixed income, the low interest rate environment was a friend for your investments.
This also applied for anything that you borrowed money for, be it a car loan or a mortgage.
The one category of assets where low interest rates have not been a friend are your cash and cash equivalent assets. With low interest rates came near-zero interest rates on cash and cash equivalents. While in 2007 it was not too difficult to find 5%+ CDs, today those rates seem like stories you would read about in the history books.
This is particularly important for many lower-income investors who may not have investments but do put some money into a savings account. While prior to the Great Financial Crisis they were able to grow their savings, today they are in trouble.
Janus has put together a great infographic outlining the extent of this crisis.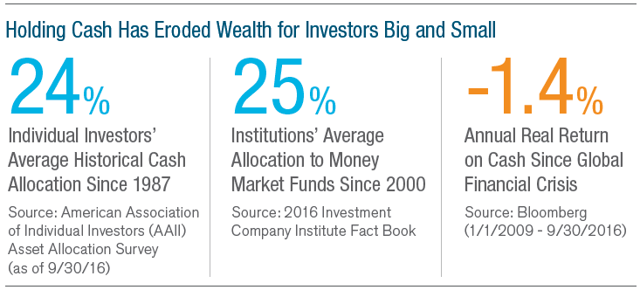 Source: VNLA Factsheet
Huge issue, right? Well, fortunately Janus has an answer.
Janus has recently launched a new actively managed ETF giving the yield-starved market an interesting option. That fund is the Janus Short Duration Income ETF (NYSEARCA:VNLA). We have mentioned this fund in my previous article, "Active Income ETFs For A Rising Rate Environment," where I promised to do a deeper dive on it. So let's take a look.
Fund Basics
Sponsor: Janus
Index: 3 Month Libor
AUM: $40.12 Million
Investment Objectives: To provide an absolute return of 2% to 3% above the 3-Month USD Libor.
Number of Holdings: 86
Current Yield: 1.21%
Inception Date: 11-16-2016
Fees: .35%
Source: YCharts & Janus Website
Why This Fund
There are a number of reasons to consider this fund, particularly in a rising rate environment.
The first and most obviously targeted group of investors are those that are looking to deploy their cash, but are afraid of taking on too much risk.
The second reason to look at this fund is to lower the volatility of the overall fixed income portfolio by adding a lower duration fund to the allocation.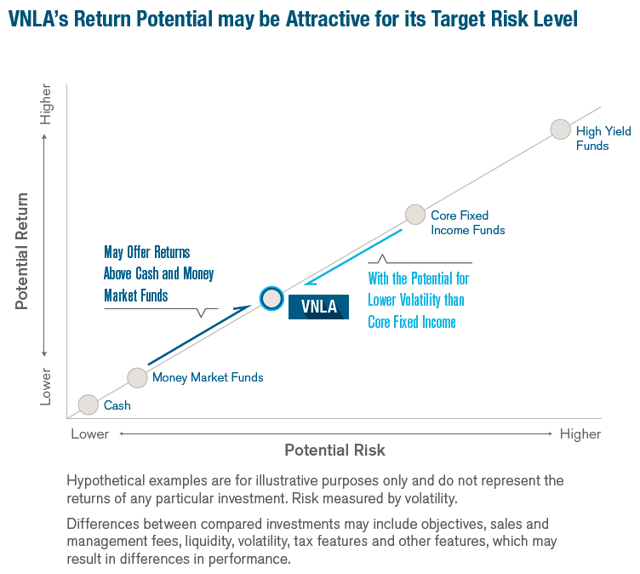 Source: Janus VNLA FactSheet/Brochure
By capitalizing on structural inefficiencies in fixed income markets, we believe we will be better positioned to outperform through market cycles.
Nick Maroutsos, Portfolio Manager | Daniel Siluk, Portfolio Manager
Fund Strategy
Considering that this fund is targeted as just one step above cash equivalents, the types of investments would be limited. That does not, however, prevent having a dynamic strategy.
As per Janus's website, the strategy here is twofold. First, fund managers would craft a strategy and an allocation to create a solid foundation to generate the desired yield. The fund also sets a separate goal of looking for alpha-generating investments to contribute to the absolute return goals.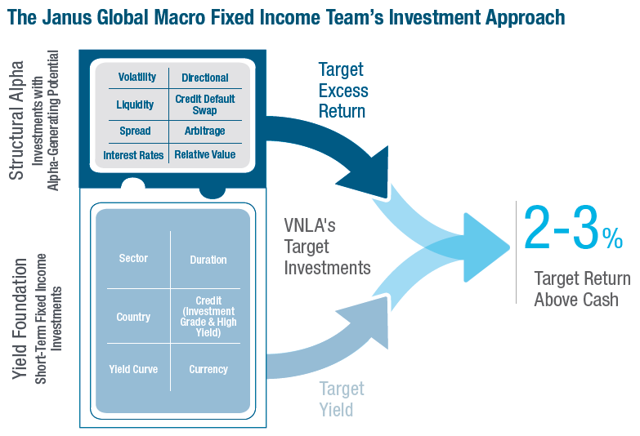 Source: VNLA Brochure
Once the portfolio strategy is set, the fund does have eligibility requirements and limitations on the inclusion in the fund.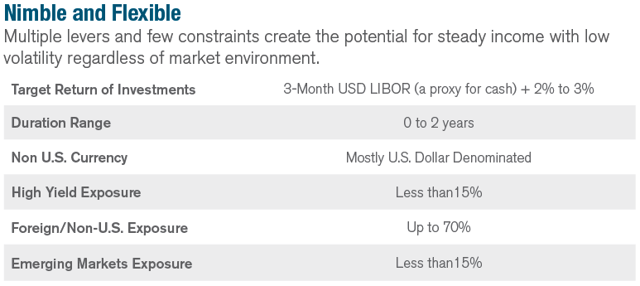 Source: VNLA Brochure
Putting everything together we get the following top 25 holdings of the portfolio.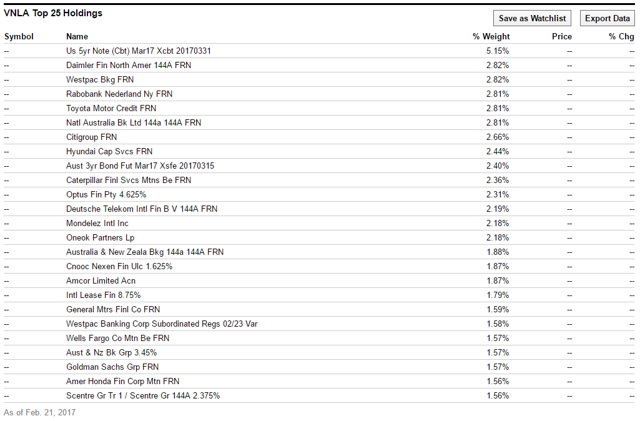 Source: YCharts
Performance
Considering that the fund was just launched, there are no long-term performance numbers. Going forward I believe this fund should behave like the PIMCO Enhanced Short Maturity Active ETF (NYSEARCA:MINT).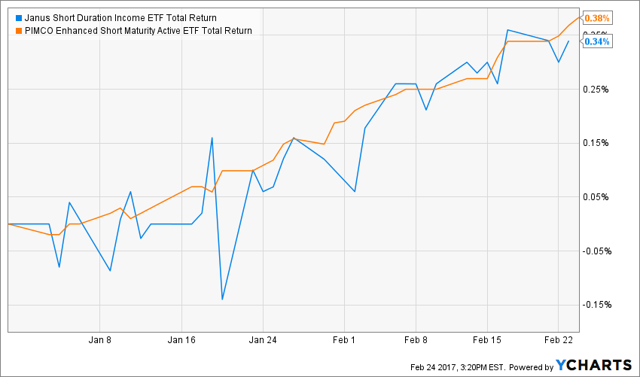 As the fund grows in size, the daily share price volatility should decrease as the bid/ask spread decreases.
Who's It For? Our Take & Bottom Line
I have been a fan of Janus open end mutual funds for a while and am starting to follow their new ETF offerings.
I believe VNLA is a needed solution for the markets. While similar investment options are available through open end mutual funds, there were only a few ETF options available, namely the PIMCO Enhanced Short Maturity Active ETF . The reason I believe VNLA will outperform and why I like it better is that with actively managed funds, size DOES matter, and in this case the smaller and more nimble the fund, the better the opportunities it may take advantage of.
I believe this fund deserves a look from both retail investors and financial professionals looking for a low cost active fund.
As a financial professional I can see using this fund both as part of a financial plan and as an investment allocation.
From a financial planning standpoint, this ETF can be used as part of the extended cash reserve, or Tier 3, behind Checking/Savings (Tier 1) and money market accounts (Tier 2).
From an investment management perspective and as we discussed in our previous article, adding VNLA to the fixed income allocation will lower the overall duration, thus better positioning the portfolio for a rising rate environment.
Janus has a similar take in its positioning for the fund.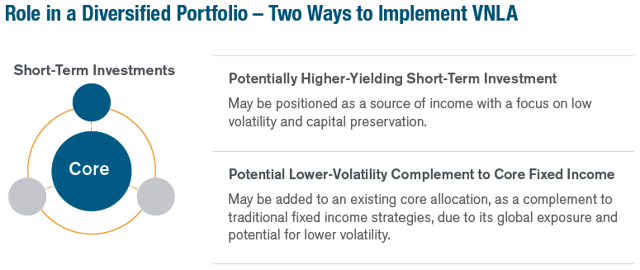 Source: Janus Brochure
Thanks for readingm and I look forward to your questions and comments.
For more information about the fund please visit the Janus ETF website here.
For our previous article discussing using actively managed ETFs to prepare for a rising interest rate environment click here.
I believe in active management that works, and I am here to help you find those opportunities. Please follow me here on Seeking Alpha as we look for those opportunities and sort out the good managers from the mediocre.Simply click the "Follow" button next to my name at the top of the article or on myprofile page.
Disclosure: I/we have no positions in any stocks mentioned, and no plans to initiate any positions within the next 72 hours.
I wrote this article myself, and it expresses my own opinions. I am not receiving compensation for it (other than from Seeking Alpha). I have no business relationship with any company whose stock is mentioned in this article.