Spectacular returns at a cheap price…
Lloyds Banking Group (NYSE:LYG) results have been spectacular: pre-tax profit increased by 158% in 2016 to £4.24 billion, a level not seen since the boom of the 2000s in the context of increasing net interest margin and low non-performing loan provisions.
In our article: "The post Brexit trade: U.K.'s Lloyds Bank stands ahead of the rest" we said:
Lloyds possesses the best retail branches network in the country, with more than 2,200 branches and the best SMEs bank in terms of clients - circa 1.25 million SMEs in the U.K., relationships - serving 91% of FTSE100, and infrastructure - 500 business centres around the U.K. and a network of over 4,000 client-facing staff.
This market power translates to an abnormally high Net Interest Margin for a developed market - 2016 NIM expected to peak at around 270 bpsz.
The acquisition of HBOS in 2008 almost brought down the Black Horse bank but added a huge retail network in the U.K. in a merger that in normal conditions would have been blocked on competition grounds.
High market power in a highly oligopolistic U.K. retail banking market implies that, once the restructuring of the network is basically completed, the lender should become extremely profitable. It is difficult to attribute a ROTE (Return on Invested Capital)) to the retail banking division of Lloyds, but it is now probably close to 30% and it could be even more lucrative in the future.
As a consequence of this huge market power Lloyd's NIM (Net Interest Margin) is very high for a developed country: the Black Horse lender reported a NIM of 2.71% at the end of 2016, 35% higher compared with the circa 2% net interest margin in the second quartile of similar sized competitors in Europe and the U.S.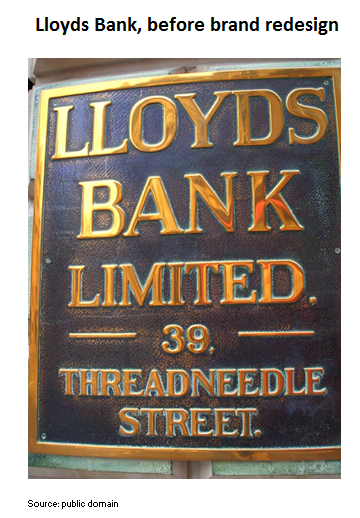 On top of this Lloyd's NIM is increasing - 2.71% compared with the 2.61% margin reported in 2015 - mainly due to better liabilities pricing. This means that net interest margin could be ever higher in coming years, in a context of rising interest rates and once the MBNA acquisition is consolidated on the P&L.
Down the P&L line the CEO, Mr. Horta-Osorio, has done an excellent job keeping costs contained: at the end of 2016 operating costs were lower than in 2015 and £2bn lower than in 2010, despite sizeable investments in IT infrastructure and the refurbishment of the network of branches.
Asset quality continues improving, with an impaired loans ratio that has dramatically fallen from 8.6% in 2012 to 1.8% in 2016; the scope for further falls is limited but it is obvious that the balance sheet has fully healed from the wounds of the financial crisis.
The consequence of these factors is the 158% increase in statutory profit, from £1,644 billion in 2015 to £4,238 billion at the end of 2016. Even better, underlying profit pre-PPI and other charges are around £7bn. Therefore, there is scope for bigger profit increases in coming years, all things being equal.
In terms of pricing, at 10 times estimated 2017 PE and 1.17 times price book value the stock seems to be very cheap taking into account current earnings and the potential for extra profits likely to be generated in future years.
Why is the market creating such a generous - and easy to analyze - opportunity? The answer is Brexit.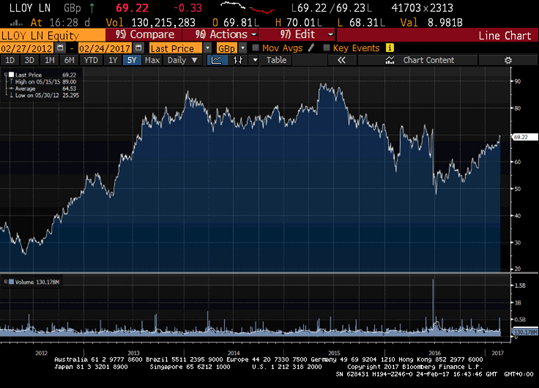 But Brexit looms large
The Brexit process has not started yet; article 50 is expected to be triggered in March 2017; from then, 2 years of very difficult negotiations begin.
For good or bad the U.K. economy is deeply exposed to Continental Europe: 44% of U.K. exports go to the Union, including key labour intensive automobile, industrial and financial services exports. In addition, most of the top world multinationals present in the Union have their headquarters in the U.K. and serve the Continent from the British Islands.
As a consequence, the trade link between the U.K. and the Continent will likely be the focus of the negotiations for a soft or hard Brexit.
Therefore, the positive or negative Brexit outcome should have a key impact on the trade deficit of the U.K., its future level of private debt and the easiness of how it is funded over the next five years at least and probably more.
Currently, current account deficit is quite high, at around 5.2% of GDP and private debt is in the mid upper level for a developed market, at around 220% of GDP - compared with 150% in Germany, 197% in the U.S. and 229% in France.
These numbers could worsen or improve, depending on the outcome of the negotiations, opening a wide array of scenarios, some of them extreme one way or the other.
The economy has not felt the impact of the uncertainty that is to come so far: GDP growth for 2017 has been downgraded mildly to the current level of 2% and inflation has increased moderately from very low levels, following the fall of the GBPEUR exchange rate.
Up to this point, the impact of Brexit is manageable, but a high political and economic risk embedded in any pure U.K. investment has been created and Lloyds is a pure U.K. operation with almost 100% of its business conducted in the U.K.
Therefore, the lender is a very clear bet that Brexit will be a success. Hopefully it will be, but any investor in the U.K. bank is bearing a political risk impossible to assess that may dramatically impact Lloyds Bank balance sheet and, consequently, its stock price.
Consequently, Lloyds is so cheap for a reason. If things go wrong in Europe, it will be far cheaper. A prudent banks investor should stay away until Brexit is sorted one way or another.
Disclosure: I/we have no positions in any stocks mentioned, and no plans to initiate any positions within the next 72 hours.
I wrote this article myself, and it expresses my own opinions. I am not receiving compensation for it (other than from Seeking Alpha). I have no business relationship with any company whose stock is mentioned in this article.