Hamilton Lane (NASDAQ:HLNE) filed an S-1/A with the Securities and Exchange Commission on Feb. 16, 2017, announcing its intention to sell 11,875,000 shares at a marketed price range of $15 to $17.
We previewed this deal on our IPO Insights platform.
If HLNE prices at the midpoint of its range, and assuming underwriters exercise their option to purchase additional shares, HLNE will have a market capitalization of $748M.
The company also has an additional 1,781,250 shares over-allotted as an option for its underwriters. The underwriters for the IPO are J.P. Morgan, Morgan Stanley, Goldman, Sachs & Co., Keefe, Bruyette & Woods, Wells Fargo Securities and Freeman & Co.
Business overview
Hamilton Lane Inc. is a global provider of private markets investment solutions with $292 billion of assets under advisement and $40 billion of assets under management. The company works with its clients to build out, conceive, monitor, structure and manage portfolios of investments and private market funds. It has 290 employees working in 11 office locations in the U.S., Tel Aviv, London, Rio de Janeiro, Seoul, Hong Kong and Tokyo. The company offers a menu of different investment solutions for its clients, including customized separate accounts, specialized funds, advisory services, distribution management and data analytics. The company was founded in 1992 and is based in Pennsylvania.
Executive management team highlights
Hartley R. Rogers is the chairman of the board of directors of Hamilton Lane Inc. He is also a managing director and serves on a number of investment committees. He previously served as the vice chairman of the board of directors of HLA. Before joining Hamilton Lane in 2003, Rogers was a managing director of the private equity division of Credit Suisse First Boston from 1997 to 2001 and then worked as a managing director of DLJ Merchant Banking partners III, which is a $5.3 billion private equity fund from 2001 to 2002. Before that, Rogers worked as a managing director of Morgan Stanley & Co. Inc. Rogers's tenure at Morgan Stanley was from 1981 to 1983, 1986 to 1993 and from 1995 to 1997. Rogers completed his undergraduate education at Harvard College and his Master of Business Administration at Harvard Business School.
Mario L. Giannini is the chief executive officer, a co-chairman of several investment committees and a member of the board of directors of Hamilton Lane. He has served as the CEO since 2001 and as a director since 1998. He previously served as the president of HLA from 1998 to 2001. Before joining the company in 1993, he worked as an executive vice president and general counsel of Industrial Valley Title Insurance Company from 1989 to 1992 and as a deputy general counsel of Fidelity Bank in Philadelphia from 1984 to 1989. Giannini graduated with his Bachelor of Arts from California State University, Northridge, his Master of Laws from the University of Virginia and his Juris Doctor from Boston College.
Financial highlights, risks and use of proceeds
For the nine-month period that ended on Dec. 31, 2016, Hamilton Lane Inc. reported total revenues of $131,241,000 and a net income of $56,788,000. For the same time period that ended on Dec. 31, 2015, the company reported total revenues of $139,434,000 and a net income of $41,034,000. The company reported total revenues of $180,797,000 for the year that ended on March 31, 2016, and of $155,385,000 for the year that ended on March 31, 2015. It reported net incomes for the years that ended on March 31, 2016, and March 31, 2015, of $57,107,000 and $69,260,000, respectively.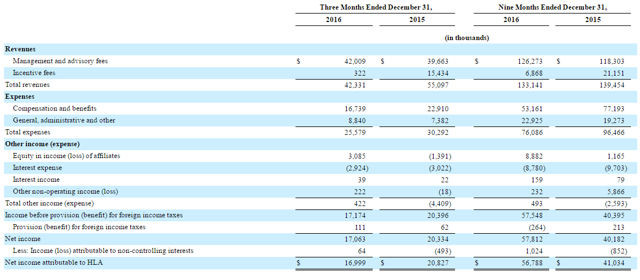 (Source)
The company reports that its historical investment performance should not be taken as an indication of its future performance. It reports that one risk factor is the intense competition for access to investment funds. It plans to use the proceeds from its IPO to repay its term loan and interest as well as to purchase existing membership units held by some of its owners.
Conclusion: Consider Purchasing Shares
Hamilton Lane Inc. has a strong management team and a history of profits and strong revenues. Using revenues for the past twelve months, and assuming IPO midpoint pricing, HLNE will have a P/S ratio of 4.3. This is above the industry average of 2.9 for firms like Morgan Stanely (NYSE:MS) and Goldman Sachs (NYSE:GS), which offer private investment access. At the same time, these firms are significantly more established and diversified.
A PwC report, noted by HLNE in its SEC filings, states an approximate doubling of the alternative investment industry to $13.6 trillion by 2020.
We believe that growth investors should consider buying shares during this IPO.
Don Dion's IPO Insights provides up-to-date information and analysis on the major IPOs each week, along with additional opportunities to invest and short these stocks at their quiet period and lockup period expirations, respectively. Consider following us at the link above. We will continue our PRO offerings on Seeking Alpha alongside our more exclusive research.
Disclosure: I/we have no positions in any stocks mentioned, but may initiate a long position in HLNE over the next 72 hours.
I wrote this article myself, and it expresses my own opinions. I am not receiving compensation for it (other than from Seeking Alpha). I have no business relationship with any company whose stock is mentioned in this article.