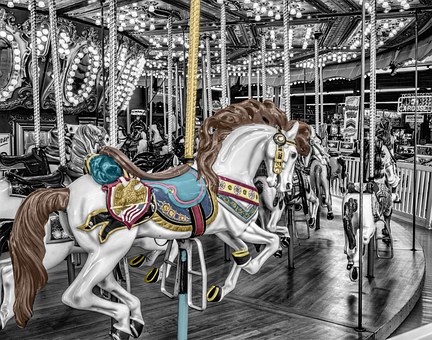 Empty Saddles and Empty Promises on the MannKind Merry-go-Round
Tracking 2017: Sizzle or Fizzle Campaign

Based on a Weekly Growth Rate of 10%

Start:300

Projected

Actual

(+) (-)

Cumul.

Revenue

(+) (-)

Cumul.

Scrips

Scrips

Scrips

(+) (-)

$Amts.

$Amts.

$ Amts

1/6/2017

330

238

-92

-92

$47,000

($18,000)

1/13/2017

363

208

-155

-247

$41,600

($31,000)

($49,400)

1/20/2017

399

224

-175

-422

$44,800

($35,000)

($84,400)

1/27/2017

439

267

-172

-594

$53,400

($34,400)

($118,800)

2/3/2017

483

269

-214

-808

$53,800

($43,200)

($162,000)

2/10/2017

531

236

-295

-1,103

$47,200

($59,000)

($221,000)

2/17/2017

584

247

-337

-1,440

$49,400

($67,400)

($288,400)
Based on my simple tracking model where I use a miniscule weekly growth rate of 10%, where achieving this microscopic incremental revenue increase, MannKind (NASDAQ:MNKD) will need years and maybe decades before they could ever achieve a break-even point with revenues showing a profit for this floundering corporation. One merely must look at the latest weekly report of 247 prescriptions being filled, and you would need to go back to Week 12 of the first launch to find numbers that exceeded this amount.
Let me place my chart's relevance into the simplest of forms, so the 'true-believers' in this stock might be able to grasp the reality they face in owning this stock. MannKind's executives have confirmed they will spend $10,000,000 per month in keeping the company in some semblance of being an on-going operation. Based on their own admission, this $10 million per month will translate into MannKind spending $120,000,000 for all of 2017. Forget my model showing a 10% weekly growth rate. Look at what they have done in the first 7 weeks of 2017. As of 2/17/2017, they have obtained 1,689 total prescriptions. Multiple the current average of 241 prescriptions per week by the remaining 5 weeks of the 1st Quarter, 2017. This would mean we should expect to see 1,205 additional prescriptions. When you add this number to the current 1,689 prescriptions MannKind will have obtained 2,894 prescriptions for the first quarter of 2017.
When you utilized my most generous $200 net profit for each prescription that is filled for Afrezza, this means 2,894 prescriptions would net MannKind $578,800.00 for the 1st quarter, 2017. However, they will spend $10 million to keep the doors open. Let's assume that for the 2nd Quarter, 3rd Quarter and the 4th Quarter of 2017, prescriptions remain at the current levels. This would compute into showing MannKind generated revenues of $2,315,200.00 for all of 2017. Now let's go back to the fact that MannKind's executives have told investors they will spend $120,000,000.00 for this same time-period. A simple math operation of subtracting $2,315,200 from $120,000,000 reveals revenues will come up short on December 31st, 2017 by a mere $117,685,000.00.
Sure! Going with the third sales team with no difference in what they can say in promoting Afrezza to the same medical professional that didn't buy into the first two launches---no problem this time! The CEO and the COO have told you this time they have it right. So just how simple will this task for a do-over of the first and second launches of Afrezza unfold. Needing $120,00,000.00 in net income to cover 2017 expense, and using the $200 net income per prescription they will need 600,000 prescriptions by December 31st, 2017. Breaking this down monthly, they will need 50,000 prescription each month. Now juxtapose this need to the fact that in 107 weeks or 2.05 years they have obtained a whopping 36,825 TOTAL prescriptions. As of the 7th week of the 12 weeks in the 1st Quarter of 2017, they will need a mere 48,313 more prescriptions by April 1, 2017 - or April Fool's Day!
Promises Made and Corporate Solutions:
With MannKind there is never a promise to shareholders that can't be ignored or never fulfilled. Going back years would be a laborious task so I will merely go back to 2014 to find palpable examples of such actions. When you add these issues to the fact that we are now into the third relaunch of Afrezza, what are the medical doctors supposed to think when at first it was Sanofi's (NYSE:SNY) experienced and knowledgeable sales representatives calling on them. Then in mid-2016, MannKind conducted the second launch with a contract sales force where they called on the same doctors that Sanofi had seen, or they could have called on new doctors. But they had the same results as Sanofi's efforts - doctors opting not to prescribe Afrezza. Jump to 2017, and now MannKind has the 3 rd launch underway where the new sales force is calling on the same doctors. It would be hard to find any drug company that has opted for not one launch of a drug, but a second launch of the same drug, and now a third launch where they spin that it will be different.
The following examples are comments made by MannKind's executives. The quotes are taken from transcripts created for the respective events. In some cases, I have adapted quotes to correct bad syntax and the incorporation of misinterpretation of the exact words being said. In no example have I misconstrued the full context of what was being said.
This is what the CCO, Mike Castagna, told investors during the 3rdQ, 2016, report:
I am really proud of the team and all the hard work and late nights and weekend that everybody have done in order to establish a commercial infrastructure. This is no easy task and it's not even easy to do on the budgets that we had or the time frame that we had. ---- And then, finally, we have launched a new brand campaign, usually takes six months to 12 months to launch a new campaign, we know the one we had, previously, it didn't really make the impact we expected. I can tell you the new one continues to grab attention and there is a lot of flexibility we have to continue to make Afrezza standout in the marketplace."
On November 11th, 2016, the CCO was bragging about how proud he was for his team-their hard work and late nights and weekends establishing a commercial infrastructure. Jump forward a mere few weeks, and this stellar market team he had put in place - he opts to fire them, because it appears he now wants to put in place a new team. So much for the flexibility he was promoting on a few days before!
When the Sanofi effort failed in a quick and massive way, the die was cast where even the few patients that were prescribed Afrezza, they opted not to have their prescriptions refilled. As of the latest weekly data report (2/17/2017) we find that in the history of marketing Afrezza, 20,508 new prescriptions have been filled. But the most amazing number is the fact that as of this latest report, and based on the current weekly refill number we find that refills as a percentage of total new prescriptions are running at 0.0065%.
Afrezza was show cased at the 2015 ADA conference. Not only did Sanofi have the most strategically placed exhibit it was one of the largest exhibit booths at the 2015 ADA conference. Sanofi had what was described even by MannKind as massive attendance for their breakout sessions. How quick those touting the merits of Afrezza forget the bravado and enthusiasm demonstrated by MannKind, exemplified by the CEO of MannKind opening a Twitter account where he regaled the massive response to Afrezza. Considering that normal refills being based on historical new prescriptions Afrezza refills should be running on a weekly basis in the proximity of five digits per week. However, we find the actual number is 134. How does MannKind opt to solve the problem? Spin new stories for what will happen tomorrow and just one more sales team telling the same story that hasn't convinced doctors or users of Afrezza opting to maintain their relationship with MannKind's promises.
Let's revisit some of the more infamous promises and claims made by MannKind executives. This is Hakam Edstrom's comments for the 4th Q, 2014, and relates to the initial launch of Afrezza:
Furthermore, Sanofi filed a 12 unit corporate dossier as a supplemental NDA on December 17, 2014, and approval is expected in the second quarter 2015, adding to our product offering."
It's truly amazing! The CEO states that Sanofi will obtain a response from the FDA in less than 4 months, the standard time for obtaining subsequent application responses for supplemental additions for previously approved drugs. However, now that MannKind is in charge, they had bragged about how clinical data would radically alter the labeling for showing Afrezza as the fastest acting insulin product on the market. This declaration about this data was revealed in the first quarter 2016, but instead of submitting the data to the FDA, they proclaimed they had decided to hold the data until it could be released at the June, 2016, ADA conference. Now MannKind reveals they aren't expecting a decision until at least the third or fourth quarter of 2017. Investor's should be outraged at executives making decisions to protect their monthly salaries, and they need at least 18-22 months where other drug companies can obtain supplemental approvals in the standard 4-month times frame. This begs me to ponder just how impactful is the data, gathered from a handful of patients, going to be evaluated by the FDA.
Which leads us to today and I'm happy to report that AFREZZA has been on the market for about two weeks. I notice that you are very interested in the AFREZZA launch and its progression, but remember it's very early in the launch cycle having been on the market for only two weeks. So we cannot really offer any insight into the results at this time. However, we did see a very motivated Sanofi (SFY) sales force leading the sales meeting that we attended, and based on initial feedback the excitement is continuing. In fact, we were just the other day asked if we could up the sample pack volume, since demand for samples has been higher than anticipated."
Does anyone remember Mr. Pfeffer stating they had delivered more than 50,000 samples and he lamented they needed more samples? Jump forward to February, 2017, and just for these 50,000 samples, we see that total new prescriptions for Afrezza are a little over 20,000. This simply means that the expense of 50,000 samples translated into a capture rate of 40%, but I think it safe to assume that based on the latest claims about sampling Afrezza, it would be realistic to think they have given out 100,000 samples, translating into a 20% conversion for patients opting into becoming a user of Afrezza. A 20% conversion where now we know this paltry number of users, about 90% never get their first prescription refilled.
This is what Al Mann stated during the 1st Q, 2015, conference call:
Afrezza's unique characteristics and the comments from participants in the clinical trials lead us to expect a fairly rapid rise of its adoption, but it is taking more time. The adoption is a complex matter, but perhaps the most significant obstacle to uptake is derived from an imposed FDA test before a patient can start of Afrezza. The agency is understandably concerned for the use of inhaled insulin by people already suffering from serious pulmonary disease might cause them further harm."
So much for Mr. Mann's expectation for a fairly rapid rise in adoption of Afrezza!
Mr. Mann clearly states the FDA should have a concern for patients using Afrezza if they suffer from pulmonary disease. What did MannKind do to solve this problem before launching it into the market place? Especially considering that Exubera had the same requirement for potential users taking a spirometry test before being prescribed Afrezza. Eleven years ago competent drug developers knew the issues facing inhaled insulin as they were well discussed and known in the financial and medical community. The following is from a July, 2006 article in Bloomberg-Businessweek article:
Exubera's big virtue was supposed to be that it's inhalable, but even that could prove to be a liability. Some patients in the clinical trials suffered lung problems. Pfizer recommends that physicians withhold the drug from patients who perform poorly on a lung-function test. Those who get the drug will need to have their lungs retested periodically. With such hassles, "there's not a lot of enthusiasm," says Dr. Joel Zonszein, director of the clinical diabetes program at Montefiore Medical Center in New York.

Pfizer's pricing plan could also be a turnoff. The list price of $122 to $140 a month is at least 33% higher than that of injected insulin, according to a June 22 report from Cowen & Co. That means most health insurers will charge their highest co-pays for the drug, and they could impose limits on who can get it, dooming prescribers to endless paperwork and phone calls."
And now 11 years later we see the exact same issues with Afrezza! And three launches with the drug, but the same issues still being a massive problem.
Mr. Mann also stated the following at the of the 1st Q, 2015:
The launch of Afrezza may be getting off to a slower start than was been hoped. But we expect soon to see an acceleration. Certainly, the potential diabetes market is enormous and Afrezza will fill a substantial need."
This adds a new supposition to exactly what 'soon' means, since we are now two years later than when Mr. Mann postulated he was expecting soon to see an acceleration where Afrezza would fill a substantial need in the 'enormous' market.
The is what Mr. Pfeffer, stated at the end of the 1st Q, 2015:
During the three months ended March 31, 2015, we recorded $7.1 million in Afrezza product shipments recorded as deferred product sales from our collaboration with Sanofi and recorded $6.3 million as deferred product cost from the collaboration."
The CFO at the time, Mr. Pfeffer, clearly states that MannKind recorded $7.1 million in Afrezza sales to Sanofi. One must remember, the sequence of revenue for MannKind was: (1) MannKind would sell Afrezza to Sanofi at cost. $7.1 million being the case for the first quarter the product was on the market. (2) Sanofi would generate product revenue by selling Afrezza to their wholesalers, where Sanofi would apply the mark-up of the price from the original $7.1 million cost from MannKind to Sanofi. In all of 2015, the only lot of Afrezza delivered to Sanofi carried a valuation of $7.1 million. Why would Sanofi buy more Afrezza when during the first week of 2016, they announced they wanted no further part of marketing Afrezza?
Now jump to the end of the first and second quarter of 2016, and one finds that MannKind reported no additional revenue from delivering Afrezza to a wholesaler, like Sanofi did in 2015. What does this mean for how rapidly the original $7.1 million of Afrezza was leaving the wholesaler's warehouses. For a clearer picture this is what the CCO stated in November, 2016:
We fully expect the remaining Sanofi inventory to be used no later than December 31, 2016, 100% guarantee on that because the product that's in the channel from Sanofi expires at that time point."
The original supply to Sanofi, $7.1 million, was enough Afrezza to fill the supply channel for patient users for two years, where Sanofi was involved. For all of 2015, and the end of the second quarter of 2016, Sanofi's original purchase was the source of filling prescriptions. However, in the third Q of 2016, SEC filings MannKind announced they had launched their own branded supply of Afrezza to their wholesaler in the whopping amount of less than $600,000.00. So collectively, from the 1st Q of 2015 through the 3 rd Q of 2016, (21 months) with Afrezza being sold, it has garnered $7.7 million of product being delivered to a wholesaler.
What does this tell us in cold hard calculable facts? We know in 2015 the original $7.1 million hadn't been sold through pipeline and purchased by the patients. We further know by the end of the 2nd Q of 2016, part of it was sitting on the wholesaler's shelves and the earliest it would be depleted was the end of December, 2016. We recognize MannKind fully admits they no longer needed the contracted supply of raw insulin until late 2017, if then. Who would like to bet when we get the 4th Quarter, 2016, report, we will see no build-up in finished goods and we will see little, if any, additional revenue generated by delivery to MannKind's wholesaler?
Now that we are into 2017, the current run rate of prescriptions indicates the lack of need for the wholesaler ordering an inordinate supply of Afrezza. The wholesaler will order based on actual demand from the retailer and their consumers! A simple question for those invested in this stock. MannKind's management tells you they have a solution for the dismal uptake and maintaining of users. However, they then turn around and cancel the purchase of the ultimate material needed for the creation of their sole product-raw insulin for Afrezza. Guess what is the truth of the matter-a solution that will create sales or saving money by curtailing the purchase of raw material that would be needed if the former is the truth!
While mentioning the wholesaler for MannKind, we have seen in recent weeks the internet chatter is pervasive with complaints concerning the few users of Afrezza are having difficulty in getting their prescriptions filled at the likes of CVS. And why is this? Don't forget, as of December, 2016, MannKind informed investors that their wholesaler would no longer purchase Afrezza for distribution. Effective, December 15th, 2016, wholesalers would merely take Afrezza on consignment. This simply means, wholesalers have no desire in tying up their capital by buying a product that now generates about 123 new prescriptions a week. Especially when you consider that in the US, Walgreen has 8,177 stores and CVS has 9,600, making 17,777 retail outlets for Afrezza. This simply meaning that for these average 123 weekly prescriptions each outlet from these two retailers would fill 0.0071 prescriptions. Now does it make sense why no one wants to distribute a product that has no demand?
Normal operating plans for wholesalers is they buy a drug from the manufacture and make their profit on marking the price up-so there is no way they can justify tying up their cash for a product where 17,777 outlets haven't or can't move the product off their shelves if they stock it. Keep in mind-my numbers are based on just two retailers-Walgreen's (NASDAQ:WBA) and CVS (NYSE:CVS). Add in Wal-Mart (NYSE:WMT), Costco (NASDAQ:COST), Target (NYSE:TGT) and see how quickly the .0071 number drops into much more of a minuscule need per retailer, and thus turns into more of a barrier. The handling cost of a drug with such low volume sales isn't worth a distributor's effort. Now the internet is full of chatter about Afrezza not be available and the COO for MannKind blames it on the distributors playing games with Afrezza. The reality is simply they are being smart business executives and not wanting to see their corporate money sitting on a shelf in their warehouses.
This is what the CEO stated on 1/13/2016 at the JPMorgan conference:
We will -- we have been developing a new marketing and sales strategy at the same time now that we are somewhat unshackled from Sanofi, we can go back and pursue partnership. So we weren't able to talk to anybody about that while still partnered with Sanofi, but that's now gone away. So we have reinitiated those discussions."
Now 13 months after this promise to pursue partnerships for Afrezza--silences from MannKind, where they are now opting for the third sales team marketing Afrezza--with no partnership obviously not wanting to go near Afrezza.
We think we know how to do that. One of those is frankly we think we need to readdress the pricing strategy that Sanofi implemented. Most of you know about that. Those who go way back with we remember I used to talk about this as always being priced at parity. Ultimately Sanofi decided to price it at a significant premium. Clearly we can readdress that. I think that we'll have a great deal of impact on the sales volumes and maybe perhaps more importantly the -- our ability at reimbursement from insurance companies and so forth."
Once again, 13 months later, MannKind executives having told you that by lowering the price of Afrezza this would make an impact on sales of the product, they are still telling investors they are facing issues with potential patients being negatively impacted by the pricing of Afrezza. Another promise with no action being undertaken by MannKind!
Another classic promise made more than a year ago:
You need to get the information out there and get the doctors educated. This is a fundamentally different product with some significant advantages if used in the right way and we have a lot of reports and you've probably seen many of them in the social media and others from people who had just remarkable benefits from this product. And the good news is we've pretty much largely learned what is the key things that have caused that. We need to get that information out there. Get the patients and as importantly the doctors and the caregivers trained in what the differences with the product are, how to use it correctly and how to get these advantages."
And where they claim they have "pretty much largely learned" something, they have opted to move to their third front line of sales representatives that must implement all this training for doctors and patients. And we see in weekly data how well this effort is unfolding.
But one of my favorite promises:
One of the ways we can get maximum benefit from this with minimal dollars outlaid, which is an important thing is in the social media. Some of you may be aware we now have a MannKind Twitter account and we have some of these through the course of today, we just activated this morning, a huge number of followers"
So much for Twitter being their marketing solution considering now the CCO is now basically resorting to showing the minion of true believers what a California sunset looks like.
And finally, and this is important both from a sales volume, a cash asset perspective and many other ways. Many will remember we used to talk about our international strategies way before we partnered globally with Sanofi and had a lot of interest in many foreign jurisdictions. Those discussions have been reopened. It would be very nice to get some of those distribution arrangements underway. I think that's going to be very important to us because as it has a kind of a double whammy effect. Clearly any upfront dollars we could get from into those transactions would be hugely helpful for us at this time, but equally important or maybe more so is getting the sales volumes up. So some of these jurisdictions let's be frank that will be a low margin, high volume regions, but that's fine. We have our huge facility in Danbury equipped to make massive economies of this product. It's kind of a burden for us right now with the sales volume we have. But this product is very volume sensitive and getting those volumes up will have a very nice impact on our margins anywhere in the world including the United States."
What is amazing about these idle promises coming from MannKind, when Pfizer (NYSE:PFE) launched Exubera, the product had been approved in Europe and the United States. MannKind offers up promises for what their solution could be, where now they have merely opted for a third launch of Afrezza. A great plan!
Likewise, another idea and this kind of plays into how do you get the patients to use the drug properly. An opportunistic thing that kind of came along, I've been talking with the group that's put together something I think is very innovative and will make a big difference in the field of diabetes, which is specialized diabetes care centers."
This was the famous VDEX diabetic care centers that would be opened first in New Jersey - but after initial teasing investors with this unique solution-silence! Then a year later, the planned New Jersey based company moved across country and opened in small retail center office that is apparently the office of another company. What does it say for stability and staying power if you can't afford to own rent or own your office space? Notice they provide interested patients with no phone number in the body of their website, no address for where they are located, and where you need to fill out a questionnaire for submission to a company you have not one name of who is behind this solution for Afrezza. But if you want a good laugh over this mysterious company, notice at the end of their elaborate hocus-pocus purpose statement they have what must be the most unique phone number in the United States. Without counting the actual digits in this shown phone number, merely dial it exactly like its shown-1-866-4GLUCOSE. This claim by the CEO is classic malarkey and worthless prattle in order to beguile investors into thinking tomorrow is going to be the day for their gold laden ship docking for them.
The last slide, the last one of our clinical development candidates is Epinephrine for Anaphylaxis. I think the one point I want to raise here is this can be an incredibly short timeline. No real clinical studies would be required. Obviously, you cannot do a clinical study in the Anaphylactic setting. So that would be e-study and some human factor studies would probably suffice. So we're looking at this opportunity as again one of our priority ones."
Two years and counting and still nothing of merit being shown on this mega-years of nothing but promises. MannKind has a medical director, who claims their product can be on the market in an "incredibly" short timeline, no clinical studies being required, and this product being a priority - and two years have passed. So much for what many people would consider a misuse of the word priority!
It is my sincere wish and desire that Afrezza remains available for those patients needing options in addressing their medical needs.
Good luck with your future investing decisions!
Disclosure: I/we have no positions in any stocks mentioned, and no plans to initiate any positions within the next 72 hours.
I wrote this article myself, and it expresses my own opinions. I am not receiving compensation for it (other than from Seeking Alpha). I have no business relationship with any company whose stock is mentioned in this article.
Editor's Note: This article covers one or more stocks trading at less than $1 per share and/or with less than a $100 million market cap. Please be aware of the risks associated with these stocks.