Tesla's (NASDAQ:TSLA) Q4 quarterly update letter and the follow-on conference call furnish so many fascinating features that I despair of mentioning them all.
We'll tackle a few more here, but let's begin by allowing my critics to take a bow for some points well taken in response to Friday's article.
A. I had lots of critics, and they made some excellent points.
In that article (Tesla: Capital Raise Now, Or Bankruptcy In 4 Months), I argued that a capital raise soon is not optional, as Musk suggested, but rather do or die. The article provoked a great deal of thoughtful response.
I received some persuasive and helpful criticisms and corrections from the following commenters:
(I've listed them in alphabetical order - my apologies to anyone I've inadvertently omitted.)
Each of these commenters pointed to flaws in my analysis, or raised points I had not addressed, to suggest Tesla's cash may last past July.
From the other direction, Anlam Kuyusu, whose comments earlier last week inspired my article on Friday, was game enough to engage with the commenters, and contended I've been too optimistic in thinking Tesla's cash will last through Q2. Several commenters shared Kuyusu's view.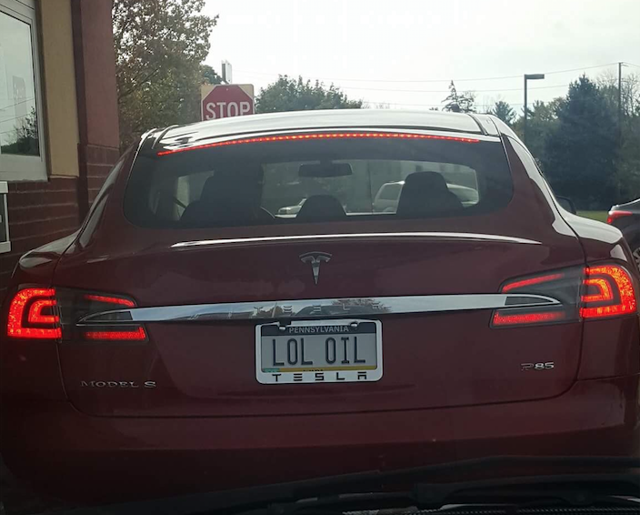 (Is it just me, or is there something obnoxiously smug about Tesla vanity plates? Uncle Brian photo)
B. But my thesis still stands: capital raise soon, or bankruptcy this year.
All my critics made excellent points. Indeed, my critics have persuaded me that even without a capital infusion, Tesla's cash may last into July, and perhaps beyond.
But here's the thing. I don't believe Tesla's cash will last much past July. And neither do most of my critics.
More fundamentally, none of my critics appears to disagree that absent a capital raise, Tesla will be insolvent in 2017. Each of them expects Tesla to raise several billion in capital, and most of them expect the capital raise will come soon.
C. With first-half capex, Tesla's H1 2017 cash burn might reach $4 billion.
Besides those comments taking shots at my calculations, there were lots of other intriguing observations.
Two of them, from xonkd and Bill Cunningham, questioned whether the $2 billion to $2.5 billion of capital expense guided for by Tesla is for the entire first half of 2017 or simply for the period from the date of the earnings call (February 24) until the end of the half.
I had assumed the capex guidance was for the entire first half. But when I went back to the quarterly update letter and earnings call transcript, I began to have doubts.
Here's the quarterly "update letter":
We expect to invest between $2 billion and $2.5 billion in capital expenditures ahead of the start of Model 3 production.
Read literally, this language refers to spending that is expected as of the letter's date, not spending that already has occurred (between January 1 and February 24).
In other words, Tesla may already have spent hundreds of millions on capex in Q1, and will spend another $2 billion to $2.5 billion before July (when Tesla says Model 3 production will begin).
Now, here's the pertinent interchange from the earnings call (with emphasis added):
Brian A. Johnson - Barclays Capital, Inc.

Okay. And secondly, the $2 billion to $2.5 billion CapEx guide that's spent, does that imply that that's not a full - a couple of questions, does that imply that's not a full year 2017 number given that production cadence that you're planning?

Jason S. Wheeler - Tesla, Inc.

Correct. That's between now and start of the production for Model 3.
Make of it what you will. I think the letter's language and Wheeler's answer open up the possibility that Tesla's capex in Q1 and Q2 may total more than $2.5 billion.
Why does it matter? Because if the $2 billion to $2.5 billion is merely for the final four months of the first half, then the H1 cash burn is going to be even more monumental.
Despite that downside, a bigger capex spend would seem necessary. Given its ambitious production plans, Tesla is capex starved right now.
Let's recall Tesla spent $997 million less on capex in 2016 than it originally guided for. It's hard to conceive Tesla can begin producing the Model 3 in volume (and, let's call "volume" 1,000 cars per week) without massive additional expenditures.
There's little doubt that Q1 and Q2 cash burn will set new records. I'm now thinking a combined total of more than $3 billion is likely, and $4 billion is not out of the question.
D. How much more will Tesla spend on capital assets in H2 2017?
How much more capex does Tesla need to get through 2017? The question was asked several times, most directly here:
Rod Lache - Deutsche Bank Securities, Inc.

Was hoping just to get a few more points to calibrate to expected free cash flow breakeven at the Motors company, and when you - I guess there's a couple of things on this. One is you mentioned that the CapEx of $2 billion to $2.5 billion is until the Model 3 launch. Could you just give us an idea of what you're expecting for the full year? What the rate would be post launch of Model 3?
CFO Wheeler declined to answer.
CEO Musk did as well, though he acknowledged that getting from 5,000 cars a week (his stated goal by the end of 2017) to 10,000 cars a week (promised for 2018) would require significant investment:
But I think in a lot of cases, we'll simply be able to run the lines faster as opposed to duplicate the line. That's by far the best CapEx maneuver is just to make it go faster. But I would say it's going from 5,000 to 10,000 is probably - this is a total wild-ass guess, so right way to think about, but it's like somewhere between 50% to 70% of the cost of the 5,000 line. Something like that.
What is 50% of the cost of the 5,000 line? Neither Musk nor Wheeler said. But it appears Tesla will have capital needs of at least another $1 billion in the second half of 2017.
Frankly, I very much doubt $1 billion of capex in H2 2017 will be nearly enough.
Last fall, Bertel Schmitt detailed why Tesla needs massive spending on infrastructure to deliver and service of the Model 3. Cut Schmitt's estimate in half if you wish (after all, he has only 35 years' experience in the auto industry) and the number is still huge.
Mark my words: If Tesla's next capital raise is for less than $3 billion, Tesla will be back to the equity markets for more before year end.
Either that or Model 3 volume production will again be pushed off, and Tesla will not meet even one-half of Musk's promised 500,000 cars in 2018.
E. Do Tesla's swelling accounts payable actually underestimate the obligations in the queue?
Does the accounts payable line on Tesla's balance sheet accurately capture all its payables?
It appears not. As outgoing CFO Jason Wheeler several times mentioned, Tesla has worked hard to "stretch" its accounts payable. CFO Wheeler offered equipment purchases as an example:
Brian A. Johnson - Barclays Capital, Inc.

OK. So, those deferred capital expenditure payments are actually in the accounts payable or is it in more like an accrued liability line? Just housekeeping.

Jason S. Wheeler - Tesla, Inc.

It depends on if there's - many payments have milestones set to them. So, when the piece of equipment is actually installed and up and running. And until you hit that milestone, you won't see a payable.
What this suggests is that the 103% increase in Tesla's accounts payable during 2016 (compare that to the 63% growth in total revenues) may understate the alarming extent to which Tesla's payables are stacking up.
Moreover, at some point soon, the Panasonic "Safety Stock" bill will start to come due. You had better get the checkbook ready, Jason. Ummm, I mean, Deepak.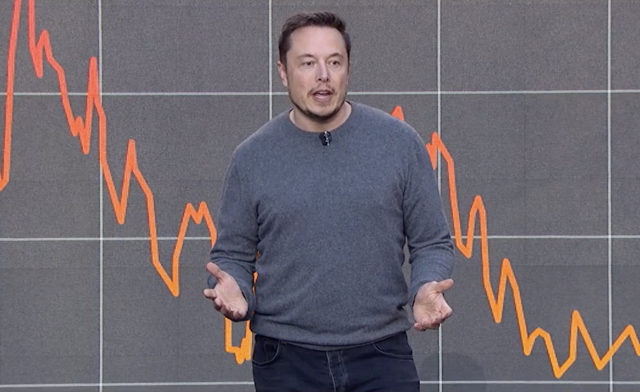 (Elon Musk during the solar roof tile presentation. With TSLA share price graph in background.)
F. Is Tesla's manufacturing speed about to run into a regulatory brick wall?
In earlier articles, I've discussed Edward Niedermeyer's brilliantly researched article about how Tesla's applications with the Bay Area Air Quality Management Board offer important clues on how quickly Tesla will be able to expand production.
I asked one of my resident auto manufacturing experts (who prefers to remain anonymous) to comment on the Niedermeyer article. He thought it was sound, and had these further observations:
In addition, to run the paint shop for a longer time and at a lower 25 bodies per hour, you also have to run the body shop at that rate, or put in equipment to buffer cars between body and paint.

The body shop runs at a faster rate for a shorter time and the bodies go into buffers where they stay until the paint shop can take them.

Then, you either run the final assembly shop at a high cost 25 jobs per hour, or you buffer on the way out from paint to the final shop.

Most automotive companies put in a buffer, either going in or out of paint. But, the buffer is there only to align the color of the unit to the purchase order for the car.

These buffers are normally small. Care to guess if Tesla put in millions of dollars of conveyors or large Automatic Storage and Retrieval machines to buffer into and out of the paint shop?

If the real rate is 25 per hour, Tesla will have trouble exceeding 110,000 a year at 2 shifts a day, 10 hours a day, and 48 weeks per year even if we use a very high 85% efficiency.

And, this is total capacity for ALL CARS not just the Model 3.
A recent "Tweetstorm" by ISO 14001 updates the progress of Tesla's permitting, and provides a succinct summary of where things stand. ISO's conclusion: Tesla's maximum production in 2017 will be 2,800 total cars per week - far fewer than the 5,000 Model 3 cars per week forecast by Musk (plus, presumably, some number of Model S and X cars).
I classify this one as: Important, if true.
I have yet to read any convincing refutation of Niedermeyer's article or ISO's Tweetstorm update. Feel free to weigh in with any flaws you see in either.
G. About that $35,000 Model 3
I am more confident than ever about my forecast that Tesla will not produce even its low-end forecast (from last May) of 100,000 Model 3 cars in 2017.
Bill Maurer recently wrote he expected 75,000 to 100,000 Model 3 cars this year.
Compared to me, at least on this issue, Maurer is a raging bull. I expect Tesla will produce fewer than 20,000 Model 3 cars in 2017.
Moreover, as Anton Wahlman has noted, all the cars that are produced will be delivered to employees or "Founders" who, in effect, will serve as beta testers. Any other auto manufacturer would call that zero deliveries.
But what about the $35,000 price?
Last May, when Tesla announced it was accelerating the Model 3 production because of the large number of refundable deposits (and proceeded to raise capital on the strength of that news), Tesla wrote this in its quarterly letter:
Our objective with Model 3 is to create the world's best car with a base price of $35,000, before any incentives, with a range of at least 215 miles on a single charge, and with strong gross margins.
What a difference nine months make. The latest letter has extensive discussion of the Model 3, but nary a word about a $35,000 price.
And, neither Musk nor any other Tesla officer mentioned the $35,000 price during the conference call.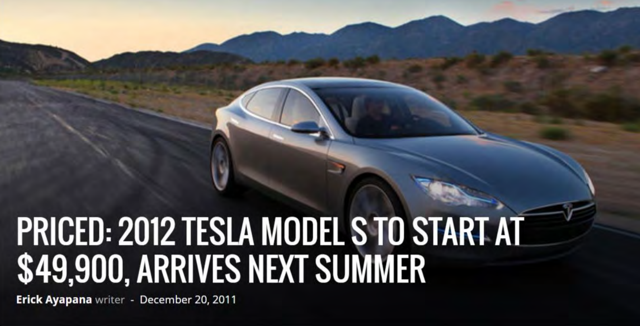 (The $49,000 Model S. The $35,000 Model 3. Oh, dear Deposit Holders, dream on.)
And, as for those "strong gross margins," here's what Musk had to say:
The early Model 3s will be horribly negative margin, particularly on day one, when I say literally day one. Because you're starting at a tiny, tiny rate, as you spool up this giant machine.

So, it's - like, no company on Earth could - it's not a function of Tesla. It is like physically impossible. So, you have to get the production rate to some reasonable capacity percentage of the system.
H. Add it all up, and 2017 will feature record cash burn and record losses.
Lately, I've been focused on Tesla cash flow rather than operating loss. I've been watching the cash burn bonfire and explaining why Tesla will soon throw lots more Benjamins into the conflagration, not because it's prudent, but because it's do or die.
However, with Model S and X sales plateauing, Model 3's "horribly negative margin," the onset of Gigafactory depreciation, and the albatross of SolarCity, I have little doubt that 2017 will be a record year not only for cash burn, but also for GAAP loss.
The Q1 delivery numbers will give us our next clue into just how terrible this year's operating losses will be.
I. Bonaire and CoverDrive read the Q1 demand tea leaves.
Fortunately, CoverDrive and Bonaire have an early read on those Q1 deliveries numbers. For those not familiar with them, they are the astute observers of Tesla demand on whom I rely.
Outside of Tesla employees and others with insider information, no one does better than those two in assessing the sequencing of VIN numbers, the build of inventory, and the flow of orders.
Bonaire has offered some interesting Tesla statistics here and here.
CoverDrive chips in with these observations about Q1 demand:
It's a little early to make a prediction for Q1 sales, but I share your skepticism about Tesla's ability to sell 23,500 cars in Q1.

The Q1 indicators are not stellar at this point. I'll throw out a few observations, none of which is definitive by itself but when the dots are connected, they form a picture.

1) The VIN assignment rate has been remarkably steady for the last year, but has dropped dramatically to about half of February's rate. As always, I recommend caution when looking at short-term trends. It could simply be that Tesla is temporarily refraining from adding marketing and inventory cars to the build schedule.

2) So too, the forum chatter about orders and deliveries is at an all-time low. Most of the discussion comes from customers whose cars have been delayed by the plant shut-down. Very few new orders or deliveries are being added to the mix.

3) CPO sales compete with new car sales. Anyone have a feel for how many are sold per quarter?

4) Model 3 anticipation competes with MS/MX orders. And the closer the Model 3 comes to production, the greater the competition.

Of course, there are some mitigating factors that could improve sales:

1) There are a huge number of inventory cars available. As of December 31, Tesla had built 12,000 more cars than they have sold. Eventually, these must be sold (right?).

2) China always is a wild card. Data is hard to come by, but Jose Pontes at his ev-sales blog does a great job compiling what information is available. His figures indicate China sales doubled in the second half of 2016, but then tanked in December. Still, China still represents Tesla's market for greatest growth potential.

Maybe the 10-K will offer some insight.

In any case, those are the tea leaves that I'm looking at. Decide for yourself what's brewing.
J. Q1 Mug and Notebook Contest Awards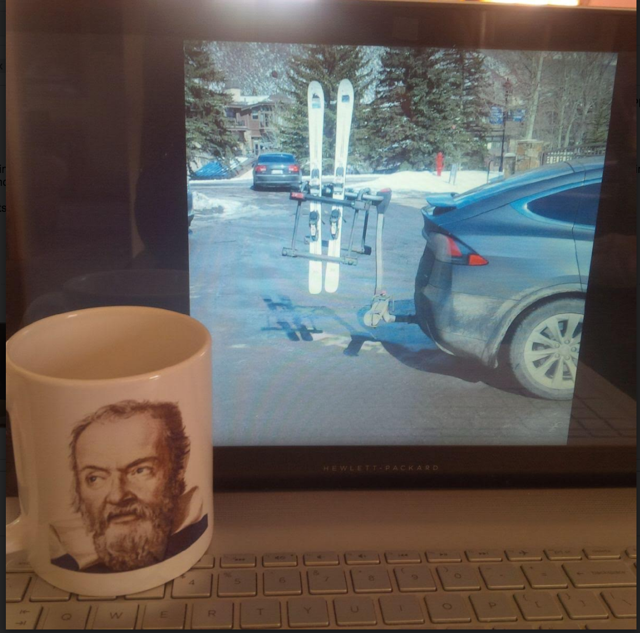 (Tesla's Model X storage solution for seasoning your ski bindings with sand & salt; Vail CO edition. Piccard Madeoff photo)
The Q1 contest awards are coming soon, within a few days of the 10-K publication.
Disclosure: I am/we are short VIA OPTIONS.
I wrote this article myself, and it expresses my own opinions. I am not receiving compensation for it (other than from Seeking Alpha). I have no business relationship with any company whose stock is mentioned in this article.