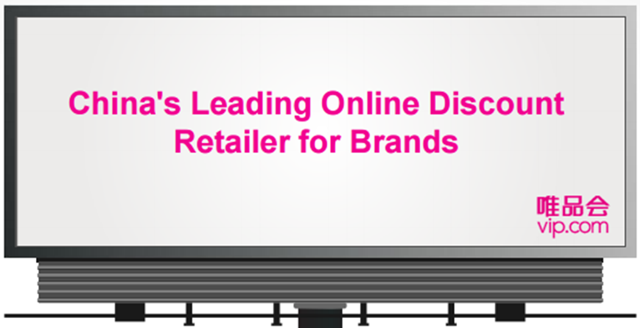 Source: Company Presentation Material
Company Overview
Vipshop (NYSE:VIPS) is a Chinese online fashion discount retailer that is about 24.6% the size (revenue) of JD.com (NASDAQ:JD). It is David & Goliath, but my analysis suggests that, in the Chinese online retail landscape, VIPS is a better investment. (Interested readers can check my article on JD.)
Unlike JD (which hasn't peaked yet), VIPS is trading at a discount. Investors witnessed it peak in May 2015 at around $30, and now, it is trading around $13 a share, 43% of its peak. Rational investors should remember, 2015 was the year the Chinese stock market manufactured an epic bubble, and when it became unsustainable, it burst spectacularly with trillions of dollars worth of wealth vanishing. And to those investors who lost money, there was nothing spectacular about it, it burnt a hole through their pockets.
VIPS began its monumental climb around August 2013. In less than 20 months, it delivered a stunning 590% gain. Before it commenced its rise, it was trading at $4.30. At the top, investors willingly paid $30 for a share. Its downfall was gradual and, by November 2015, it was trading below $15.

Source: Yahoo/Finance
The tale of the rise and fall of VIPS really is pinned on bad timing. VIPS is trading at $13 a share or 18.57X its recently concluded FY16 earnings of $0.70.

Competition From JD & BABA
Some investors argue that competition from JD and Alibaba (NYSE:BABA), both giant Chinese Online Retailers, will make it difficult for VIPS to succeed. But fashion is VIPS's specialty. Fashion depends more on the art of presentation. It sells the look, the appeal. And the below screen-shot, comparing VIP.com & JD.com shows that VIP.com is slightly better. VIP.com and JD.com upload the same product pictures presented by Brand Owners, so JD's fashion subcategory is only one click away from its main site. As far as a consumer is concerned, the online shopping experience isn't all that different.

VIPS is aware of the competition from its two giant peers, and the company explains its defense strategy:
Partner with popular and well-known brands by selling their excess inventory and in season products at discount prices Core competency in merchandising, logistic distribution and customer service.
The three online retailers are all partnering with popular and well-known brands. And fashion companies liquidate their excess inventory on all the platforms. The key to fend off competition for VIPS would be its service to both consumers and the fashion companies. As the two charts below indicate, VIPS invests in logistics infrastructure to reduce fulfillment expense.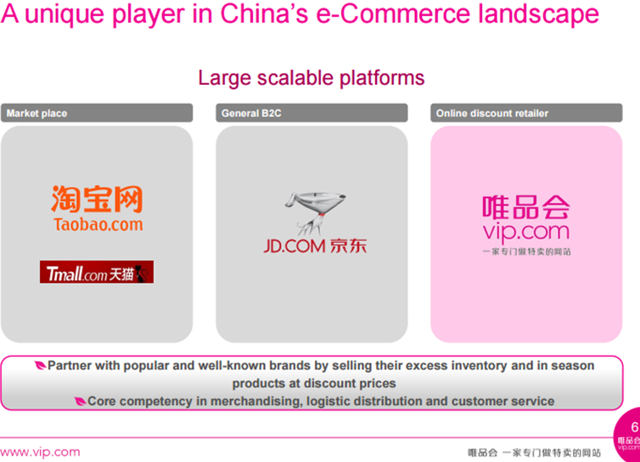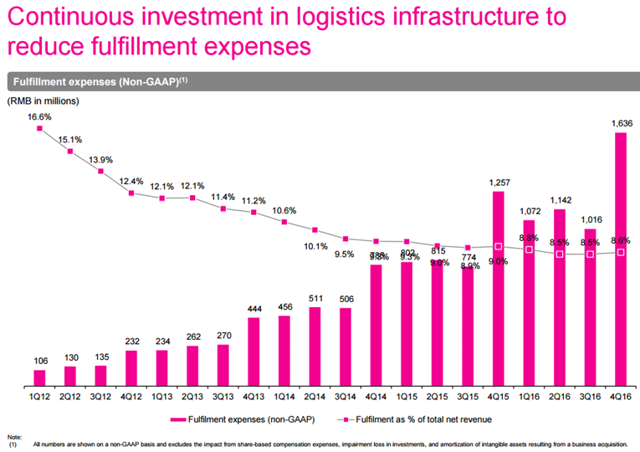 Source: Company Presentation Material
On its recent Earnings conference call CEO Eric Shen commented: (Please read my bold highlights)
We completed the year on a strong note delivering robust operational results with strong customer growth and market share gains, with over 50 million total unique active customers shopping on Vipshop platform in 2016. Vipshop had always put the quality of our merchandise as a top priority. We provide each of our customers with high-quality products selected by our 1,000 plus buyers, including many exclusive merchandise at guaranteed low prices. This includes more than 96% of our products checked by our staff for quality assurance before delivery. Through the Vipshop platform, we enabled more than 5,000 leading brands to liquidate products and generated large sales, while gaining high-quality customers. We provide these brands with extensive sales solutions and offer them a one-stop service for their full product lifecycle.

Vipshop has become one of the few most important channels for brands to reach Chinese consumers and generates record sales. Providing these high-quality products along with superior customer experience is based on our ongoing success. As such, we continued to expand the SKUs by merchandising and improve our overall logistic capabilities. A big part of our recent moves was the expansion of our overseas offices to 10 that are accountable for expanding our global merchandising capabilities for the cross-border business. Domestically, our 2 million square meters of warehouses and more than 20,000 full-time delivery staff can provide customer with a fast and superior experience across all over China. There are no branded sports in China for Vipshop service. Our in-house last-mile delivery network currently covers 30 provinces, 300 cities and 2,872 countries across the country.
I think the advantage VIPS has is, as an online retailer focused on fashion, its priority is clear. It can also streamline its whole logistic system to better fit the fashion industry. And its growing customers and their high engaging-rate suggests that whatever its trick is, it's working.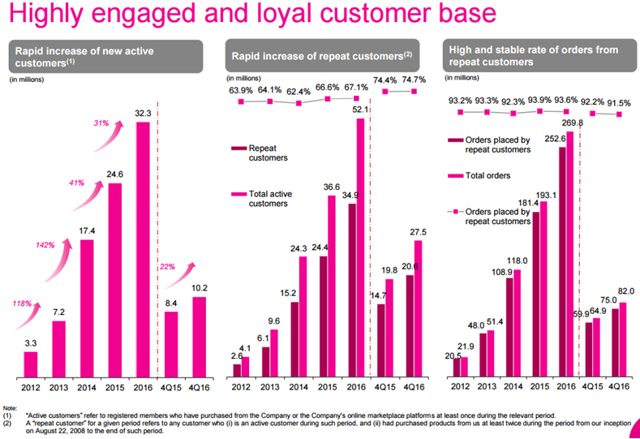 Source: Company Presentation Material
Its Balance Sheet
Extracts from its recent SEC filing suggest, as of December 31, 2016 the company has total assets of over $3.6 billion, and total liabilities of close to $2.8 billion, which includes over $681 million senior convertible debt. I would say its balance sheet is quite healthy.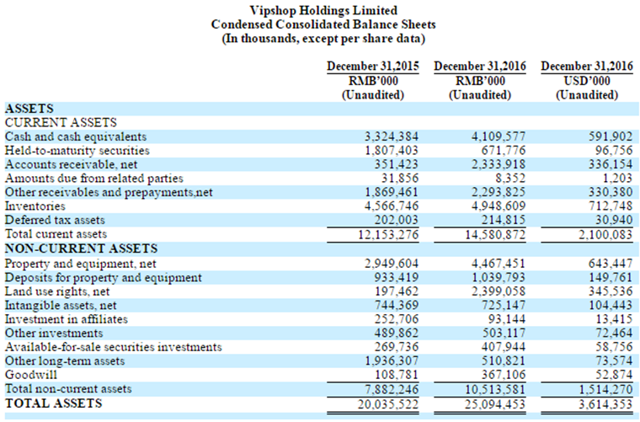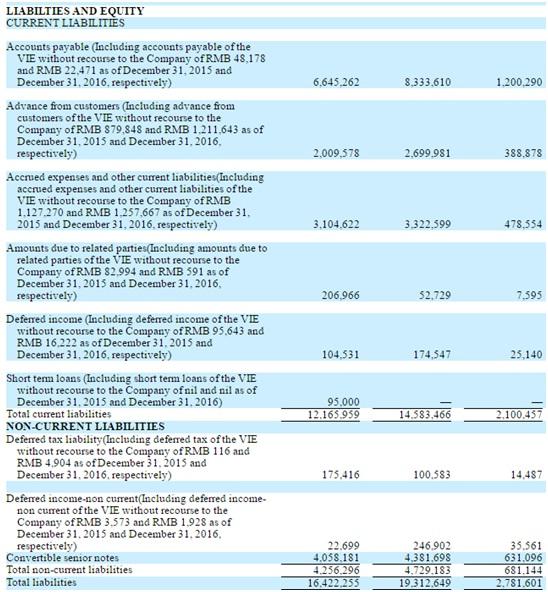 Source: Recent SEC filing.
Risk Of Earning Growth Slowdown
The chart below indicates VIPS's gross profit margin was increasing, and is now stable at around 24% over the last few quarters. This largely is due to China's rapid urbanization, as more and more people go to work and live in tier 1 & 2 cities, which enable its logistic investment to generate more earnings in the more densely populated metropolis. But once its penetration of tier 1 & 2 cities peaks, and its revenue growth slows down, it may have to explore tier 3 & 4 cities, which is what JD is doing, and it generally brings down profit margin.
Tier 1 & 2 Chinese cities have a population of roughly 200-400 million people, and VIPS currently has 27.5 million active customers. It has a few more years ahead of it to grow to its peak. It can always opt to hire a third party delivery system.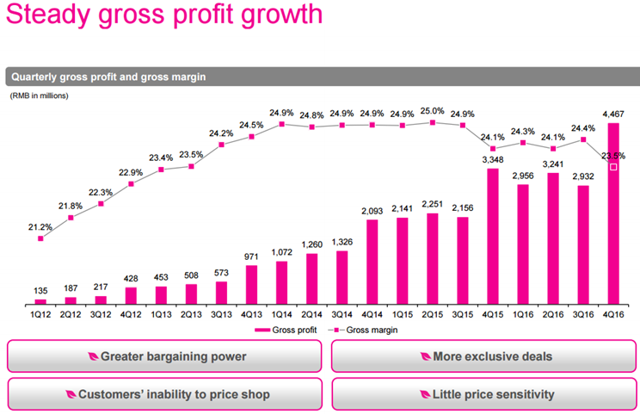 Source: Company Presentation Material
My Thesis
VIPS trades at an 18.57 multiple of its FY16 earning, and its YoY earnings growth is above 20% for the quarters since Q3 2015. Investors should take a deeper look and consider an investment.
It is difficult to estimate VIPS's upward pace, year-to-date the stock is up around 18%. If investors are willing to pay a 20X multiple of its estimated FY17 earning of 0.79, that implies a share price of $15.8 (a 21% gain).
Disclosure: I/we have no positions in any stocks mentioned, and no plans to initiate any positions within the next 72 hours.
I wrote this article myself, and it expresses my own opinions. I am not receiving compensation for it (other than from Seeking Alpha). I have no business relationship with any company whose stock is mentioned in this article.