Even after the huge price drop post-earnings, I'm still bearish on Under Armour (NYSE:UA) (NYSE:UAA). I've written 9 mostly bearish articles since May 19, 2015 and many of the points that built the investment thesis to stay away have been ignored and often heckled by bulls.
Here is the first comment from my April 29, 2016 article when the stock was trading for more than twice the price.
Another bear article in Under Armor. No surprise at this point. You have to understand that investors that are in this stock for the long haul do not care about the extremely high multiple. Where holding because this company will be number one in sports apparel and the stock will continue to trade with a high multiple until it is no longer in a growth stage. Long UA
Investors don't care about extremely high multiples? Are there any guarantees on growth stage? What happens when management says they will grow at 20%+ and they grow at 12%? Do they send you an alert ahead of time or do you just wake up and see your stock got hammered?
What would get me to change my thesis on Under Armour?
Right now, this stock is a falling knife. Under Armour longs have AVOIDED the Bear arguments until now when they are finally forced to listen to the market. In the past, they'd close their eyes, cover their ears and say lalalalalala Currryyyyyyyyy or something like, "yeah UA may get knocked down, but eventually it will get up again and go higher." Painful lessons in the school of hard knocks.
To change my thesis, problems need to be fixed. A non-equity investor might say - well what price WOULD you buy at? Fair question, but that's doesn't apply here. This isn't a boring predictable business where you make some assumptions and do a DCF to see what it's worth today. This is a moving target, dynamic company and I need to see CHANGE to go long.
OK so what needs to change? I'd like to see stability in key management positions... you can't have a new CFO every year... return to higher growth rates, better efficiency (margins always going down), cost control, profitability, women's business growth, and of course, a more reasonable valuation. First, this company needs to stop the bleeding.
The Bulls argue:
1. "20%+ revenue growth for 26 quarters in a row."
Under Armour impressively grew revenue 20% or more than 26 quarters in a row until they grew revenues 12% this past quarter. This was a big fat miss and a disappointment. Further, revenues were only up 6% in their core North America market. That makes Under Armour a broken growth stock.
The first point on every conference call was always the (impressive) revenue growth, as if that's the only thing that matters. Management would always enthusiastically talk about how they are growing like gangbusters and it was another solid quarter. The early parts of conference calls are for headline news readers and rookies, the devil is often in the details. The middle to later parts of the calls weren't nearly as pretty.
If anybody ever questioned anything you'd always get the usual rebuttals, "but look at that GROWTH," "you have to spend to grow," "it's OK, look at Amazon (NASDAQ:AMZN), they don't make money, they are growing market share and revenues and later on they can focus on profits."
Nobody can predict the future, the company is growing but at a slower and slower pace and they will have to spend MORE to grow. Will the trend continue? The North American slow growth is a bad tell and they are still so new to foreign markets. Educating foreigners on your premier product costs money. Further, the sports that Under Armour is best at - football and baseball are mainly American sports (+ LatAM for baseball). They are trying to break into Europe and Asia where soccer and basketball (Nike (NYSE:NKE) and Adidas (OTCQX:ADDYY)) are much more popular.
2. "Steph Curry will be the next Michael Jordan."
Michael Jordan left his mark on basketball and he transformed a young Nike. Under Armour longs love to think that Curry will do for Under Armour what Jordan did for Nike. Some foolish longs will even go so far as to compare Curry's career to Jordan's, which is laughable.
Hope is not a strategy. Curry gave some credence to Under Armour as a shoe brand but it is still light years behind the competition. I've written articles and read the comments section of UA articles for years now and seen Curry as a top reason to go long the stock. Seriously, people buy UAA stock because of "Steph Curry." People "bet on UA" before the finals last year because UA stock will go up after Golden State wins the title.
If you really want some action on the game just go to Vegas, find a local or open an online account depending on where you live. Buying the stock because of Curry and a few athletes they have endorsing their products? UA does have some big name athletes, but behind a few big names their bench is very thin. Nobody is going to buy the Brandon Jennings shoe, sorry. The risk of having all your eggs in one basket with Curry is what happens if he gets hurt? Buying a stock JUST because of their celebrity endorsements is poor strategy.
3. "All the kids are wearing Under Armour."
Stats from the Fall 2016 Piper Jaffray study say otherwise.


These stats should put to bed the theory that "Nike is for the older generation, Under Armour is for the younger generation." Nike is still by far #1 in terms of athletic clothing for both upper income teens and average income teens. Under Armour hasn't even passed Adidas in this respect and they are a mile behind Nike. This goes for boys and especially girls when you look at the more detailed splits. Under Armour always does better with boys than girls and that's another problem. How are they addressing the weakness in the female market? Again, hope is not a strategy.


Teens prefer Nike shoes by an even wider margin. Under Armour is winning over 1 out of 100 kids or 2 out of 100 average income kids while Nike is pulling in 82 and 83 out of 100. I know, I know wait, I can hear the UA longs argue that means Under Armour has more room to grow since they have no market share! OK, well if that's the case then I should start selling shoes and get a 1000 P/E because I have no market share and unlimited and infinite possibilities for growth! Under Armour shoes are NOT that impressive and the data backs that up. They are an apparel brand that's trying to break into so many different markets.
Besides the data, I was out to dinner with a very cool friend who was wearing the yeezys from Adidas, keep in mind these are $700 shoes. The waiter at the restaurant noticed the shoes and was in awe. He literally asked if he could try them on (my friend let him). The ecstatic waiter probably tweeted, instagramed and snap chatted to all his buddies that he got to try the yeezys on. Adidas is hot right now and nobody is EVER doing that for ANY Under Armour products, especially their shoes.
4. "We got MLB."
How did that work out for Majestic? How much did that deal cost? If putting your logo on MLB uniforms was so great then why did it do nothing for the previous contract holder? I'm sure Nike and Adidas are happy to control the more lucrative basketball and soccer markets. I don't see the MLB deal propelling Under Armour anywhere near what Under Armour bulls are hoping for.
Now on to the Bear arguments
1. Slowing growth
20% to 12% was a big miss and a big disappointment. 6% Growth in North America was weak. That's the core market. The International growth rates are impressive but they are coming off such low levels.
Is UA a "regional brand?" They do very well in New York, Maryland, Eastern seaboard, SEC country and Texas. They are struggling on the West Coast (Plank has mentioned this on an earnings call) and overseas. I was in Sweden, Spain, Central Europe and saw it with my own eyes. Swedes are the most fashion forward country I've ever seen and they couldn't care less about Under Armour. In terms of athletic apparel in fashionable Sweden, Nike is #1 and Adidas is #2.
Spain has a different style, and with the heat and all the UK/German tourists, you'd think you'd see more UA heatgear but you don't. The point is Under Armour will have to spend additional revenue to grow in those areas where they are new to consumers or unpopular to consumers. Case in point the big deals with Universities in California. Spending more marginal marketing dollars to get sales results is NOT a good problem to have going forward.
2. Out of control spending
The spending problem could get even worse given the slower revenue growth. $700 million on Apps, maybe a billion dollars when they are all in. Spending big bucks on UCLA, CAL, expensive Manhattan real estate. Entering the debt market. Keep in mind this company does NOT pay a dividend. That spending is your dividend Under Armour longs. Your dividend is a giant Under Armour logo on a UCLA shirt next to a bear. Your dividend will be aisles and aisles of clothes at the former FAO Schwarz building with all the tourists looking and then buying at their local Kohl's (NYSE:KSS) off the clearance rack. Your dividend evaporated into expensive Manhattan thin air.
3. Inventories up, margins down
NOW losing Sports Authority is a problem? Weren't Bulls saying that nobody shopped there anyway? Shoppers would just drive to Dick's (NYSE:DKS) or order online... order online and increase margins... so Sports Authority closing could be a good thing!
My how longs have changed their tune and management is still complaining about losing Sports Authority. UA signed on with Kohl's and more and more stuff is showing up at Marshalls/TJ Maxx and all the discount bargain bins. Inventories are up... margins are down... SAP software will be the panacea that fixes the supply chain issues? Look if revenues are growing 20%+ fine, the market can look the other way when margins go down, but when revenues go up 6% in North America and margins drop from 48.1% to 46.5%, the stock will rightfully get punished. These are efficiency problems. The company is NOT doing a good job here.
3. 3 CFOs in two years
Some people would say the game of musical chairs for the CFO makes this company uninvestable. The first CFO leaves to go be the CFO of Blue Apron, a smaller company with less revenue and less prestige. Why? The current CFO is leaving for personal reasons, he was with Under Armour for 1 year; in his previous gig, he was an EVP/CFO of PetSmart (NASDAQ:PETM) for 5 years and 10 months per his LinkedIn. It doesn't appear he has anything else lined up, but he is listed as being a Board Member for Sprouts Farmers Market (NASDAQ:SFM). Again, why?
Is there a correlation between the CFO turnover and other bear case points? Is the ambitious Plank hard to work with? These are valid questions.
4. Brand loyalty
Look at Jordans. There are literally sneaker heads that worship those shoes at footwear museums. People keep the things in original boxes and don't even wear some of Nike's classic shoes. How much is decades of goodwill, decades of brand loyalty worth?
I know, I know, UA longs don't like it when people call it a fad like Champion, Russell Athletic, And1 but if UA were shut down today, would anybody care in 10 years? Would the world miss the shoes? Besides the people that bought the Curry shoes I don't think so. Are their shirts/clothes that much better than what Nike/Adidas put out today or are they just different and slap a big oversized UA logo on them? A lot of their fashion is iffy. Their polo shirts are definitely more functionally breathable but the rest... I can't say their regular athletic apparel is any better than Nike or Adidas and I am a customer of all of them.
5. Political risks
Founder and CEO Kevin Plank is a Republican. Our corrupt media would love to try and con him into political statements to alienate 1/2 his customer base to silence and punish the opposing viewpoint. There are also rumblings of a liberal boycott because of guys in cammo UA hunting gear posing for pictures with deer they shot. Personally, I'm not too worried about the political risks but they do exist and could give this stock a quick haircut. Do you think all those activist students at Cal Berkley want to support a Republican's company? The "wrong" words would give them the right reason to organize a public boycott on the latest UA campus.
6. Not a tech company
The valuation was absurd. One of the arguments was that Under Armour was not a clothing company, they are a tech company. LOL, they are not a tech company; they may not even be a clothing company; they are a marketing company. A Nike shirt with a big fat UA logo on it instead of a swoosh and then machismo advertisements. Probably another reason why their women's business always lags behind although UA puts a lot more resources into the men's line.
7. Overvalued market
We are in what inning of the Bull market? If things change, growth stocks like UA traditionally get hammered.
8. Valuation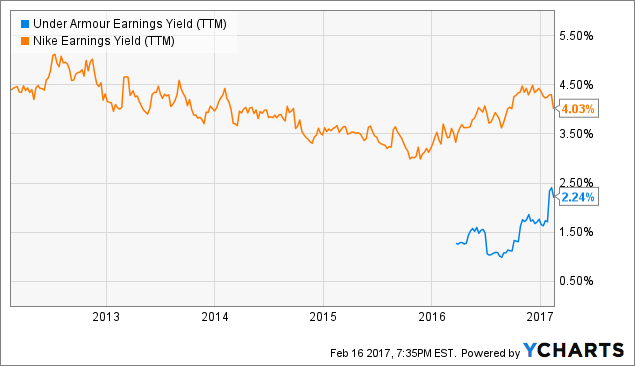 Under Armour's earnings yield was even until recently under 1.5%. That's coming from a "growth" company that paid no dividend and is spending big bucks. Given the stock recently took a painful bath, the earnings yield is now 2 and a quarter. Not bad but still not nearly as strong as Nike, a company that some argue is overvalued itself.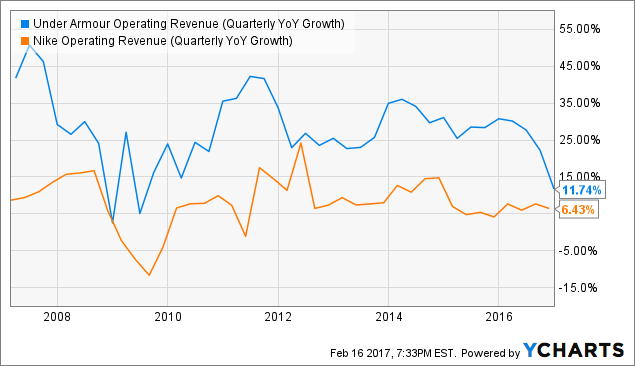 The other side of the coin is growth. Under Armour only grew 6% in North America, their core market. They have to spend to grow, and that's coming from a company that is currently profitability challenged. Considering Nike is a well-oiled machine, Nike is STILL a better buy than UA here given the valuation and risk factors. Can UA recharge their growth? Sure, but Nike can also hit double digits again. I don't buy this crap about "competition." Nike always had competition and sometimes competition makes everybody better.
The stock is still not a buy for me. The problems still exist and need to be addressed for longs to ever make their money back. Why do I care about Under Armour if this is my 10th article and I've never bought it? Because this company shows promise, and it is closer to a buy than any of the other 9 articles over the last almost 2 years, but I'm still not ready yet.
For me to go long it's not reaching some pre-determined price target... for me to go long THESE problems have to be fixed. I understand that if you want for some of these problems to be fixed, the stock could recover some and I might not get to buy at a bottom - that's OK - there are plenty of other stocks out there I don't want to try and catch a falling knife.
Disclosure: I/we have no positions in any stocks mentioned, but may initiate a long position in NKE over the next 72 hours.
I wrote this article myself, and it expresses my own opinions. I am not receiving compensation for it (other than from Seeking Alpha). I have no business relationship with any company whose stock is mentioned in this article.