Philip Morris International, or PMI (NYSE:PM), reported 2016 full year results earlier this month. Excluding the impact of currency fluctuations, revenue advanced 4.4% year-over-year to $74,953 million. This growth, achieved despite the many challenges the tobacco industry faces, was fueled primarily by "favorable pricing variance, equivalent to 6.0% of prior year net revenues, and the strong performance of RRPs, notably HeatSticks and IQOS devices" and "despite a cigarette shipment volume decline" of 4.1%. On the higher revenue base, OCI (operating companies income) advanced 11.0% and adjusted EPS grew by 11.8%, on the same basis.
On favorable currency rates, PMI also recently increased its 2017 EPS guidance to $4.80 - $4.95 from $4.70 - $4.85 previously. This compares to $4.48 recorded in 2016. Regardless of the improved near-term financial outlook, consumption of combustible cigarettes remains under pressure. The company manufactures the world's leading combustible cigarette brand, Marlboro.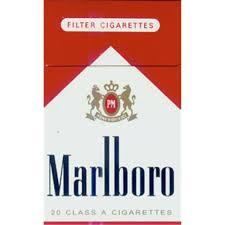 Global smoking rates are declining by roughly 1% per annum, while simultaneously regulations are tightening in many markets. For example, the EU recently adopted strict rules banning flavors such as menthol and requiring that cigarettes be sold in packs of no fewer than 20. Many markets require plain packaging in an effort to discourage consumer purchases.
In light of the industry challenges, PMI is shifting its focus to RRPs (Reduced-Risk Products), as are other Big Tobacco players. PMI has spent $2.5 billion since 2008 developing and marketing RRPs, "a range of non-combustible alternatives to cigarettes." PMI is optimistic that it can achieve 3% to 5% market share overall with RRPs, net of cannibalization to its existing product portfolio. Potentially, this would add OCI of $720 million to $1.2 billion, according to the company.
In its quarterly conference call on February 2, 2017, PMI noted that "2016 was a pivotal year for PMI, reflecting exciting progress in our transformation from combustible tobacco products to a Reduced-Risk Products focused company."
At this point, RRPs do not make a meaningful contribution to PMI's total revenue. Nevertheless, its extensive RRP portfolio includes e-vapor products and IQOS. Battery operated, e-cigarettes contain nicotine but not tobacco. In place of smoke, they produce vapor via a heating element that vaporizes a liquid nicotine solution inside. Vaporizers have a tank or chamber, a heating element and a battery. The user fills the tank with e-liquid or fills the chamber with dry herb or leaf. The vaporizer battery can be recharged and the tank and chamber can be refilled.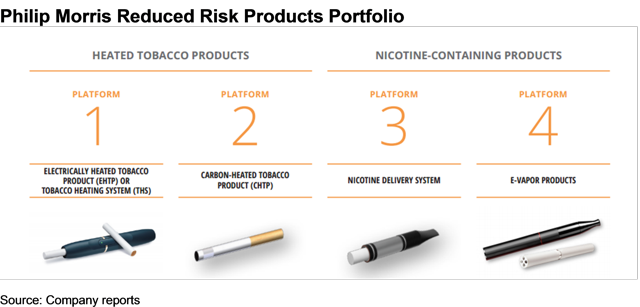 The global e-cigarette market grew rapidly from 2010 to 2013. Citing the US as an example because data is more readily available, a CDC study noted that the percentage of smokers who had used e-cigarettes more than tripled from 9.8% to 36.5% over this period. However, sales in this alternative category have also come under pressure. The overall vapor category (VMT - vapors, tanks, and mods) has overtaken e-cigarettes in terms of alternative product market share, according to Wells Fargo.
HeatSticks: Growing But Not Profitable
PMI's focus on alternative products also encompasses iQOS HeatSticks, patented tobacco products that PMI has designed for use with its iQOS controlled heating device system. The tobacco in the HeatStick is heated by PMI's iQOS technology to provide "tobacco taste and satisfaction without combustion."
HeatSticks were originally introduced in pilots in Nagoya, Japan, and in Milan, Italy. They are performing extremely well in Japan, according to management. To-date, PMI has introduced IQOS in key cities in 20 markets. The company expects to expand IQOS nationally in many of these markets, as production capacity becomes available. The company is also targeting launches in key cities in 10 to 15 additional markets in 2017.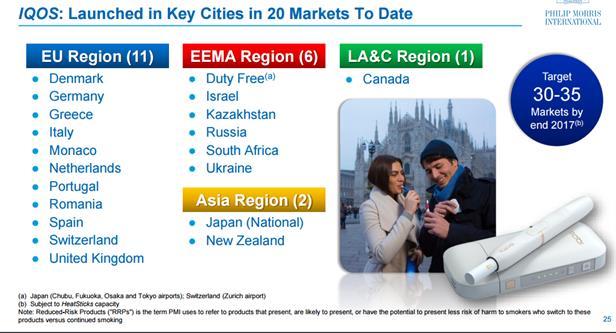 Roughly 22% of the company's $733 million in 2016 RRP net revenue came from IQOS devices. The company noted that volume sales of IQOS would have been higher, but PMI faced production capacity constraints on IQOS devices.
Given what thus far appears to be the successful consumer adoption of IQOS, PMI's RRP strategy will focus on IQOS in 2017. However, IQOS are not profitable at this point, primarily because the company has offered introductory price discounts to drive consumer adoption. Management expects IQOS economics to improve over time, as it phases out discounted pricing and as consumer adoption increases.
Growth of Alternative Products Has Slowed in Many Markets
We question how much of consumer acceptance of IQOS is driven by price discounting. Moreover, the trajectory of e-cigarettes and vaporizers could also signal questions about IQOS. Growth of this alternative category has slowed in the US, according to the WSJ, reflecting "growing dissatisfaction among customers," among other factors. This could portend similar trends for other alternative products such as HeatSticks and in other markets if smokers just don't find these alternative products satisfying in the long run.
Potential Regulatory Risk
We also believe alternative products face potential regulatory risk if other markets follow the lead of US and European legislators. In May 2016, e-cigarettes and vapor products in the EU were placed under the regulation of the Tobacco Products Directive. E-cigarettes had been less regulated than traditional cigarettes in the US, but the FDA extended its regulatory authority to e-cigarettes in August 2016. New rules require e-cigarette manufacturers to submit their products for FDA review, include a health warning and only use vending machines in places where young people don't have access.
A key consideration for US regulators appears to be the potential impact of alternative devices on the youth market, with surveys noting a significant increase in the number of middle and high school students using e-cigarettes. Their numbers increased from 79,000 in 2011 to 250,000 in 2013. In all, over 263,000 teenagers who have never used a tobacco cigarette are reported to be using e-cigarettes. This trend is alarming to domestic legislators because: 1) long-term impacts of e-cigarette usage are not documented at this early point and 2) there is the potential that usage of e-cigarettes could eventually lead to smoking of traditional cigarettes. At the same time, marketing of e-cigarettes to teens is up 321%, according to TIME.
It's still early to know for sure, but the new US and EU regulations could hurt sales of existing and potentially future alternative products. Similar regulation could follow in other markets. For instance, "Asia... has a somewhat confused - occasionally outright hostile - relationship with electronic smoking devices as far as legislation is concerned," according to Tobacco Asia.
Moreover, just as industry competition in the combustible cigarette category remains intense, there is significant competition in alternative categories, as well. Not surprisingly, PMI is not the only big tobacco company seeking to shift its focus over time from combustible products. According to the FT, British American Tobacco (BAT), which is expecting to close its deal to acquire competitor Reynolds American before year-end 2017, intends to double the size of its vaping business.
Nevertheless, Dividend Remains Attractive and Stable
At this early point, PMI's transformation to an RRP focused company is unclear, in our view. Nevertheless, even as PMI seeks to shift its business, we believe the dividend will remain the primary use of PMI's post-investment cash. As illustrated in the figure below, since becoming a public company in 2008, PMI has raised its annual dividend each year for a cumulative 126.1% increase and 10.7% CAGR. The most recent dividend increase was on September 14, 2016, when the company increased the dividend by 2% to $4.16 from $4.08. The $4.16 annual dividend equates to an attractive 3.9% yield.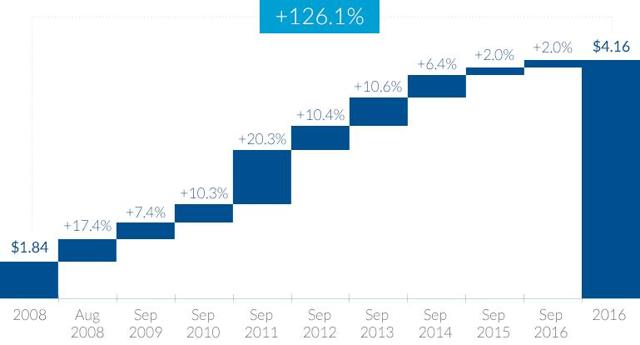 Dividend increases have moderated. 2016 was the second sequential year with only a modest 2% dividend increase. This does not surprise us, however, as the company is investing in its RRP strategy. Moreover, we believe that implementing even modest dividend increases simultaneously investing in the transformation of the overall company is another sign of PMI's commitment to the dividend.
Conclusion
Dividend Safe and Attractive
PMI has demonstrated its commitment to the dividend through its statements and actions, in our view. Management has indicated that dividends are PMI's primary use of its roughly $6.9 billion of FCF, after investments. In a recent quarterly investor call, management noted, "Our focus always more strategically is on the dividend and creating the room for the dividend growth." Moreover, even in 2015 when it suspended its share buyback program to invest in RRPs, PMI initiated the above-noted modest 2% dividend increase.
We believe PM shares are appealing for income investors. Based on dividend yield, Philip Morris ranks among the top-10 of the 100 largest (by market cap) stocks in the Russell 3000.
Disclosure: I/we have no positions in any stocks mentioned, and no plans to initiate any positions within the next 72 hours.
I wrote this article myself, and it expresses my own opinions. I am not receiving compensation for it (other than from Seeking Alpha). I have no business relationship with any company whose stock is mentioned in this article.