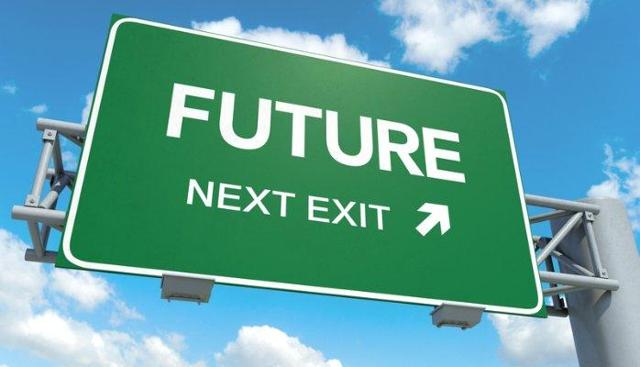 Qualcomm Rides High, Then Plummets
On October 27, 2016, the share price of Qualcomm, Inc. (NASDAQ:QCOM) reached a high of $71.62. By February 2, 2017, the stock had slumped to $52.37, at one point plummeting 12.7% in a single day. Now, after the fall, what does the future hold for Qualcomm? The indications are that share price will return to, and probably exceed, recent highs.
Many factors combined to produce the downturn. Among them, regulatory proceedings against the company, legal issues with Apple, Inc. (NASDAQ:AAPL), and legal issues in China. On top of all of this, Qualcomm missed Q1 2017 revenue estimates.
The elements, however, which will determine the next phase of share price performance, and have largely not yet been priced in, indicate that the stock will climb back to, and likely exceed, its previous highs.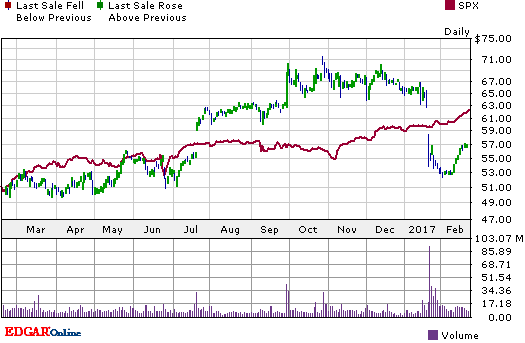 Determinants Of The Next Phase Of Share Price Performance
With the stock more than $14 off its recent high, the forward catalysts are twofold.
Firstly, the relative synergistic benefit of the NXP (NASDAQ:NXPI) acquisition to Qualcomm, when weighed against the magnitude of probable financial penalties resulting from current regulatory proceedings, is highly positive. That would remain true even if these cases ultimately require Qualcomm to modify its business model as regards licensing. Secondly, the political dimension of the regulatory actions and the suit filed by Apple may greatly mitigate the outcome of these proceedings, to the benefit of Qualcomm.
The acquisition of NXP Semiconductors N.V., the biggest supplier of processors to the car industry, for $47 billion, is the largest takeover in semiconductor industry history. It is anticipated to close by the end of 2017 and promises diversification for Qualcomm into markets other than smartphones, such as rapidly growing IoT and auto applications.
Move To Growth Markets In IoT And Autos
Impetus is lent to the takeover by the fact that the smartphone market is weakening, as sales of high-end phones decrease. Specifically for Qualcomm, Apple, a major customer, commenced second sourcing modems from Intel Corp. (NASDAQ:INTC) and Samsung (OTC:SSNLF). These developments were of concern, as Samsung and Apple provide almost 40% of Qualcomm's revenue. By contrast, auto and IoT applications - the core expertise of NXP - are growth markets.
NXP's revenue in 2016 was $9.5 billion, which, if transferred, would increase Qualcomm's revenue by 40% plus a potential $500 million in addition saved through economies of scale. Annually recurring additional income of this magnitude should, with little doubt, far outstrip the aggregate total of future regulatory fines. As a metric, the median amount of previous regulatory fines imposed on Qualcomm is approximately $1 billion.
South Korean regulators levied Qualcomm in December 2016 with a fine of $860 million, due to breaches of antitrust statutes regarding licensing. And China imposed a $994 million fine on the company in 2015 for antitrust violations regarding unfair licensing practices.
Projected Increase In Revenue
Moreover, the projection of an increase in revenue for QCOM as a result of the takeover is based upon revenue achieved by NXP using its normal business model, not that of Qualcomm. Consequently, any regulatory requirement that Qualcomm change its licensing practices in the future is unlikely to reduce the estimated increased revenue accruing from the acquisition. These considerations should buoy share price in the medium term.
The Trump administration may appoint commissioners to the FTC who are antitrust skeptics, and who vote not to further pursue regulatory action against Qualcomm.
Maureen Ohlhausen has already been appointed as acting commissioner presently in charge of the agency. Ohlhausen has previously stated that excessive regulation can make large companies "suffer." She has advocated that the FTC should use "a philosophy of regulatory humility ... and be mindful of the private and social costs that government actions inflict."
Influence Of An Antitrust Skeptic
It is believed that President Trump has taken advice from Joshua Wright, a former FTC commissioner, on appointments to the commission. Wright is skeptical of antitrust regulation, and has fought many antitrust enforcement attempts.
Further, if Apple's hand is revealed to have orchestrated the various international regulatory actions taken up against the company, as is alleged by Qualcomm, such revelations may remove much of the political impetus from these cases. The civil suit will likely be many years in process before reaching a disposition, and will therefore represent more of a factor in longer-term share price analysis.
Apple has been actively encouraging regulatory attacks on Qualcomm's business in various jurisdictions around the world, as reflected in the recent [Korea Fair Trade Commission] decision and FTC complaint, by misrepresenting facts and withholding information.

- Don Rosenberg, Qualcomm general counsel
Why have these factors not been priced into the stock at current levels? A few possible explanations: knee-jerk selling on announcement of the suit and regulatory actions; short-term trading mindset; and superficial and inadequate analysis. Also consider that, especially in the context of a rapid market fall, neither technical quantitative triggers, nor HFT, nor algorithmic trading attempt to make qualitative, weighted judgments about fundamental factors at play on share price here. Technical, HFT and algorithmic trades represent a high percentage of stock market volume. In illustration, notice the very high spike in volume in just one day on the Qualcomm price chart shown at the top of this article.
Prevailing Fundamental Considerations Positive
The prevailing fundamental considerations prospectively bear positively on Qualcomm's share price going forward. This contention is reinforced when considered jointly with other factors:
The company's narrow beat of adjusted EPS for 1Q17 at $1.19.
The upward linear progression of the company's quarterly revenues.
Qualcomm's development of 5G in the pipeline expected to produce boosted sales in a high tech consumer market famous for its early adopters.
The company's ability to pay for the NXP acquisition in large part with $28.6 billion of offshore cash it holds, and on which there will be no tax liability as the funds are being used for an offshore investment.
Marketing successes, as with the Snapdragon 820 processor, licensing agreements with many Chinese phone manufacturers, the Chinese market showing strong growth, and Qualcomm's market share in China, its largest market, being expected to grow from 50% in 2016 to 65% in 2017.
Conclusion
The prevailing positive factors, bearing upon Qualcomm's future share price, of added value from the NXP acquisition, and of political factors potentially militating in the company's favor regarding regulatory proceedings before the FTC, are not yet priced in, and significantly outweigh negative factors. Qualcomm's share price is therefore anticipated to move upward, and should see a return to previous highs and possibly beyond.
Elsewhere on Seeking Alpha:
To follow this author and receive immediate alerts upon publication of future articles by this author, please click on the "Follow" button at the top of this page next to the author's name and icon, and then select "Real Time Alerts."
Disclosure: I/we have no positions in any stocks mentioned, and no plans to initiate any positions within the next 72 hours.
I wrote this article myself, and it expresses my own opinions. I am not receiving compensation for it (other than from Seeking Alpha). I have no business relationship with any company whose stock is mentioned in this article.