Beware chip price forecasters! Let me start with this inspirational graphic for those of you, like me, who struggle with the difference between spot and contract prices, trends, and predicting all this with a paucity of tools and information. Here's a fellow who used to be in charge of supply chain for one of the largest buyers of memory in the world: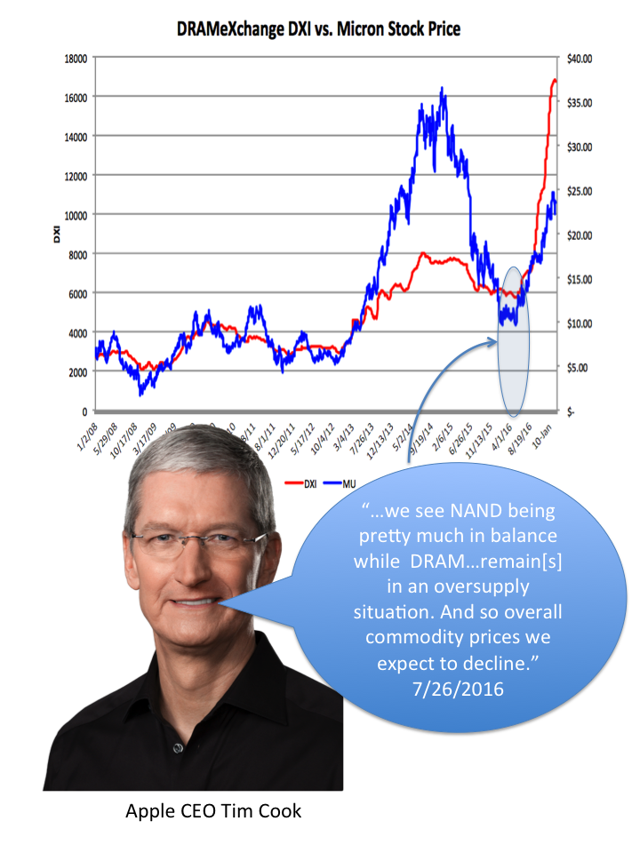 Whoa! Tim Cook the CEO of Apple (NASDAQ:AAPL), with all his information, gets it wrong?
What about those three things which caused me to construct this high side earnings estimate? On February 23, Hewlett Packard Enterprise (NYSE:HPE) had this to say on their earnings call:
From a memory standpoint, prices increased roughly 50% last month, putting significant margin pressure on the Enterprise Group. We can mitigate some of this movement through pricing actions but similar to currency, the extent of the mitigation is dependent on many factors, including competition and demand. So, it will take some time for us to work through the challenge. Lastly, the EG execution issues will have some near-term impact, which should alleviate throughout the year as we move quickly to resolution. Consequently, we feel it's prudent to reduce our fiscal year 2017 non-GAAP EPS outlook by $0.12 in order to continue making the appropriate investments to secure the long-term success of the business. I view these headwinds as more temporary in nature and expect to recapture much of their impact through pricing actions.
This was HPE CFO Tim Stonesifer speaking. (Shout out to SA's Vet67to82 and linklinklink for posting this elsewhere, and making us aware of this.)
The section I've bolded for emphasis may indicate that HPE has made pre-payments to Micron Technology (NASDAQ:MU), or other memory producers, to secure their place in line and/or pricing for chips on allocation. Here's the language for one such customer advance (page 58 of the Micron 2015 10-K):
As of August 28, 2014, customer advances included $90 million, and other noncurrent liabilities also included $90 million, for amounts received from a customer in 2014 under a DRAM supply agreement, all of which was applied to purchases during 2015.
I suspect we may see a lot of these, hopefully in the March 23 earnings call slides. Perhaps more likely, given Micron's abysmal transparency, when the 10Q is issued. I like these sort of deals. These are interest free (typically) deposits that bind the customer, lower interest costs and raise net cash balances.
The second thing that happened in the 24 hours after I published my previous article was DRAMeXchange's update of DRAM (2/23/2017) and NAND (2/24/2017) contract prices. While they post spot prices nightly, they typically only update contract pricing on a monthly basis, at least for us poor folk who don't subscribe to their premium services: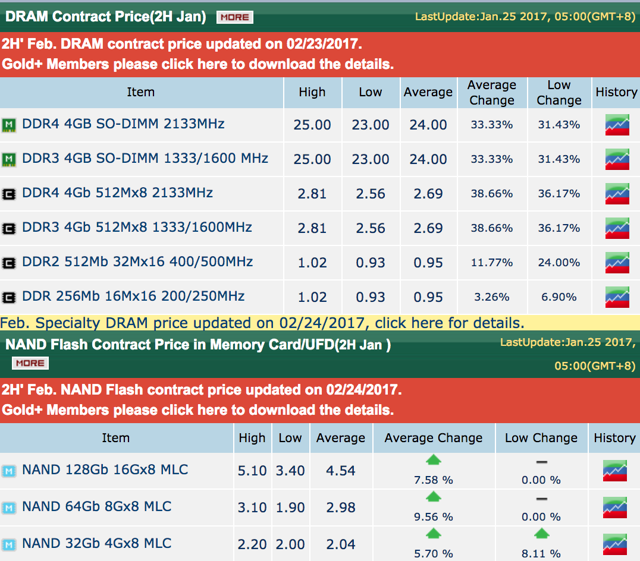 Take a look at the "Average Change columns." These are the monthly increases in contract prices. By comparison, I used a price increase of 15% in DRAM and 1% in NAND for the quarter in my model used to generate the 77 cent EPS estimate. Refresher course: it is widely thought that Micron (and others) sell only 10% in the spot market. Contract prices are thought to last for an average of three months and are the prices memory producers and customers use for about 90% of production volume.
And what's the third thing that might drive a higher case for February quarterly earnings? Look back at the following portion of a graphic from Wells Fargo detailing the rise of contract pricing: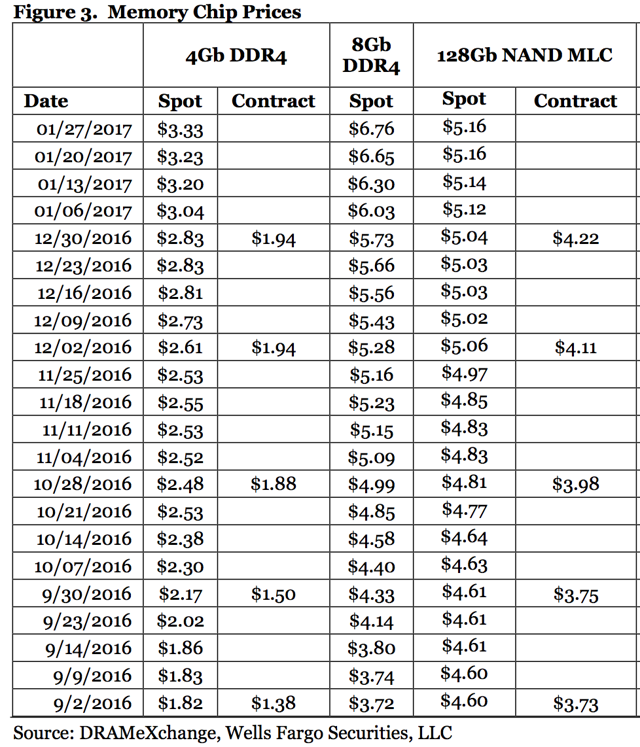 This is from a report dated January 29, 2017. To update it insert $3 for the DDR4 4Gb and a date of 2/23/2017. This is $24 for the 4GB unit in the previous graphic divided by 8 bits, to get to 4Gb. And insert $4.54 for the 128Gb NAND chip and a date of 2/24/2017.
Now compare the pricing results Micron reported in their first quarter earning slides on December 21, 2016:

Huh. For the first quarter Micron showed an increase in DRAM ASPs of only 5% and 0% for NAND ASPs. And yet Wells Fargo shows a 36% increase in contract DRAM prices from 9/2/16 to 10/28/16 (roughly Micron's fiscal first quarter) in the previous graph. The increase in NAND for the same period is 6.7%. So from this arithmetic and company disclosure, as of the end of their first quarter, Micron had yet to realize 31% of general contract DRAM increases and the full 6.7% of general NAND increases that had happened during that quarter. A simple explanation for this could be a plethora of older contracts that didn't expire, and thus the benefit of higher pricing wasn't received during the first fiscal quarter. Presumably those contracts have come up for renewal during this current February quarter. So renewed contracts would include the lagged fiscal first quarter price effect in addition to the huge contract price increase for this fiscal second quarter.
How does it look rolling up these three factors? The impact of HPE's announcement, the DRAMeXchange updated contract pricing, and the ASP lag from first quarter contract price rises are all about price. There are other effects one could crank in: Bernstein is sharply higher in their estimate for NAND bit increase this quarter (24%!), and Credit Suisse is using higher bit increases for both NAND and DRAM. But let's ignore those. I've presented my simple top down model in previous articles here and here, so I won't reproduce it in this article. Re-running the model with only two changes: increasing quarterly DRAM ASP increases from 15% to 20%, and NAND ASP increases from 1% to 5%, delivers a peppy result. Revenue climbs from $4.76 billion to $4.93 billion, versus consensus of $4.55 billion. And earnings per share climbs from 77 cents to 95 cents, versus consensus of 65 cents.
Bear in mind, moving the model quarterly pricing increase to 20% for DRAM and 5% for NAND is still less than the monthly contract price increases DRAMeXchange has just posted. It is also less that the apparently as-yet-unrealized first fiscal quarterly price increases. And it is less than this fiscal quarter's contract price increases.
Guidance. As with all Micron earnings releases, guidance and even the tone of the guidance, will be critical. Clearly the same sort of roll off of old pricing expiring and new contracts with higher prices will continue and should be accentuated by the dramatic rise of contract pricing. Analysts should be on the lookout for additional pre-payments and should not let management slither off in some fog of customer confidentiality. Since they can't talk about specific accounts tell us how many are in place, how many are under negotiation, the terms, and the length of any pre-payment deals.
If we don't get close to $5 billion in revenue and $1 in EPS this quarter, we should head that direction next quarter.
What's the chance for an earnings pre-release? Micron has just set the date for their earnings release of March 23. They present at a Morgan Stanley tech conference on March 2 and a Susquehanna conference on March 9. John Pitzer of Credit Suisse expects them to use one of these opportunities to pre-release their earnings (and so do I). Here's Pitzer:
MU presenting at a competitor's conference with the potential for a positive pre of F2Q (Feb) - given current pricing trends Ours/Street EPS of $0.63/$0.65 could have upside to $0.72-$0.75. ("DataDeposition 2/24/2017)
One pundit feels the company may be running afoul of "quiet period" norms which are legally pretty squishy as this article indicates. Suffice to say, Micron pre-released at a Citibank conference on 9/8/16 before their formal earnings release on 10/4/16. This was an update of the 4Q guidance after the quarter had ended. They also re-guided the first Q on 11/29/16 before reporting (and exceeding the re-guide) on 12/21/2016. So they've done it before and could do it again here. I guess the March 2 date and the Morgan Stanley conference seems most likely: that puts the most time until the March 23d earnings date for quiet period purposes, and there is already a webcast and 8K planned for timely, broad and equitable distribution of material non-public information.
Here's a good piece with "practice pointers" on earnings guidance by legal giant Morrison Foerster, affectionately known as MOFO. Near the end they point out reasons why an issuer might want to update guidance, including stock buybacks (convert buybacks in Micron's case?), insider selling, upcoming security offerings, and more.
Conclusion. For the bulk of my investment I am sticking with my 77 cent base case. This has the bulk of my money in 2018 20 call options purchased months ago and some slightly out of the money March and April calls. OK, I may do a Russ Fischer special with a small part of my remaining funds and buy very short term at-the-money or out-of-the money options to capitalize on any positive pre-announcement.
While I detect rotten fruit and jeers coming my way for a ~50% earnings blowout high case and a ~8% blowout revenue high case, I find this a useful exercise. As usual I look forward to the commentary on flies in this ointment, other things I've missed and confirmations or refutations on my guesstimations.
My mantra for the February quarterly earnings is "it's all about chip Average Selling Prices."
Do our own research. Roll your own earnings estimate. Row your own boat. Good luck to all on March 2, March 9, March 23 or whenever we first hear about February Quarterly earnings.
Disclosure: I am/we are long MU.
I wrote this article myself, and it expresses my own opinions. I am not receiving compensation for it (other than from Seeking Alpha). I have no business relationship with any company whose stock is mentioned in this article.