This last Friday, J.C. Penney (NYSE:JCP) has released its most recent results. The market was not pleased, and shares of the company have sold off. JCP's results were another signal of the weakness of department stores across the US. In what can be seen as a direct consequence of that, shares of mall retail REITs have sold off as well, underperforming the broader REIT market substantially for that day. The results of this past Friday are meaningless in the grand scheme of things, but do speak of the strong intuitive correlation between retailers and retail REITs in the mind of investors.
I was surprised by the sharp sell-off of mall REITs and didn't expect it to such extent, as I believe that retail REITs and retailers aren't one and the same. Seeking Alpha has released a note on the sharp sell-off of retail REITs on this Friday, relating to the above:

There were a few comments made by readers, myself included, on this.
My initial comment on this headline, and given the mall REIT sell-off, was this:

I've received a couple of responses to this short comment which I'd like to share. The identities of the readers commenting aren't a secret, but I'm not mentioning them here because I don't want this to seem at all personal. It's not and I appreciate any comment.
First reply:

Second reply: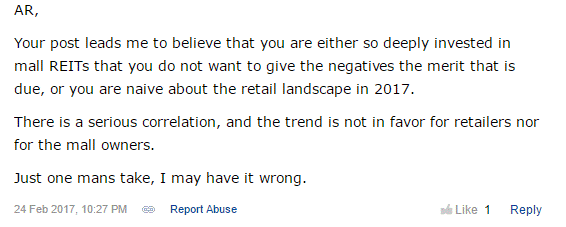 I take comments seriously and thus decided, paraphrasing the famous saying "when all else fails, read the manual," to "when all else fails, look at the facts."
My Position
First, I want to confirm that I'm currently invested in mall REITs much above their relative weight within the REIT market, so I'm overweight mall REITs. I believe that retail REITs are currently among the best value in REITs. There are several reasons for that, but since it's already been described in such depth by fellow SA contributors Brad Thomas here and Chilton here, I don't feel there's a reason to repeat.
I do consider myself an open-minded investor, and if the market teaches you anything, it is to continuously be skeptical of your thoughts and positions. I've made mistakes in the past and can guarantee to make more in the future. So the comments above got me thinking of the prospects of retail REITs and mall REITs specifically. More to the point, I began to reconsider my thoughts on retail REITs not being retailers. Perhaps I'm wrong and share prices of retail REITs ought to have a near linear correlation with that of retailers' share prices?
So I've decided to take another look at data to further think of the two statements made by the readers; first, that the distinction between retail REITs and retailers "doesn't matter much," and second, that "there's serious correlation."
Analysis
My first step to look at the operational sensitivity of mall retail REITs relative to that of retailers. If the comments above are accurate (and I'm wrong), then I should expect to see that when retailers struggle then retail REITs struggle as well.
It's important to distinguish between share price movements and fundamental data movements. What I'm more concerned about are the fundamental movements (although clearly, share prices movements, especially if to the downside, are more disturbing in the short term). I thus look at the fundamental data of companies for purpose of thinking of the correlation between retail operations and retail REITs' operations and not share price movements, which are driven, at times for extended periods, by sentiment and fear.
The most recent period of REAL economic distress was during the financial crisis of 2008-9. As one of the toughest economic periods in recent history, I thought it made sense to look at how things were for both retailers as well as retail REITs in the years preceding and following the crisis, from 2006 to 2011.
The Retailers
Below is selected financial data collected from the SEC filings of the various department store chains for the period of 2006-2011: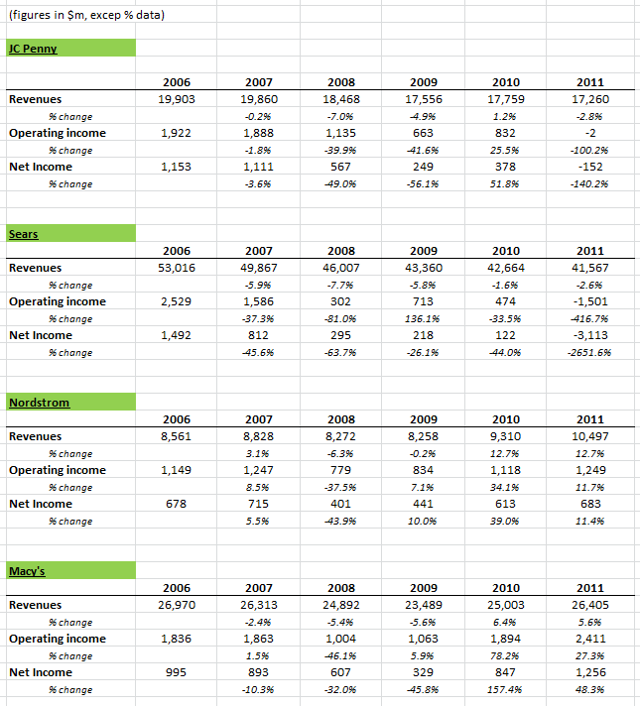 Source: 10-K reports
The data on retailers above can be summed up as follows:

I specifically focus on the period ending in 2009, as following that the economy started its recovery process and so did results of retailers. The period of 2006-2009 describes the tough years through which retailers actually struggled in a substantial way.
Operating income, which makes for a good proxy for the economic situation as it doesn't include issues such as the capital structure of different companies, has decreased on average by 51% from 2006 to 2009. That's big.
If the readers above are correct in their thinking that there's quite a strong correlation, then we should expect to see comparable erosion in the operations of the mall retail REITs over that same period.
The Mall REITs
For purpose of looking at mall REITs, I wanted to look across the entire spectrum, from A-class mall REITs to B/C class mall REITs, so have included data on Simon Property Group (NYSE:SPG), Macerich (NYSE:MAC), Taubman Centers (NYSE:TCO), Pennsylvania REIT (NYSE:PEI), Kite Realty (NYSE:KRG) and CBL (NYSE:CBL).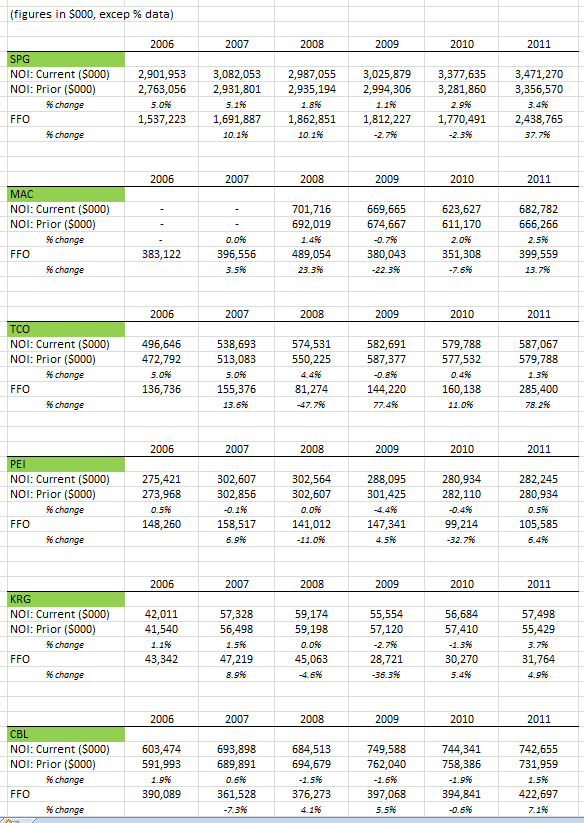 Source: Capital IQ
The data above can be summed up as follows:

Two comments on the above:
First, SSNOI stands for same-store NOI, so to compare the change in NOI on an "apples to apples" basis (assets which were held from beginning to end of period). Second, of the two, the SSNOI paints a more accurate picture of the real impact on REITs over the period. The FFO figures above are not on a same-store basis, so at times, the year-over-year comparison may be misleading, for example, if a REIT has bought/sold substantial assets over the period. Nevertheless, overall, the FFO as well is a reasonable proxy.
Summary
As I've used a plethora of numbers, it's instructive to put the bottom lines next to each other.
Retailers

Mall REITs

This is the data. While we all (myself included) focus on share prices most of the time, the data above is the real thing.
So while the operating income of retail chains has plummeted on average by 51.7% from 2006 to 2009, mall retail REITs have enjoyed on average a 1.5% increase in NOI, on a same-store basis - not great, but not terrible, right?
While the purpose of this isn't to dissect the mall REIT universe, but rather to step away from the specific numbers and get a bird's eye view on this, it's worth noting that even the "weaker links," the B/C mall REITs (PEI, CBL) experienced at most a single-digit decline in NOI on a same-store basis.
Retail REITs are not retailers.
Retail REITs just own real estate that happens to be leased to retailers, mostly. Real estate is an asset class which experiences much lower operational variance than retail, and thus, the listed equity of retail REITs ought not to be as volatile as that of retailers. Surely there are many issues that can push retail REITs' share prices down, but when retailers struggle that doesn't directly go to the REITs' bottom line and vice versa. The experience of 2008-9 for both retailers and REITs shows this.
The four most dangerous words in investing are "this time it's different." It nearly never is, so looking at the data from the financial crisis should be taken seriously. This data shows quite clearly that there's NO strong correlation between the fundamental performance of retailers and that of retail REITs and that the distinction matters, A LOT.
At current valuations, I think I'm going to buy more soon:

Source: Capital IQ
At the spirit of open-mindedness, while this data shows one thing, I still may be wrong. I'll be more than happy to see data that shows otherwise. I'm ready to change positions if convinced that my thought process is misled.
PS
On the same Friday that JCP (a $2B market cap) released its earnings, a much greater giant, five times larger, Foot Locker (NYSE:FL), a $10B market cap retailer, has also released theirs, beating expectations and forward guidance expectations. Foot Locker's shares have rallied by 10% on Friday.
Investors in retail mall REITs seem to have "missed" that little bit of information and "chose" to follow JCP instead. Fear currently clearly dominates, which is normally a good time to buy things.
Disclosure: I am/we are long SPG, MAC, TCO, KRG, TCO, CBL.
I wrote this article myself, and it expresses my own opinions. I am not receiving compensation for it (other than from Seeking Alpha). I have no business relationship with any company whose stock is mentioned in this article.