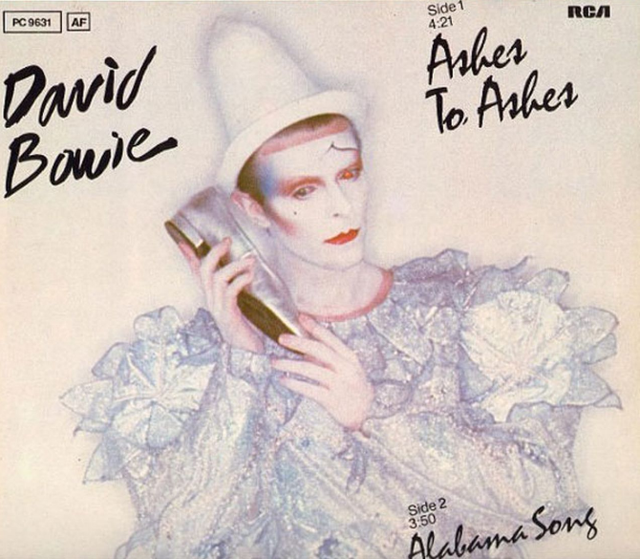 Do you remember a guy that's been
In such an early song?
I've heard a rumor from Ground Control
Oh no, don't say it's true

They got a message from the Action Man
'I'm happy, hope you're happy too'

- David Bowie, "Ashes to Ashes"
A Message From The Action Men
In his recent article (Gold Up, Miners Down), Seeking Alpha contributor Taylor Dart noted the divergence between gold and gold miners over the last two weeks and reiterated his bullishness on miners:
Taking a look at the Gold Miners Index, we can see that the index ultimately was rejected at the 200-day moving average. This has made me less aggressive on the index, but has not changed my positioning at all. I still remain 60% long miners across my accounts, with 30% of that weighting being new positions I've added in 2017.
Dart opened his article with a clever riff on David Bowie's "Space Oddity," so we thought we'd continue the theme here referencing Bowie's sequel to that song, "Ashes to Ashes." We checked to see what message the "action men" trading in dark pools were sending about gold miners, and it turns out it's consistent with Dart's bullish assessment. Recall that dark pools are private exchanges where hedge funds and institutions trade shares to elude front runners on public exchanges. Here's a chart of the last 10 trading days in the VanEck Vectors Gold Miners ETF (NYSEARCA:GDX) that we pulled up via Squeeze Metrics (we have an affiliate relationship with them and are compensated when readers join the site):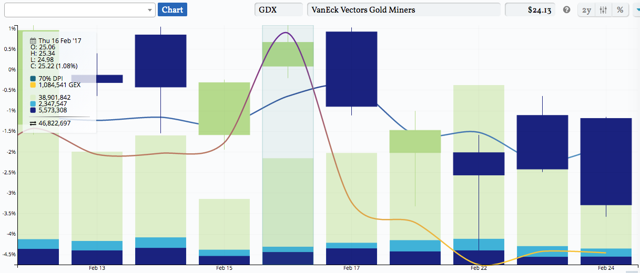 We've highlighted February 16th in the chart above where you can see the DPI, or Dark Pool Indicator, was 70%. That means 70% of the dark pool trades in GDX then were buys (often there's not an equal number of buy and sell trades in dark pools, because some sales are routed to high frequency trading firms that unload the shares on public markets). A DPI over 50% is considered bullish. GDX had a bullish DPI in 8 of the last 10 trading days.
Dark pool traders have actually been more bullish on GDX than on the SPDR Gold Trust ETF (NYSEARCA:GLD) over the last two weeks as the GLD chart over the same time period below shows.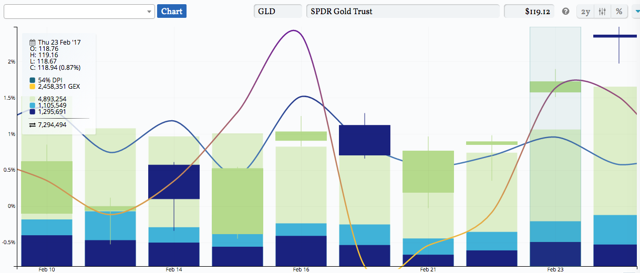 We've highlighted Thursday, the 23d, on the GLD chart. You can see the DPI there was bullish, at 54%. But only 6 of 10 days trading days for it were bullish. It could be that public markets and dark pools are out of phase slightly when it comes to GDX and GLD, but overall the dark pool trading action looks consistent with Taylor Dart's analysis.
Keeping Your GDX Position From Turning To Ashes
Taylor Dart remains bullish on GDX and dark pool traders have been bullish too. But if you've got a significant long position in GDX and want to hedge your bets, here's one way to do that. We pulled up this optimal collar hedge using the Portfolio Armor iOS app, but you can do this manually using the method described here. This hedge is designed for investors unwilling to risk a decline of more than 13% over the next several months.
As of Friday's close, this was the optimal collar to hedge 1,000 shares of GDX against a greater-than-13% drop by mid-September, while not capping your potential upside at less than 16% by then:
A quick note on the cap: we selected 16% because it was the highest cap where we could get a negative net cost with a 13% decline threshold. You can see the cost for the put leg above was $1,320, or 5.47% of position value (calculated conservatively, using the ask price of the puts). But as you can see below, the income generated from selling the call leg was $1,440, or 5.97% of position value (again, calculated conservatively, using the bid price of the calls).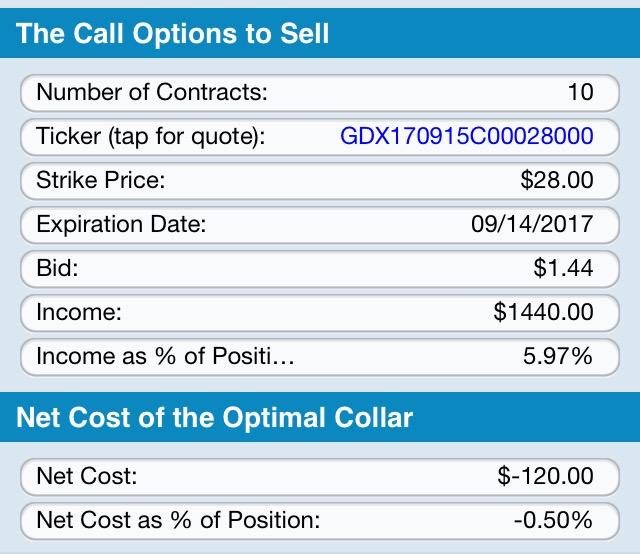 So the net cost here was negative $120, or 0.5% of position value. And since the cost was calculated conservatively, you likely could have collected more than $120 when opening this hedge on Friday.
Disclosure: I/we have no positions in any stocks mentioned, and no plans to initiate any positions within the next 72 hours.
I wrote this article myself, and it expresses my own opinions. I am not receiving compensation for it (other than from Seeking Alpha). I have no business relationship with any company whose stock is mentioned in this article.