I became a dividend growth investor almost exactly 3 years ago. I had always thought that eventually I would like to accumulate a large portfolio of dividend paying stocks, but I never made the leap until retirement started looming on the horizon. There comes a time when retirement becomes more than just "something that will happen someday", and you realize that you need to have something to generate consistent cash flow income.

Knowing almost nothing about dividend paying stocks (except for the obvious blue chippers), I started out with investments in large stalwarts like Altria (NYSE:MO), AT&T (NYSE:T), General Electric (NYSE:GE), and Coca Cola (NYSE:KO). These served me pretty well, especially MO, which is up over 67% since my initial purchase. The thing is...I wanted to be able to find more dividend paying stocks, and I wanted to find some that were smaller, higher growth companies as well; but at the same time, I wanted a reasonable level of safety.
My problem is: I wanted to find the easy way. I just don't have the knowledge or attention span to sit down and spend hours or days pouring over earnings reports on each potential dividend stock. I figured that there are a lot of very smart and/or successful folks out there that have already done the heavy lifting and I could just benefit from their research. Most dividend investors I've met are more than happy to share what they know and help others learn.
I'm guessing that there are a lot of you that are in the same boat. You want to benefit from dividend paying stocks, but you might not have the inclination or ability to do the hard work.
Research Strategy
Over time, I found many dividend investing websites and forums, and eventually found Seeking Alpha, David Fish's CCC list, and a host of other various dividend investing websites.
One of the most interesting ways I found to gather a list of dividend stocks to investigate, is to find people you respect on websites and forums, and compile a spreadsheet list of their portfolio of stocks. After doing this with a large number of portfolios, you begin to see certain stocks that are repeated over and over, which implies that many people have come to the same conclusion and regard those stocks as a good investment.
As good as this method is, it can become tedious as the spreadsheets and data starts to become outdated as soon as it is committed to the spreadsheet. Constant updates are required as people's portfolios change, dividends are increased or cut, and prices move.
A Better Way - The Power Tools
As a software engineer, I decided that a much better way would be to create a collaborative website where common dividend stock investors can share information and easily run the sort of analytical reports that I was doing manually.
This has been completed, and as you might expect, the list is heavy in the large blue chip companies that experienced dividend stock investors eventually build their portfolios around. The current Top 20 from the "Popular to Own" list is shown below: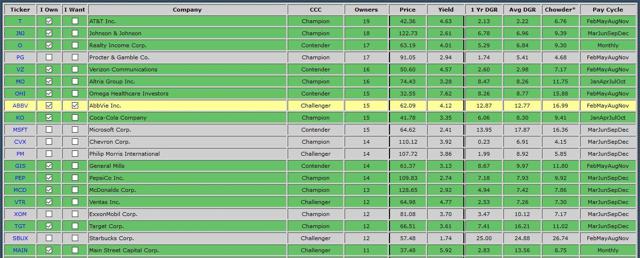 As you can see from the list above, I currently own 14 of the top 20 (highlighted in green or yellow). Several of these I purchased over the last 3 years, but 8 of them were purchased just last Fall as this data became available to me. Results for these more recent purchases are as follows:
| Company | Current Yield | Cost | Current Value |
| --- | --- | --- | --- |
| Johnson & Johnson (NYSE:JNJ) | 2.61% | 11537 | 12361 |
| Verizon (NYSE:VZ) | 4.57% | 10221 | 10181 |
| AbbVie (NYSE:ABBV) | 4.12% | 9982 | 10023 |
| Coca Cola | 3.35% | 10010 | 10027 |
| General Mills (NYSE:GIS) | 3.13% | 9022 | 8899 |
| Pepsico (NYSE:PEP) | 2.74% | 9592 | 9956 |
| McDonalds (NYSE:MCD) | 2.92% | 11529 | 12964 |
| Target (NYSE:TGT) | 3.61% | 5022 | 4893 |
| Total | | $76915 | $79304 |
I've been pretty happy with these positions overall since they represent a solid backbone for my portfolio. On average, I've owned these 8 stocks for about 5 months and the overall return so far is 3.1%.
The only issue I have with these stock selections is that they are not the smaller, higher growth companies I was looking for. Having already developed a solid foundation for my portfolio, I went looking for some lessor known companies. Once again, I used my "Popular to Own" list, but his time I went further down the list to find tickers I didn't recognize, but were still owned by several other portfolios.
I purchased the following 8 stocks from the list during the same time frame (last Fall) as those above, and we can compare the results:
| Company | Current Yield | Cost | Current Value |
| --- | --- | --- | --- |
| Ryman Hosp (NYSE:RHP) | 4.52% | 8874 | 11956 |
| Targa Resources (NYSE:TRGP) | 6.46% | 3992 | 6048 |
| LyondellBasell (NYSE:LYB) | 3.68% | 4523 | 5731 |
| Armada Hoffler (NYSE:AHH) | 5.11% | 9882 | 11013 |
| Watsco (NYSE:WSO) | 2.79% | 12986 | 14208 |
| East Group (NYSE:EGP) | 3.35% | 5011 | 5457 |
| STM Microelectronics (NYSE:STM) | 1.60% | 3996 | 6525 |
| Flowers Foods (NYSE:FLO) | 3.33% | 9225 | 11615 |
| Total | | $58489 | $72553 |
This is exactly the sort of performance I had been looking for. The overall gain over the last 5 months has been 24%. As these are smaller companies, I expect that they will suffer more during a market decline, but they are certainly off to a great start.
If you are not familiar with these companies, here is a short bio of each one, along with reasons why I bought them:
Ryman Hospitality - Ryman is a REIT that owns a small list of high quality resort type hotel destinations. These are the Gaylord resort hotels. It also owns the Grand Ole Opry and other related properties in the Nashville area. In my view, I think resort hotels of this quality that also cater to conventions command a premium and can't be simply replaced by the likes of Air BnB. The fact that they also have the Grand Ole Opry is also enticing due to the fanatical following that it enjoys. This was yielding over 6% when I purchased it, so it seemed like a great purchase at $49.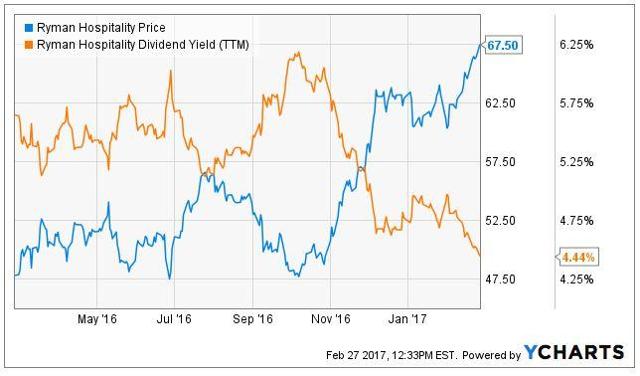 Targa Resources - Targa is a midstream natural gas company in the US. Like other energy related companies, it had pulled back significantly from the highs of around $140 in 2014, to the mid $30's when I started looking at it. I was a little nervous of this space and only took out a 1/3 position at around $38. Now it is trading at over $56. I wish I had gone full in.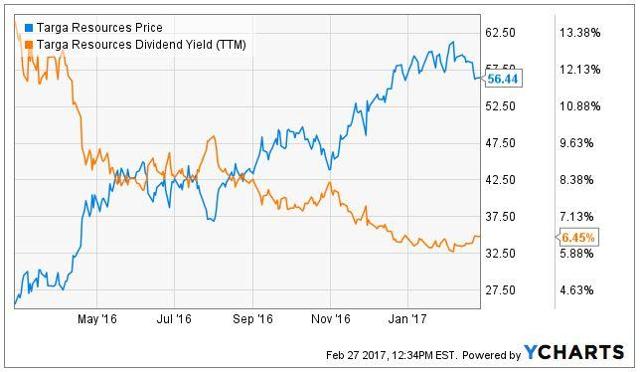 LyondellBasell - This company manufactures a multitude of chemicals, refines crude oil, and produces gasoline blends. It is dependent on the energy industry, but I think it is more resilient since its product markets are wider spread than simply oil and gas. It has traded mostly sideways since a high of over $110 in 2014, and I picked up a 1/2 position at $73. It currently trades at $92.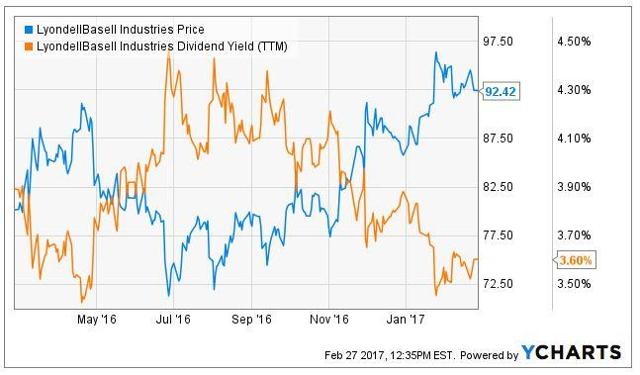 Armada Hoffler - This is another REIT, investing in high quality office, retail, and multi-family properties. They seem to be growing well, beating quarterly earnings estimates, and growing their already generous dividend. With a starting yield of 5.7%, I purchased a full position at $12.60, and it currently trades at over $14.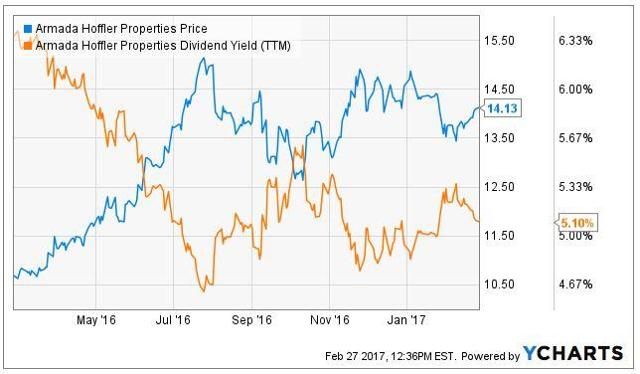 Watsco - Watsco is an industrial company that distributes air conditioning/heating and refrigeration equipment, along with parts and supplies. This seemed great to me, since regardless of the economy people like their homes, stores, offices etc to be comfortable. Watsco's price chart is a sight to behold, constantly moving upwards. The yield is a little lower at around 2.8% (recently raised almost 17%), but it has been growing in large chunks with a current 1 year chowder of almost 20%. I purchased an oversized position at $137 and it currently trades near $151.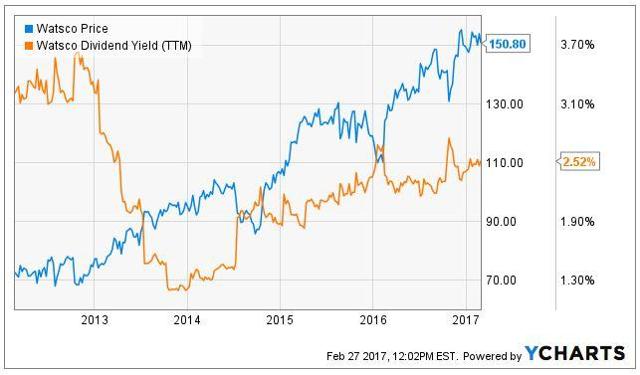 East Group - East Group is an industrial property REIT. I thought their price chart was also compelling, with a recent Fall pullback providing a good entry point. I purchased a 1/2 position at $68 and it currently trades at $74. The yield is currently 3.35% and has only been growing modestly at around 4 or 5% each year.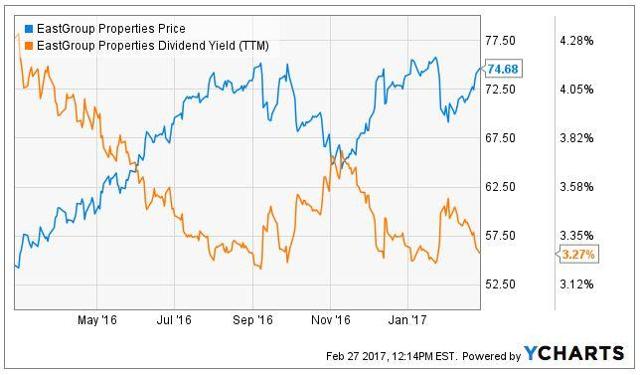 ST Microelectronics - I found this in my list as I was researching technology stocks involved in the Internet of Things (IOT). The yield isn't great, but I found that STM semiconductor chips can be found in abundance is almost every product that is being marketed for IoT. STM should have a great future as the IoT continues to grow to a huge market. I purchased a small 1/3 position at $9 and it is currently trading over $15. I should have bought way more.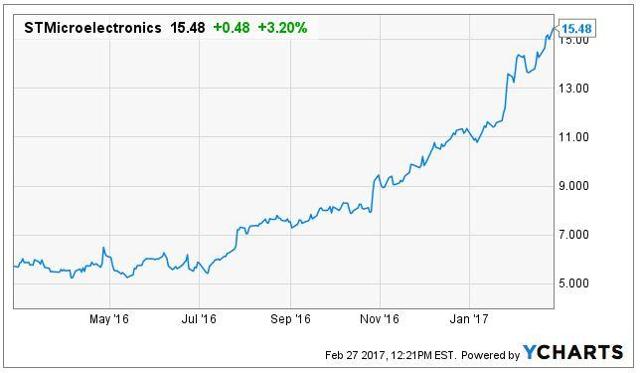 Flowers Foods - Flowers is a company that is very common among dividend investors portfolios. They produce and market bakery goods. I found them to be interesting since they had been hit with a lawsuit concerning their delivery drivers, and the stock price seemed to be suffering a short-lived overreaction. I purchased a full position at $15.25 (and locked in a yield of 4%) and it currently trades over $19 with a yield of 3.3%.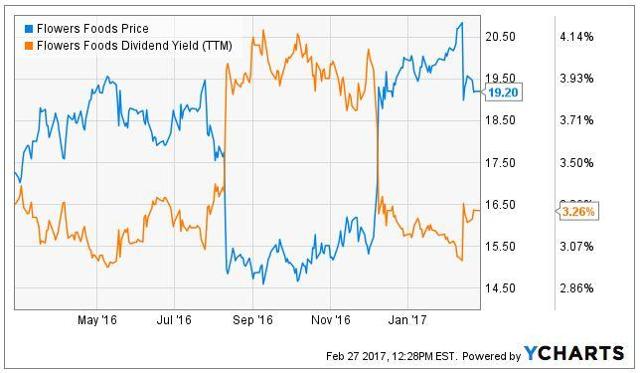 I can say that I was surely in the right place at the right time in the October - November time frame last Fall. Most of my picks have increased significantly, along with the market in general. I just feel as though my portfolio collaboration research provided me with some good stocks at the right time. As more funds become available, I will be using the "Popular to Own" list to make more selections.
Conclusion
My conclusion is that there is a lot of value to be gained by collaborating with other dividend stock investors; not only for building portfolio foundations, but also for exploring possible higher growth opportunities.
My personal portfolio currently stands at 68 positions. You can view the full portfolio list here.
I look forward to hearing from you about this stock picking strategy and certainly any comments you have about my portfolio.
Disclosure: I am/we are long ALL STOCKS DETAILED IN THIS ARTICLE. I wrote this article myself, and it expresses my own opinions. I am not receiving compensation for it (other than from Seeking Alpha). I have no business relationship with any company whose stock is mentioned in this article.