On Saturday, February 25, Biglari Holdings (BH) released the company's 2016 annual report along with the annual letter from the Chairman, Sardar Biglari. Timed for a similar release with the like-minded process paved by Berkshire Hathaway (BRK.A) (NYSE:BRK.B), Biglari's release of his annual letter largely represents the lone communication investors can generally expect from the controlling capital allocator outside of the company's annual meeting, which will be held on April 27. This follows much in line with Warren Buffett who also released his letter on the same day for Berkshire Hathaway.
In many ways, this copycat behavior by Biglari of Buffett serves as tribute to the leader of the admired holdings company. In his own path to success, Biglari has thus far taken on many attributes of the greater company with the initials 'B' and 'H' out of great respect for the successful investor. Indeed, Biglari even maintains a symbolic holding of just two shares of Berkshire Hathaway (Class A) of the company via Biglari Capital Corp. Yet despite the numerous similarities that Biglari has imposed upon Biglari Holdings, the chairman and CEO has often noted that the company will be embarking upon a different path from Berkshire Hathaway.
Indeed, much of the similarities between the two companies begin to fade upon closer inspection. Biglari Holdings has managed to build a strong foundation upon the cash generation of the capital-intensive restaurant industry rather than heavily relying upon the high float of large insurance companies. Biglari, himself, has also proven to be most assertive in his attempts at winning over company board seats and seeking corporate change through proxy wars. These kinds of hostile takeover attempts (which run in stark contrast to the behavior of Buffet) have often put companies to be acquired on the defensive and raised suspicions over Biglari's intentions.
Nevertheless, Biglari has found much success through his own unique style of building a public holdings company. As the controlling investor who has exploited the company to build up his own name brand, Biglari and his aggressive tactics have often given investors a reason to discount the company's shares. Yet this has also allowed for the CEO to assume a controlling stake in the company and enabled him to exert a wide range of flexibility when it comes to capital allocation. Although he himself acknowledges that the unorthodox nature of the company is not for everyone, it also remains undeniable at the same time that Biglari has slowly been putting together a real gem of an empire that has yet to be realized.
At only the age of 39 currently, Sardar Biglari has now officially built a company with cash and investments totaling in excess of $1 billion. This comes as an impressive feat considering that he only started at the age of 18 with $15,000, a fact that he alludes to in his latest annual letter. A greater sense of this progression is also articulated in the following table. It was in the year 2008 that Sardar Biglari took over Steak n Shake, which has served as the greatest catalyst towards the company's present wealth generation.

It remains undeniable that shares of Biglari Holdings over the past few years have not quite corresponded to the actual intrinsic value represented within the company. As noted in the chart below, share prices have largely remained stagnant over the past few years. However, for investors who believe that the strength of the underlying businesses and investments will ultimately carry the company's share price higher, Biglari Holdings continues to gain value beneath its staggering share price.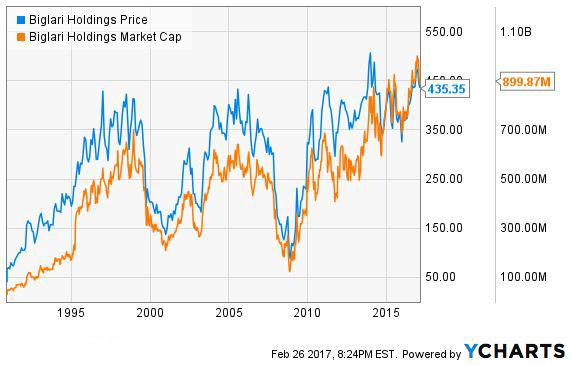 The following are a few key takeaways that I noted in the company's annual report and chairman letter.
Maxim Inc. has turned profitable at the very end of 2016 according to Biglari.
First Guard Insurance Company has grown considerably since being acquired.
Although Steak n Shake has continued to maintain a high level of contribution to the parent company, domestic operations performed less than admirably in this past year.
The bulk of the company's investment portfolio is divided between Cracker Barrel Old Country Store, Inc. (CBRL) and shares of Biglari Holdings itself.
Total incentive payments to Biglari amounted to $31.6 million in 2016.
Overall, the company's correspondence to investors continues to show a very healthy operation. The lack of profitability at Maxim has previously served as one of the greatest uncertainties for the company. Since its acquisition in 2014, Maxim was predicted by Biglari to achieve profitability by the end of 2016. While the annual report still shows that Maxim took a loss in the last year and in the last quarter, Biglari's comments suggest that the magazine brand may have barely scraped by with a profit toward the latter part of the last quarter.
Given that much of this was achieved by gutting the company's expenses and letting go of 6 out of every 7 employees that came with the acquisition, investors can reasonably presume the task was largely achieved through extensive cost cutting. There should be little doubt that the media brand will largely continue to exist as a shell of its former self from a publication standpoint. Yet for investors, the exploitation of the brand could continue to reap lasting profitability provided licensing opportunities continue to accrue.
It is worth noting that revenue from Maxim grew slightly on a proportional basis year over year from a standpoint of growth. For the first nine months of 2015 to the end of 2015, Maxim grew its revenue 37.9% to $24.48 million. Over the same time period for 2016, Maxim grew its revenue 39.6% from $6.57 million to $9.17 million. Despite this slight bump in revenue growth from the 3rd quarter to the 4th quarter, end of year media costs and SG&A expenses combined fell from $42.29 million to $18.83 million in 2016. In any case, even if the current profitability of Maxim proves to be short-lived, the sharp fall in costs and losses continues to reduce the liability that Maxim had come to represent to Biglari Holdings as its only losing division over the past 2 years.
First Guard, on the other hand, continues to validate the company's ability to integrate businesses and unlock their future potential. Year-end premiums written by the insurance company had steadily grown from $8.72 million in 2014 to $22.40 million in 2016. Over these last two years, the company's contribution to net earnings has more than doubled from $1.56 million in 2014 to $3.31 million in 2016.
Steak n Shake continues to perform well, although the hamburger chain has failed to exceed its previous record highs set in the year before. Net sales fell slightly to $795.32 million in 2016 from $799.66 million in 2015. Thanks to franchise additions, royalties and fees increased from $16.43 million in 2015 to $18.79 million in 2016. Rising operating costs however, grew from $379.63 million to $395.26 million. Overall, net earnings declined slightly from $26.99 million in 2015 to $24.83 million in 2016.
Despite the fact that the franchise business continues grow well, Biglari noted that 2016 represented a year of missed expectations for Steak n Shake and took responsibility for the decline. Although far from being problematic, it was one of the few disappointments of the past year. Biglari stated as much in the letter he issued as he casted aside any alibis other than subpar execution:
"2016 represents a year in which overall sales and profits declined even though we had expected their advancement. Steak n Shake's earnings before interest and taxes were $34.7 million, down from $39.7 million in the preceding year. In 2016, same-store sales declined by 0.4%. Our performance was not the result of poor economic or weather conditions - two industry favorites and frequently cited alibis - but the result of our own lack of execution."

- Sardar Biglari
Investments in The Lion Fund (both TLF and TLFII) have continued to grow with great strength as noted in the prior chart at the top of the article. From 2015 to 2016, Biglari Holdings' stake in The Lion Fund grew from $734.7 million to $972.7 million, a strong increase representing a 32.4% increase year over year. Having said that, investors should remain well aware that these investments are highly concentrated and remain subject to much volatility. Indeed, apart from the company's investment in Cracker Barrel, the second largest holding is in stock of Biglari Holdings itself. A look at the Form 13F filings of Biglari Capital Corp., The Lion Fund's general partner, essentially illustrates the composition of the portfolio. The two graphics illustrate the change in holdings from the end of 2015 to 2016.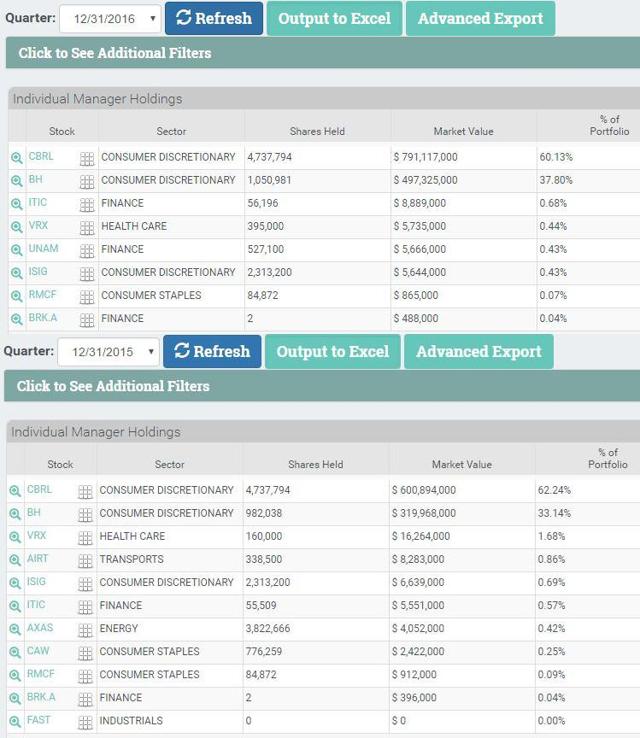 As a result of the current dynamic of the investment portfolio, investors should continue to expect much volatility given the intense focus on two investments. Having said this, the investment in Biglari Holdings has largely amounted to a share buyback as it serves as a key part of the strategy for Biglari to retain voting control over the company. It remains unlikely for these shares to be sold again and it effectively reduces the outstanding share count despite the fact that they still are a part of the outstanding share count.
As for Cracker Barrel, the company continues to pay out a strong dividend that continues to reward The Lion Fund with a reliable stream of income. This can be seen in the graphic below. Apart from ongoing capital appreciation from strength in the stock price, the lucrative dividends offered by Cracker Barrel have considerably paid off relative to the fund's investment price. In 2015, income collected had represented 28.6% of the $241 million purchase price of the Cracker Barrel stake made between 2011 and 2012. By the end of 2016, cumulative dividends surged forward to now represent a meaningful 44% of the prior cost. The income received from Cracker Barrel continues to pay for the original investment. The $7.75 dividend per share of Cracker Barrel offered in 2016 represented a 7.64% increase over the $7.20 dividend per share of Cracker Barrel offered in 2015.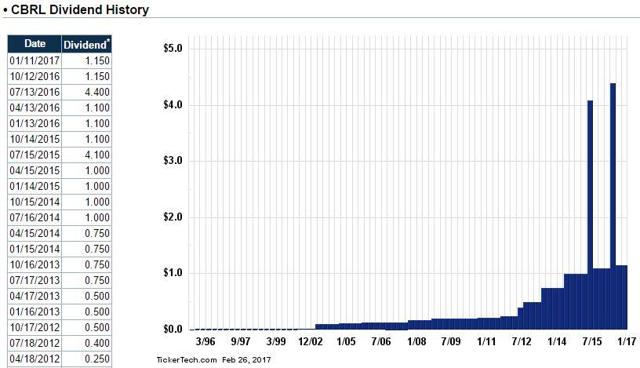 Last of all, investors should remain aware of the sizable sum that Sardar Biglari himself is paid for the management of the company. Apart from his regular compensation of a little less than $1 million, the CEO gains incentive compensation based on his performance. In 2016, this amount resulted in $31.63 million. While he earned no such compensation in 2015, in 2014 he earned $34.41 million.

Investors should remember that this incentive arrangement is handled on the basis of a reallocation fee. For every percent of net profit above an annual hurdle rate of 6% over the previous high-water mark, Biglari Capital will earn 25% of each percent over that 6%. While undeniably lucrative for Biglari in years of outperformance, the arrangement does put the interests of the limited partner found in Biglari Holdings in the priority seat.
Ultimately, investors in Biglari Holdings merely compensate a fraction for outperformance while fully receiving the gains in years of subpar performance. In another way of looking at it, the arrangement also further ties Sardar Biglari's self-interest to Biglari Holdings as his personal wealth becomes further tied to the performance of the company's stock. This is particularly true considering the current investment portfolio of The Lion Fund which holds much of its wealth in stock of Biglari Holdings.
Final Thoughts
There is no denying that Biglari Holdings is an investment that is not suitable for everyone. Unconventional and unorthodox remain two adjectives to fairly describe how the company is managed and controlled. Biglari Holdings is an investment in Sardar Biglari, plain and simple. For many, the thought of a single person controlling every decision behind cash and investments in excess of $1 billion is a bit too wild of a ride to hop onto.
That being said, for investors that are willing to give Biglari the benefit of the doubt, he has continued to illustrate his ability to grow capital aggressively and greatly outperform the market on a consistent basis. Biglari Holdings currently trades with a market capitalization of $900 million based on the last price of $435.35 as of February 24. It would also do well for investors to realize how discounted that market capitalization truly is given that Sardar Biglari himself controls in excess of half of the shares outstanding.
Biglari Holdings controls a small, but promising insurance company, two large restaurant chains, a recovering magazine publication, and a meaningful portfolio of Cracker Barrel and shares of Biglari Holdings. As of the end of 2016, all of these holdings have officially become profitable. It might do well for investors to consider that The Lion Fund's stake in Cracker Barrel alone is currently worth $765.86 million based on the closing price of $161.65 as of February 24.
For those that are willing to take the long-term risk on Sardar Biglari, there can be little denying the undervalued share price of Biglari Holdings. Personally speaking, I find Sardar Biglari to be an impressive capital allocator who has consistently proven himself. While I am willing to invest alongside with him and compensate him lucratively for his outperformance, it effectively remains a difficult thing to recommend the same for others to follow suit. There is a lot of trust that is necessary to invest in Biglari Holdings. This is particularly true given the lack of voter control by the investing public and the wide breadth of financial flexibility given to the CEO. Having said this, it is also worthy to note the ability for Biglari to put together a strong company. It has convinced me that he would also be the one that I would want to have in control of our combined capital.
Disclosure: I am/we are long BH, BRK.B.
I wrote this article myself, and it expresses my own opinions. I am not receiving compensation for it (other than from Seeking Alpha). I have no business relationship with any company whose stock is mentioned in this article.