Summary
The word on everyone's mind is "income." Low interest rates have reduced the cash flow bonds can offer and raised the valuation of many dividend-paying equities. Preferred stocks offer higher income but were not an area of the market many paid attention to until recently.
Preferreds come in two main flavors:
Fixed coupon preferred stocks have the same coupon throughout the life of the issue. They offer high income yet tend to perform poorly during periods of rising interest rates.
Fixed-to-floating rate preferred stocks have a variable rate coupon and offer an alternative to the traditional, fixed-coupon alternative. They may be an answer to those looking for both high income and rising interest rate protection.
I will discuss why the First Trust Intermediate Duration Preferred & Income Fund (NYSE:FPF) may be a good option for those looking to embrace this area of the preferred market.
What is a Fixed-to-Float Preferred?
A fixed-to-float preferred security offers a fixed coupon for a certain period of time. After this fixed coupon period, they reset to a fixed amount over a predetermined interest rate benchmark (most use three-month LIBOR).
I pulled the prospectus of two issues included in FPF to give you an example of this.
The first example is the Citigroup Series K issue:

(Source: EDGAR)
The second example is the Valley National Bank Series A issue:

(Source: EDGAR)
Rising Rate Protection and Performance
Once the fixed period is over, the floating portion of the coupon will be the three-month LIBOR rate. Three-month LIBOR has a history of tracking the Federal funds rate rather closely: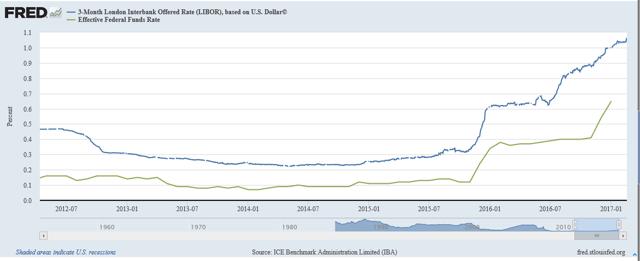 (Source: FRED)
You will have a security that offers a rising coupon if three-month LIBOR keeps rising. However, if three-month LIBOR stalls out, you can actually have a coupon less than the fixed period.
Cohen & Steers did research into the performance of fixed-to-float preferreds during the year of the taper tantrum and came up with the following result: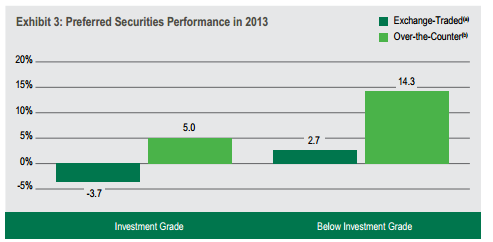 (Source: Cohen & Steers)
(Note that exchange-traded preferreds tend to be fixed-coupon while over-the-counter preferreds tend to be fixed-to-float.)
We can see that see that fixed-to-float issues generated a higher return than their fixed coupon counterparts during this period of rising long-term rates.
FPF Holdings and Characteristics
FPF was the first closed end fund I bought specifically because of its large exposure to fixed-to-float issues.
The fund currently has over 75% of its assets in floating rate or fixed-to-float issues.

(Source: First Trust)
It maintains greater than 50% of its assets in investment grade securities and almost half are issued outside of the USA: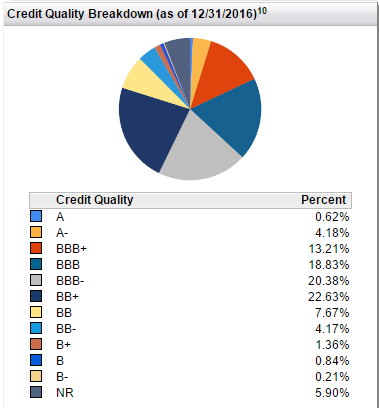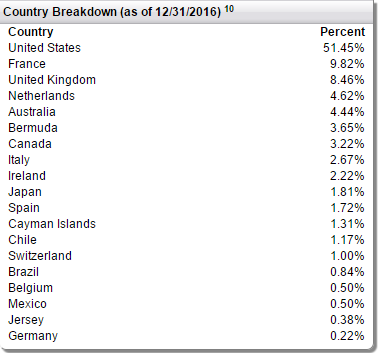 (Source: First Trust)
The fund is dominated by the banking and insurance industries: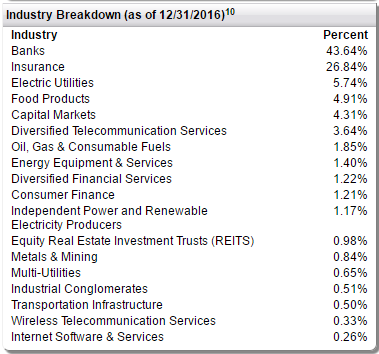 (Source: First Trust)
Many of its top holdings are not household names in the US. This is different than other preferred closed-end funds, which will have more recognizable names in the top 10 list.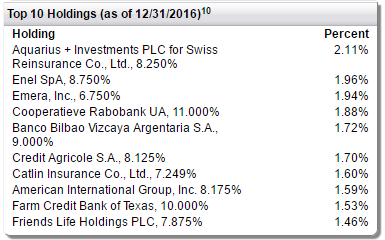 (Source: First Trust)
FPF Discount and Income
Many CEF buyers pay close attention to the source of a fund's distribution.
Reading the fund's 19a-1 Notice shows 100% of its distributions are net investment income:

(Source: First Trust)
FPF yields 8.29% as of this writing and has a discount of 1.7%.
Pulling up a chart at CEFConnect shows this fund spends a lot of time near double-digit discount territory: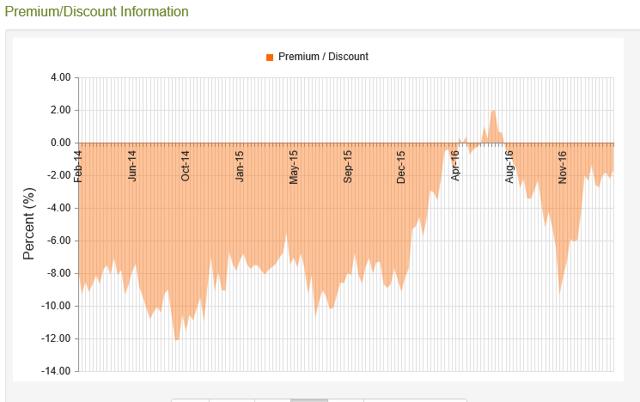 (Source: CEFConnect)
Conclusion
FPF has been a long-time holding of mine. I purchased it when the discount to NAV (and yield) was higher than it is today. I was initially concerned over the lack of "name brand" issuers in the top 10 but some research showed they're actually well run firms.
Its high exposure to fixed-to-float issues means the fund will perform better than its fixed-coupon counterparts based on data from 2013. However, the yield on the fund is high enough that it will most likely attract retail investors even if the 10 YR hits 2% or 3%. There simply isn't enough yield in bonds to make FPF unattractive even if rates rise from here.
Would I establish a new position today? No. The current discount is very narrow, the yield is on the lower end of its range, and the price is closing in on its post-IPO highs.
I would keep it on the watch list for the future.
Disclosure: I am/we are long FPF.
I wrote this article myself, and it expresses my own opinions. I am not receiving compensation for it (other than from Seeking Alpha). I have no business relationship with any company whose stock is mentioned in this article.