Since its inception on 7/15/1970 an investment in the Sequoia Fund (MUTF:SEQUX) has returned 13.7% annually versus 10.9% for the S&P 500.
The fund is noted for its long-term value investing style, portfolio concentration, and outperforming in down years. For more background on the fund you can check out my original article here.
In its annual letter Sequoia remained upbeat for 2017 despite a rough 2016. It noted that once the fund exited Valeant (Q2 2016) the fund performed roughly in-line with the S&P 500, or 7.24% vs. 7.82% respectively.
At year end Sequoia's portfolio traded at 19.8 times 2017 earnings estimates vs. 17.2 for the S&P 500. The fund's stocks however have grown EPS by 10.8% annually over the last three years vs. 2.5% for the S&P 500 components.
During the fourth quarter the fund boosted its position in Carmax by 61% making it a top 10 position. It now owns its shares at an average price of $51.10. Carmax recently traded around $66.
In another interesting move the fund sold out of its Wal-Mart position and bought a similarly sized position in Amazon. The fund likes Amazon for its e-commerce platform and cloud computing services and notes both have lots of growth ahead. While Amazon Web Services already earns very rich margins, the fund's analysis indicates Amazon's e-commerce operations also have substantial earning power currently masked by growth investments.
The fund was also able to get into a group of select investors to purchase a stake in Liberty Media Group, a John Malone affiliated company, as part of Liberty's acquisition of the Formula One auto racing business. The deal closed on January 23 and the fund was able to acquire 4.7 million shares at $25. Those shares are now trading around $32.
Here's the activity for the quarter:
New Stakes:
Amazon (NASDAQ:AMZN) is an e-commerce, cloud computing provider, and media company. The fund likes Amazon for its very profitable web services division and believes e-commerce has substantial untapped earnings power. The fund sold Wal-Mart during the quarter and bought a roughly equal position size in Amazon. Amazon traded between $710 and $845.
Liberty Media (NASDAQ:FWONA) (NASDAQ:FWONK) is the John Malone affiliated media company. The fund was able to participate in an offer in conjunction with the Formula One acquisition. The fund bought just 52k shares in the fourth quarter but was able to buy 4.7 million overall at the offer price of $25.
Stake Disposals:
Compaignie Financiere Richemont SA (OTCPK:CFRUY) is based out of Switzerland, is the 2nd largest luxury goods conglomerate in the world. You probably know them from brands such as Cartier, Swatch, Montblanc, and Dunhill. More than 40% of its sales come from China. According to the company, it has particular strengths in jewelry, luxury watches, and writing instruments. During the fourth quarter of 2014 the fund bought 872k shares, taking a 1.11% position in the portfolio. The ADR traded between $7.75 and $9.50. The fund sold out of its position in the fourth quarter of 2016. Prices ranged from $6.15 to $6.95.
Praxair (NYSE:PX) is a worldwide industrial gas company that the fund started buying in 2009. It bought roughly half in 2009 and the rest in 2011. It was never an outsized position, and as of last quarter it was 1.77% of the portfolio. During the fourth quarter the fund sold its entire position as prices traded between $115 and $124.
Fortive (NYSE:FTV) is a recent spin-off from Danaher. It consists of Danaher's former Test & Measurement segment, Industrial Technologies segment and the Retail/Commercial Petroleum platform. During the fourth quarter the fund sold its spin-off shares. Fortive traded between $47 and $56.
Verisk Analytics (NASDAQ:VRSK) is a data analytics and risk assessment firm that serves customers in insurance, natural resources, financial services, and government. The fund bought a very small position back in 2009 when VRSK traded below $30. It never added to the position. The position was sold over the fourth quarter as VRSK traded between $79 and $85.
Wal-Mart Stores (NYSE:WMT) operates retail stores and is the largest retailer in the world with over 11,000 locations in 28 countries. This is a long-term holding of the fund and it has held shares since at least 2005. The fund sold 45% of its stake in the third quarter as the stock traded between $70.50 and $75.00. It finished the job in the fourth quarter while substituting in some Amazon shares. Wal-Mart traded between $67 and $72.
Stake Increases:
Carmax (NYSE:KMX) operates used car dealerships across the U.S. It also provides financing and repair services. During the second quarter of 2016 the fund picked up just over 2 million shares for 2.16% position in the portfolio. Prices ranged from $45 to $56. In the fourth quarter the fund added nearly 1.3 million shares, boosting its position by 61%. KMX traded between $48 and $66. Per the fund it has an average cost basis of $51.10.
Stake Decreases:
Mohawk Industries (NYSE:MHK) is an American flooring manufacturer based out of Georgia. This is a long-term holding of the fund. It first bought 4.2 million shares in 2002. It's sold shares over the years and most recently owned 1.1 million. During the fourth quarter it sold just over 600k shares, reducing its position by 53%. MHK traded between $175 and $205.
Fastenal (NASDAQ:FAST) is a wholesaler and retailer of industrial and construction supplies. The fund has owned FAST since 2001 and likes the company for its long-term growth opportunities and great management. It's a stock the fund plans to hold despite lofty valuations. The fund held just over 4 million shares from 2005 through 2008, before selling about 15% during 2009. Since that time the fund more than doubled its position to over 6.9 million shares at the end of the second quarter of 2014. The fund made a major addition in the third quarter of 2014, adding nearly 1.8 million shares between prices of $43.74 and $50.08. During the first quarter of 2016 the fund trimmed the position 26%, selling just over 2.3 million shares. The stock was volatile during that period and traded between $35 and $50. The fund sold another 24% in the second quarter of 2016. Prices ranged from $42.25 to $49. During the fourth quarter the fund trimmed its position by another 38%. It now owns roughly 3 million shares. FAST traded between $38 and $49.
TJX Companies (NYSE:TJX) is a discount apparel and home furnishing retailer operating under the T.J. Maxx, Marshalls and HomeGoods brands. The fund has been in TJX since 2000, when it held nearly 7.9 million shares. The position was built up to over 15 million shares by the end of 2002. The fund steadily decreased its position between 2003 and 2007 and by 2008 it was down to 4.9 million shares. The fund added significantly in 2011, increased the position size from 5.1 million to 10.2 million shares. Prices ranged from $21.50 to $32.69 in 2011. The fund holds 10.2 million shares as of Q2 2015 and the position makes up 7.88% of the portfolio. In Q4 2014 the fund sold approximately 400k shares, or 4% of the position. It sold another 1% of its position in Q1 2015. And in the second quarter of 2015 the fund sold over 3.1 million shares at prices between $64 and $70. During the fourth quarter of 2016 the fund sold just under a million shares, reducing the position by 22%. TJX traded between $72 and $80.
Omnicom (OMC), Rolls-Royce (RYCEY), Constellation Software (CNSWF), O'Reilly Automotive (ORLY), Jacobs Engineering (JEC), Dentsply Sirona (NASDAQ:XRAY), Wells Fargo (WFC), Berkshire Hathaway (BRK.A) and (BRK.B), Danaher (DHR), EMCOR Group (EME), Perrigo Company (PRGO), MasterCard (MA), Google Class A and C (GOOGL) and (GOOG), Charles Schwab (SCHW), Waters Corporation (WAT), Hiscox Ltd. (HCXLY), Chipotle Mexican Grill (CMG), Costco Wholesale (COST), Tiffany & Co. (TIF), and Croda International (COIHY) saw decreases of 20% or less during the quarter.
Kept steady:
None
Here's a snapshot of the activity during the quarter: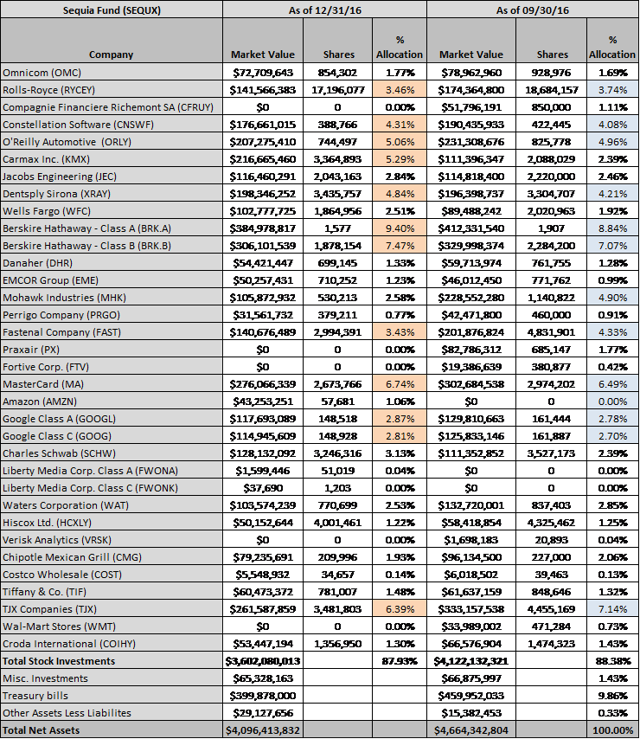 Disclosure: I am/we are long AMZN, CFRUY, WMT.
I wrote this article myself, and it expresses my own opinions. I am not receiving compensation for it (other than from Seeking Alpha). I have no business relationship with any company whose stock is mentioned in this article.
Editor's Note: This article discusses one or more securities that do not trade on a major U.S. exchange. Please be aware of the risks associated with these stocks.