Gold has been in bull run since it bottomed at 1,125 last December, one day after Fed Meeting.
Gold made its first run from 1,125 to 1,220, up 95 dollars, then pulled back before Jan. 31 – Feb. 1 Fed Meeting and made its local bottom at 1,180.
The run resumed then and topped at 1,247 on Feb. 8th. Gold spent the next 9 days for its consolidation and made another break-out last Thursday. It closed at 1,258.30 last Friday.
See its daily chart below: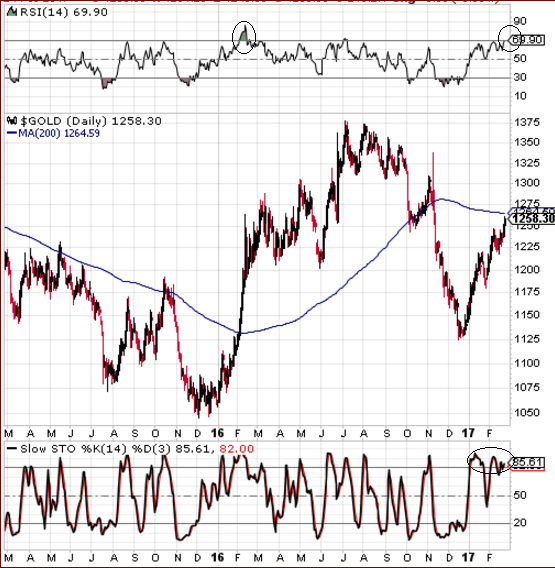 Chart source: from stockCharts.com
In the mean time, gold miner ETF (NYSEARCA:GDX) and Jr gold miner ETF (NYSEARCA:GDXJ) suffered two weekly loses.
Now the question is where gold and gold miners will go next.
My view is that gold price faces big hurdle to run up much further and may see another pull back in the near term. The resistance level will be in 1,265 – 1,275 level. The pull back and consolidation may take longer time frame to complete.
The following is my reasoning:
Gold at 1,258.30 is very close to its 200 day moving average, at 1,264.59.
If gold has another 95 dollars run, the near term target will be 1,180 + 95 1,275.
Its RSI at 69.90 now is about to enter its overbought condition.
Its stochastic indicator is showing a divergence with gold prices. While gold price is moving with higher lows, the stochastic indicator is moving with lower highs.
Most importantly, while gold price keeps its up moves, both GDX and GDXJ keep moving down. For example, gold price gained 1.72% last week, GDX was down 2.66%. Normally GDX price is a leading indicator, which tells where gold price will move next.
Next Fed Meeting is 3 weeks away and gold price usually pulls back before Fed Meeting.
I am a long term gold bull. I hold quite few gold miner stocks for long term investment and will not sell any of them any time soon.
But I am now bearish on its short term prospect.
When is a good time to buy gold and gold miners or add positions for gold miners? I would like to buy more gold miner stocks when GDX stops dropping but gold price still keeps moving down on daily basis.
Disclosure: I am/we are long GDX,.
I wrote this article myself, and it expresses my own opinions. I am not receiving compensation for it. I have no business relationship with any company whose stock is mentioned in this article.