Over the past few years the Gulf carriers have become more and more of a threat to legacy carriers around the world. There is a lot to be said about how fair this competition is or how unfair it is. In this article series, I want to look at how Gulf carriers quickly expanded and how not everything has packed out the way they wanted and what current market conditions means for orders and deliveries from Boeing (BA) to these carriers. In this first article, I will be looking at Etihad.
I have previously also covered Emirates and Qatar Airways, these reports can be found here and here.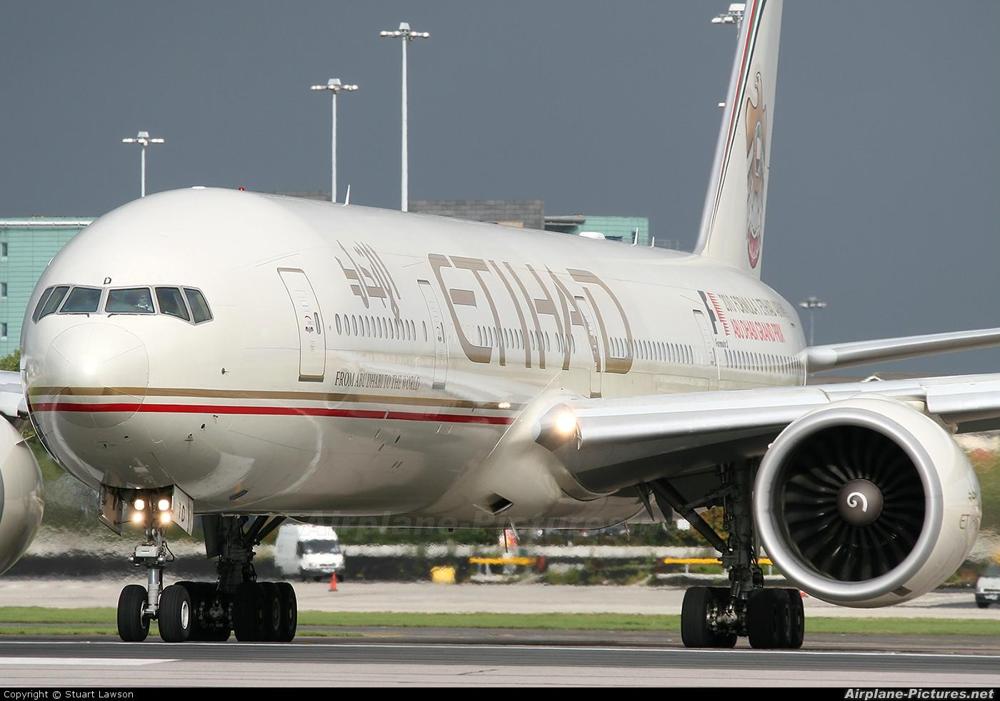 Source: www.airplane-pictures.net
What makes the Gulf carriers somewhat unique is their vision on travel and especially business travel where it offers a level of comfort that is almost unprecedented. Airlines have been able to implement this vision across their fleet aided by business travelers from all around the world. The airlines are state-owned and that is where European and North American legacy carriers feel the unfair competition, since even with the region flourishing it is highly unlikely that these airlines could have realized a significant expansion since inception, if it were not for the billions of dollars it had received from their respective governments. Whether you like it or not, business in the region is important to Boeing and I want to have a look at how each of these airlines has developed with the help of Boeing aircraft and whether it is likely that follow up orders will come in case Boeing is in dire need for orders.
Etihad Airways
Etihad Airways is by far the youngest of the G3 (Gulf) carriers being founded in 2003. In 2004, the airline placed an $8B order for five Boeing 777-300ER aircraft and 24 Airbus (OTCPK:EADSF) aircraft. Just five years after commencing operations, Etihad Airways placed the biggest order in aviation history for 20 Airbus A320s, 25 Airbus A350s, five Airbus A380s, 35 Boeing 787s and 10 Boeing 777s. Including purchase rights this order was as large as 205 aircraft and worth $46B at list prices. This record would later be broken by Emirates when it purchased 150 Boeing 777X aircraft.
In 2008, Etihad Airways broke its own record as it placed an order for 25 next-generation Boeing 777X aircraft, 30 Boeing 787-10 Dreamliners, one Boeing 777 freighter, 50 Airbus A350 XWB, 36 Airbus A320neo family aircraft and one Airbus A330-200F.
After placing these mega orders, it was key for Etihad to start crafting the network that these aircraft would fit in. Etihad started crafting its network by creating equity alliances. Etihad paid €73 million for its 29.2% stake in Air Berlin (OTC:AIBEF), which would give Air Berlin the cash needed to support its fleet growth and would give Etihad Airways access to the European market. In terms of passengers carried, Air Berlin was much bigger but the airline's rapid expansion and subsequent growing cost structure left the airline with a cratering €420 million loss in 2011.
In 2012, the airline bought a 40% stake in Air Seychelles and turned the loss-making company into a profitable airline and Air Seychelles started feeding passengers into the Abu Dhabi hub. Other successful investments are the investment in Indian airline Jet Airways, which is loss-making but provides an excellent feeding function to Abu Dhabi, and loss-making JAT Airways which was transformed into a profitable feeder to Abu Dhabi. The airline also has a 24% stake in Virgin Australia, which turned out to be a viable domestic competitor of Qantas (OTCPK:QUBSF).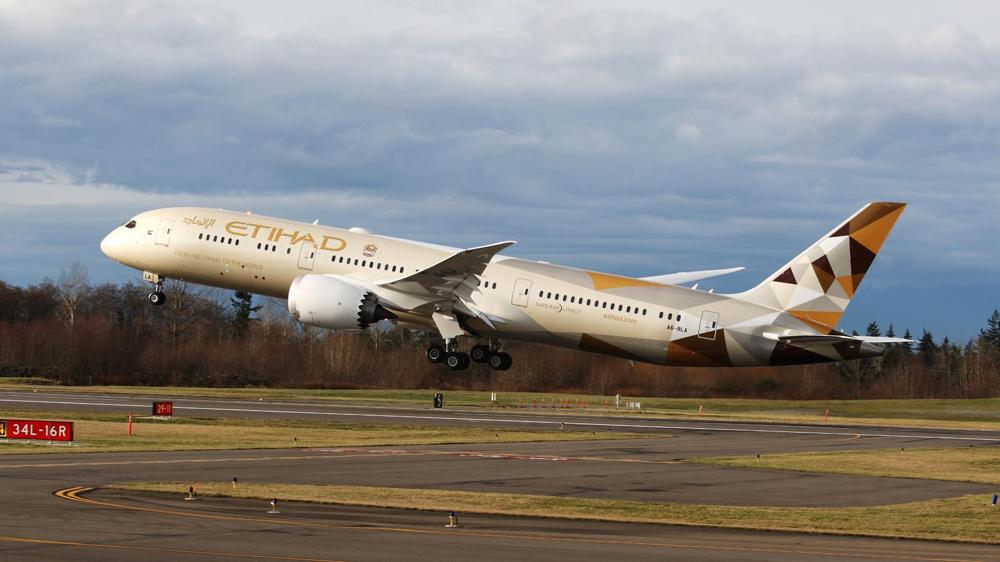 Source: BusinessClass - News, airlines, hotels and friendly forums
Etihad's intentions are quite clear. The airline invests in airlines that open up potential for its Abu Dhabi hub and tries to turn loss-making carriers into profitable airlines that have a feeding function for Etihad. This way, the airline creates value on two sides.
The success of Etihad also has been seen by Qatar Airways and the carrier has implemented a similar investment strategy for its airline. For Etihad, however, not everything has turned out the way they wanted. With Air Berlin, it seems that Etihad bought itself a stake in a hot mess. Etihad has been unable to turn the German carrier into a profitable airline and after providing a $300 million lifeline to Air Berlin for which it received Air Berlin subsidiary NIKI in return, the leisure activities from Air Berlin are to be transferred to NIKI and merged with TUIFly Deutschland. For Etihad it remains to be seen when this investment will pay off, if ever.
Another investment that has not gone smoothly is the 49% stake that the airline bought in Alitalia. Alitalia is expected to book its first profits since 2002 this year, but having invested $2.4B in the Italian carrier the Gulf airline was looking to offer international flights from Italy. Additionally, the problems are not over for Alitalia as it received a two-month stay of execution in December 2016. New job cuts are likely to be necessary, something that Italian unions will likely oppose which might lead to setbacks in the restructuring of the company.
With Etihad Airways I am not too concerned about its ability to take delivery of the aircraft it has on order, but I do not see the airline make additional fleet investments any time soon. The airline has made some big investments in European airlines, something I wrote about a year ago, but it has not been easy for Etihad to turn the investments in Alitalia and Air Berlin into the success they have hoped for. With its investments in European airlines, it seems that Etihad bit off more than it can chew. With pressure on yield and demand growth, it's definitely a good moment for state-owned Etihad to reflect and look where they are heading in the coming years.
Conclusion
Something that counts for Emirates, Qatar Airways and Etihad Airways as much as it did for legacy carriers around the world is that in recent years capacity growth has outpaced demand, which has put pressure on yield. Carriers have seen demand for business and first class travel decline as oil and gas travel related business declined following a slump in oil prices. For state-owned airlines that get part of their funding from governments that depend on the income from oil and gas this does not only put pressure on the airline's top line but also on the airline's ability to keep buying aircraft.
Emirates has a certain inefficiency in its fleet where it operates big aircraft, whereas smaller aircraft would likely be sufficient for some routes as well. As oil prices head higher again, I expect that Emirates will start focusing on the acquisition of narrow body and smaller wide body aircraft. Qatar Airways is doing better, having a regional fleet as well as wide body aircraft of various sizes. Etihad Airways has seen a remarkable decade of growth but its inefficiency lies within its risky investments in European Airlines and its strong headcount growth in recent years, which turned into cost overhang as growth started to flatten.
The big orders we have seen from Gulf carriers since 2000 are caused combination of the crisis in the airline industry and the economic crisis in which Gulf states and Emirates saw their chance to set up their airlines in a landscape that was almost free of competition and free of any limits on capital expenditure.
However, as growth slumps or overcapacity occurs on the market, the advantage of an almost unlimited ability to spend cash mitigates fast and Gulf carriers have to maneuver in a landscape where they need to manage their companies in a cost-efficient way instead of spending money to capture growth.
For Boeing or Airbus, I do not see any major problems with delivery schedules in the years ahead but jet makers need to be aware that their ability to increase wide body production over the past few years has hinged on the fast growth of carriers in the Gulf region and some carriers in South East Asia. In the end, low fuel prices are somewhat counterintuitively a headwind to air travel where the state-owned Gulf carriers will feel most of the pain as they get squeezed from two sides.
If you would like to receive updates for my upcoming articles, please click the "Follow" text at the top of this page next to my profile.
Join Seeking Alpha's first premium service with a focus on but not limited to the aerospace industry and get access to my exclusive research, trades, aircraft performance tools, databases and more.
Disclosure: I am/we are long BA.
I wrote this article myself, and it expresses my own opinions. I am not receiving compensation for it (other than from Seeking Alpha). I have no business relationship with any company whose stock is mentioned in this article.
Editor's Note: This article covers one or more stocks trading at less than $1 per share and/or with less than a $100 million market cap. Please be aware of the risks associated with these stocks.