Introduction:
Finding a reliable growth opportunity is a desire of nearly every investor. A good way to screen for growth, is to look at which industries are leading the market. Essent Group Ltd. (NYSE:ESNT) is a private mortgage insurance company that has been on a roll thus far in 2017. Not only is Essent performing very well, but the overall private mortgage insurance industry is outperforming most other industries in the market. Essent began writing mortgage policies in 2010, and has since then established a 12% market share in the industry. Essent has some strong characteristics of a good growth stock, and looks well positioned for more growth moving forward.
Latest Earnings:
On Friday, February 10, 2017, Essent reported Q4 EPS of $0.68, up 42% year-over-year. This topped street estimates of $0.62. Net income came in at $62.7 million.
Industry:
There are seven major competitors in the mortgage insurance industry (listed in order of market share): United Guaranty, MGIC Investment (NYSE:MTG), Radian Group , Genworth Financial (NYSE:GNW), Essent Group , and NMI Holdings (NASDAQ:NMIH), and Arch Mortgage Insurance. The industry is highly competitive currently. Prior to the housing crisis, origination volume was high enough to sustain more competition, however since the crisis there is less volume causing these remaining providers to compete for a share of a much smaller originations market. Assuming a mortgage originations market of $1.5 trillion per year, the share that would use private mortgage insurance is approximately $200 billion in originations.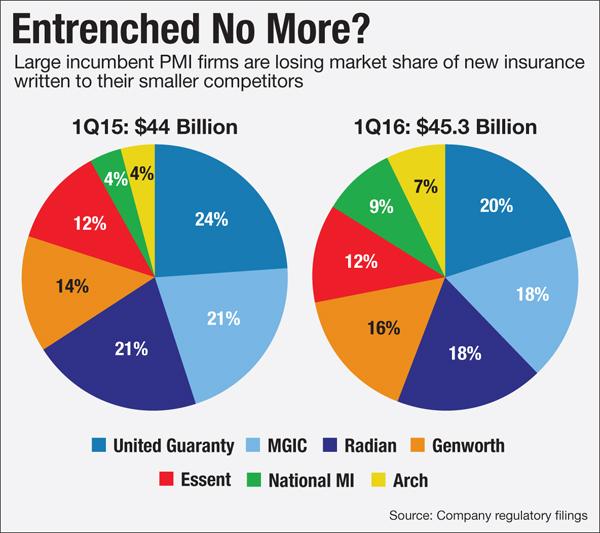 Despite the heavy competition, the mortgage insurance industry as a whole is performing well. The underlying fundamentals of housing are strong, and the real estate cycle is still in expansion mode. Recent actions from the Trump administration have helped the industry, as deregulation would offer a better environment for mortgages insurers to grow. Upcoming rate hikes might make for uncertainty moving forward though, and the impact of the hikes is still unclear.
Growth and Profitability:
Essent looks great, from a growth perspective it offers more growth than any of its competitors in the industry. Essent has a 3-year annual EPS growth rate of 51% and a 3-year sales growth rate of 50%. Even in a competitive industry, Essent continues to hold its current market share, and maintain better profitability than competitors.
Essent also has an amazing free cash flow to sales, sitting at 59%. This figure means that after Essent has reinvested and paid for business expenses, it still has 59% of its funds left over. With free cash flow that high, it's no wonder Essent is seeing such stellar growth.
Another metric that stands out, is that Essent has a return on equity of 18%. This shows that Essent has a high profit per dollar on every dollar invested in the company. When analyzing ROE, anything above 17% is generally very good.
Our Take:
Essent's growth metrics, put it in a category of its own, and over this past quarter there has been heavy fund buying supporting Essent's growth story. At $34.75 per share, Essent has a PE ratio of 14. When compared to the 3-year growth rate of 51%, Essent's PEG ratio is only 0.3. A PEG ratio that low shows that Essent's price, relative to its growth, is very cheap.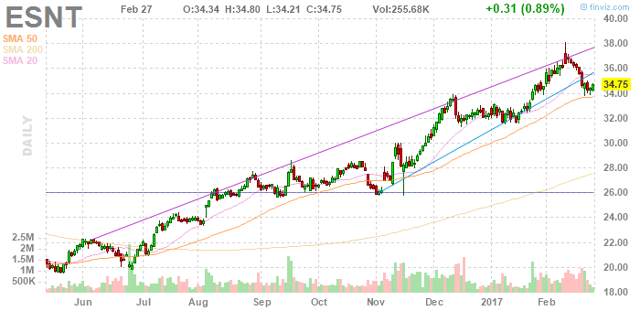 When analyzing Essent's chart, we see that the stock has traded almost perfectly in a bullish channel. The volume pattern shows the as the stock has risen, buying volume has been high and for the most part, there has not been a lot of high volume selling days. Shares of Essent are definitely at a pivot point, where if the bullish channel is going to continue, we can expect Essent's share price to pivot at this point. Buying here looks to be a safe bet, on a pullback of almost $4.00 from the 52-week high of $38.00.
Essent is a hot growth stock in a strong industry. Starting a position in Essent looks like a decent be with the fundamentals being so strong and the technicals setting up for an entry. Investors should be cautious and watch how the upcoming interest rate hikes by the Federal Reserve affect the private insurance mortgage industry. Invest with the trend though, and for 2017, Essent looks to be one of the strong growth stocks available.
Disclosure: I/we have no positions in any stocks mentioned, and no plans to initiate any positions within the next 72 hours.
I wrote this article myself, and it expresses my own opinions. I am not receiving compensation for it (other than from Seeking Alpha). I have no business relationship with any company whose stock is mentioned in this article.