On Saturday February 25, 2017 Warren Buffett released his annual letter to shareholders for his Berkshire Hathaway (BRK.A, BRK.B) through December 31, 2016.

I enjoy reading Buffett's annual letters to shareholders for both wonderful tidbits of wisdom plus information about stocks that I might be able to buy close to the price Buffett thought they were great values.
Three stocks, Apple (NASDAQ:AAPL), International Business Machines (NYSE:IBM) and Sanofi (OTCPK:SNYNF) stand out in his letter to share plus the following interesting topics:
Buffett listed the top common stock holdings by market value of Berkshire Hathaway as of December 31, 2016. Two of his largest holdings, IBM and Apple, were very close to his average purchase price. From page 19:
Berkshire has very large gains in most of the holdings. It would be interesting future article to compare the number of shares Berkshire Hathaway holds for each company at the end of 2016 with the end of 2015 to see where they put new money generated from dividends and cash flows from his non-public holdings. (See below for a comparison with December 2016 for his holdings in AAPL and IBM.)
Note that every stock, not counting dividends, has a gain except for IBM. That might mean IBM's price was still a very good bargain at the close of 2016.
Berkshire owns 1.1% of Apple as of 12/31/16 at $115.82.
Berkshire had a very small profit in Apple as of 12/31/16 with an average purchase price of $110.17 per share ($6,747M/61,242,652)
Thus, if Apple corrects below $110, you would have the opportunity to buy shares at a lower average price than paid by one of the greatest investors of all time.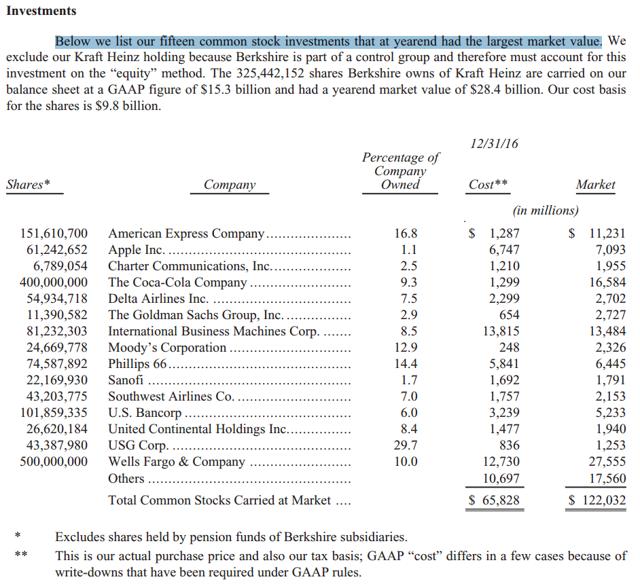 Buffett condemned the hedge fund community for excessive fees for performance that is eclipsed by the simple S&P500 index fund over the periods he has a bet. From page 22:
Human behavior won't change. Wealthy individuals, pension funds, endowments and the like will continue to feel they deserve something "extra" in investment advice. Those advisors who cleverly play to this expectation will get very rich. This year the magic potion may be hedge funds, next year something else. The likely result from this parade of promises is predicted in an adage: " When a person with money meets a person with experience, the one with experience ends up with the money and the one with money leaves with experience."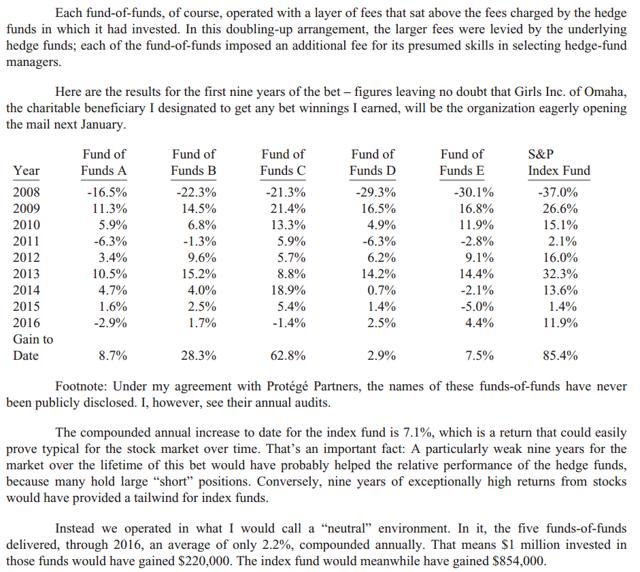 Briefly touching on politics on page 6, Buffett (who was a huge backer of Hilary Clinton who lost to Donald Trump in the 2016 presidential election) wrote:
"America has, for example, decided that those citizens in their productive years should help both the old and the young. Such forms of aid - sometimes enshrined as "entitlements" - are generally thought of as applying to the aged. But don't forget that four million American babies are born each year with an entitlement to a public education. That societal commitment, largely financed at the local level, costs about $150,000 per baby. The annual cost totals more than $600 billion, which is about 3 1/2% of GDP...

Early Americans, we should emphasize, were neither smarter nor more hard working than those people who toiled century after century before them. But those venturesome pioneers crafted a system that unleashed human potential, and their successors built upon it. This economic creation will deliver increasing wealth to our progeny far into the future."
Note, I disagree with this statement but will save my discussion for the comments section if anyone is interested.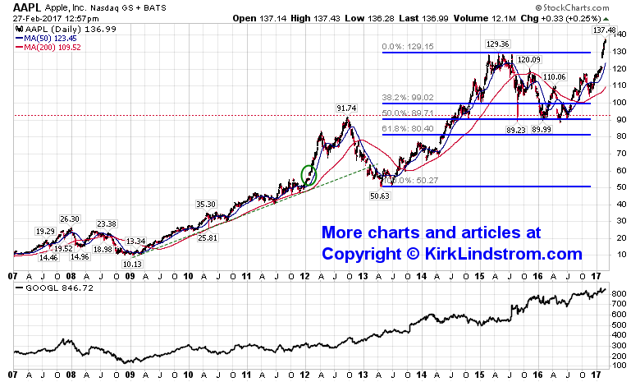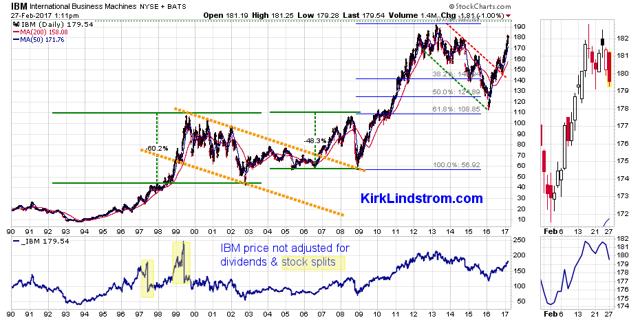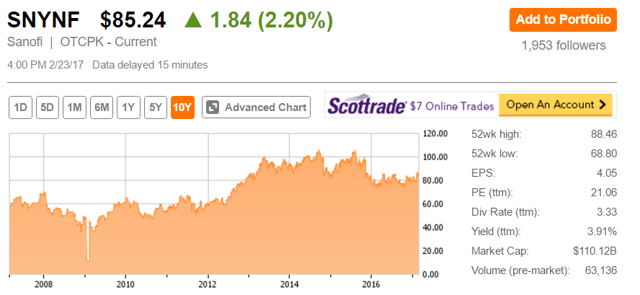 Nice gain today on SNYNY after Buffett's letter.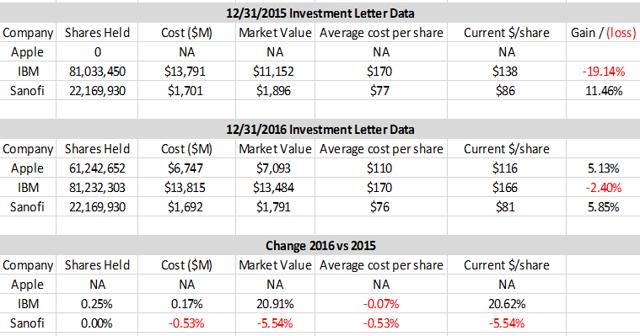 Conclusions:
Buffett may have owned some Apple before 2016, but during the year he made it one of his top holdings with a small, 5.13% gain at year end.
Buffett has a position in IBM that is much larger than Apple, but he didn't add to his position during 2016. After a 20.6% gain in IBM during 2016, Buffett did not take profits perhaps because his position still showed a slight (2.4%) loss overall.
Despite an up year for the market and a 5.54% decline in Sanofi, Buffett did not add to his Sanofi position.
Disclosure: I am/we are long IBM.
I wrote this article myself, and it expresses my own opinions. I am not receiving compensation for it (other than from Seeking Alpha). I have no business relationship with any company whose stock is mentioned in this article.
Editor's Note: This article discusses one or more securities that do not trade on a major U.S. exchange. Please be aware of the risks associated with these stocks.