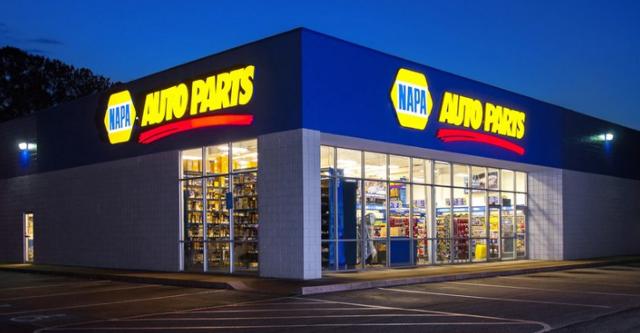 I've been pretty critical of Genuine Parts Company (NYSE:GPC) in the recent past because the bull market in auto parts retailing has dragged GPC along with it, despite mountains of evidence that it shouldn't have. GPC's growth numbers have been much weaker than its pure-play competitors in the auto parts space and what's more, the bull market seems to be losing steam for some of the weaker players. GPC's diversification is a curse in this case as the rest of the business largely slows the growth of automotive segment and at 20 times this year's earnings, it is still pretty pricey despite a rather poorly received Q4 report.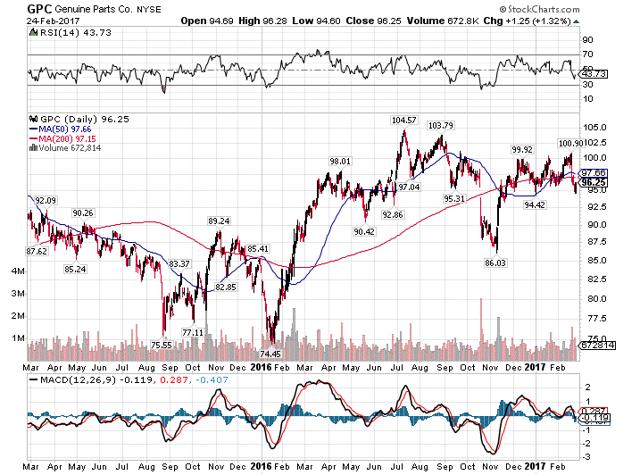 Total revenue was up 3% in Q4 off of a 2% gain in the automotive business, which was helped along by a 1% comp sales gain. The industrial business as well as the office supply business produced 4% gains, although they are smaller pieces of the business, and the EIS group saw unchanged sales. The point being that GPC continues to struggle with revenue growth and while diversification in revenue sources helps in tough times to smooth out the bumps, it also levels out the good times. Getting all of these segments that largely have nothing to do with each other to move at the same time is tough and that is part of the reason why GPC will always struggle with revenue growth. Its massive scale and maturity are also principal causes of slow growth and while those attributes also offer advantages, they do make it challenging to move the ball forward.
The automotive segment did comp at +1%, but to be honest, it has never performed as well as AutoZone (NYSE:AZO) or O'Reilly (ORLY) by any stretch of the imagination. Those companies are the leaders in that space and GPC has never been able to really even get close to closing the gap. That's not going to change and one certainly does not buy GPC for the growth it offers. That isn't necessarily a problem except that the stock is trading for 20 times earnings, even after a sizable consolidation. There's nothing wrong with mature stocks that offer little in the way of growth if they are cheap enough but GPC certainly isn't and that's my issue with it.
On the margin front, GPC saw its gross profit rate about flat but its SG&A costs were much higher, squeezing operating margins. SG&A costs soared 96bps higher in Q4, squeezing operating margins by 60bps to 7.3%. This sort of thing is absolutely a killer when it comes to GPC in particular because, as I said, revenue growth is really tough for it to come by given the ways that it derives its revenue. And with growth slowing across the auto parts retailing space, I have to think it is going to get worse before it gets better. That leaves margins to pick up the slack but that is far from what happened in Q4 and indeed, the entire year for 2016. GPC certainly has some work to do if it is to grow into its 20 times earnings multiple and right now, I just don't see it.
Analysts have sales growing at just over 3%, which is above the top end of the range that management provided for this year. The problem is that EPS is only expected to grow at 4.8% via a combination of higher margins and the buyback, which is diminutive to put it politely. At any rate, irrespective of how you get to the 5% EPS growth, it isn't enough. That implies GPC is trading for four times its growth rate and it isn't like 2017 is going to be some kind of trough year; this is just how quickly GPC grows earnings. And yes, I understand that it has a strong track record of steady growth but that doesn't warrant 20 times earnings, which is indisputably a growth multiple. GPC hasn't been a growth company for a very long time and it won't be anytime soon (if ever) so I just don't get it.
The yield is fine at about 2.8% and while it does grow every year, there are countless stocks that offer that sort of thing. You don't have to overpay for GPC in order to get a sub-3% yield and in fact, if you're willing to go to a different sector of retail, you can pick up names like Kohl's (NYSE:KSS) or Macy's (NYSE:M) with yields that are nearly double what GPC offers and are very safe. Those companies aren't growing either but what are you giving up with GPC, three to five percent EPS growth annually? So what?
GPC's yield isn't high enough to justify the price one has to pay and its fundamentals certainly aren't good enough either as it continues to struggle with how to grow. There is no material growth coming; all you can expect is a few percentage points each year if everything goes right. Margins topped out a long time ago so that also will never be a strong source of earnings expansion. The buyback is tiny so that also is never going to be a primary driver of EPS growth, which just leaves revenue, and we all know how that is. The bottom line is that GPC is priced like a high yield payer and/or a growth stock, but it is neither. That means this stock remains very overvalued and simply put, if you want growth or yield, you can do better.
Disclosure: I/we have no positions in any stocks mentioned, and no plans to initiate any positions within the next 72 hours.
I wrote this article myself, and it expresses my own opinions. I am not receiving compensation for it (other than from Seeking Alpha). I have no business relationship with any company whose stock is mentioned in this article.