By Parke Shall
If you are a Tesla (NASDAQ:TSLA) investor, you likely know by now that Goldman Sachs (NYSE:GS) has already come out this morning and issued a sell rating on the stock with a price target that is below $200 per share. We think this is extremely meaningful for several reasons, not the least of which is that Goldman Sachs is often a participant in Tesla financings.
Tesla was slapped with the downgrade this morning by Goldman Sachs in a move that many would say is long overdue. Goldman's reasoning for this sell rating is very similar to the bear case we have heard from Tesla skeptics for a while: Concerns about Model 3 delays and the company's cash flow.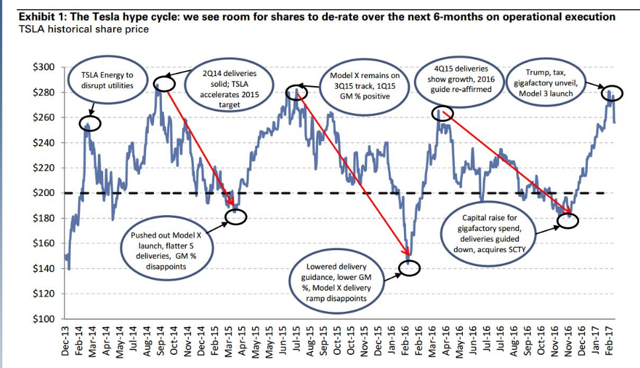 Goldman's note stated,
"While we believe Tesla currently has a lead relative to OEM peers with respect to vehicle technology adoption, electric vehicle architecture, and (potentially) battery scale, our concerns are more near-term oriented with respect to operational execution on the Model 3 launch, an unproven solar business, and cash needs. Ultimately we see a delayed launch (pushing volume growth out and to the right) and FCF burn rate (necessitating a capital raise before 4Q17) to weigh on TSLA's shares."
Goldman further states that "operational execution still unproven" citing likely disappointment coming from the Model 3 production launch and the unproven SolarCity business model likely dampening Tesla's focus and results.
You can read the full report here.
We believe this downgrade from Goldman Sachs is a negative and far more telling than people think.
Goldman has been an ardent supporter of Tesla in the past. They are also one of the largest names covering Tesla. Between Morgan Stanley losing a little faith and Goldman swinging all the way to a sell rating, it appears as though the charge may finally be on for the sell side to capitulate on Tesla, at least for the near term.
Remember the time that Goldman was lead bookrunner on one of the company's financings and issued an upgrade of their stock the morning that they announced an equity offering? To us, it seems like it was only yesterday. The love affair between Goldman and Tesla, for one reason or another, seems to have come to an end. Needless to say, we don't expect Goldman Sachs to be the lead bookrunner on the company's upcoming financing.
We are sure that Tesla will be able to find a semi reputable name to help it out with its financing (which it will inevitably need), but if the quality of the investment bank that performs the company's financing starts to deteriorate, expect the company's shareholder base to deteriorate as well.
If Goldman is going to lead the charge, it is almost a guarantee that we could see Tesla move back down to the bottom of its technical range (according to Goldman Sachs, that would be near $180). The bigger question at play here is whether or not the company can escape the criticism of both its cash flow and its inability to hit launch targets that it sets for itself. If the company can't get the sell side back on board as its stock moves lower, it may have to raise capital at a more dilutive price in the future.
Disclosure: I/we have no positions in any stocks mentioned, but may initiate a short position in TSLA over the next 72 hours.
I wrote this article myself, and it expresses my own opinions. I am not receiving compensation for it (other than from Seeking Alpha). I have no business relationship with any company whose stock is mentioned in this article.