General Electric (NYSE:GE) is one of the largest export/import manufacturers in the world. The company was founded by Thomas Edison in 1892 to sell his genius inventions and revolutionary upgrades to everyday life, lightbulbs included. The corporation is routinely shuffling its assets, trying to ride its fastest growing divisions of the present day.
Over the last 18 months, the company has restructured its renewable energy manufacturing assets, sold the appliance division, and is divesting its financial services operations. The largest remaining units today build items related to aerospace, autos and transportation; power generation including nuclear, oil & gas, plus renewables; water cleaning; healthcare and medical devices; engineering solutions; and software development.
The 2016 10-K released a few days ago outlines how funds from the latest restructurings will be used to refocus the company on its core competency of global diversified industrial manufacturing. Below is GE's projected capital reallocation plan.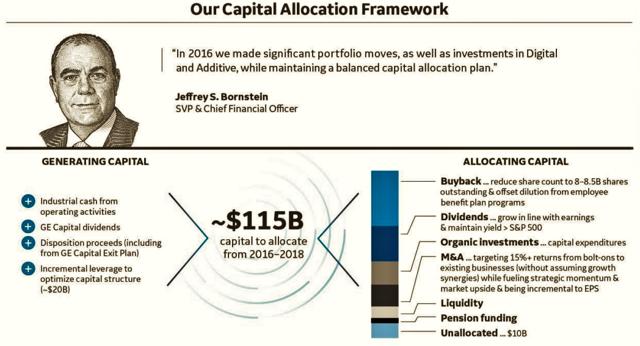 While the 2015-16 moves by the company will simplify how investors value the operating business, I personally believe huge share buybacks at a potential peak in the U.S. financial system, after an 8-year bull market and economic recovery is a risky long-term strategy.
GE's successful export/import business model under attack
In 2016, General Electric and affiliates employed 295,000 people, including 104,000 in the U.S. Manufacturing operations were spread across 184 plants located in 38 U.S. states and Puerto Rico, with 325 manufacturing plants in 40 other countries. The company sells products directly in at least 100 nations.
General Electric's problem for shareholders in 2016-17 and beyond revolves around its leading position in the globalization of manufacturing through exports and imports. The stronger U.S. dollar exchange rate in 2016 is hurting its local currency accounting results. It will lift costs and production expenses on U.S. goods exported to foreign nations, while making the currency translation of overseas profits smaller and smaller. Last year's 10% rise in the U.S. dollar value is only beginning to weigh on reported results. Further U.S. currency strength in 2017 will turn into a major headwind or drag on GE's results.
The company is currently projecting $1.60-1.70 in 2017 EPS, with Wall Street analyst consensus at $1.63. Against income of $1.49 per share reported in 2016, General Electric remains optimistic about prospects this year. However, international trade risks appear to be spiking with Republicans regaining control of Congress and President Trump coming to power in early 2017.
A border adjustment tax (imported goods tariff) like being considered in Washington could quickly dent global trade, turning GE's trade-dependent business model into a total disaster for shareowners. Investors need to understand the world is more intertwined economically than ever before in human history, and America does not live in a vacuum. Other nations will immediately impose new taxes and impediments on U.S. exports in retaliation to any American border tax. Mexico and China have publicly stated this position to anyone willing to listen. General Electric would also have to deal with an oversized tax-induced bump in the cost of its goods produced overseas and sold in America. Competitors manufacturing the same product in the U.S. could undercut on price overnight, leaving GE scrambling for market share, slashing income for owners.
The possible implosion of global trade in 2017, triggered by the border tax idea, has been a theme of my writing since December on Seeking Alpha. Obvious equity choices to sell if a border tax hike passes are represented by the Nike (NYSE:NKE) Asia manufacturing for U.S. consumption business model. Other situations, not so obvious, are represented by the likes of Starbucks (NASDAQ:SBUX). Banking on the Chinese coffee drinking market for future growth rates may prove foolish if China retaliates against U.S. firms. Some of the biggest underperforming stocks in the S&P 500 since the November election have been businesses with large foreign operations.
Investors are beginning to seriously contemplate the truly negative effect an America-first trade policy will have on U.S. conglomerates with diversified global operations. Believe it or not, a global trade war started by Republican meddling will cause an immediate economic depression in the U.S. similar to the 1930s (but greater in degree as cross border trade is now double the size of 1929 as a percentage of the world's economy). A trade war today would be a far worse fate than caused by a double or triple in U.S. long-term interest rates.
Weak stock trading performance
General Electric may be the king of export/import business models and has a bullseye painted on its back side. The incredibly weak stock trading performance outlined the last several months is no shocker. Of the 100 largest American equities ranked by market capitalization, GE is performing in the bottom 10% since the November election, and the bottom 5% since the start of 2017. Below are some charts underscoring investor skittishness about General Electric vs. the S&P 500 index, the diversified sector Industrial Select SPDR ETF (NYSEARCA:XLI), and its closest peers of Emerson Electric (NYSE:EMR), 3M (NYSE:MMM), Honeywell (NYSE:HON), United Technologies (NYSE:UTX) and Boeing (NYSE:BA). Different time frames between year-to-date and 12-month performance are pictured vs. the alternative investment options. General Electric shareholders did not fare well.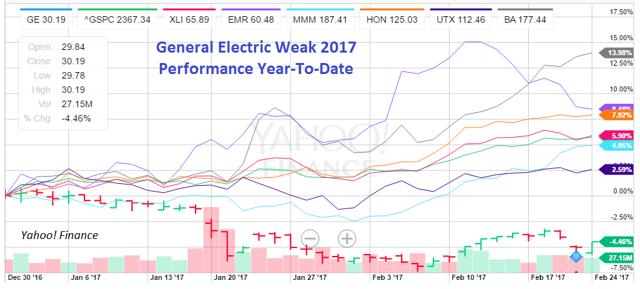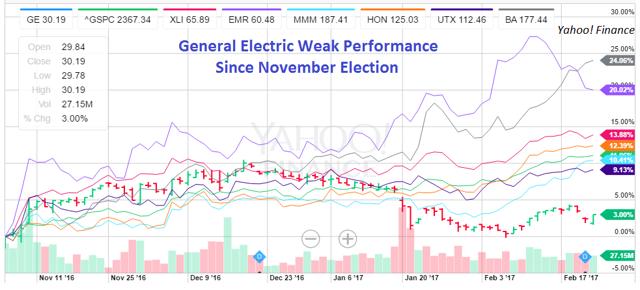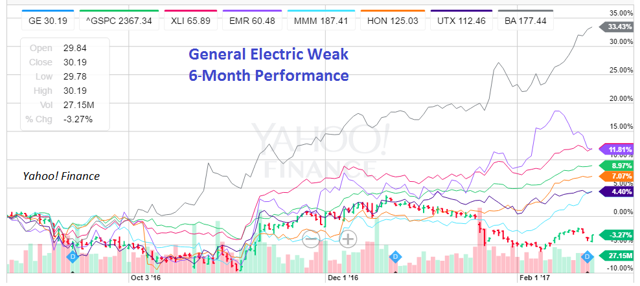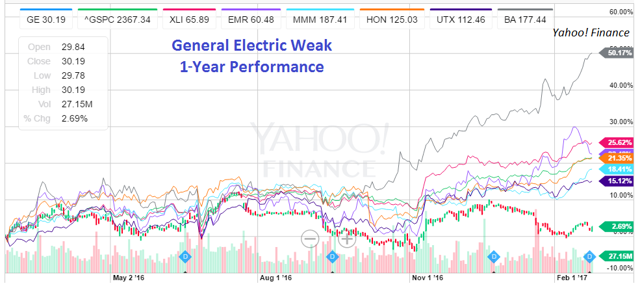 Of particular worry for me is the On-Balance Volume (OBV) line has shown uncharacteristic weakness the last several months. The daily OBV line peaked in late 2015, marked with a red circle on the graph below. The selloff to $29 a share in early February 2017 created yet another lower low for the OBV indicator, highlighted with the blue and green arrows. A downward trend has continued since the 2015 high. The divergence in the OBV line direction versus the slightly rising stock quote could be indicating a much larger price drop is on the horizon.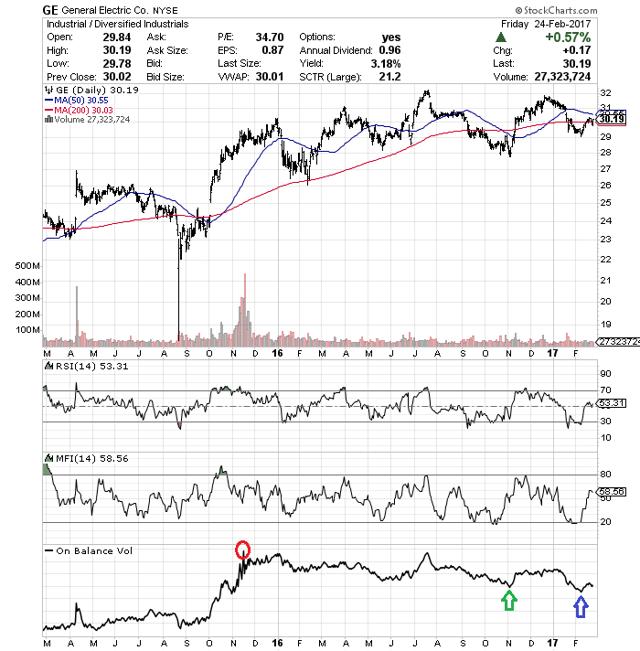 Final Thoughts
2016 earnings and dividends for shareholders were almost identical to 2002's results of $1.50 EPS and $0.73 in cash payouts. General Electric's stock price started 2002 at $40 a share 15 years ago. Yes, that's not a misprint. GE's current $30 number means long-term investors have garnished little profit using a buy-and-hold strategy, even if you include dividends. Management continues to struggle to create shareholder value, and now they may be on the cusp of dealing with a blow to their basic export/import free trade business model.
The Wall Street valuation of the company today is not overly expensive or cheap, when you dissect 10-year averages of price to sales, cash flow, income and book values. My biggest fear for shareholders is GE still held $284 billion in total liabilities at the end of 2016, the equivalent of many small nations. Given $14 billion in trailing annual net operating profits, it would take 20 years of income to pay off the IOUs the company has assembled, all else being equal. This two decade number assumes zero common stock dividends and little reinvestment in the underlying business. Nevertheless, a huge stock buyback program and dividend payout rate of $0.96 annually a share ($9 billion) will compel the company to sell income producing assets to reduce debt/liability levels. A Catch-22 predicament, any falloff in stock buyback amounts or the dividend rate will be met immediately by a major drop in investor confidence and the stock price.
Basically, long GE investors are counting on an acceleration in global economic growth, low interest rates lasting indefinitely to finance $284 billion in liabilities, and Republicans dropping all plans to interfere with free trade in the U.S. Sounds like a tall order to me. My Victory Formation momentum system is highlighting GE as a sell or short candidate over the coming weeks. The stock price decline in 2017 is not a random or garden variety occurrence. Please do your own research and think through the logic of any investment decision before starting a position.
Disclosure: I/we have no positions in any stocks mentioned, but may initiate a short position in GE over the next 72 hours.
I wrote this article myself, and it expresses my own opinions. I am not receiving compensation for it (other than from Seeking Alpha). I have no business relationship with any company whose stock is mentioned in this article.