The S&P 500 (NYSEARCA:SPY) has rallied about 12%, from its November 2016 lows. The P/E ratio is trending up. It now stands at 26.57. Well above the median of 14.65.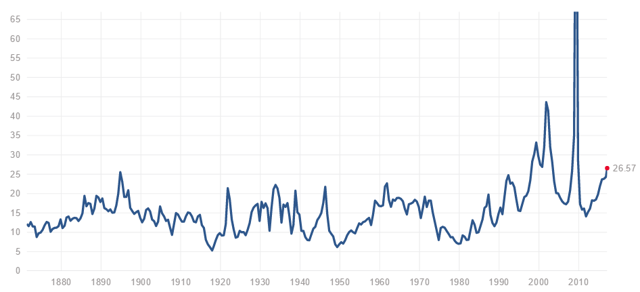 Source: multpl.com
This number is historically high, but given the context of earnings growth, one can see why the P/E would be higher than average. Earnings are turning from negative to positive, as this chart shows.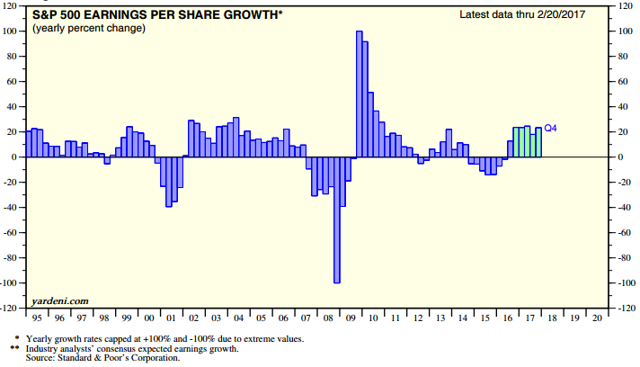 P/E expansion is to be expected, as the market switches from favoring defensive sectors, to growth ones. Looking out to 2017 and 2018, the P/E is 17.97 and 15.97, based on earnings estimates, compiled by S&P Dow Jones.
There is no question that the market has gotten ahead of itself. Looking at how analysts are expecting so much earnings growth, leads me to believe the bump from a market friendly Congress and president has been priced in. Unfortunately, there has been no movement on tax cuts and removing restrictive regulations. So, we are at the "buy the rumor, sell the facts" point, with no facts. There probably will be a sell-off. Now is not the time to buy this market. However, if fiscal stimulus comes to fruition, growth will follow and the market will go higher.
Is This Bubble?
The S&P 500 P/E is at the third highest level since the late 1800s. The other two times, it was this high, was right before the internet bubble burst in 2000 and just before the financial crisis in 2008. So, is this a bubble? It's possible. I wrote back in December, how we could have a short term rally, followed by a crash or a long term sustainable bull market, depending on how the underlying problems in the economy are dealt with.
This is not like the Internet bubble, in the late 90s. In that case the NASDAQ Composite was trading at 175 times earnings. That was clearly unsustainable. The P/E on the NASDAQ today is 27.6.
The stock market is going from negative to positive growth. There is the possibility for tax cuts and rolling back of restrictive regulations, that has held back business investment. This would increase growth even more. Granted, all this has been priced in and the market needs to correct. So, my advice is to keep more cash on the sidelines. Look at some sectors to invest in. Take action if the Congress and the president act on what they are talking about, after the sell-off.
Two S&P Sectors To Look At
Here is a chart of the performance of the individual S&P sectors, year to date.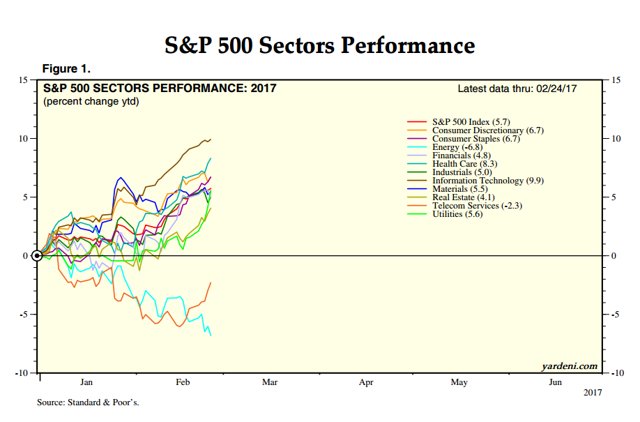 Two sectors that I think will do well going forward, are Financials and Telecom Services.
Financials (NYSEARCA:XLF) are in a sweat spot. The yield curve is just beginning to steepen. This will help banks margins. There will be greater loan volume as the economy begins to accelerate. Insurance companies portfolio also will benefit from higher rates.
Telecom Services is the second worst performing sector, next to energy this year. This is because, large U.S. wireless providers, like Verizon (NYSE:VZ), Sprint (NYSE:S), AT&T (NYSE:T) and T-Mobile (NASDAQ:TMUS) have begun slashing rates and offering unlimited data plans. The implication is that this will cut into their margins. The sell-off is making these stocks look cheap to me right now. The iPhone 8, coming out in September, will be one that many people upgrade to. Many did not upgrade to the 7. The introduction of services related to 5G, will also help turn around these stocks performance.
To Summarize
The S&P 500 has completely priced in the potential for market friendly reforms. This is a "buy the rumor, sell the facts situation". I am recommending keeping cash on the sidelines and look to buy the dip, if Congress and the president move ahead with tax reform and rolling back regulations.
Disclosure: I/we have no positions in any stocks mentioned, but may initiate a long position in VZ, T, S, TMUS over the next 72 hours.
I wrote this article myself, and it expresses my own opinions. I am not receiving compensation for it (other than from Seeking Alpha). I have no business relationship with any company whose stock is mentioned in this article.