In 2014-2015, I spent a year living near Marseille, France, doing an MBA program at the Aix-Marseille University. As an American living abroad, I was always fascinated by the cultural similarities and differences, especially comparing to my life in the small town, rural Midwest. One of the first things I did with my family after arriving was to purchase a used Renault Clio, and the first road trip we took in it was to a seaside town on the Mediterranean called Cassis. It was a gorgeous late summer day all around, but part of what stands out in my mind is the fact that I parked my diesel engine Renault in a parking garage space that was supposed to be reserved for electric vehicles. Each level of garage had multiple spaces and charging outlets, and I worried all day about whether I was going to return to my car to find a ticket. Happily, I had no ticket after six hours or more, but the incident really raised my awareness of Europe's preparedness (more than two years ago now) for the coming of electric cars; it seemed vastly more prepared than anywhere I had lived before (it's a separate story, but my first experience sitting in the cabin of Tesla came during that same year in France).
Well, enough storytelling, although there is a point to it. I have been following with some interest the proposed sale by General Motors (NYSE:GM) of its European Opel and Vauxhall operations, most likely to Peugeot (OTCPK:PEUGF). Plenty of people have applauded this move, as GM has spilled more red ink in the European market over the last decade or more, although it is hardly unique in its ability to lose money in Europe. The market is among the most mature, and not one that culturally tends to support GM's higher margin products of trucks, SUVs and crossovers. While this move looks like a sensible one on the surface - trimming dead weight normally does - I can envision an alternate scenario in which European motorists turn to EVs at a faster pace than Americans, especially as the range anxiety comes down through superior batteries along with the presence of more infrastructure for charging options away from home; in the 2014 McKinsey report linked above, Europe is clearly moving towards more and more infrastructure to support electric vehicles, with ~20,000 slow charging stations back in 2013, and that number is only growing, as are the availability of faster charging stations (a more recent but general report from McKinsey can be found here, while the Union of Electricity Industry, a European organization, released its own 2016 study on EV infrastructure for Europe).
In the US market, GM has already launched the highly regarded Chevy Bolt electric vehicle intended as a mass-market, high production vehicle with long-range battery, capable of a market-leading 500 km between charges. The same basic vehicle is being sold under the Opel brand as the Ampera-e.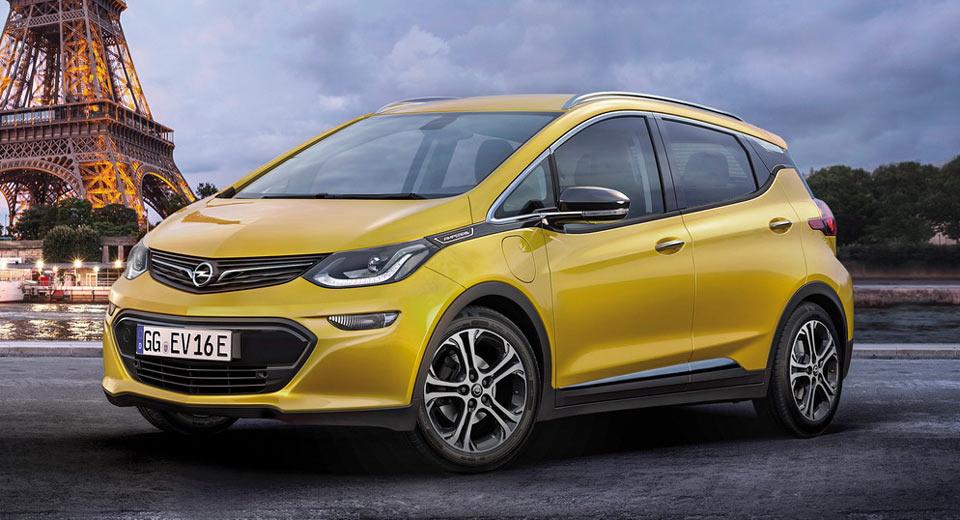 These just went on sale beginning in Norway in December 2016, and clearly, the financial impact on revenues is paltry, as it is not even yet widely available, and production, done in the United States alongside the Bolt, is going to be limited. France, Germany, the Netherlands and Switzerland will be added next, and assuming hypothetically Opel is not sold off, most of Europe would have access to Ampera-e models by 2018. Of course, I am not the only one asking the question on the fate of the Ampera-e and Opel's interest in EVs more broadly should a sale happen - see here and here for examples of others delving into the topic. Clearly, in the short term, if GM structures a sale this way, giving up the Ampera-e, it will be temporarily out of the EV market in Europe. If modest EVs with a long range are destined to be a big seller anywhere soon, Western Europe is a likely place, so walking away from them now could look foolish a few years.
On the other hand, abandoning the brands is not necessarily equivalent to leaving the continent, and Sam Abuelsamid has written an excellent opinion piece for Fortune that lays out this case nicely. In his view, GM could be present as a mobility solution company - autonomous EVs in particular, either under the GM brand or creating a new one:
In the near term, Europe with its continued emphasis on emissions and fuel efficiency is much more likely to be amenable to the adoption of automated, electric, mobility on-demand services than the United States... With Opel, Vauxhall and their related dealer networks out of the way, GM would now have a clear path to moving forward as a full-service mobility provider in European cities.
The question, I believe, really comes down to whether or not GM is better off in the long term without those dealer networks. Clearly, this is a whole new business model that GM is considering, as well it should. No doubt those dealer networks are expensive. However, it is possible that these function as solid long-term assets in what is the third largest global car market and one that is electrifying rather rapidly. The best answer is not yet clear whether or not GM will be better off with or without them, but I think an overly hasty disposal would not help; to put it another way; I would want to know Mary Barra's thinking on GM's future strategy in Europe without the network before dumping it. Assuming that the sale of Opel to Peugeot or any other buyer would include the sale of rights to sell the aforementioned Ampera-e, but with thoughts to come back to Europe in the way Abuelsamid envisions, is it setting itself up to compete against its former self? I would hate to see GM shoot itself in the foot from being short-sighted just as major markets in Europe begin to hit a critical mass in electrification.
Conclusion
If the reports are to be believed, a sale of Opel/Vauxhall is likely, but management from GM has not committed publicly to a sale. I imagine a range of options are still on the table, and a sale is not a foregone conclusion. A sale makes good sense if there was no path towards profitability, but the European market could truly be on the verge of disruption by electrification, even if it plays out over a span of years. Regardless, what is clear is that General Motors needs a different strategy for Europe as a decade's worth of results have been consistently negative. If Opel and Vauxhall do end up outside of GM's family of brands, then it will surely seek another way to take advantage of its technical leadership in the electric vehicle category.
Disclosure: I/we have no positions in any stocks mentioned, and no plans to initiate any positions within the next 72 hours.
I wrote this article myself, and it expresses my own opinions. I am not receiving compensation for it (other than from Seeking Alpha). I have no business relationship with any company whose stock is mentioned in this article.