On February 22 it was announced that Argos Therapeutics' (NASDAQ:ARGS) phase 3 clinical trial ADAPT failed due to futility. The trial looked at using Rocapuldencel-T (AGS-003) in combination with sunitinib malate (or other SOC treatment), against sunitinib/other SOC treatments alone for the improvement in overall survival in patients with metastatic Renal Cell Carcinoma.
The lack of efficacy with Roca-T was determined by the Independent Data Monitoring Committee, or IDMC, which oversaw the progress of patients in the trial and concluded that no significant benefit in patient survival was exhibited in the trial arm of the study. With this news, we'll take a look to see what might be expected from Argos going forward.
Roca-T's Failure and Future
Prior to the phase 3 ADAPT trial, Roca-T went through a phase 2 trial with 21 subjects which showed positive enough results in overall survival benefit coupled with a very tolerable safety profile to warrant a phase 3 trial exploring the benefit adding Roca-T to standard of care therapies in advanced metastatic kidney cancer.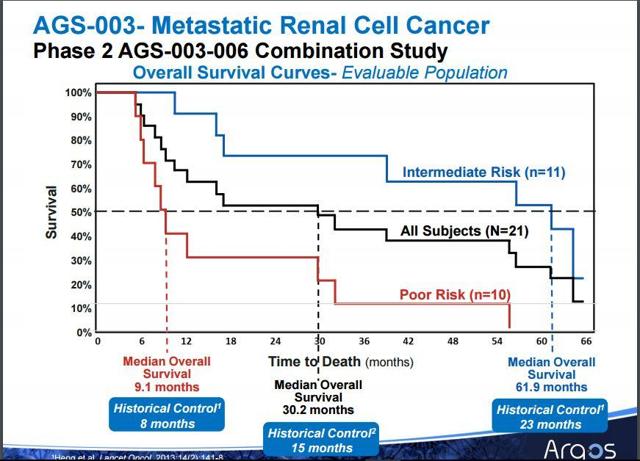 (Source: Argos)
Some of the issues with this study was the small sample size of patients, lack of side by side control group (the trial used historical norm data for comparison), along with the poor performance in the poor risk group which did not show an improved overall survival benefit relative to historical control norm data. In my last article on Argos, I asked about these issues when speaking with management, and got several well reasoned responses. In sum, it appeared that management addressed most of these issues in the phase 3 trial by including more intermediate risk patients, along with fewer risk factors, and maintained dosing of Roca-T throughout disease progression in the trial arm when patients were switched from one treatment option to another.
With the recent announcement of Roca-T's lack of survival benefit in the much larger ADAPT trial, shares price has dropped by >75%, which is somewhat understandable considering this was the most developed drug candidate Argos had. Although we don't yet have the full results or any detailed information on how the trial went, we do know the IDMC recommended it be stopped because a statistically significant survival benefit was not being shown in the trial arm relative to control, and in their recommendation, they did not see a chance where such a benefit could be met if the trial was allowed to continue until 100% of events (patient deaths) occurred in both arms.
As mentioned in my last article, overall survival benefit of around 6 months/significant overall survival curve separation in the trial arm was the primary endpoint in the ADAPT trial. If the IDMC recommended stopping the trial based on failure to meet these criteria, it's likely that survival benefit (if any) was much less than 6 months.
This is not encouraging news, since the phase 3 trial was designed to play off the strengths of the phase 2 trial, namely more intermediate risk patients relative to poor risk patients with fewer risk factors, along with continued dosing of Roca-T through progression. If Roca-T was unable to show a significant positive effect in this type of study population, it throws some doubt over the effect seen in the much smaller phase 2 trial.
All that being said, there is some key data that could be used down the line to come up with a plan for Roca-T should management choose to pursue its development. The first being data on how Roca-T performed when used with treatment options other than sunitinib, due to patient drug switching throughout the trial. This may be useful if there was in fact a significant difference in patient survival depending on which treatment was being administered in combination with Roca-T.
Another key read out will be whether the same difference in poor risk versus intermediate risk patient groups will be seen. Also, a 6 month survival benefit was used, but drugs have been approved with as little as a 2 month survival benefit. If such an effect was seen, this might bring some opportunity to continue forward with Roca-T. Finally, if minimal adverse effects were recorded over the course of the trial, that would support the safety of the overall individualized immunotherapy platform Argos is trying to develop.
Management is looking to meet with the FDA as soon as they can to address the results and come up with a way forward should there be a silver lining here. That silver lining may be a significant benefit seen in a particular patient group or combination treatment. In the meantime, patients can opt to continue taking Roca-T with their current treatment as the ADAPT trial remains open. This leaves some potential for a tail end benefit seen in patients on Roca-T, but it is admittedly a moon shot and more of a hope than a realistic possibility.
Remaining Pipeline
Other than Roca-T, Argos' pipeline is very much in early stage and exploratory stages, with multiple planned and partially initiated small scale trials looking at other Roca-T treatment opportunities. Its other most explored candidate, AGS-004 for the treatment of HIV, failed in a phase 2 trial back in 2015 when it didn't meet its primary endpoint of viral load reduction. It's currently in another phase 2 trial in combination with Vorinostat started in July of 2016, with no news to date of progress.
More detail of these trials can be seen in an earlier article here, but it's sufficient to say that they are far from bringing significant value to the pipeline at this moment, so future clarity on plans for Roca-T for the treatment of mRCC in combination with SOC options is crucial.
Funding Issues
The cash on hand from the end of Sept 30th 2016 (~$69 million) is most likely almost used up going into the second half of 2017, especially considering that management has kept the ADAPT trial open. Management did state a need to raise additional funds to continue operations going into the summer. However, the plan seemed to bank on continuation of the ADAPT trial rather than the stoppage due to futility that was announced last week.
As a result of this news and the drop in share price, Argos finds itself in a more difficult situation when it comes to raising capital. If management sees some value from the ADAPT results, and wants to launch another phase 3 trial, this will need to be funded by another >$100 million injection of capital, which at current prices, would result in major dilution of existing shareholders if done through share issuance.
The other alternative is that Pharmstandard, the Russian LLC that owns a major stake in Argos could take the company private to develop the platform themselves, especially if the market cap stays at its current sub $50 million level or lower and they think there is potential down the road in the idea of fully personalized immunotherapy cancer treatments.
In any case, financial constraints will put a limit to any further trial plans, and a cash raise will likely send share prices lower yet unless such a raise is done after an FDA meeting to discuss the ADAPT trial and some sort of positive result from the trial is disclosed to the public.
Conclusion
Right now the future is quite unclear for Argos, and only time will tell what the path forward will look like after management comes out with the full results of the ADAPT trial and their plans for Roca-T. Until then, there is not a lot of concrete information to go on.
The potential for some upside remains should there be positive results hidden within the ADAPT trial's overall failure to demonstrate a significant survival benefit, but this is offset by the downside possibility of there being a limited to non existent benefit with Roca-T and the need to raise additional funds to continue operations.
Disclosure: I/we have no positions in any stocks mentioned, and no plans to initiate any positions within the next 72 hours.
I wrote this article myself, and it expresses my own opinions. I am not receiving compensation for it (other than from Seeking Alpha). I have no business relationship with any company whose stock is mentioned in this article.
Editor's Note: This article covers one or more stocks trading at less than $1 per share and/or with less than a $100 million market cap. Please be aware of the risks associated with these stocks.