(Note: Daily Pain is part of the HFI Research premium service. If you are interested in reading Daily Pain, you can sign up here. For more info on HFIR premium, you can read this.)
By: Pain Capital
Being long Canadian energy producers today felt like "death by a thousand cuts." After a stellar December, things have not gone so well for my fund or the HFI Portfolio.
S&P 500 (NYSEARCA:SPY), along with the tech sector, continues their relentless rallies, while energy names are left in the dust.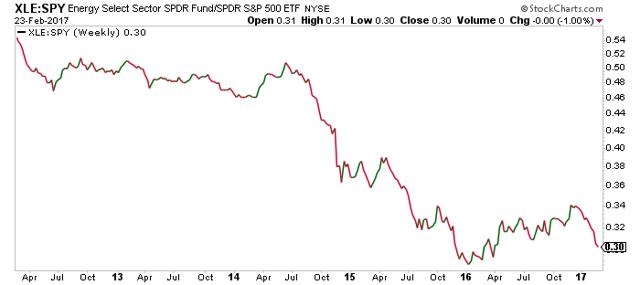 Today's price action in many of the energy names felt like a loss of faith, here's how they look:
Southwestern Energy (NYSE:SWN)
That chart is hideous on so many levels. There's no bottom in sight, and despite oil and natural gas prices rallying today, weakness continued. No technical bottom in sight.
Range Resources (NYSE:RRC)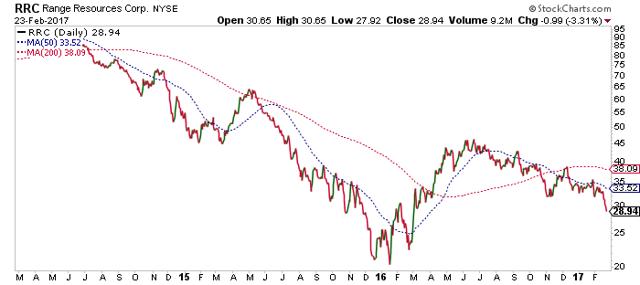 RRC looks like it could easily test the February 2016 levels. If that's the case, RRC is a terrific buy at that level. No technical bottom in sight.
Antero Resources (NYSE:AR)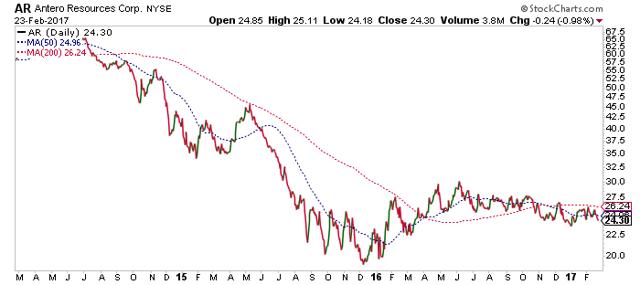 Downward trending momentum. Possible hold off the $23 level, and I will wait to see if there's a bottom that can form around the current price.
Cabot Oil & Gas (NYSE:COG)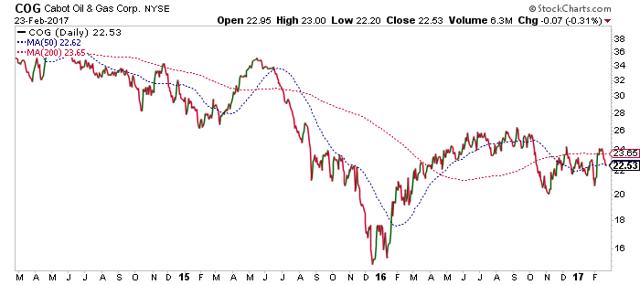 Similar to Antero, COG's chart doesn't look awful. Price has held steady around the 50-day moving average, but no uptrend has been confirmed.
Chesapeake Energy (NYSE:CHK)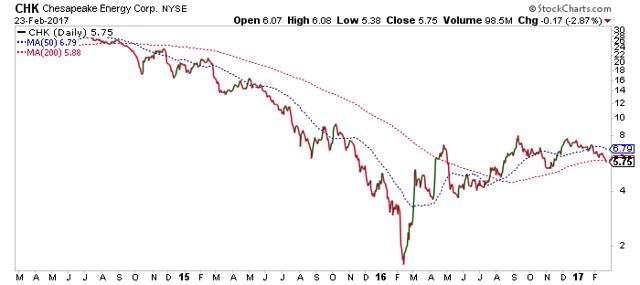 CHK broke through the 200-day moving average today. Possible hold around previous bottom around $5.50, but no sign it could. Mixed technical signals coupled with poor fundamentals.
Energy Stocks (NYSEARCA:XOP) vs WTI ($WTIC)
If you had originally told me that energy stocks would trade weak if WTI had moved lower, that would have been more accepting, but that wasn't the case today. WTI moved higher to almost $55.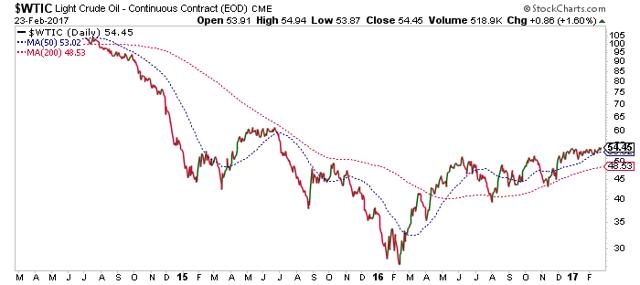 The trading range has been extremely mild, but energy stocks are not exhibiting the same low volatility I am seeing in oil prices.
Now, one could make the argument that the weakness we are seeing in Canadian names are coming from concerns with the border tax potential, but how does one explain the weakness in Bakken names (WLL, CLR)?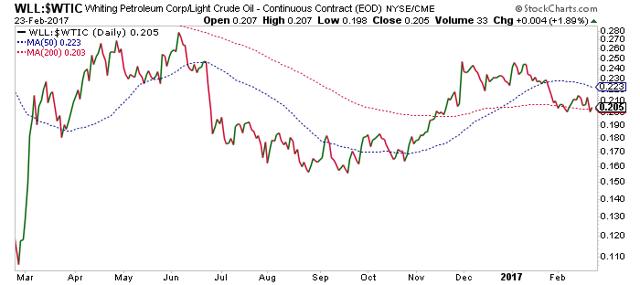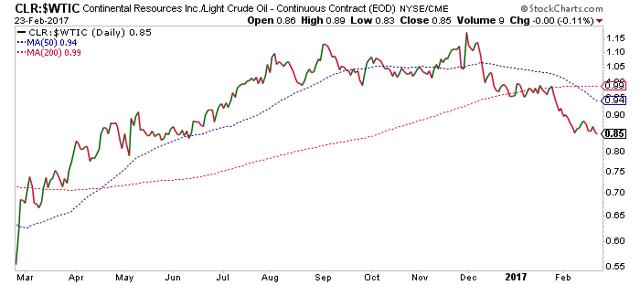 This is also true for some Permian (AREX, PXD) names: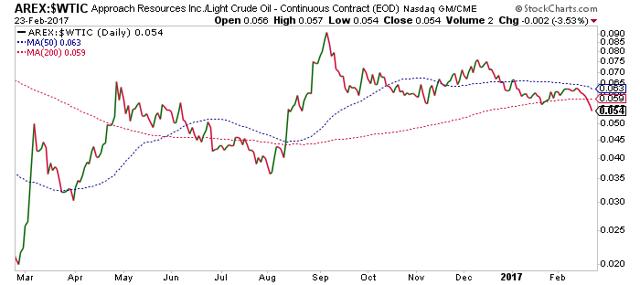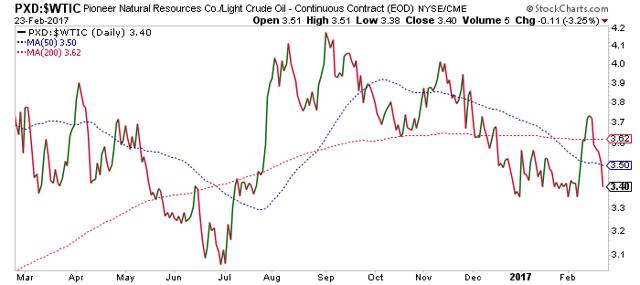 So it seems to me that instead of potentially selling off oil futures on disappointing storage reports, fund managers are selling energy equities instead. This brings an interesting question to mind.
Are oil prices being manipulated and, if so, are energy equities revealing the true weakness in the underlying oil markets?
If only one E&P company is underperforming, it's understandable and could be attributed to individual fundamentals, but when the whole sector underperforms and the driver of valuation outperforms, it really makes you think what's driving what.
In the longer-term perspective, all this nonsense will be forgotten in a several months, and I always keep in mind, commodity prices ultimately drive E&P companies, not the other way around.
Canadian Names versus WTI
Gear (OTCPK:GENGF, GXE.TO) shares took another beating today following below last week's earning's price.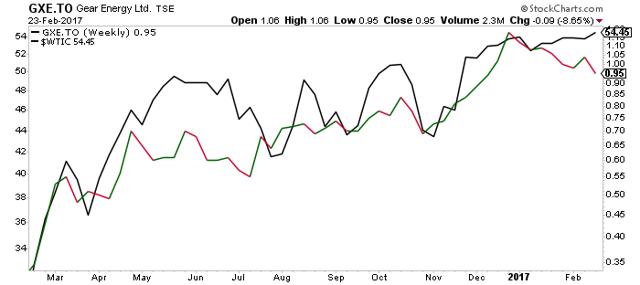 The gap between where Gear "should be" trading and where it's currently trading is widening. The discount widened to 21%, and there is no fundamental news to explain the weakness. As a matter of fact, Western Canadian Select prices have improved due to the Cushing inventory draws!
Trying to figure out these daily moves can be quite flustering especially when low volume trading dominates a good portion of the week followed by one big volume day. Could it be rotation out of energy stocks that continue to contribute to the weak price action? Sure, but one thing I always like to keep in mind: commodity prices ultimately drive share price performance.
Disclosure: I am/we are long GENGF, GXE.TO.
I wrote this article myself, and it expresses my own opinions. I am not receiving compensation for it (other than from Seeking Alpha). I have no business relationship with any company whose stock is mentioned in this article.