On the last day of February, Target (NYSE:TGT) will report Q4 2016 earnings after the closing bell. After a solid "beat-and-raise" last quarter that drove share prices to about $78.50, the retailer has hinted at a challenging holiday quarter that caused same-store sales and earnings guidance for 2016 to fall back to more conservative levels, bursting Target's short-lived bubble. The stock is trading once again below $67/share intraday, not too far off its recent two-year low of $63.42.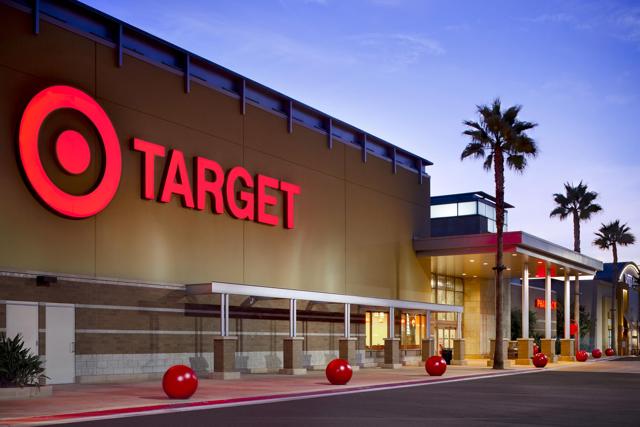 Credit: talkmarkets.com
For Q4 2016, the Street expects revenues to come in at $20.7 billion for a YoY drop of 4.3% (in part due to dispositions since 4Q15) and EPS to reach $1.51, near the mid-point of management's new guidance range.
My expectations for Target's earnings
The Minneapolis-based retailer surprised most investors and analysts in Q3 2016 when it reported digital sales growth of 26%. For context, e-commerce mammoth Amazon (NASDAQ:AMZN) reported the same level of growth in its North American retail division in the quarter. And in January, Target reported that digital sales had accelerated its growth pace to 30% in the November-December holiday period, which is quite impressive. So, for Q4 2016, I will expect e-commerce numbers to come in strong once again, but I believe this time the outperformance should be largely expected.
It doesn't look, however, like Target will have much more to celebrate, as same-store sales excluding e-commerce was down more than 3% during the holiday period. That figure compares unfavorably to Walmart's (NYSE:WMT) +1.8% increase in comparable sales in the U.S. for the full quarter.
Notably, in January, Target suggested that the accelerated mix shift towards e-commerce will help to drive costs higher and impact bottom-line results negatively. Therefore, I would not be surprised to see softer margins in this quarter, following an October 2016 quarter that was marked by a welcome YoY improvement in profitability.
Considering the preliminary results released over the holiday season, I believe Target's de-risked EPS guidance range of $1.45 to $1.55 should be easily met. I would be surprised to see quarter results drive significant swings in share price following the earnings release, whether up or down.
Having said that, guidance for fiscal 2017 will be a very important piece of information worth paying close attention to. It is hard to predict whether e-commerce growth will be strong enough to offset headwinds in same-store sales. I will also be curious to see how decreased foot traffic and uncertainties regarding border tax policy might impact management's perception of the potential results that can be achieved in the upcoming year.
For reference, the Street is betting on fiscal 2017 EPS of $5.35, pointing to modest YoY growth of about 6%.
Is Target a buy ahead of the print?
In my view, buying TGT today can be somewhat of a risky move.
On the plus side, shares have de-risked substantially and now trade at a very low forward P/E multiple of 12.5x. Notice below how the stock seems inexpensive from a historical perspective and also on the comparison against peer WMT. Part of the downside risk was mitigated following Target's January announcement of a weaker-than-expected holiday season.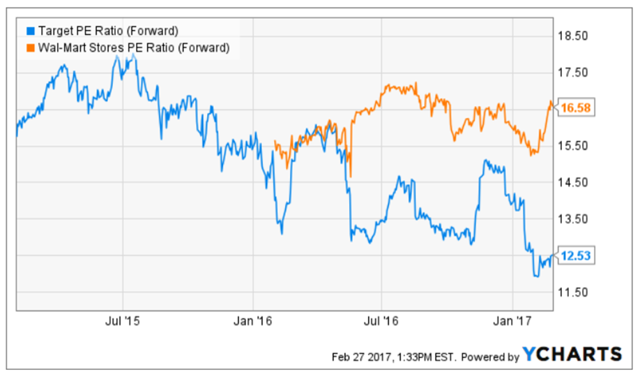 Source: YCharts
The company also pays a pretty high dividend (3.6% yield) coupled with a conservative FCF coverage of 3.2x (FCF divided by dividend payments for the most recent full fiscal year). The yield alone may help to set a floor on share prices and prevent them from sliding much farther.
But on the negative side, Target has not quite proven that the company is capable of managing the competitive challenges well. E-commerce is a double-edged sword, as it can help to drive top-line growth but is also an increasingly crowded space dominated by well-established players. As Warren Buffett has recently said, "I think retailing is just too tough for me, [and] I just decided that I'd look for a little easier game."
I would not be opposed to scooping up a few shares of TGT given the fundamentals of the business (see comparison table below) and the recent weakness in share price. But I would rather have more confidence in a stronger 2017 before pulling the trigger on the stock.

Source: DM Martins Research
Note from the author: Follow me as I build a risk-diversified portfolio designed and back-tested to generate market-like returns with lower risk. I call it the Storm-Resistant Growth portfolio. The very early results have already exceeded my expectations. Take advantage of the 14-day free trial, and get immediate access to the content and the community.
Supporting Documents
Disclosure: I/we have no positions in any stocks mentioned, and no plans to initiate any positions within the next 72 hours.
I wrote this article myself, and it expresses my own opinions. I am not receiving compensation for it (other than from Seeking Alpha). I have no business relationship with any company whose stock is mentioned in this article.