Trian Partners has finally showed up at Procter & Gamble (NYSE:PG). This is the second activist to appear at PG in just the last five years. Recall that Bill Ackman's Pershing Square Capital took on PG in 2012 looking for management change.
Trian's thesis is likely going to be a bit more aggressive. Trian has been taking on larger and larger targets, going from the likes of Mondelez (NASDAQ:MDLZ) and PepsiCo (NYSE:PEP), to most recently taking on the $265 billion market cap company General Electric (NYSE:GE). Now it's the $230 billion market cap PG.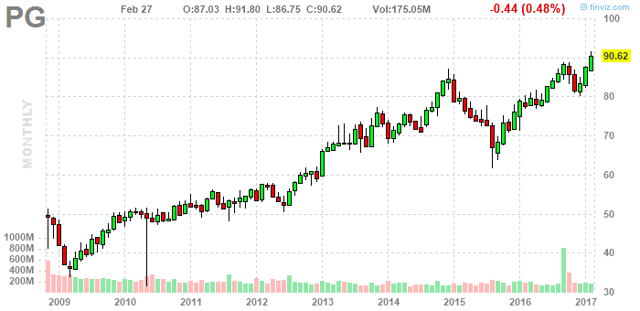 In terms of what Trian might be pushing for, the likely scenario is cost cuts - with zero based budgeting being a staple at many of its targets. However, Trian could be working on something a bit more aggressive - including a spinoff of more PG businesses. Note that PG dumped a sizable portion of its beauty business last year - selling it off to Coty (NYSE:COTY).
Spinoffs, spinoffs, spinoffs, or a split - that'll work too.
This'll allow PG to focus on its core and serious money making businesses - like Tide, Pampers and Gillette. Granted PG has an aggressive plan to cut 100 underperforming brands, Trian will likely want to see something more sizable, like the full-blown breakup of the personal care and household products businesses.
Despite being at all-time highs, PG has lagged the Consumer Staples Select Sector SPDR (NYSEARCA:XLP) handily over the last decade. The XLP has returned 2.5 times what PG has managed since 2007.
PG needs to get serious about figuring out growth. One issue is that the 3% dividend yield and 60-year streak of consecutive dividend increases keep passive investors happy for the most part. But it doesn't have to sacrifice its dividend for a higher stock price.
Another dividend aristocrat, Abbott Labs (NYSE:ABT), split off its pharma business as AbbVie (NYSE:ABBV) in 2012 and, since then, both have outperformed the S&P 500 while offering higher dividend yields.
Small is better, in most cases, and that could be the case for PG.
Trian will likely push PG to become more nimble and better positioned to navigate competitive pressures. Pressures from well capitalized startups, including the rise of cheaper razor alternatives (i.e. Dollar Shave Club) and natural/organic skincare (i.e. Jessica Alba's The Honest Company). PG, given its size, has become lackluster in adjusting to competitive pressures.
So the plan could lie in splitting the company into a personal care (such as Crest and Gillette) and a households business (Tide and Pampers). A move very similar to the one that Energizer (NYSE:ENR) completed a couple years ago. Peltz is no stranger to breakups, helping orchestrate the split of Mondelez from Kraft (NASDAQ:KHC) in 2012. A full blown split like that is the aggressive case scenario.
The healthcare segment is one of the few PG businesses that is still growing and has solid profitability. PG needs to focus on this business, and that means becoming more aggressive by unloading under-performing businesses. Notably, I'd expect PG to sell or spin off its Gillette business. As well, it still has a large beauty business even with the Coty deal. Unloading the entire beauty business, which includes Olay and Pantene, as a spinoff looks like a real possibility.
PG, which has said that its core brands help make it a diversified player, must face the new reality. Millennials and younger generations aren't brand loyal; they traded down from the recession to cheaper shampoo and razors and are not trading back up. Something must be done. The likely thesis for PG is to unlock some shareholder value and jumpstart growth. This is ideally what Trian will be pushing for - unloading the Gillette business followed by a major spinoff of a lagging division, such as beauty. This would help PG focus on the business where it's facing less competition. At 22x forward earnings (still in line with major peers), investors haven't bid up PG quite like we've seen at CSX (NYSE:CSX), suggesting that it could be worth a closer look for anybody who's looking for a beastly dividend with a track record and a potential catalyst for juicing share price growth.
Disclosure: I/we have no positions in any stocks mentioned, and no plans to initiate any positions within the next 72 hours.
I wrote this article myself, and it expresses my own opinions. I am not receiving compensation for it (other than from Seeking Alpha). I have no business relationship with any company whose stock is mentioned in this article.