HSBC has lost its glitter
While claimed to be the world's local bank, (NYSE:HSBC) has lost all its strongholds except for the U.K. and Hong Kong. It sold its Brazil consumer business, the stake in Industrial Bank ((China)), and its membership interests in Visa Europe and Visa U.S. (see 2016 annual report). Because the majority of the disposals were done at a loss, the sales reduced its book value. In fact, HSBC's per-share book value decreased for two years in a row. HSBC's common equity tier 1 capital and total regulatory capital decreased as well. The reason that the CET1 capital ratio improved was due to its risk-weighted assets went down even more, mostly achieved by selling its valuable assets at a loss and the reclassification of its stake in Bank of Communications.
With the CET1 capital ratio improved, HSBC used the capital to fund its share buybacks at the expense of losing assets with high growth potential, HSBC essentially sold its furniture to heat the house. Brazil and China are emerging markets with high growth potential. In fact, the Brazil consumer business was sold at the bottom of the Brazil market. BBD and ITUB shares bounced back significantly since then. China, on the other hand, grew its GDP 6.8% and expected to grow at least 6.5% in 2017, ahead of all developed market and most of developing markets. The bright days of Brazil and China are ahead, and HSBC will miss the boat.
Hong Kong and the U.K. have tremendous challenges ahead
HSBC's biggest strongholds are in Hong Kong and the U.K. While Hong Kong has been a bright spot for HSBC, it is a castle built on sand. For the seventh straight year, Hong Kong was crowned as the most unaffordable housing market in the world in 2017. Its housing bubble is waiting to burst. The banks in Hong Kong are very competitive in interest rates, and HSBC is not compensated enough for the risk of its residential mortgage book.
In the U.K., even the CEO, Stuart Gulliver, admitted that Brexit will bring another wave of challenges to the bank, mostly in its commercial business. The Financial Conduct Authority in the U.K. has started an investigation into the past practices of HSBC, mostly on money laundering. That means despite all the regulatory fines HSBC has paid in the past, the regulatory woe is unfortunately not done, yet.
The stock is overvalued compared to peers
HSBC's adjusted earning, which is earning excluding all the bad stuff including invented term like "cost-to-achieve", decreased for three years in a row. Three out of five business segments saw their adjusted profit before tax decreased, with two of them decreased two years in a row. While HSBC still has significant exposure in Asia, the reported profit from that region actually decreased in 2016. From the table below, it's clear that HSBC is trading at a premium in terms of price to tangible book value.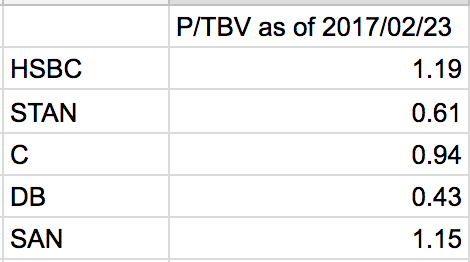 (tangible book values are from 2016 Q4 releases of the companies)
I believe the biggest reason of the premium is because of HSBC's generous dividend policy. I see it as novice investors mispricing the stock, because a dividend yield does not reflect a company's underlying earning power at all. In fact, one of its peer, Citigroup (NYSE:C), thanks to its large U.S. exposure, has much fewer headwinds than HSBC. And yet, Citigroup is only traded at 0.94x of its tangible book value. HSBC's U.K. peer, Standard Chartered (OTCPK:SCBFF), is traded at 60% of its tangible book value. If HSBC is traded at the same valuation as Citigroup, its current market price is 26% overvalued. If it is traded at the same valuation as Standard Chartered, HSBC is 90% overvalued.
The bottom line
HSBC is trading at a premium compared to its peers despite its substantial headwinds. Its generous dividend policy neglects its deteriorating fundamentals, and its share repurchases is an act of desperation, a classic example of selling furniture to heat the house. HSBC is substantially overvalued and is a strong sell at this point.
Disclaimer: I am not a licensed investment adviser. As I have no knowledge of individual investor circumstances, readers are expected to complete their own due diligence before purchasing any stocks mentioned or recommended. This article is for my personal opinion sharing and for informational purposes only - any opinion expressed in this article and elsewhere on the internet is not a form of investment advice provided to you. I use information in my articles I believe to be correct at the time of writing them, which information may or may not be accurate and may or may not be up-to-date. I am not liable for any losses suffered by any party because of any information published on this article. Beware, past performance is not a guarantee of future performance.
Disclosure: I am/we are long HSBC.
I wrote this article myself, and it expresses my own opinions. I am not receiving compensation for it (other than from Seeking Alpha). I have no business relationship with any company whose stock is mentioned in this article.
Additional disclosure: I intend to liquidate my HSBC position within the next 30 days.