B&G Foods (NYSE:BGS) released earnings after the bell on Thursday and lost nearly 7% on Friday, closing down $3.25 to $43.65. It began the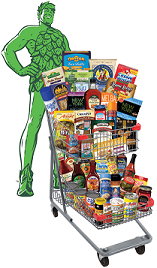 week with a further erosion down to $43.00 on Monday, and the stock is now down 18.6% since reaching its all-time high of $52.84 just after it reported Q2 earnings seven months ago. Does an 18.6% cheaper share price make B&G a buy?
I had become uncomfortable with the rapid run-up in the share price from $32.05 in April to the late July highs. The dividend yield (less than 3.6% at that time) had become much less attractive when I wrote:
To be clear, I expect B&G to report another solid quarter when it releases earnings on July 28th, and it may even modestly boost guidance again. The statements at the Piper Jaffray conference with only two weeks left in the quarter would clearly point to solid results and no negative surprises with the Green Giant brand.

And, although I remain a supporter of the company's basic philosophy and strategy, I believe the B&G share price is too high, the market's enthusiasm for the stock won't last, and I think the shares are more likely to head lower rather than higher. I will wait for a pullback, or until the company's results justify the share price, before committing new funds to the stock. For those investors that choose to stay the course, B&G's dividend should provide some downside protection for investors.

It's just not enough for this particular investor.
The shares would continue climbing for another couple of weeks to that all-time high, while dropping the dividend yield to less than 3.2%. The share price remained in the upper $40s until Q3 earnings on October 27th gave investors indigestion. Disappointing results triggered a price decline from $47.45 on the 26th to an intra-day low of $39.65 on the 28th.
A similar pattern occurred over the last four months. The stock resumed a climb back up to $47.75 the day before the most recent earnings. It then dropped to an intra-day low of $42.90 before closing at $43.65 on Friday and $43 on Monday. Why all the numbers?
This isn't some hot technology stock where large price swings aren't unusual, but a dividend-paying food company where such action is far from typical. Of course, this isn't your typical food company. B&G has always paid a dividend and, according to CEO Bob Cantwell:
And finally, during the fourth quarter, we increased our dividend by 10.7%, that was the 49th consecutive quarterly dividend declared by the company and board of directors since our IPO in October 2004.
That dividend has not been raised at predictable intervals, been cut once, and has now been increased 10 times since the start of 2011. And it's not just the irregularity of the dividend that sets it apart. It is a company where management believes in leveraging up the balance sheet to make accretive acquisitions to fund those dividend increases. Following these acquisitions, the company will usually issue new equity to reduce leverage and be ready for the next acquisition.
Not all of these acquisitions have met management - or investor - expectations. The company made four purchases in the snack food sector between September of 2012 and October of 2013. One has had slowly deteriorating sales, another turned out to be a fad item and has been written down, and a third suffered from significant inflationary pressure as the cost of almonds increased substantially as the result of a drought in California.
The fourth, Pirate's Brands, has shown growth, but it presented challenging distribution issues. The company was not prepared to stock and ship a bulky product and had to change its distribution model and move to new facilities. It also retained the services of a third party to manage that distribution.
It wasn't just the snack foods issues that surprised management and investors. One of B&G's five largest brands over the past five years has been Maple Grove Farms of Vermont. B&G is the number one seller of real maple syrup in the US, and a price decrease in the cost of the raw material has been instrumental in the company failing to meet expectations. As the input cost decreased, the company was contractually obligated to cut prices to its food service industry customers.
The cost of maple syrup has been an issue that has created problems in the past. In 2008 and 2009, a crop shortage impacted earnings. Now it is an over-abundance of supply. On the Q3 call, Cantwell stated:
We have been experiencing a challenging competitive environment for our syrup brands, which in the aggregate declined $2.4 million for the quarter. The decline is primarily attributed to maple syrup price deflation. The Canadian exchange rate has benefited the maple syrup category for a few years now, and we are seeing some smaller competitors win shelf space by deeply discounting their prices.

In addition, our maple syrup net sales have been negatively impacted by contractually mandated price reductions with certain of our food service customers. Under those contracts, we are required to reduce prices when the U.S dollar strengthens against the Canadian dollar. We believe that the maple syrup environment will remain highly competitive for the near term and we expect to walk away from or lose some low-margin or zero-margin maple syrup sales.
These issues continued into Q4 when CFO Tom Crimmins reported:
A little more than half of the company's base business net sales decline during the fourth quarter was attributable to a challenging competitive environment for our syrup brands, which in the aggregate declined $3.1 million for the quarter.

The decline was primarily a result of pure maple syrup price deflation due to the strength of the U.S. dollar relative to the Canadian dollar, which has resulted in increased competition in the maple syrup category and contractually mandated price reductions with certain of our foodservice customers.
The maple syrup issues are minor compared to the early disappointments of its largest acquisition, the Green Giant and Le Sueur (GG acquisition) brands from General Mills (NYSE:GIS) in late 2015. B&G made a presentation not long after the $765 million purchase was announced in September of 2015. That presentation included the following chart: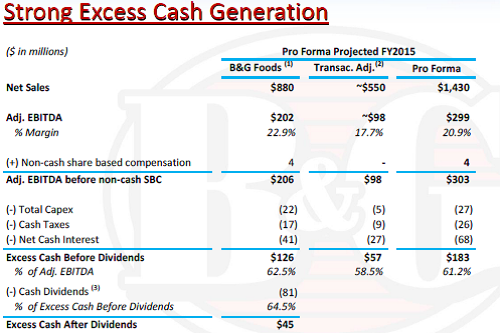 Note that the annual pro forma revenue was expected to be $550 million. The actual revenue for 2016 was just $506.7 million, far less than what had been expected. A shortfall by the company was expected by those that read the Q3 earnings release and comments by Cantwell, and it wasn't just a shortfall in the GG acquisition:
Our third quarter results reflect very strong profitability, as demonstrated by our adjusted EBITDA and adjusted diluted earnings per share, despite the overall poor sales performance of our base business. Reversing the base business net sales decline is a high-priority for the entire B&G Foods leadership team and we are working extremely hard to flatten out the recent base business sales trend in the first half of 2017.
The GG acquisition had its own set of issues, and Cantwell also telegraphed potential shortfalls with sales of these brands in Q4:
...the transition services agreement for Green Giant is now complete and we have assumed full responsibility for the operation of the business. I anticipate that there may be some growing pains in the early stages of the post transition period...
And, there certainly were some growing pains. On the Q4 conference call some of these were discussed by Cantwell:
Our transition services agreement with the prior owner of Green Giant brand expired at the start of the fourth quarter. We did experience some transition issues as we took over complete responsibility for servicing the business at the beginning of October. We did not have enough inventory to support the sales demand leading up to Thanksgiving, that created a sales shortfall during the month of October of approximately $13 million.
These issues won't be cleared up immediately. And the fact that the company closed on two more acquisitions in Q4, including the second largest one in the company's history, may spread the company's resources a bit thin. Here are some of the ambitious plans the company has scheduled for 2017:
"We expect to launch additional new Green Giant products in the second half of 2017, and are committed to supporting the brand with full marketing support. For 2017, we expect Green Giant to generate approximately $530 million to $540 million in net sales versus $506.7 million in net sales in 2016."
Also, with the GG acquisition brands, "...we're in a little right around 65% of the ACV in the country today. So we have more distribution to gain from some customers who didn't take it in, in the fourth quarter. And then we have some very big outlets that we're going after. That we didn't do in the initial launch like clubs and places like Target and those kind of customers."
"We have launched new instant Cream of Wheat products in the first quarter of 2017.... We're also advertising on television for the first time in over 20 years."
"We also plan to launch new Pirate's Booty line extensions in the second quarter."
"Bear Creek is expected to launch a number of new items during the third quarter, including a new line of products and a new category."
"We continue to operate [the ACH acquisition, a line of spices that was the second largest acquisition referenced above] under a transition services agreement with the prior owner of the business, and expect to take over full responsibility for servicing the business in early September."
If that plate doesn't seem full enough, it would come as no surprise if the company makes another acquisition in 2017. In response to a question about whether the company might take a break from its growth through acquisition strategy, Cantwell answered:
I think the easy answer to that is, we're ready [and able] to do the next one and if something comes along that makes sense to be part of B&G's portfolio. We're going to be aggressive to go after. So I don't think we look at ourselves and think about taking a break at all. But it has to be the right acquisition and we're ready. From a balance sheet to an organization, we're ready to do the next one when and if it comes.
The questions investors need to decide are whether or not the market has over-reacted and if the potential for a higher share price and a current yield of more than 4.3% makes this an attractive investment. At this point, it is my opinion that the dividend is secure and the potential return outweighs the risk to the downside. Still, rather than take a straight long position with income focused capital, I have decided to only look six months into the future.
As I have done in the past, I prefer to simultaneously buy the stock and sell a covered call option expiring in August. I executed two such transactions last week heading into earnings, and the Q4 results have done nothing to alter my view of the company. In fact, this investment is even more attractive than it was last week. Here's the way this transaction works.
One enters a simultaneous order to purchase the stock and to sell someone the right (but not the obligation) to purchase those shares at a pre-determined price (known as the strike price) between now and August 17th. The buyer of the call can buy those shares at any time prior to August 17th, although that occurs rarely. Instead, the buyer would typically find it more attractive to sell the option to someone else.
Currently, the shares are trading at $43.00 Bid and $43.10 Asked. The $45 August call option is selling for $2.05 Bid and $2.50 Asked. Assuming the worst case execution, one would pay $43.10 for the shares and sell the call for $2.05, for a net out of pocket cost, excluding commissions, of $41.05 ($43.10 - $2.05 = $41.05).
It has been my experience that when placing a simultaneous buy and sell order, it is possible to sell the call for a better price than the Bid, but we'll use the Bid for a "worst case" example. By paying a net of only $41.05, the current $1.86 dividend will yield just over 4.5%. What happens in August? One potential outcome is the shares are trading above $45, and the option holder buys your shares. You then have a net capital gain of $45 - $41.05, or $3.95 (Note, there is a capital gain of $2.05 on the option and a $1.90 on the shares ($45 - 43.10 = $1.90). Your total return is $4.88 ($3.95 plus two dividends of $0.465) on a net outlay of $41.05, or 11.9% in six months.
That translates to an annual percentage yield of more than 25%. If the shares are still below, $45 at expiration, one can sell another six-month call. The downside of this transaction? If the shares are more than $47.05, you have missed out on some capital gains and need to find a place to invest your proceeds. The other downside is that while you have acquired the shares at a reduced cost, if the share price retraces back below $30, where it traded 18 months ago, you have a significant paper loss.
Summary
B&G is far from being an ideal long-term investment for income investors. Aside from a dividend cut in 2008, it regularly dilutes shareholders, often leverages the balance sheet to levels some may find unacceptable, and the dividend increases occur at irregular intervals and by unpredictable amounts. While I prefer dividend stocks that I can buy and forget about, the extra yield one can derive from B&G outweighs the risk for this investor.
Disclosure: I am/we are long BGS.
I wrote this article myself, and it expresses my own opinions. I am not receiving compensation for it (other than from Seeking Alpha). I have no business relationship with any company whose stock is mentioned in this article.
Additional disclosure: I also have May and August $45 covered calls written against a portion of the BGS shares.