Much has been said about the great "reflation trade" since the elections. Investors and traders have been busy buying this trade as hundreds of billions have flowed into equities over the past couple of quarters. This wall of cash has driven the S&P 500 (NYSEARCA:SPY) up 10.2% adjusted for dividends between November 9, 2016, and February 27, 2017. This move has been nothing short of spectacular and I am thankful to have made some money on this move.
However, it is worth understanding what has driven this rally and it is worth dissecting it. According to my knowledge, the following factors have been driving the rally as of late:
Unemployment rate has continued to remain low as the economy continues to create jobs.
Inflation is beginning to perk its head after being AWOL for almost a decade - hence the reflation.
Economic numbers have been good as has been sentiment indicators related to consumers and business.
Monetary policy continues to remain highly stimulative.
And last but not the least, we have as many see, a president who wants to further stimulate the economy and continue to drive growth.
All these factors are indeed robust factors, very important to sustainable economic growth. However, out of the above list, we have had factors 1 through 4 in place for several years now. And indeed the market has been reacting to these all along. It is no surprise that since 2012, the S&P has returned 80%.
If you recall the news and views which were being put out between 2010 and 2012, the focus was on cost cutting and efficiency. These resulted in higher earnings, but at the cost of reduced CapEx and essentially stagnant top-line growth. Since 2014, the focus shifted to share buybacks as companies used their balance sheets to buy back shares in an attempt to increase EPS and in this time frame, the top line remained stagnant once again perhaps because of stagnant CapEx.
So where this leads us is to a situation where despite higher margins, reduced share count and reduced CapEx, we are unable to grow earnings. The graph below shows how earnings have trended over the past three years - perhaps a better word is "stagnated".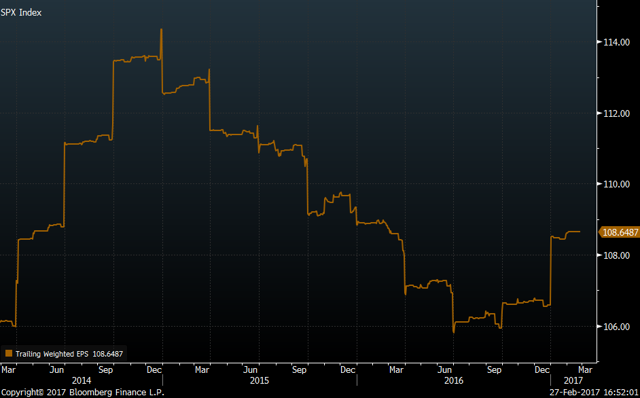 Simply put, the S&P 500 has not produced any real earnings growth.
Another proxy for earnings is free cash flow. After all, in a perfect world, earnings = free cash flow right?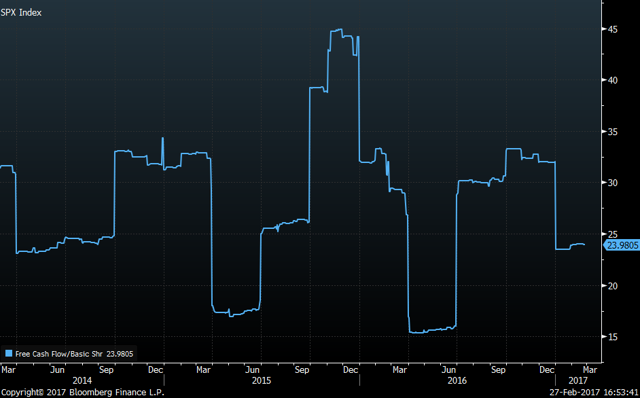 Sadly, FCF looks pretty similar to the earnings - flat. Even over the past seven years, the free cash flow of the S&P 500 has been flat as a pancake.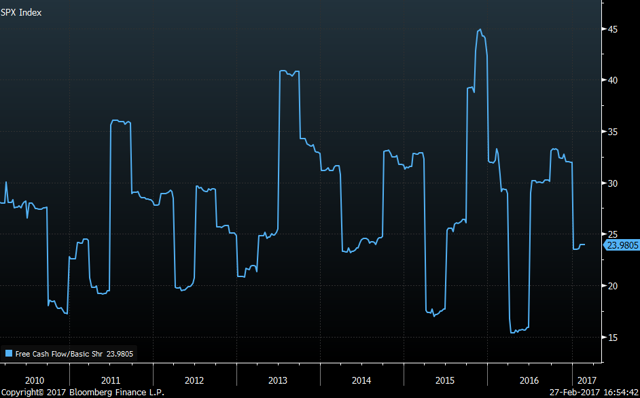 So despite, or rather, in spite of the flat free cash flow yield and lack of earnings growth, the S&P 500 continues to grind higher. So what really is driving this? The answer is sentiment. The simplest way of measuring sentiment is to look at the multiple investors who are willing to pay for a security. In the case of the S&P, the earnings multiple currently sits at a lofty 21x. And as the graph below shows, since the passing of the European financial crisis, the markets have been driven by multiple expansion alone.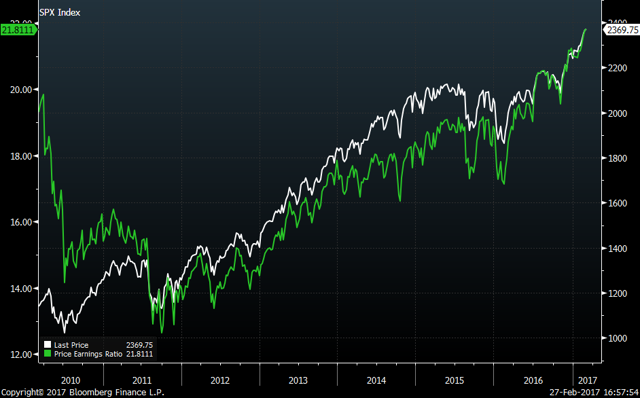 The way I look at P/E ratios is rather simplistic, but perhaps a little different than most other people. I look at P/E ratios as debt, or put differently, borrowing from the future. When P/E multiples are too low, it makes sense to lever up and buy the earnings because it benefits from a combination of rising earnings (hopefully) and improved sentiment (somewhat hopefully). When both factors occur together in a low multiple environment, you get outsized returns and we saw this happen over the past five years. However, there is an inverse argument. When multiples are elevated, earnings growth better deliver because if sentiment sours, forward returns are going to be poor or negative. This is because when you have borrowed from the future and bid up the multiples higher, the earnings have to deliver and backfill the valuations. You may recall these situations with high flying tech stocks of old, and some recent ones and how they have reacted to poor earnings reports.
The S&P is trading at levels it hasn't traded at since the beginning of the great bull market of 1992 and the dot.com bubble. In fact, around 85% of the times, the market has been cheaper as illustrated by the earnings multiple graph spanning 40 years marked with lines which illustrate the one standard deviation boundary.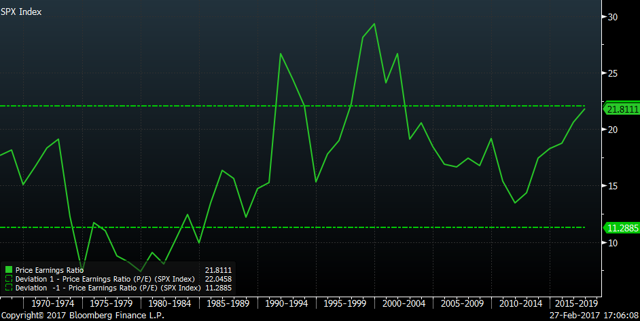 This commentary is not meant to scare, or to suggest that a crash is impending. This commentary is merely trying to illustrate that with great expectations can come great disappointments. I have been riding a portfolio which holds around 50% cash and I am happy with the positive returns I have enjoyed this year, but I wouldn't dare press my bets and deploy my cash when expectations are more likely to be met with disappointment than not.
Disclosure: I am/we are long SPY PUTS.
I wrote this article myself, and it expresses my own opinions. I am not receiving compensation for it (other than from Seeking Alpha). I have no business relationship with any company whose stock is mentioned in this article.