Brazilian mining giant Vale (NYSE:VALE) is flying high thanks in large part to the surge in iron ore prices and record production. The company looks well positioned to perform this year. Moreover, there are two other catalysts at work, in addition to strong commodity prices, that could push Vale stock higher in the short term.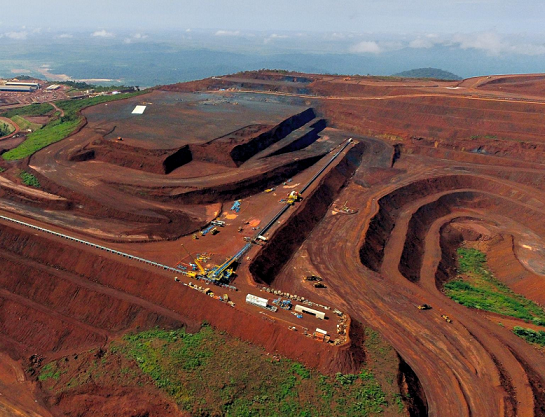 S11D mine. Image: Vale 4Q16 Production report
Vale, the world's largest iron ore producer, announced its production results on Feb. 16 which showed that the company's output climbed 4.5% from a year earlier to 92.4 million tonnes, beating analysts' estimates of 89.8 million tonnes. The better than expected results were driven in large part by the strong performance of the company's facilities in Brazil's Northern System and the startup of its largest project, the S11D mine. That put the company in an even better position to benefit from the strength in iron ore prices (Platts's 62% IODEX price) which averaged in $70.76 per tonne 4Q16, up from in $46.65 4Q15. The company's C1 cash costs for iron ore remained low at $13.5 per tonne in 4Q16 after excluding the impact of one-time items.
Consequently, Vale's revenues surged 64.3% in the fourth quarter from the same period last year to $9.69 billion. The company ended 4Q16 with an adjusted EBITDA of $4.77 billion, more than three times as large as 4Q15 earnings of $1.39 billion. Adjusted net profit was $0.53 per share, as opposed to a loss of $0.20 per share in 4Q15. The company also generated strong levels of cash flows of $3.71 billion in 4Q16, up 69.7% from a year earlier. Meanwhile, it reduced capital expenditure by 35.8% to $1.41 billion in the same period. With higher cash inflows and lower capex, Vale swung to a large free cash flow of $2.31 billion from a cash flow deficit of $4 million in the corresponding period last year.
Shares of Vale have gained almost 25% at New York in the last three months, easily outperforming the Dow Jones and the S&P 500 which have posted gains of 8.7% and 7% in the corresponding period. Moreover, Vale stock could continue moving higher in the near future on the back of strong earnings and free cash flow growth.
Iron ore prices have climbed significantly to a little over $90 per tonne at the time of this writing after bottoming to $38 per tonne in late 2015, thanks in large part to the strength in China where steel demand has improved (iron ore is mainly used for making steel). A number of analysts, including those from Citigroup and RBC Capital Markets, have warned that the current price level seems unsustainable. But if prices were to drop to $70 to $80 window, then Vale should continue to do well, like we saw in 4Q16. Vale's management, however, expects iron ore to average "in the $80s in 2017."
Remember, last year, prices averaged just $58.45 per tonne, so even a $70 price level will have a positive impact on Vale's performance. Meanwhile, Vale has said that it will increase its annual output from 348.8 million tonnes in 2016 to the range of 360 million to 380 million tonnes in 2017 and 400 million tonnes by the end of 2018. The growth will be led by an increase in higher-margin/low-cost volumes from the Northern System, including the S11D mine. These factors will lift Vale's earnings and cash flows in 2017. Meanwhile, it expects to reduce capex from $5.5 billion in 2016 to $4.5 billion in 2017. the increase in cash flows coupled with reduction in capex should lift FCF in 2017.
Moreover, there are two other catalysts at work that can have a positive impact on Vale stock in the short term. First, Vale's shareholder agreement is coming up for renewal and the company has proposed a dramatic governance overhaul in which it seeks to give equal rights to all investors by unifying different types of stocks into a single one with voting rights, thereby eliminating controlling shareholders. The move could significantly reduce the influence of Brazilian government, particularly Valepar S.A., on the miner. Brazilian politicians have (reportedly) frequently interfered in Vale's operations by installing candidates at key positions. But through an overhaul, Vale could bring its corporate governance more inline with its peers Rio Tinto (NYSE:RIO) and BHP Billiton (NYSE:BHP). This could lead to rerating of Vale stock. The company is expected to put its plans before shareholders for a vote in June.
Second, Vale has said that it could restart the Samarco project in the third quarter of this year. This could remove the clouds of uncertainty that have been hanging over this iron ore project, which is equally owned by BHP Billiton and Vale, since its shutdown in 2015 after a deadly dam burst. Following lawsuits, the two companies have agreed to provide roughly 2.4 billion reals ($771 million) initially and are currently fighting legal claims, the largest of which is $47.98 billion (38.61 billion pounds), which remain unsettled. However, the companies, along with Brazil's prosecutors, have also agreed to settle the claims by June 30. A lower-than-expected settlement followed by resumption of operations can have a positive impact on Vale stock.
Note from author: Thank you for reading. If you like this article, then please follow me by clicking the " Follow" link at the top of this page.
Disclosure: I/we have no positions in any stocks mentioned, and no plans to initiate any positions within the next 72 hours.
I wrote this article myself, and it expresses my own opinions. I am not receiving compensation for it (other than from Seeking Alpha). I have no business relationship with any company whose stock is mentioned in this article.