This is a reprint of an article that initially appeared on forbes.com
My last post offered an analyst's-eye view of Berkshire Hathaway (NYSE:BRK.A) (NYSE:BRK.B) as a result of it having caught me by surprise through its appearance in a recently discussed model based on data from Wall Street analysts. Today, I make good on a promise made at the end of my piece, a new screening model inspired by my Berkshire takeaways.
The Essence of Buffett and Berkshire
As discussed in the prior post, the essence of the company and its iconic leader is, based on words spoken by Buffett at the company's 1998 annual meeting, capital allocation. That is the lone personal skill Buffett claims. Success or failure of such endeavors, at least as applied to the Berkshire Hathaway entity, is evaluated in terms of growth of book value per share (as per statements made by Buffett to me when I covered the company back in the late 1990s and repeatedly, through the present, in his annual Chairman's letters).
So those will be the bases for today's screening model; book value per share growth and capital allocation.
The Model
For starters, it's important to make clear that this model is entirely my own. I haven't communicated with Buffett since I left Value Line back when I had darker hair and better knees. He hasn't seen this. And he has had no input. It's a Gerstein model all the way, but one that is based on the most important lessons I learned from my long-time watching of the company and its leader.
Second, don't expect every stock it turns up to be a real-life Buffett pick (maybe none will be). First, we have to be careful about saying whether any company is or isn't a Buffett stock. He does not disclose all of Berkshire's equity investments, only those above a certain dollar amount. So don't assume, just because you don't see it listed in the company reports that Berkshire doesn't or won't own it. Also, no doubt that a hefty but unquantifiable portion of what Buffett had done and still does is based on the sort of idiosyncratic personal genius that cannot be modeled by any third party. Again, this is strictly a Gerstein approach (and a new one at that) based on my understanding or what's most important about Buffett.
The model starts with a universe that approximates (but doesn't 100% match) the Russell 3000 based on rules drawn from the publicly disclosed portions of Russell's methodology.
From there, I eliminate three categories of stocks; Energy, Metals and Mining, and Pharmaceuticals and Biotech. Buffett has long spoken of avoiding businesses that are structurally incompatible with his analytic approach; his quest for "inevitables," companies he can know what will look like in the future. I apply this my own way by eliminating businesses whose fundamentals are a difficult match for the sort of data-driven analysis I do. It's entirely possible those sectors may soar going forward. No matter, unless I'm working with a different kind of model (as I do), I won't be able to assess them well using the factors I use here (Principal of modeling: Not every model needs to address every nook and cranny of the market).
Now, I get into some basic Gerstein-interpreted Buffettology. I eliminate stocks that can't rank at least 50 (out of 100) in each of two ranking systems I use often on Portfolio123; one for quality and one for value. The details are unimportant. There's no special secret sauce in either of these ranking systems (both of which are freely available to and editable by all Portfolio123 users). The Quality system addresses long-term and recent returns on invested capital, margins, turnover and financial strength. The Value model considers a plain-vanilla collection of metrics, PE, PEG, Price/Sales, Price/Book and Price/Free Cash Flow. Countless alternative versions of each ranking system can be and I know have been created. I'm not looking here for superstars (Another principal of modeling: Unless one is into "data mining," the ideas tend to be more important than the details). My goal here is to use well-established quality and value metrics to put some distance between the portfolio and actual or potential dumpster fires.
That gets me down to about 800 stocks. And now the fun starts.
I created a new Buffett-inspired ranking system based:
50% on 10-year growth in Book Value: Love book value, hate book value, whatever. I figure, though, If Buffett can use growth in this metric as a basis for evaluating Berkshire, I can certainly use it as a basis for evaluating companies under consideration for investment. I use total Book Value rather than Book Value per Share (what Buffett uses) to simplify my computations. If a company goes wrong by pumping book value by issuing too many shares, that will manifest by hurting Return on Equity (ROE) and cause the company to run afoul of the other portion of my ranking system.
50% based on 10 years' worth of ROE: I consider the 10-year average ROE (higher is better) and give equal attention to the 10-year volatility of ROE (lower is better). I could cut risk by using return on assets instead, but I opted for ROE, the penultimate measure of the entire corporate entity, including the impact of financial decision-making. Reckless financial engineering is likely to manifest in a volatile ROE trend and push stocks down in the rank hierarchy.
I'm going to use that ranking system to pick the top 20 stocks. But before performing that sorting operation, I'm going to do a bit more filtering.
I add a rule regarding the general slope of the hopefully decent and stable ROE trend; I'd rather it be upward. So I require that the average of ROE in the last three years exceed the average of the earliest three years in my 10-year study frame (up is fine, it can even be up by only a tiny amount).
Finally, I go back to a point I made in my analysis of Berkshire to the effect that Buffett is more oriented to consistency than to reaching to be number one in return at any point in time. For those who reach the peak of a mountain top, it is hard, or impossible, to stay there for long. The portion of my ranking system that addresses 10-year average ROE has the potential to reach for the stars (although a 10-year average is less prone to this than a single-year figure). But I go further in the screen and add a rule eliminating, even before the grand sort, all stocks ranked above 80 (This also has the effect of discarding the most extremely low valuations, which often get that way for all the wrong reasons; i.e. because the company is likely a dog).
Finally, I'm down to about 400 stocks.
The Testing
Figure 1 shows a 10-year portfolio123 backtest for a hypothetical portfolio constructed using the top 20 stocks of those that remain after all screening rules have been applied. It assumes the model is rerun and the portfolio holdings are refreshed every three months, and it assumes 0.25% per trade price slippage.
Figure 1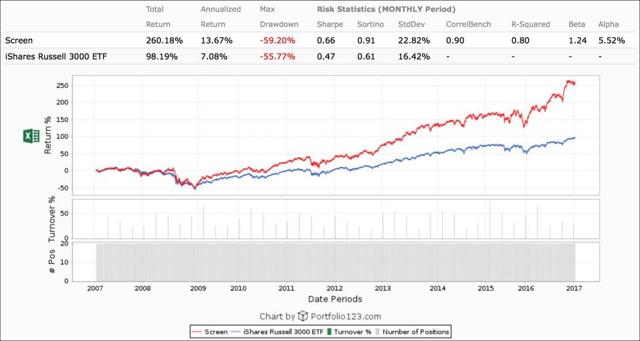 The test results would vary if I started on a different date with a different set of initial holdings and a different set of refresh dates. To address this, I also did what Portfolio123 refers to as a Rolling Backtest. I ran a bunch (509 in this case) of self-contained portfolios that last for three months and then end; the catch is I start a new one each week. The results of this test are summarized in Figure 2.
Table 1
Average Return

No. of Periods

Return %

Excess Ret. %

Portfolio

Benchmark

All Periods

509

3.97

2.05

1.92

Up Periods

340

9.03

6.63

2.40

Down Periods

169

-6.20

-7.17

0.97
The last column is in line with what I hoped to see. On average, the portfolio outperforms the benchmark, the iShares Russell 3000 ETF (NYSEARCA:IWV), in up and down periods.
As stated, no model can factor in Buffett's human genius, but as models go, this one seems to be providing what I hoped, good results from owning shares of companies that are consistently good at allocating capital and growing book value.
The Stocks
Table 2 lists the stocks that currently make the grade under this model.
Table 2
Ticker

Company

3 Yr. Avg. ROE%

Most Recent Yrs.

Earliest Yrs.

Aceto

13.2

8.3

Alamo Group

11.8

6.3

Alaska Air Group

32.0

-3.1

Carter's

24.6

7.8

Cirrus Logic

13.8

3.1

Citrix Systems

16.0

10.6

Columbia Sportswear

12.1

11.0

Core Mark Holding

10.1

9.0

CoreCivic

14.4

11.5

Dover

15.7

14.7

Invesco

11.4

10.9

Marten Transport

8.3

6.7

Moog

11.7

11.1

NetApp

12.6

12.4

Parker-Hannifin

16.9

16.1

Preferred Bank of Los Angeles

12.0

-16.9

Raytheon

20.8

13.3

Target

17.6

17.5

Trinity Industries

21.9

17.3

Whirlpool

16.1

13.3
Disclosure: I/we have no positions in any stocks mentioned, and no plans to initiate any positions within the next 72 hours.
I wrote this article myself, and it expresses my own opinions. I am not receiving compensation for it. I have no business relationship with any company whose stock is mentioned in this article.