In 2016, WTI crude oil rallied from February 11th to June 9th. A rally in 2017, during that same period is also likely (so far, oil bottomed on February 8th). This can be predicted with some certainty because of the seasonal demand patterns for the commodity. Global demand for oil peaks in the summer driving season in the Northern Hemisphere. The market starts to anticipate the supply/demand dynamic shifting in favor of the demand side by the end of February. By June, the market will have fully priced this in, unless demand is higher than usual and/or supply less than anticipated. In that case, the rally can go on until September.
Spring Rally in WTI Crude Oil in 2016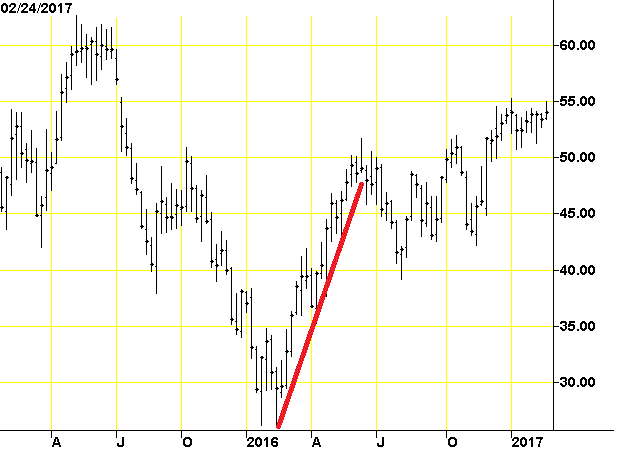 The seasonal pattern can be muted or even break down if supply is considerably in excess of demand. There was a sharp drop in oil prices in spring 2015 because supply growth had gotten way ahead of demand growth (despite frequent press accounts citing "decreasing demand" for oil, this is a rare event that has taken place only three times since 1859 with 2009 being the last occurrence). There was a lesser price drop in spring 2012, and price was essentially flat during the spring of 2013. Current evidence, however, indicates the oil market no longer has excess supply in the longer term, but a period of excess demand is emerging.
According to the IEA (International Energy Agency), in the fourth quarter of 2016, global demand for oil was 97.3 million bpd (barrels per day), while supply was at 97.9 million bpd. Demand growth has been robust from 2009 to 2016, increasing on average by 1.6 million bpd every year. Low oil prices and constant economic stimulus from central banks during this period have helped keep the rate of growth in demand high. Nevertheless, since the beginning of the oil era in the mid-1800s, there has been an inexorable increase in oil use that has remained intransigent to even the most negative economic conditions and factors. Supply, on the other hand, tends to increase in big spurts and then plateau for periods of time. Eventually, of course, every oil field declines and runs dry.
While oil production increased dramatically in the 1980s and 1990s thanks to massive new fields in the North Sea, Gulf of Mexico and North Slope of Alaska coming online, there are no equivalent discoveries that can be tapped today. Instead, the big increase in oil supply in the last 10 years has come from getting more oil out of existing fields in the Middle East and from utilizing fracking in shale oil fields in North America. While the press constantly harps on fracking being the cause of the recent oversupply in the market, both were roughly equivalent sources of excess supply. Supply from both is now falling.
U.S. shale oil production peaked in 2015 at 4.9 million bpd. The U.S. Energy Information Administration (EIA) estimates output will be only 4.2 million bpd in 2017. Low oil prices have resulted in curtailed production from fracking, which was fueled by freely available cheap credit. By March 2016, the Wall Street Journal reported that more than half of energy loans in some U.S. banks were in danger of default. So, neither cheap nor easy credit will be available in the next few years to fund shale oil production. So, don't expect the bubble to be reinflated any time soon.
While supply from North American fracking is shrinking, OPEC and some of its non-members, including Russia, agreed to cut production by up to 1.8 million bpd in the first half of 2017, and possibly beyond. While most oil analysts were skeptical that OPEC would have any success with its plan, early reports indicate 90% compliance with it. The organization is claiming it will get 100%. It doesn't matter if it does. Oil demand will exceed supply in 2017, regardless. As classical economics dictates, this means the price of oil will go up.
There is already evidence that oil is coming out of storage to meet market needs. According to the IEA, stored oil in the developed countries fell below three billion barrels in December 2016. While this may seem like a large supply of oil, keep in mind that almost 100 million barrels of oil are used globally every day, so this is only somewhat more than a 30-day supply.
A deficit of supply versus demand also is not just a short-term issue. It is likely to continue for a few years. Current oil production is increasingly dependent on aging fields (Saudi Arabia's giant Ghawar field, the largest in the world, has been in production for approximately 65 years - old for a human being, ancient for an oil field). To maintain production under such circumstances requires greater and greater capital investment. During the last few years, however, there has been approximately a $1 trillion deficit in expenditures needed to maintain oil output. Until these funds are restored, production will be hampered.
How high can oil prices go in spring 2017? While they basically doubled in the 2016 rally, a more modest gain should be expected this year. While there is a general belief in the industry that $60 is an important resistance for WTI oil because fracking begins to become profitable for many fields at that level, not all shale oil fields can be put into production at that price. So, while price might get stuck there for a while, it can go higher.
Looking at the charts supports the view that $60 is important resistance. There is a gap at that price and just above it. There is another gap around $70. These are the next two stopping points and it is reasonable to think that oil will reach $70 by the end of its spring rally. Above those levels, there is minor resistance at $80 and major resistance at $90 per barrel.
WTI Oil April 2017 Futures Weekly Chart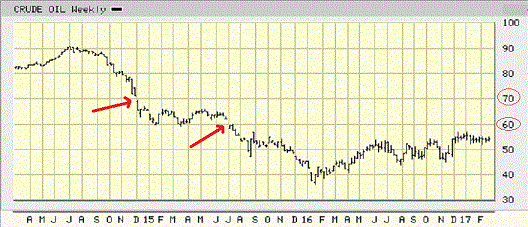 There are a number of ETFs that investors can use to participate in an oil rally. Investors can purchase the commodity itself through ETFs/ETNs: UCO, OIL, DBO, and USL. A portfolio of oil stocks can be purchases through ETFs/ETNs: XLE, IYE, XOP, OIH, FXN, XES, and IEZ. Conservative investors could also purchase large cap stocks such as: Exxon Mobil (NYSE:XOM), Imperial Oil (NYSEMKT:IMO), PetroChina (NYSE:PTR), Royal Dutch Shell (NYSE:RDS.A) (NYSE:RDS.B), Statoil (NYSE:STO), Suncor (NYSE:SU) or Total (NYSE:TOT).
Disclosure: I/we have no positions in any stocks mentioned, and no plans to initiate any positions within the next 72 hours.
I wrote this article myself, and it expresses my own opinions. I am not receiving compensation for it (other than from Seeking Alpha). I have no business relationship with any company whose stock is mentioned in this article.