Introduction
Collection House (OTC:CLHSF, ASX:CLH) is a small-cap $133 million revenue Australian stock with little coverage. It is trading cheap at a valuation of 6x EV/EBITDA, with excellent cash flow conversion. The stock has also posted solid and consistent growth, with a fully franked (tax-free) dividend of just under 6%.
Its closest Australian comparable, Credit Corp. Group, is trading at a 15x P/E, about 60% higher than CLHSF.
This is precisely what we look for in a company:
Consistent growth
Defensive earnings
Excellent free cash flow generation, at 12% of market cap
A realistic chance of substantial multiple appreciation
The business
Collection House is in the business of purchasing bad debts and collecting them. The company also lends against receivables, allowing businesses owed debt by a bust supplier to recover at least some of their losses. In addition, it offers legal advice to those in financial distress, financial education and advice for individuals requiring debt restructuring. Collection House employs about 850 people across Australia and is predominantly B2B, but has recently forayed into consumer finance with its ThinkMe Finance product. ThinkMe is a finance brokerage for those who are self-employed or credit-impaired and otherwise locked out of reasonable finance opportunities.
This is the only end-to-end publicly listed receivables management business in Australia.
Its core business is buying Purchased Debt Ledgers (PDLs) at steep discounts and then realising as much of the face value as possible. In FY16, the company purchased $62 million of PDLs. While collection can be a murky business, it does provide liquidity to those who offer finance, broadens the scope of who can be lent to, and cheapens the cost of debt for all of us. The PDL business accounts for about 75% of earnings.
The company has competition in this market, as a number of players compete for the limited PDL offerings each quarter.
Balance Sheet
The firm is conservatively financed, with plenty of headroom to finance additional PDL acquisitions if the opportunity arises.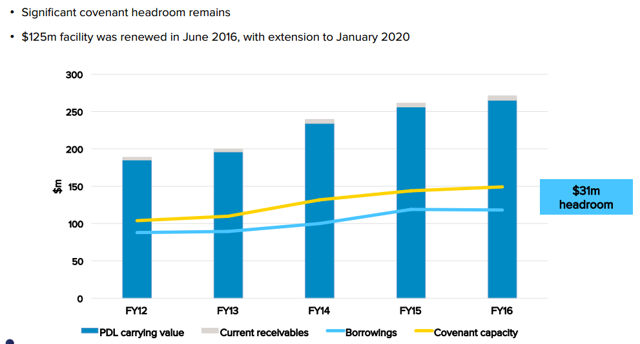 Source: Company presentation
Collection House has a market cap of A$185 million, with A$55 million of net debt.
| | |
| --- | --- |
| Currency | AUD |
| Share Price | 1.37 |
| Shares Outstanding | 135.7 |
| | |
| Market Capitalization | 185.9 |
| - Cash & Short-term Investments | 62.7 |
| + Total Debt | 118.2 |
| + Preferred Equity | - |
| + Total Minority Interest | - |
| = Total Enterprise Value (TEV) | 241.4 |
Growth, profitability and valuation upside
Our investment thesis depends on steady growth in revenue and profitability. This has been consistent throughout the past few years, and given the strong growth in the Australian economy, is likely to continue, at least in line with GDP.
There has been a marked drop in FY16 EPS and NPAT with management change and turmoil at the top of the company. The new CEO, Anthony Rivas, has stabilised the situation and has already shown promise in cutting costs and reducing efficiency.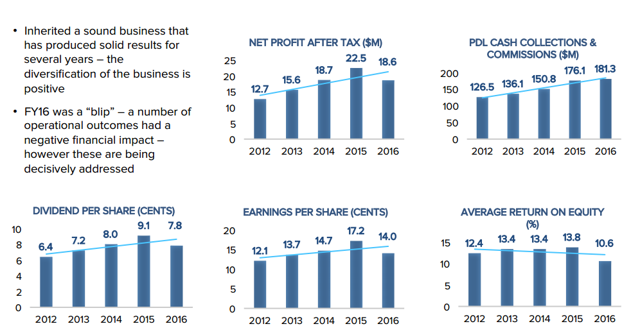 Source: Company presentation
The firm is predicting modest growth for the next year, with most of the increase in profit due to operational improvements.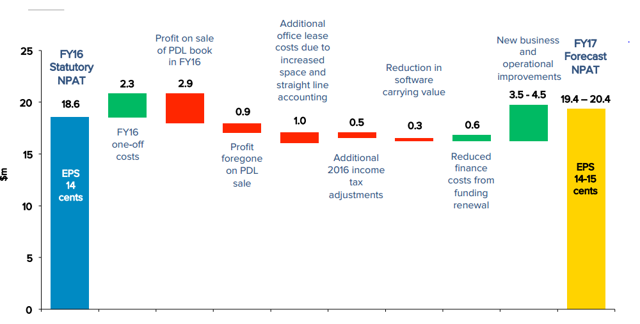 Source: Company presentation
This seems justified, as the firm has been able to successfully increase efficiency, working to reduce its employee headcount.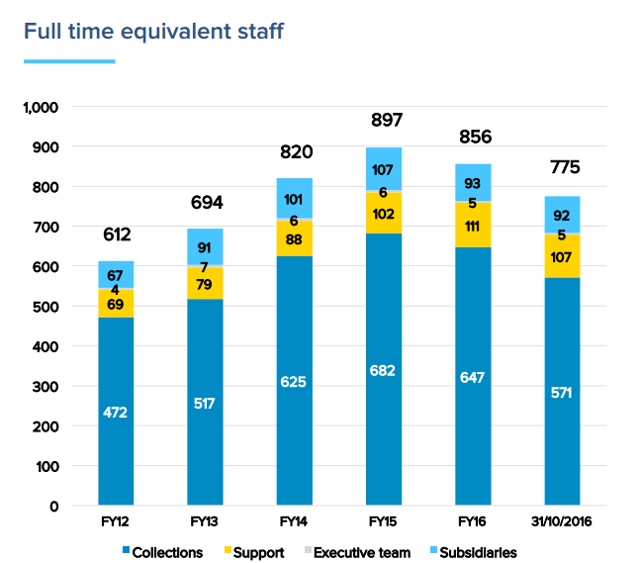 Source: Company presentation
Our thesis is that Collection House - trading at 10x P/E and a 12% cash flow yield, with 6% distribution - will trade up to match its competitor Credit Corp., resulting in a 60% increase in price, with additional return from the dividend.
Risks to the Thesis
There are three key risks here.
Economic downturn reduces the value of the company's PDL purchases. Australian personal debt is quite high and growing, and this is a possible outcome. However, CLHSF is comfortably financed, and this scenario, while painful in the short term, would invariably lead to substantial growth in PDLs.
Cost cutting goes too far and muscle is cut with the fat.

The jury will be out on this until results come in over the next year. We can be hopeful that early indications are of a recovery. CLHSF spends some $2 million more on capex than Credit Corp., which is larger. This is an indication that there are ways to increase cash flow generation.
Competition for PDLs heats up, and as a smaller competitor than Credit Corp., CLHSF is either priced out or suffers from winners curse, as it purchases debt at unfavourable prices.

This is possible, though it seems the most likely outcome is for the whole market and both competitors to grow with GDP.
Conclusion
We have made this a small part of our fund, as it has suffered a substantial derating and has a peer trading at 60% higher valuation. We expect new management to stabilise the situation, return to modest growth, and continue paying out dividends while we wait for the market to revalue CLHSF at a higher EV/EBITDA multiple than 6x.
Disclosure: I am/we are long ASX:CLH.
I wrote this article myself, and it expresses my own opinions. I am not receiving compensation for it (other than from Seeking Alpha). I have no business relationship with any company whose stock is mentioned in this article.
Editor's Note: This article covers one or more stocks trading at less than $1 per share and/or with less than a $100 million market cap. Please be aware of the risks associated with these stocks.