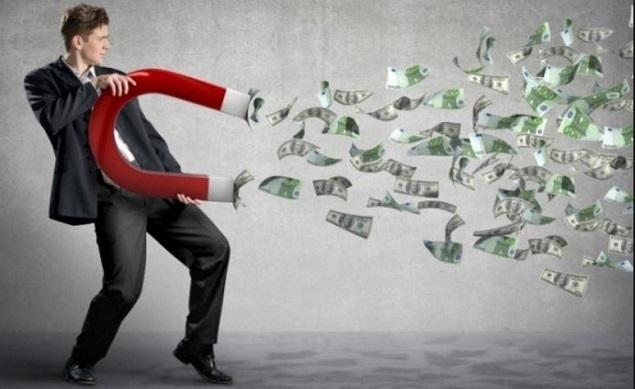 Image Source: Thinkstock
The wireless tower business model is elegant because it is highly scalable and offers opportunities for operating leverage to drive results to the bottom line.
American Tower Corp. (NYSE: AMT) is the largest of the three publicly traded US landlords that report REIT metrics and use a shared infrastructure model to lease tower masts to the wireless carriers who are the tenants.
In most global markets, there are three or four dominant wireless carriers. The business of leasing spectrum and building infrastructure to provide a reliable network with adequate capacity to maintain an acceptable level of service is capital-intensive.
The carriers most familiar to US investors - Verizon (NYSE: VZ), AT&T (NYSE: T), T-Mobile USA (NASDAQ: TMUS) and Sprint (NYSE: S) - have sold-off most of their towers to third parties and leased them back on long-term leases. This allows them to recycle the capital into core business initiatives.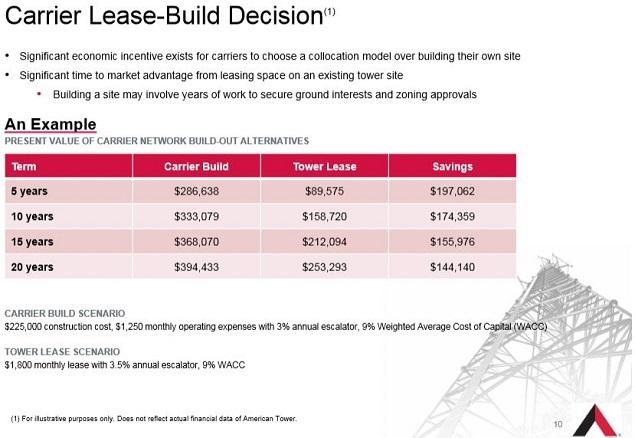 Source: American Tower
Once the towers are owned by a third party like American Tower, they can provide colocation space for equipment for competing carriers to expand their networks more cost effectively than building new ground-up towers.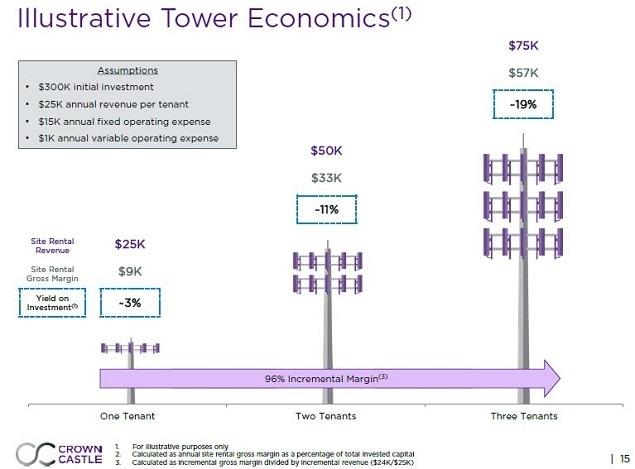 Source: Crown Castle International
The exact percentages aren't important. However, the concept of returns increasing substantially as second and third carriers colocate equipment is the secret sauce behind the third-party tower business model.
So, it can be a bit counterintuitive. Essentially, growing the portfolio at a fast pace actually hurts margins in the short run, but delivers long-term shareholder value over time.
Tale Of The Tape - Choppy Trading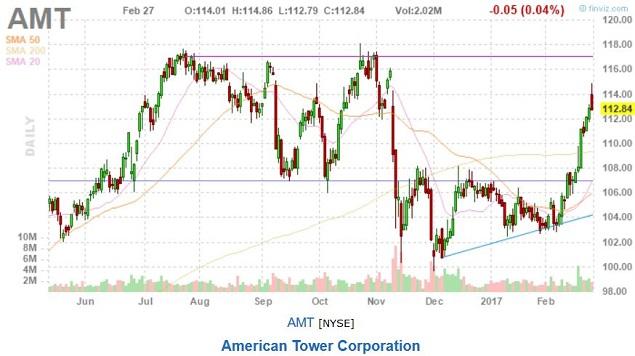 During the past 52 weeks, American Tower shares have ranged from $86.02 to $118.09 per share. The analyst consensus 12-month target price is $129.80 per share, or ~14.9% upside from current levels.
Shares have been on an upswing in February prior to earnings. However, trading has been choppy over the past twelve months.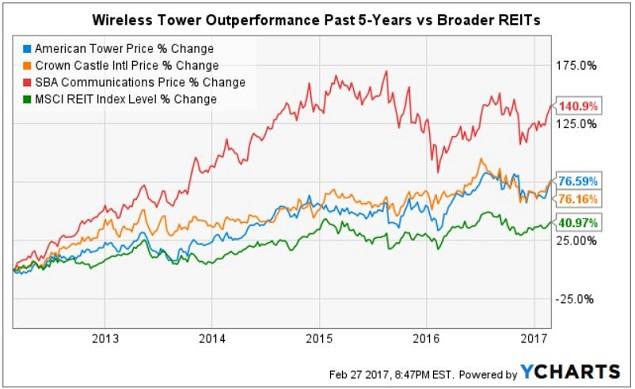 However, when you zoom out and look at things from a bigger picture, third-party wireless tower landlords, including American Tower, have performed well compared with the broader REIT sector.
Q4/FY'16 Earnings Highlights
The bullets below are highlights from the top of the American Tower earnings print. While these overall numbers look great, they don't tell the entire story. The selected highlights don't show the AFFO per share metric - the cash available for distribution, which supports a growing dividend.
Fourth Quarter 2016
Total revenue increased 20.3% to $1,540 million
Property revenue increased 21.6% to $1,521 million
Net income increased 5.1% to $233 million
Adjusted EBITDA increased 16.7% to $936 million
Consolidated AFFO increased 20.9% to $655 million
Full-Year 2016
Total revenue increased 21.3% to $5,786 million
Property revenue increased 22.1% to $5,713 million
Net income increased 44.4% to $970 million
Adjusted EBITDA increased 15.9% to $3,553 million
Consolidated AFFO increased 15.8% to $2,490 million
Source: American Tower – Q4/FY'16 financial results
Occasionally, a REIT management team will try to load up on some great comparisons to distract from poor performance on a per share basis. However, that is not the case with American Tower, as you will see in the earnings presentation slides I have included below.
In fact, it appears that the company has turned into a dividend growth machine, poised to repeat a gaudy 20% dividend boost back to back in 2016 and 2017.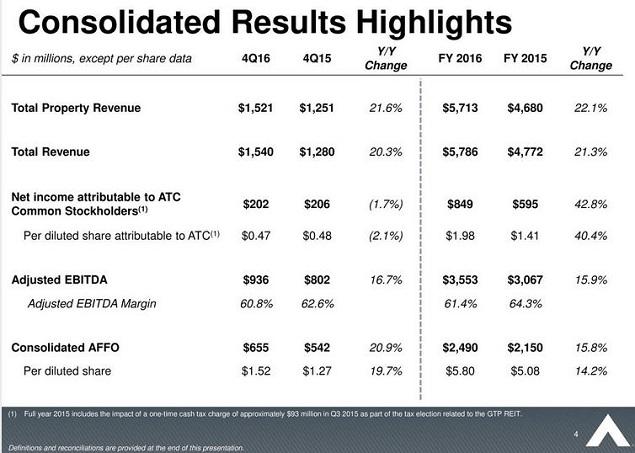 The good news for shareholders is that 4Q'16 AFFO per share grew to $1.52 from $1.27, a hefty 19.7% increase year over year, and grew 14.2%, from $5.08 to $5.80 per share, for FY 2016.
While it is true that carrier capital budgets can vary from year to year, the large in-place portfolios on long-term leases with contractual rent bumps generate the most revenues in any given year.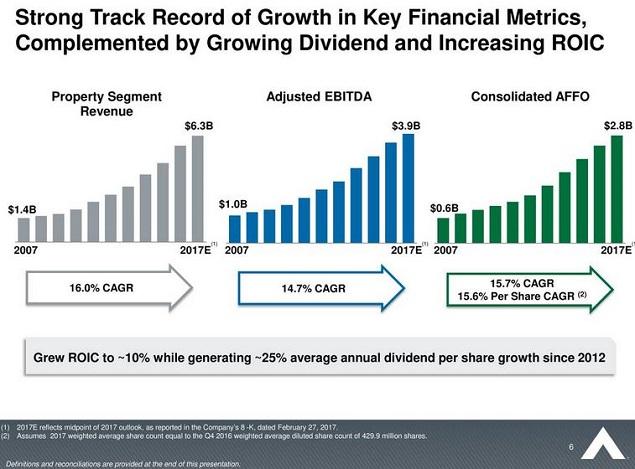 This make the wireless REITs a dependable source of income for investors who appreciate a safe and growing dividend. American Tower has demonstrated over time, including through the Great Recession period, that this business model is reliable.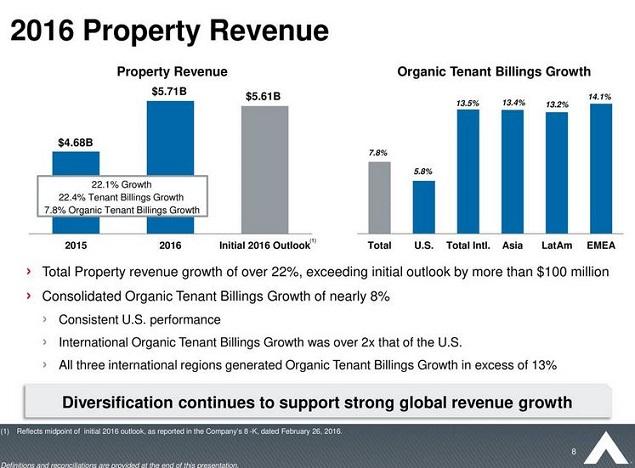 Impressive double-digit international growth of ~13% augmented the more mature US market 5.8% billings growth to boost AMT's same-store organic results up to 7.8% for 2016.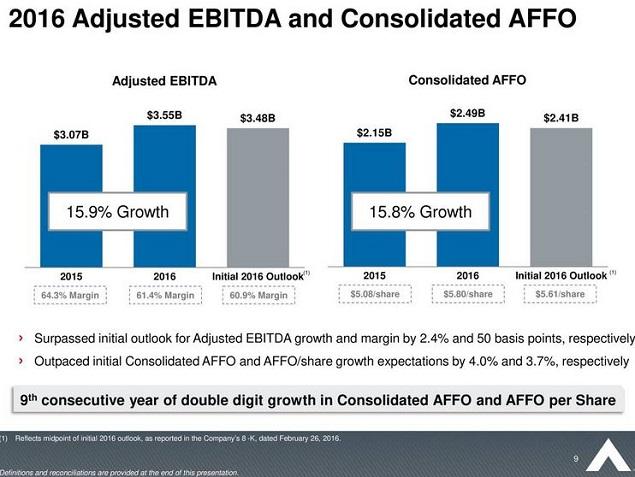 A metric to watch going forward is the adjusted EBITDA margin, which fell both Q/Q -1.8% and Y/Y -2.9% versus 2015 results. However, we know that this margin pressure can be an artifact of portfolio growth, which will flip and become accretive over time as contractual rent bumps kick in and more carriers are added at each tower site.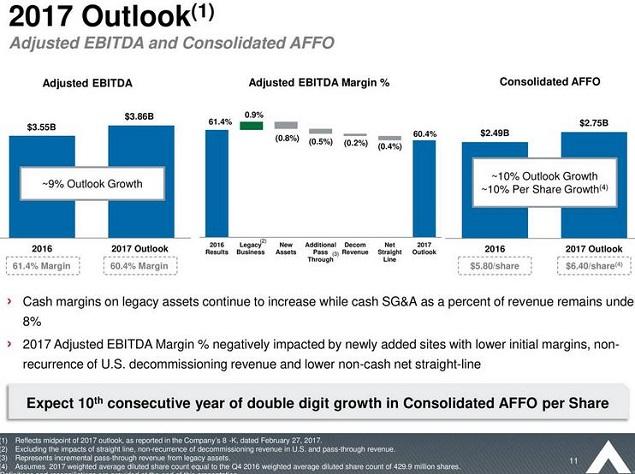 Margins are expected to remain under pressure during 2017, but despite the deceleration, the overall outlook for 2017 is still a solid 10% per share AFFO growth.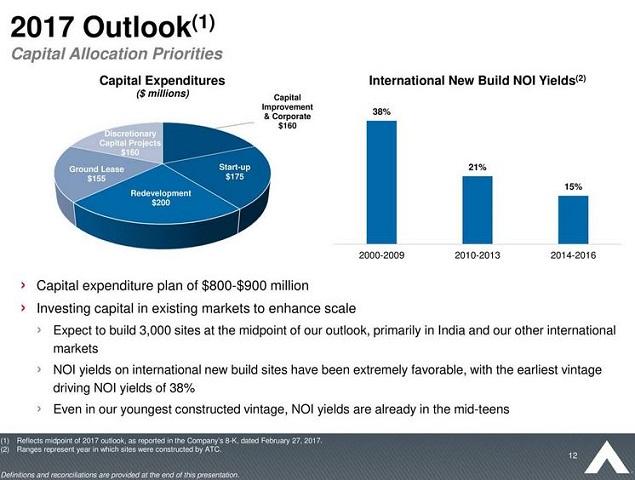 Capital allocated to international new tower builds has generated juicy returns and is still a very attractive place to allocate funds.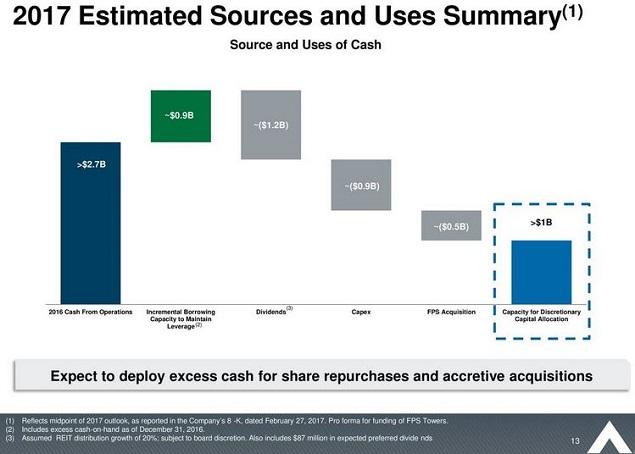 Free cash flow after dividend distributions and the high-end of capex ($900 million) is still expected to exceed $1 billion. Management believes AMT shares are currently undervalued given the long-term growth potential in the global wireless industry. Share buybacks will be compared with M&A opportunities in an effort to create long-term shareholder value.
All this free cash helps American Tower deliver on metrics that matter for REIT investors.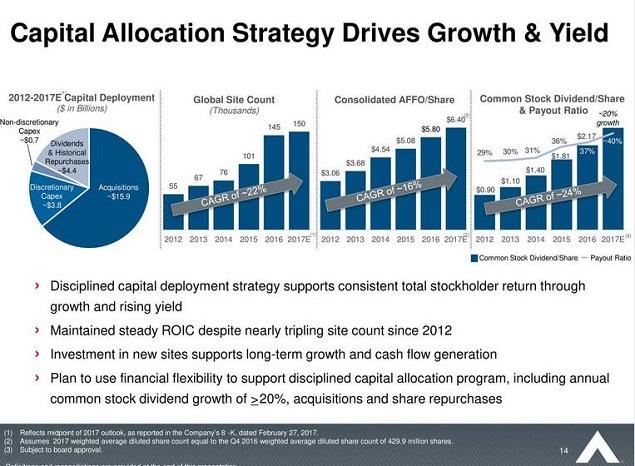 Dividend growth-focused investors can appreciate the implications of the bar chart to the far right of the slide above. American Tower can boost the dividend another 20% for 2017, while still maintaining a low ~40% AFFO payout ratio.
Earnings Call Highlights
CEO Jim Taiclet, in his prepared remarks, emphasized the consistency of growth and shareholder returns:
"... including our expectations for 2017, we are now positioned to achieve the double-double or doubling of our consolidated AFFO per share property revenue and portfolio size twice over a 10-year period. That's our double-double strategy, and we're confident we're going to exceed it.

This double-double will have been generated through a number of different currency, macroeconomic and wireless investment cycles, which we believe exemplifies the durability of our business. This performance has also been complemented by our common stock dividend, which is increased by an average of nearly 25% per year since we introduced it in 2012."
Demand trends in the U.S. remained steady, with carriers actively spending to augment the coverage and capacity of their 4G networks. CFO Tom Bartlett detailed the ~13% revenue increases in international markets:
"Contractual pricing accelerators, driven by local CPI indices contributed about 6.9% to that growth. And volumes from collocation and amendments drove an even greater contribution at 7.7%. Other run-rate items contributed an additional 30 basis points. This was partially offset by churn of about 1.4%."
In general, these international markets are less mature, and as the networks improve, the sale of more advanced phones and wireless devices will continue to grow at an accelerated rate.
American Tower constructed over 1,800 towers globally this year, with an average day-one NOI yield of ~10%. Notably, the shared infrastructure wireless tower business model continues to generate higher returns over time as additional carriers deploy equipment on the new towers.
In 2017, AMT expects to kick that up a notch and build around 3,000 sites, primarily in international markets. The company expects new site construction to accelerate across all international markets, particularly in India, Mexico and Brazil, due to increases in carrier spending.
If currency exchange rates were to stay at current levels, the result would be a net positive FX impact on 2017 FY AFFO of ~$0.09 per share. Additionally, it is notable that SG&A expense as a percentage of revenues is now below 8%, and balance sheet leverage is now below 5x net debt-to-adjusted EBITDA.
F.A.S.T. Graphs - Valuation Analysis
It's time to use the F.A.S.T. Graphs tool to check under the hood. The black line represents price. It is a visual comparison relative to the blue line, which represents "normal" P/FFO for the selected number of years. The red line corresponds to the dividend yield on the far right of the chart.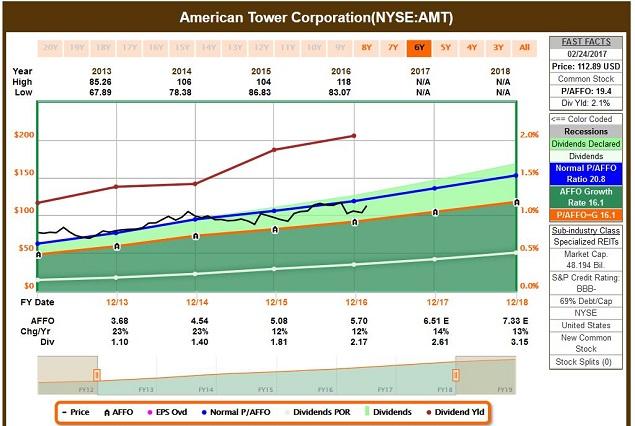 The F.A.S.T. Graph shows that American Tower has a 16.1% CAGR for AFFO per share growth. However, management is guiding for 20% dividend boost this year, in part by increasing the AFFO payout to 40% from 37% in 2016. That would still be one of the lowest REIT payout ratios out there in all of REIT-dom.
Investor Takeaway
American Tower offers DGI-focused investors an impressive ~20% dividend growth, which should also help to fuel future price appreciation for an attractive total return. Notably, the American Tower 2017 Outlook excludes any impacts from longer-term catalysts, including FirstNet, 600 MHz spectrum auction and new wholesale network in Mexico.
Since the company's balance sheet has been de-levered, it also positions AMT to use a combination of debt, equity and free cash flow to make more sizeable acquisitions.
CEO Taiclet pointed out on the call,
"... the reinvigoration of unlimited data plans across all four U.S. carriers that has to be ultimate motivator for them to continuing to invest in their network to be able to deliver that prospect to their subscribers."
This trend could act as a tailwind for the entire wireless REIT sector.
Investors looking for higher current income and somewhat lower AFFO per share multiples should check out 100% US wireless tower and small cell/fiber infrastructure pure-play Crown Castle International (NYSE: CCI). Owning both AMT and CCI is certainly not out of the question, and is a way to try and balance income and growth while diversifying within the sector. (Read more: Wireless REIT Crown Castle: Dependable DGI Comfort In A Chaotic World)
As of this writing, US and Latin America-focused SBA Communications (NASDAQ: SBAC) is reporting earnings and hosting its conference call. I plan to circle back and cover SBAC when time allows.
While I am constructive on American Tower long term, I view AMT shares as a hold at current price levels, simply based on valuation.
Remember that choppy chart? This sector can be sensitive to rumors and headlines regarding carrier spending plans or potential mergers and acquisitions, which can create a buying opportunity on a dip. Of course, the entire REIT sector can be sensitive to Mr. Market's initial knee-jerk reaction from a more hawkish Fed policy on interest rate hikes.
In my view, a pullback toward $104.00-105.00 per share would create a more attractive entry point for American Tower.
I am contemplating whether to launch a Seeking Alpha Marketplace Premium subscription service. I would appreciate any feedback from readers who may be interested. Feel free to share them in the comment thread below, or send me an Inbox message.
I relentlessly hunt for diamonds in the rough and rising stars, in addition to closely following data centers, covering REIT blue-chips and breaking news. Please consider following me as a Seeking Alpha author if you would like to be notified when my future articles are published.
Disclosure: I/we have no positions in any stocks mentioned, but may initiate a long position in AMT, CCI, SBAC, over the next 72 hours.
I wrote this article myself, and it expresses my own opinions. I am not receiving compensation for it. I have no business relationship with any company whose stock is mentioned in this article.