Note:
I have previously covered DryShips (NASDAQ:DRYS), so investors should view this article as an update to my earlier publishings on the company.
Credit where credit is due. I certainly have to confess some grudging admiration for George Economou's entirely new and highly successful approach to corporate financing.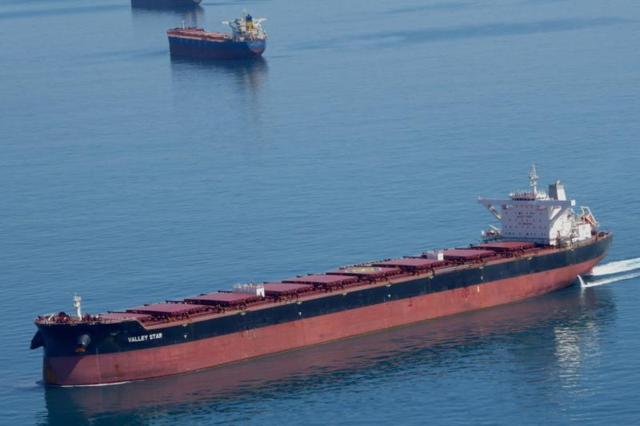 Picture: Newcastlemax Bulk Carrier "Valley Star" reportedly acquired by DryShips last week - Source: Shipspotting.com
As a reminder:
Presumably by mid-March he will have raised almost half a billion in new equity for DryShips within just four months solely at the expense of common shareholders.
Economou actually wasted no time utilizing DryShips' regained financial strength for another major self-dealing, as he quickly orchestrated the purchase of four VLGCs from some of his private entities at an immediate gain of $30 mln to him in early January.
Even better, by utilizing Kalani Investments Limited ("Kalani") he most likely developed a scheme that at least indirectly allows him to potentially reap hundreds of millions of dollars in profits from the resale of DryShips' shares into the market.
While Kalani might not be considered being affiliated with DryShips from a legal perspective, there's little doubt that, in fact, George Economou is, at least indirectly, pulling the strings behind Kalani as otherwise the construct wouldn't make any sense. Actually, DryShips would be much better off by utilizing a standard, at-the-market offering approach instead of selling shares at a discount to the lowest daily value-weighted average trading price over a certain pricing period to an entirely unknown, British Virgin Islands-based intermediary like Kalani.
The successful recapitalization of DryShips has not only basically wiped out the company's shareholder base prior to the recent equity raises, it has also caused substantial losses to new investors as the stock has marked new all-time lows each session after the latest financing round with Kalani was announced.
After the company updated investors on its progress on this latest equity raise in a SEC-filing on Friday, I did some extrapolation and arrived at a potential share count of up to 250 million after the current offering will have successfully closed, presumably in mid-March. Moreover, I projected the company to execute another reverse split as soon as next week with the stock expected to approach the $1 mark at that time.
After the close of Monday's session, Economou revealed his latest dodge as DryShips surprisingly initiated a new dividend policy:
DryShips Inc. (NASDAQ: DRYS) (the "Company" or "DryShips"), a diversified owner of ocean going cargo vessels, announced today that its Board of Directors has decided to initiate a new dividend policy. Under this policy, the Company will pay a regular fixed quarterly dividend of $2.5 million to the holders of common stock. In addition, at its discretion, the Board may decide to pay additional amounts as dividend each quarter depending on market conditions and the Company's financial performance, over and above the fixed amount.

With respect to the quarter ended December 31, 2016, the Board of Directors declared a dividend of $2.5 million to the common shareholders of record as of March 15, 2017 and payable on or about March 31, 2017. The dividend per share amount to be paid by the Company will be determined based on the number of shares outstanding on the record date.

George Economou, the Company's Chairman and Chief Executive Officer, commented:

"We are very excited to initiate our new dividend policy which is a testament to the dramatic transformation of the Company's finances over the last 6 months. We continue to transform DryShips and we are confident that the results of our efforts will become evident in the near future."
So DryShips will redistribute, on an annual basis, a cumulative 2% of the $500 million raised from investors by paying out a fixed quarterly amount of $2.5 million going forward.
Given the projected share count of 250 million by mid-March, the payout would amount to exactly $0.01 per share. At an assumed share price of $2, the annual dividend yield would calculate to 2%.
Clearly, the unexpected move could cause some initial excitement among investors and traders but without Kalani, at least temporarily, suspending sales into the open market, the effect of the announcement would most likely be very muted.
It remains to be seen if Kalani will support the news by temporarily halting or at least slowing its sales efforts thereby contributing to another potential short squeeze. Kalani would most likely be able to reap sizeable profits this way as their purchase price will be determined by the lowest daily value-weighted average share price over a certain pricing period subject to a 6% discount. Assuming this new pricing period has already started with Monday's session, Kalani would get all the shares of the current tranche at or below $1.80 while potentially creating the chance to sell most of these shares at considerably higher prices over the course of the week.
But even if Kalani will continue its open market sales at an uninterrupted pace, the additional demand created by the news will most likely prevent the shares from losing the usual 10-20% during Tuesday's session, providing Kalani with somewhat better sales prices.
Judging by the after hours action as of the time of this writing, investors are rightfully scrutinizing George Economou's latest dodge as the stock has almost given back its entire initial 30% gains.
Bottom line:
George Economou surprisingly decided to re-distribute a tiny amount of the cash just raised by DryShips to the company's badly stricken shareholders.
Unfortunately, without Kalani temporarily halting or at least slowing down its open market sales, the announcement will most likely have very little effect as already evidenced by the after hours action in the shares.
As DryShips is still looking to raise another $145 million as soon as possible, investors should not expect the ongoing selling pressure from Kalani to materially abate until this latest offering will have successfully closed, presumably around the record date for the dividend payment on March 15.
I firmly expect the ongoing supply overhang to continue taking its toll on the share price and reiterate the projections made in yesterday's article.
Investors should continue to sell, avoid or even short the stock, but, unfortunately, shares will be almost impossible to borrow.
After the offering has successfully closed, investors will most likely be provided a potentially lucrative trading chance on the long side, somewhat depending on the discount to net asset value per share at that point.
I will follow up on my projections regarding anticipated dilution and net asset value per share after the company will have issued its next update, presumably after the close of Friday's trading session.
Disclosure: I am/we are short DRYS.
I wrote this article myself, and it expresses my own opinions. I am not receiving compensation for it (other than from Seeking Alpha). I have no business relationship with any company whose stock is mentioned in this article.
Editor's Note: This article covers one or more stocks trading at less than $1 per share and/or with less than a $100 million market cap. Please be aware of the risks associated with these stocks.