During my analyst years, I covered several industries but one that grabbed my attention was the market of tankers/drillships - when you ask me why...I guess it would be the personalities found leading those companies. I believe that each industry attracts certain personalities, think of technology and quickly Steve Jobs (NASDAQ:AAPL), Bill Gates (NASDAQ:MSFT) and Jeff Bezos (NASDAQ:AMZN) would pop up in your mind. Think investing and Warren Buffett (NYSE:BRK.B) (NYSE:BRK.A) or Bill Gross (PIMPCO) will come up. Think tankers and the name John Fredriksen a.k.a. "Big John" jumps to mind. During my tenure I met several CEOs of such companies, unfortunately never met Big John, and each had peculiar stories and exotic personalities such as one CEO that defended his tanker from Somalia pirates with guns in a standoff in the middle of international waters. One interesting story I read about Big John is how he made his fortune moving Iranian oil during the Iraq-Iran war of the 80s.
Thus, I dedicate this article to all those brave souls that stood against the pirates of the sea. And I recommend buying SDLP stock which at the current price of $5.00/sh offers a 100% upside to its fair price of $10.00/sh and a relatively lower risk of $2.75/sh (55% downside and my stop loss).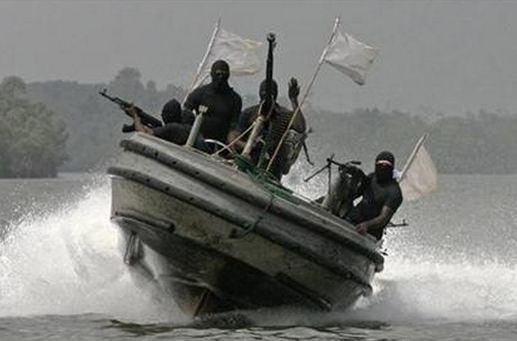 The business and the market
The business model is simple. In a nutshell (I am describing it in the simplest form but it has some complexity that is not necessary to illustrate the dynamics of this business), you buy a drillship for X amount, then you either lease the vessel or the service (vessel + personnel) to explore or exploit an oil well. The oil service providers pay a daily rate which ranges from the low 100k per day to 600k per day. Usually, the larger the vessel and the deeper it can go, the higher the day rate. In the North Sea, the market is more of a spot market where the day rate is a daily function of the oil price, while in more emerging locations such as Brazil and Africa, the vessels operate on long-term contracts from 5 up to 10 years. As per the cost, most of the cost is personnel and insurance. Sometimes the oil needed to function is provided by the client for a discount from market price or embedded in the daily rate. Before the start of the contract most costs are linked to the price of oil as personnel wages are linked to supply and demand, and insurance is based on the market value of the vessel (which is linked to the potential revenue generated by the asset that's linked to oil prices). However, once the contract is started, those costs are mostly fixed for the duration of the contract and changing them is an upward battle. Thus, you can see why SDLP, SDRL, DO and RIG, just to name a few, have been affected so much by oil prices.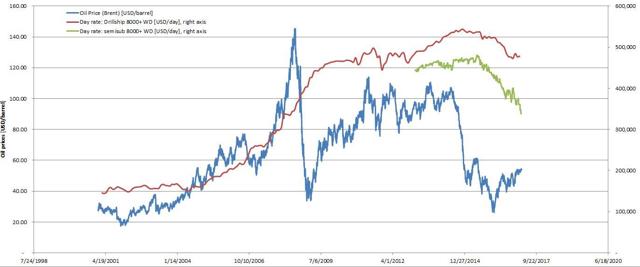 Source: Bloomberg
Till 2014 the pace of construction of new drillships kept up with the demand for those assets. Despite oil prices plummeting mid-2014, the fleet of drillships kept increasing till 2015 as those where drillships ordered before the new oil prices.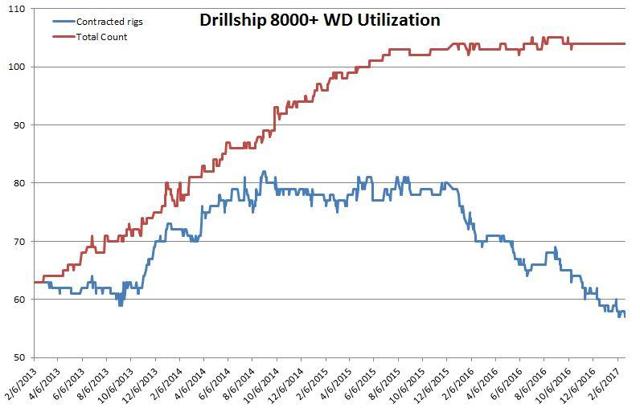 Source: Bloomberg
This led drillship utilization worldwide to drop from the 95-100% to below 60%.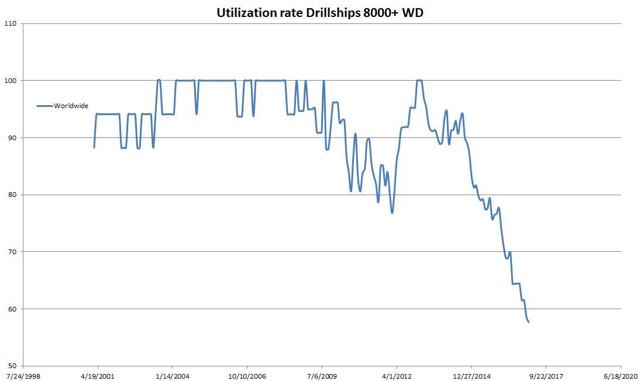 Source: Bloomberg
However, while the supply of semisubs did not increase significantly, the demand for those dropped drastically.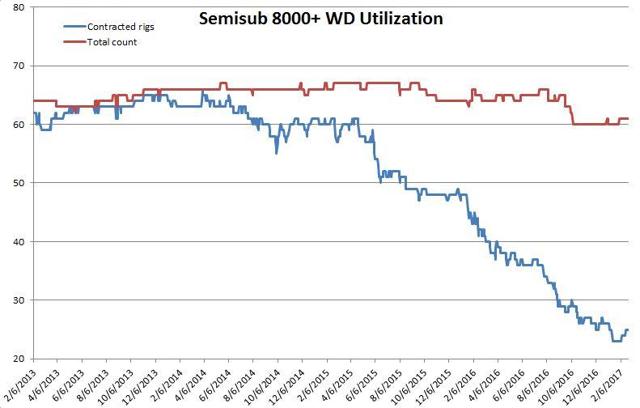 Source: Bloomberg
That being said, the demand for drillships has been heterogeneous per region.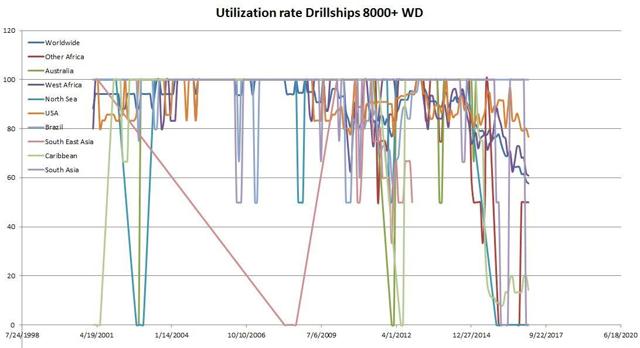 Source: Bloomberg
Unfortunately, as you can see I am not a graphic designer, so I will explain what should be seen in the graph. While most regions have experienced a decline in utilization (which may explain why the client of West Leo is trying to terminate the contract), the utilization in the USA, West Africa and South Asia have remained above the world average and surprisingly Brazil has stayed at full utilization thanks to the pre-salt.
The catalysts
So having said all of this, why the heck would I be looking at a sector that's experiencing such a contraction and already reduced its dividend not just once, but twice?
Well, I pride myself on being (or thinking I am) a contrarian investor. As Warren Buffett famously said "Be Fearful When Others Are Greedy and Greedy When Others Are Fearful" and "Most people get interested in stocks when everyone else is. The time to get interested is when no one else is. You can't buy what is popular and do well." So while the herd is running away from these assets, I am taking a closer look and trying to find some value. I believe there are three catalysts that will help the stock:
1. Oil prices. While there are wide views about the long-term price of oil, three of the four more reliable sources view that oil prices should increase.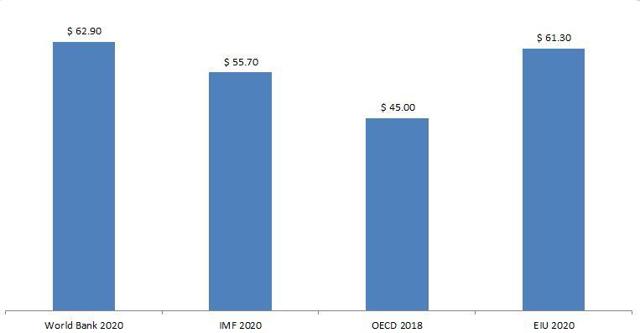 Source: knoema
While the projected increases are nothing compared to the +100 USD/barrel we experienced earlier this decade, this boost combined with its cost-cutting initiatives should help SDLP.
2. Renewal of contracts (which is already occurring) and securing contracts for the West Capella tanks. This market is comparable to any commodity industry which partially causes the cyclicality of the industry. When the commodity price is high, more people get in the action to rip the extra benefit by expanding capacity, but once everyone expands, there will be more of the product and the buyer will start shopping around contracting prices. Once the margins contract, the seller will stop expansion containing the new supply. I have seen this too many times in different sectors such as in the sugar and the cattle industries.
Having said that, up to 2014, operators of these vessels were ordering more vessels as in a +100/barrel environment it was a great business. But with a barrel of oil hovering the $50-60 levels, this business became less attractive and the orders for new vessels have stalled. That is why DW forecasts deepwater capex to plummet from 2014's record levels until 2018, with a gentle upswing over 2019-2020. This will be driven by the development of mega deepwater prospects in Brazil and the commencement of offshore activity in the East Africa gas basin. Those will slow down the pace of new builds entering the market, which will boost the prices demanded by existing vessels.
3. The gap between the day rates of semisubs and drillships will rationalize. Since the start of 2013 (when Rigzone started publishing semisub day rates), the day rates for drillships 8000+ WD demanded a premium of 50-75k over the day rates of semisubs 8000+ subs as can be seen in the graph above. That premium has lately increased to 140k which seems to be due to the higher elasticity of semisubs, but still such a spread seems unjustified and I believe it should contract to a spread of 75k.
The fleet
I am not going to explain the difference between each type of vessels but here I leave you some links explaining drillships, semisubs and barges. One thing to keep in mind is that day rates are a function of how deep those vessels can go. The drillships and semisubs owned by the company can go up to 10,000-12,000 feet deep while the tender rig and barge can go to only 6,500 feet. Rigzone (via Bloomberg), my source for day rates, classifies the vessels into three categories; under 5,000 feet, between 5,000 and 8,000 and above 8,000. All through the article, I am using the day rates of 8,000+ vessels.

Source: Company 3Q16 Fleet Status
The Valuation
Currently, the market day rate for a drillship and semisub (both 8000+ WD) are at 478k and 338, respectively. Assuming that all contracts are renewed at those rates and the West Capella is contracted, the fair price ranges between $2.75/sh and $5.42/sh.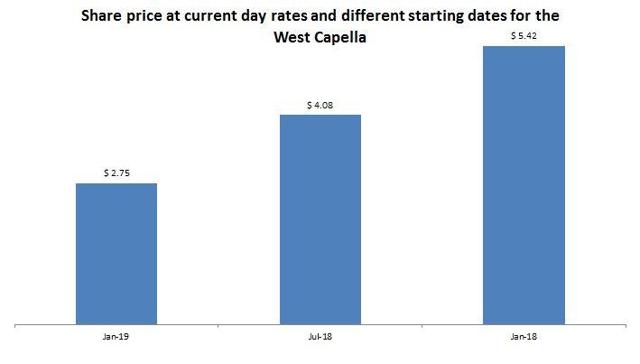 However, due to the catalyst mentioned above, I think day rates should increase. Drillship day rates should increase from the current 478k to around 500k. Semisubs should demand a lower discount to drillships of 75k, meaning day rates should be around 425k. Assuming those rates, the fair stock price should range from $8.60/sh to $11.40/sh.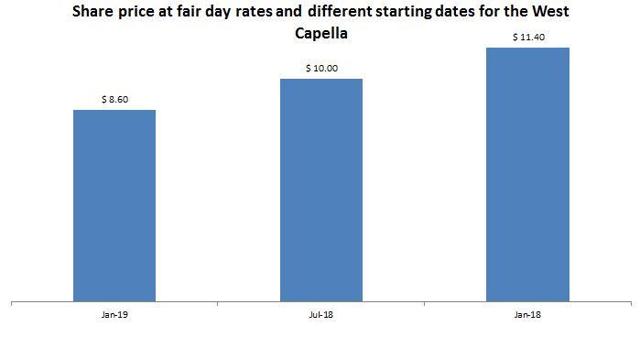 The risks
Many risks surround this beast of an industry. Besides the obvious risk of oil prices, if the vessels are not successful at renewing their contracts for a prolonged period, the stock price will be affected and magnified due to the USD 3.3bn in debt in their balance sheet.
Conclusion
As always, here I am offering you an asymmetric double-your-money opportunity. Obviously, such high reward opportunities come with a high risk profile as well.
Supporting Documents
Disclosure: I am/we are long SDLP.
I wrote this article myself, and it expresses my own opinions. I am not receiving compensation for it (other than from Seeking Alpha). I have no business relationship with any company whose stock is mentioned in this article.