On December 22, 2016, I wrote a brief article suggesting that Weight Watchers (NYSE:WTW) could experience a massive short squeeze. I disclosed that we bought back a position, at $11.50, and we hadn't owned shares since the summer of 2014, after we made some money trading it back then. Soon after, as fate would have it, hedge fund analyst, Suhail Capital called me out and suggested that my report would largely base on intuition and that I didn't do much research. Next thing I new, a fun and worthwhile debate was set in motion, and a simple trading call turned into a much bigger research project, as Suhail's hunch was correct, that I was using my intuition to buyback shares of Weight Watchers.
Since, December 22nd, and my $11.50 recommendation, there have been a number of very small short squeezes, where traders would have some money. More specifically, on December 22nd shares hit $12.50, on January 4th they hit $13.99, on January 17th they hit $13.49, and on February 15th they hit $13.10.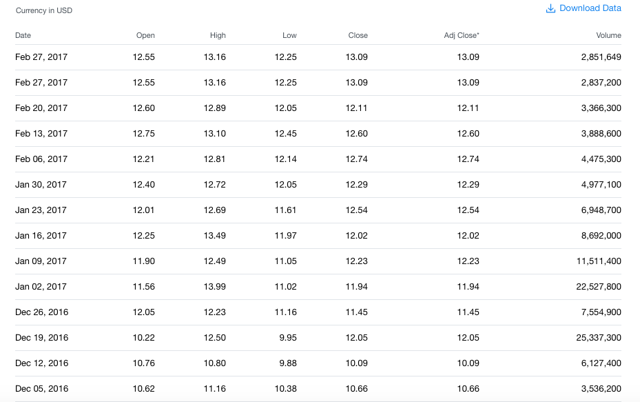 Source: Yahoo Finance
Last night, based on news that data analytics firm, M Science, said WTW's will sail passed Q4 analyst estimates, WTW closed above $13. Besides the mini January 4, 2017 short squeeze, this marks only the second time shares of Weight Watchers closed above $13 since June 2016.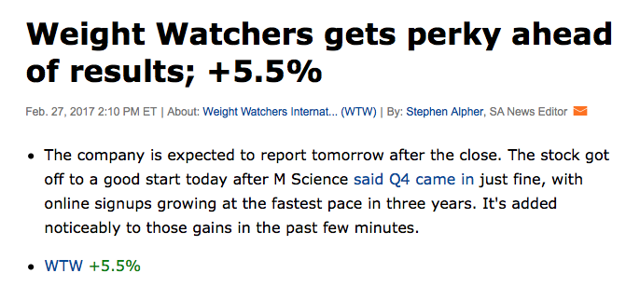 Incidentally, on January 3rd, I published a detailed write up: Weight Watchers Has The Momentum As Oprah Leans In. If you review the piece, I spent about ten hours researching and crafting it and publicly stated that I thought WTW would beat Q4 2016 results (from my financial modeling and old fashion thinking). I am glad that the 160 IQs with PhDs in math and physics (I'm guessing) worked out, what your average IQ author did on January 3rd, 2017. Better late than never, now let's see tonight's earnings print to see if either one of us were right.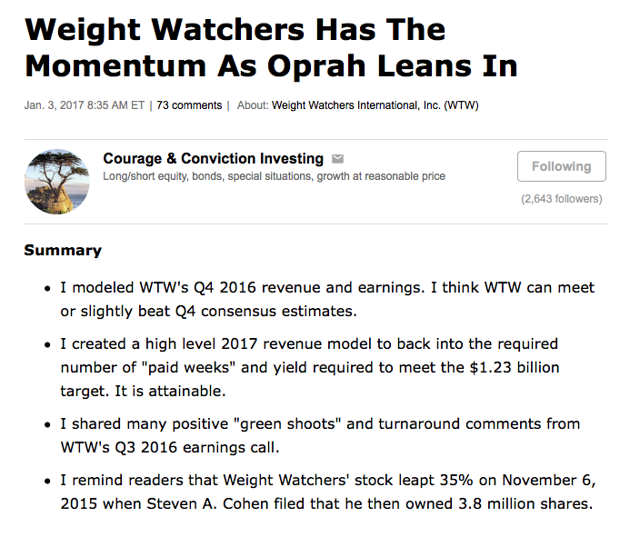 Moving along, if readers haven't read any of my prior WTW pieces, I would strongly suggest that they read my Spidey Sense piece. Within this piece, I explain in excruciating detail why WTW's short interest is closer to 100% plus. I am not going to reinvent the wheel, so interested readers unfamiliar with the share counts and long term holders (Artal, Oprah, Fidelity, Vanguard, and the NJ Pension fund) can quickly get up to speed reading that piece.
As for tonight and how we are positioned, we traded Weight Watchers on a few occasions, capturing some decent gains, but this was never more than an 8% allocation, so the gains aren't anything to write home about. Also, the buyout rumors seemed strange so we reduced our position size after that news to a 4% allocation. In the interest of full disclosure, last week, we sold our 4% allocation in WTW at $12.60 and intended on buying March 17, 2017 $13 or $14 calls before earnings. However, the options premium yesterday were pretty steep and had large bid/ask spreads, so after seeing the M Science news, we bought back our 4% position at $12.81.
In terms of the Masters of the Universe, my endearing terms for hedge funds, as of last night's February 15, 2017 short interest data release, the hedge fund shorts, collectively, decreased their short bet by 418K shares, since the last reporting period.
Source: WSJ
However, in my 132% short interest piece, I argued that the true float closer to 13.5 to 14.5 million, as Artal, Oprah, Fidelity, Vanguard, and the New Jersey pension fund are long term holders, at least in the low teens. So by my adjusted calculations, WTW's effective short interest is still well north of 100%.
Therefore, it all comes down to tonight's report and FY17 guidance. If and this is still a big "IF", WTW beats Q4 and raises FY17 then we may finally witness my epic short call, that was largely based on my prior understanding of WTW and mostly intuition (at least on December 22nd). If Weight Watchers misses then I will look a muppet that cried wolf and wasn't smart enough to realize that this simply a good trading opportunity given the "huge" short interest, seasonality, and Oprah's full court PR press throughout January.
In other news, after the bell last night, Nutrisystem (NASDAQ:NTRI) breezed past Q4 2016 estimates and raised FY17 guidance. Shares leapt in after hours trading by nearly 20%. However, please note, NTRI only had 937K shares short (as of February 15th 2017), as shorts covered 859K shares from January 31, 2017 - February 15, 2017, so last night's pop in after hours wasn't that enhanced by high short interest.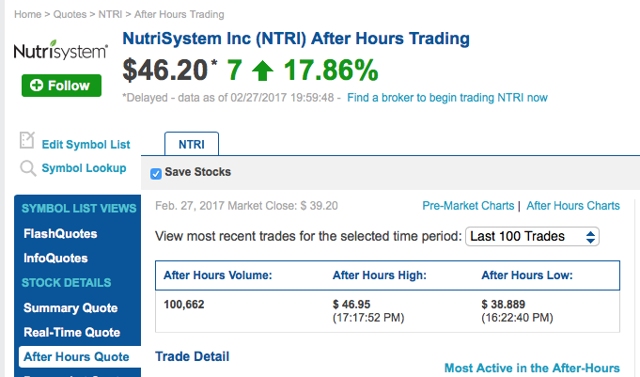 Source: Nasdaq.com
Here is NTRI's guidance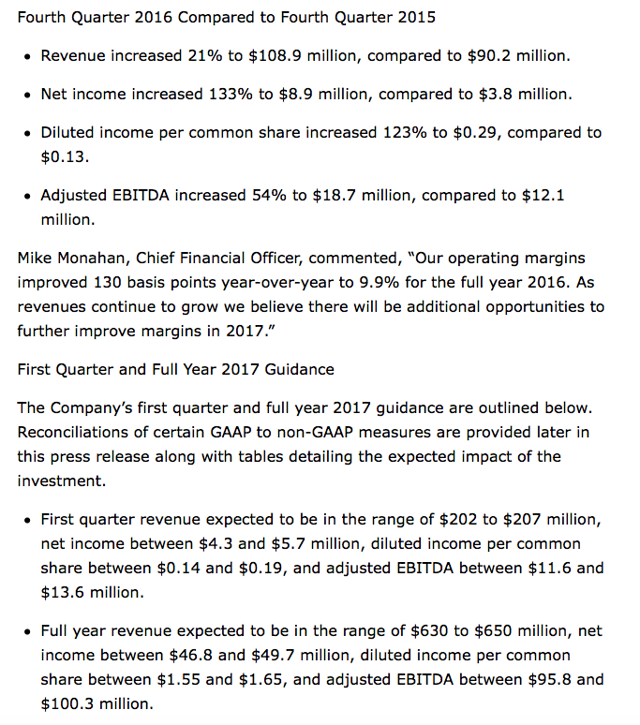 Here are analyst estimates before last night's earnings print: FY17 revenue of $596 million and earnings of $1.40.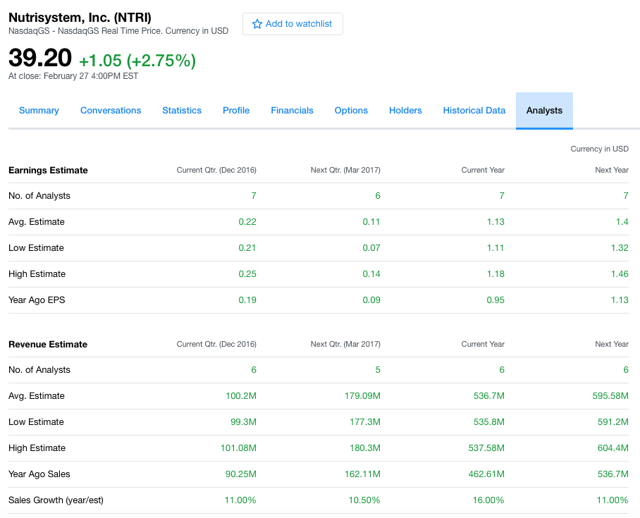 Source: Yahoo Finance
Takeaway
No one cared that my financial model, published exclusively on Seeking Alpha and on January 3, 2017, suggested that WTW would meet or beat Q4 2016 numbers. However, when data analytics firm, M Science says it, and hedge funds pay lots of money for this subscription, they listen. With upwards of 18.2 million shares short on an effective float of 14 million, at least in the low teens, hedge fund shorts might be sweating bullets today (or maybe not because they are always right). That said, given WTW's high debt and enterprise value, I strongly advise my readers to size this bet accordingly (don't bet big if you decide to play), as FY17 guidance is the critical hurdle to clear. If WTW's misses FY17 guidance then the stock will be $10. If they beat and raise FY17, then the fireworks and ensuing short squeeze will be 4th of Julyesque. I think we would see WTW squeeze to $20 as the fundamental investors, technical folks, and scrambling shorts all rush to buy. Again, guidance would have to be outstanding for that imagination scenario to unfold. Good luck and expect some active trading in after hours.
Disclosure: I am/we are long WTW.
I wrote this article myself, and it expresses my own opinions. I am not receiving compensation for it (other than from Seeking Alpha). I have no business relationship with any company whose stock is mentioned in this article.